Luxury watches have become a rite of passage symbol for comedians
Zach Blass
Hotspots for watchspotting have typically been awards season red carpets, courtside at sporting events and anywhere you can find professional athletes, rappers or pop stars. But a growing space for watchspotting is the stage of stand-up comedians for whom owning a luxury watch seems to have become a burgeoning rite of passage. Becoming a top stand up comedian can be a gruelling and lengthy grind, open-micing and performing for free for months or even years before finally reaching their breakthrough. So when success finally comes, naturally it is something to celebrate. And the trend definitely appears to involve celebrating with a tasty wristwatch. Take a look at the list below and that trend will be that much clearer.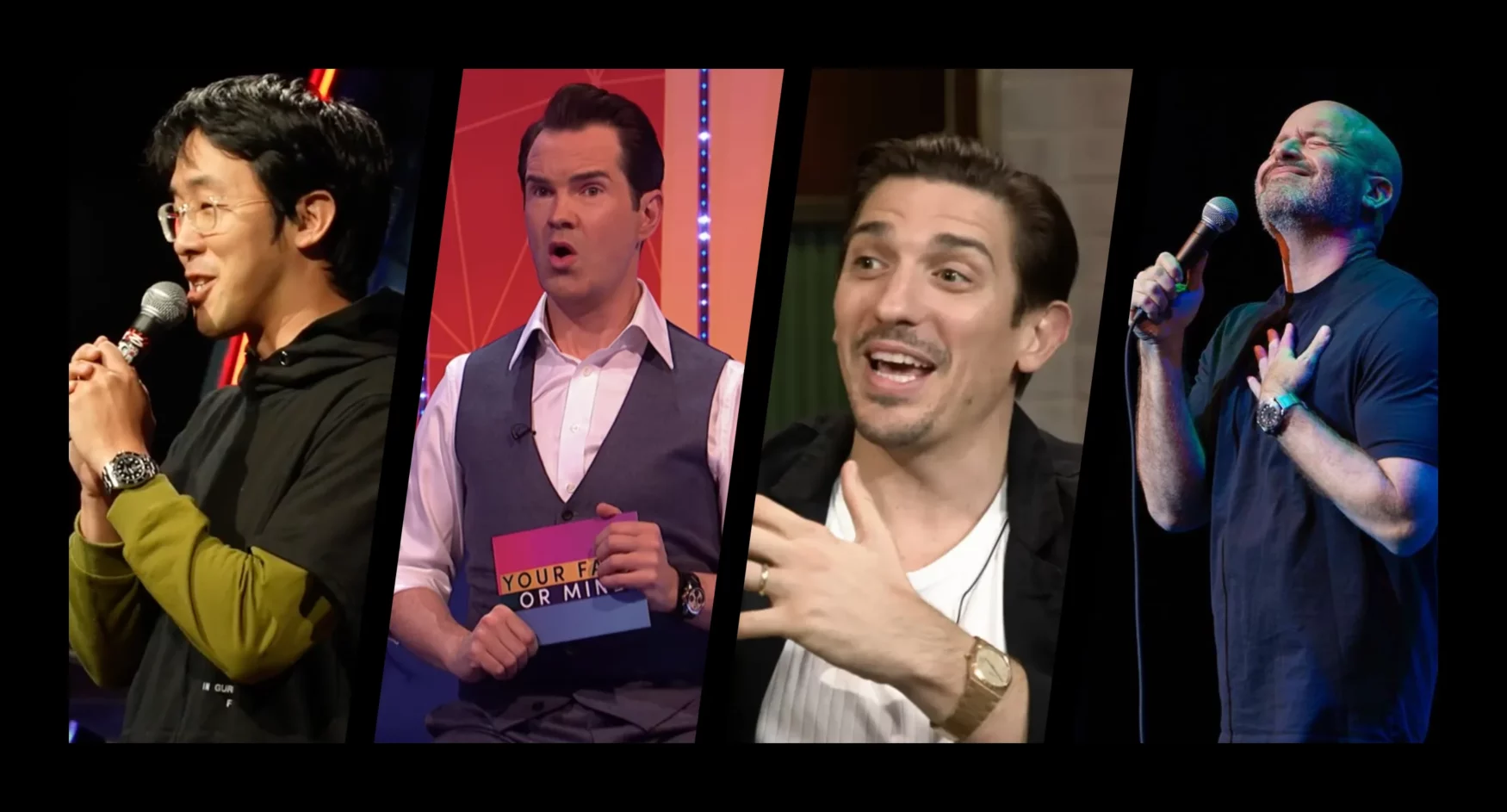 Tony Hinchcliffe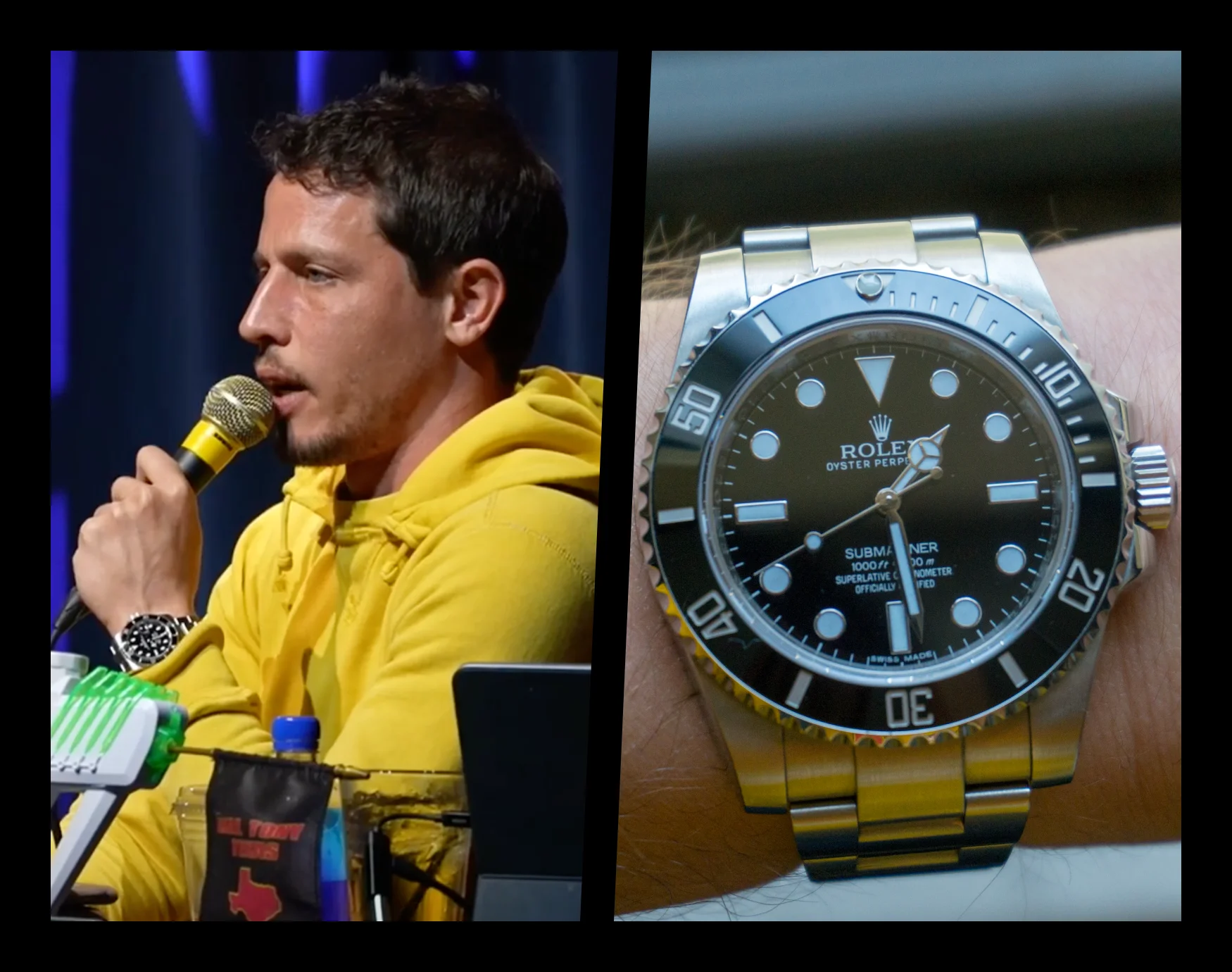 The Kill Tony live podcast is amongst the most popular live podcasts in the world. Like a box of chocolate, you never know what you are going to get. Why? Well, each weekly episode is hosted by successful comedian Tony Hinchcliffe with a guest panel of other established comedians – anyone from Joe Rogan, Whitney Cummings, Bert Kreischer, Ron White and more. Throughout these nearly two hour episodes, a mix of series regulars and "hat-pulls" perform an uninterrupted new minute of stand-up comedy that is then graded by Hinchcliffe and the panel. Alongside a few regulars, the majority of the performers are wildcard "hat-pulls". Participants enter their names in the hat and, if their name is pulled, they then get a chance to perform on this massive platform. Throughout the various episodes you can always pick out a luxury watch on Hinchcliffe's wrist – his go-tos being an Omega Speedmaster Dark Side of the Moon and a Rolex Submariner.
Hans Kim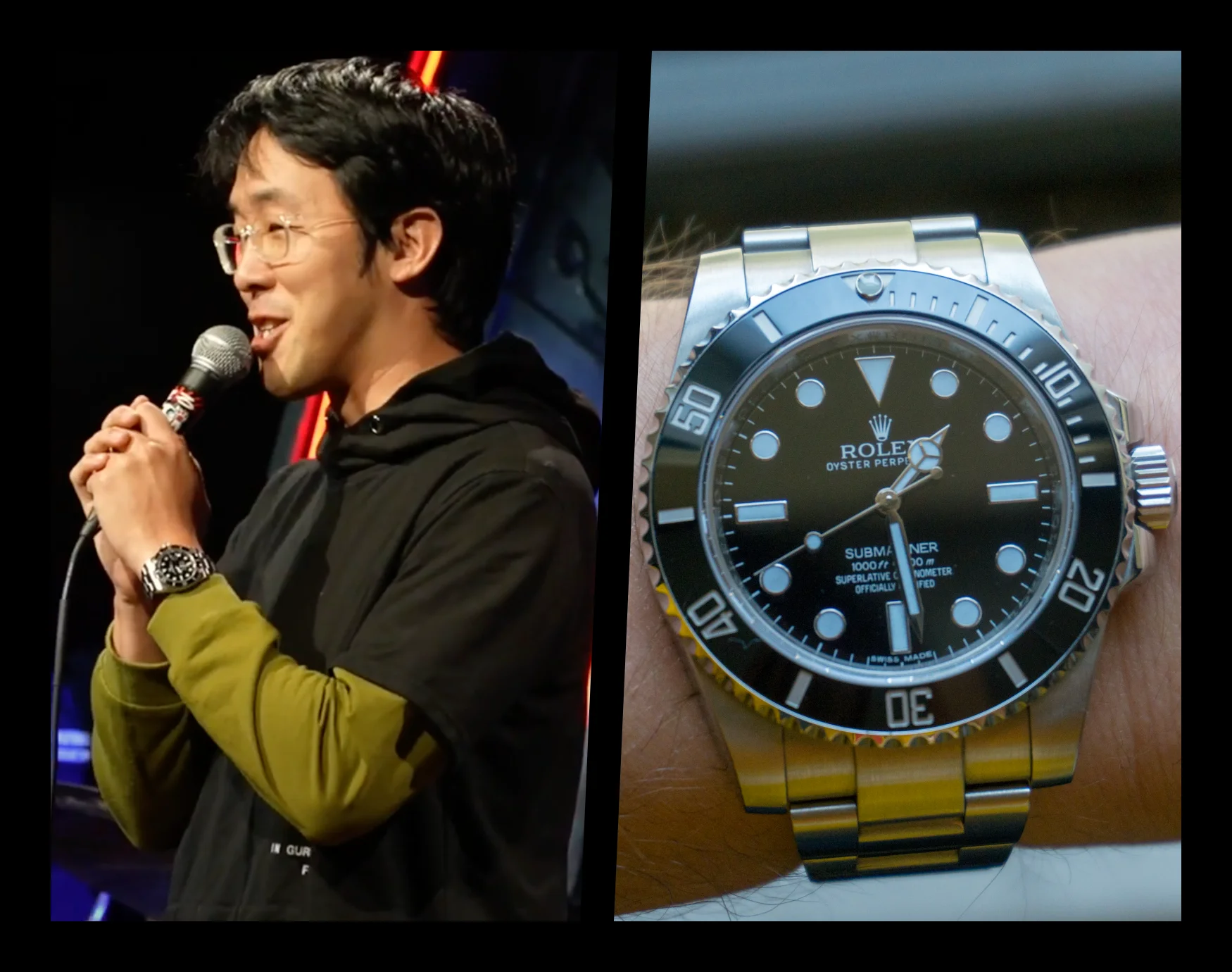 Above, I really dove into the Kill Tony program to better contextualise Hans Kim. Hans, once a hat-pull and now a successfully touring comedian, began to regularly perform with a Submariner on his wrist as his career blossomed. Whenever now introducing him on his podcast, Tony Hinchliffe always mentions the fact that Hans got his start on the show and that the platform not only launched his career, but propelled him to a level of success where he could afford a Rolex watch – a symbol that he has made it in comedy. This is where the idea has become cemented that a luxury watch has become a rite of passage for a stand-up comedian.
Andrew Schulz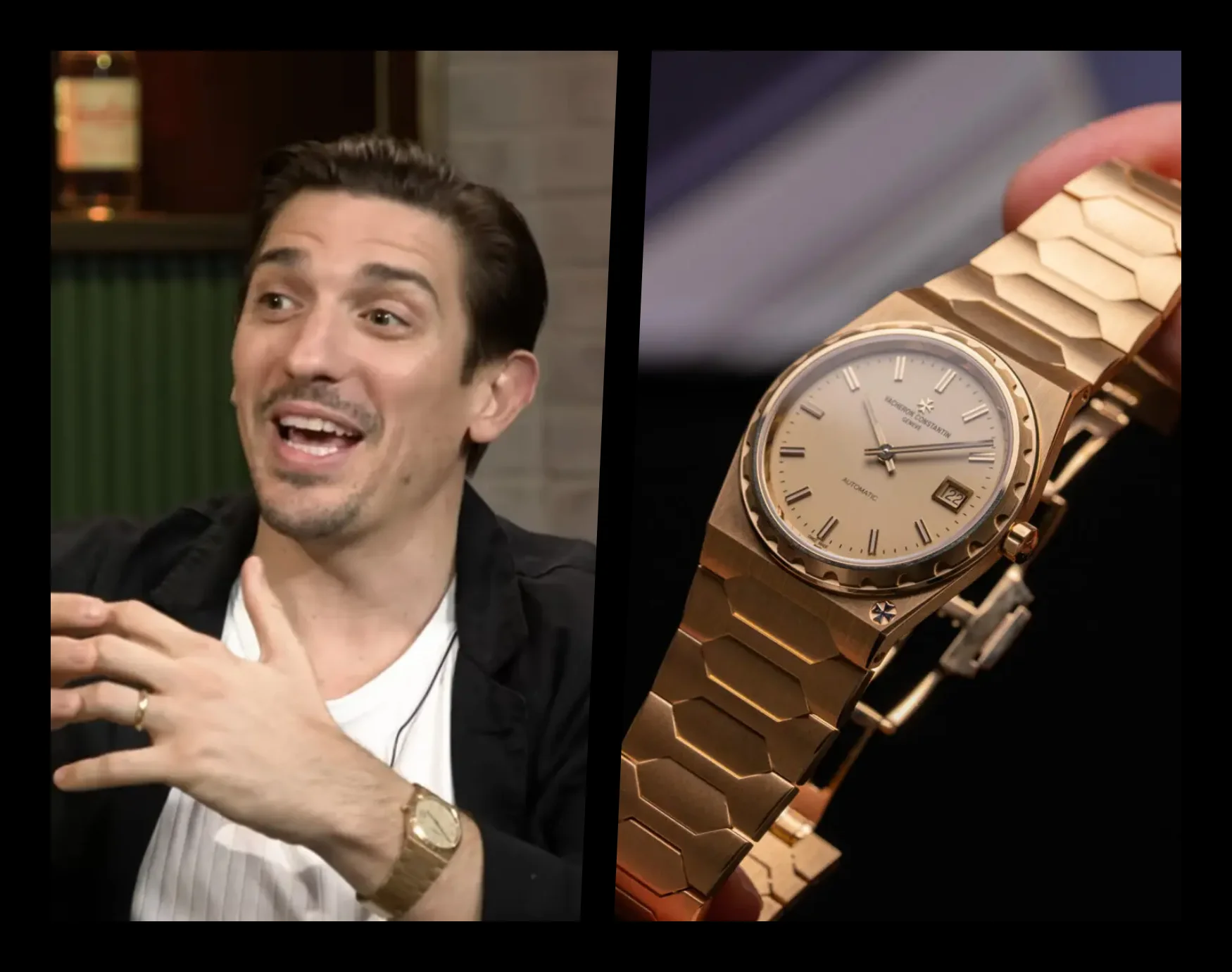 As we have covered previously, as Andrew Schulz's success and following have massively grown in recent years, he's also displayed evidence of a budding watch collection – notably including an Audemars Piguet Royal Oak, various Rolex professional models, and a killer Vacheron Constantin Overseas 222 Historiques.
Bert Kreischer
View this post on Instagram
Bert Kreischer has been a prominent figure in the comedy world for quite some time now, but, in recent years, and in nearly all video podcast footage as a host or even guest, he can routinely be spotted wearing his trusted Rolex Daytona with a white dial and black cerachrom bezel. In his stand-up specials of the past, you can spot him wearing a yellow gold Rolex Day-Date – likely one of his early pickups during his rising success. That being said, he recently showed just how much of a Rolex-bug he has caught, showing up to Andrew Schulz's Flagrant podcast wearing not one, but two Rolex watches, while promoting his new special Razzle-Dazzle. And, those two Rolex were his trusted Daytona and a recent pickup of his: the "destro" left-handed Rolex GMT Master II with a green and black bezel insert.
Tom Segura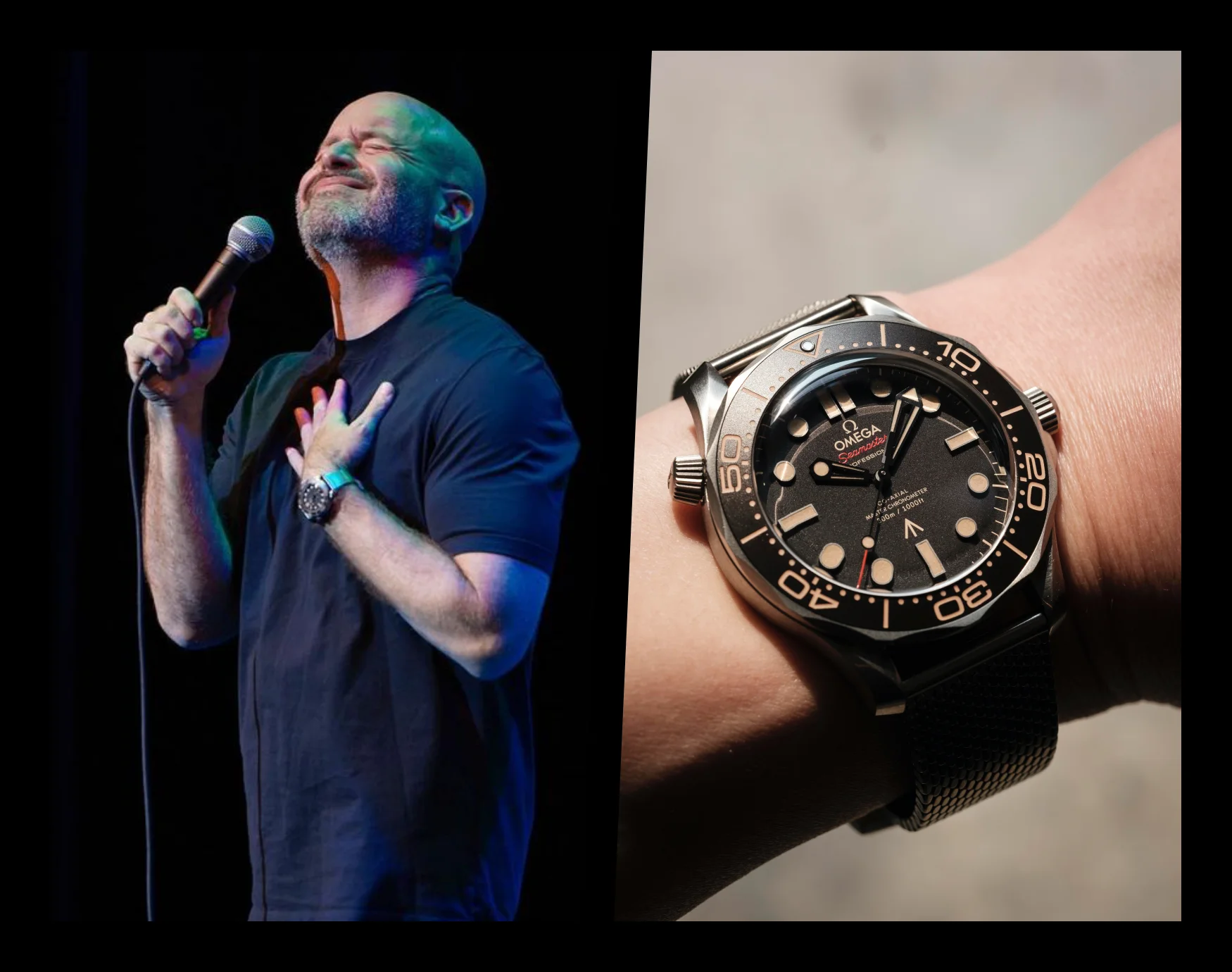 This leads into comedian Tom Segura – a close friend and colleague of Bert's as they host the podcast 2 Bears 1 Cave together – as Bert credits Tom for getting him into watches. In fact, Bert acquired the left-handed Rolex GMT Master II from Tom – who decided he no longer had interest in it. Like Bert, Segura has an affinity for Rolex, but a quick scroll of his Instagram reveals that he has also performed wearing his Omega Seamaster Professional 300M No Time To Die 007 Edition.
Jimmy Carr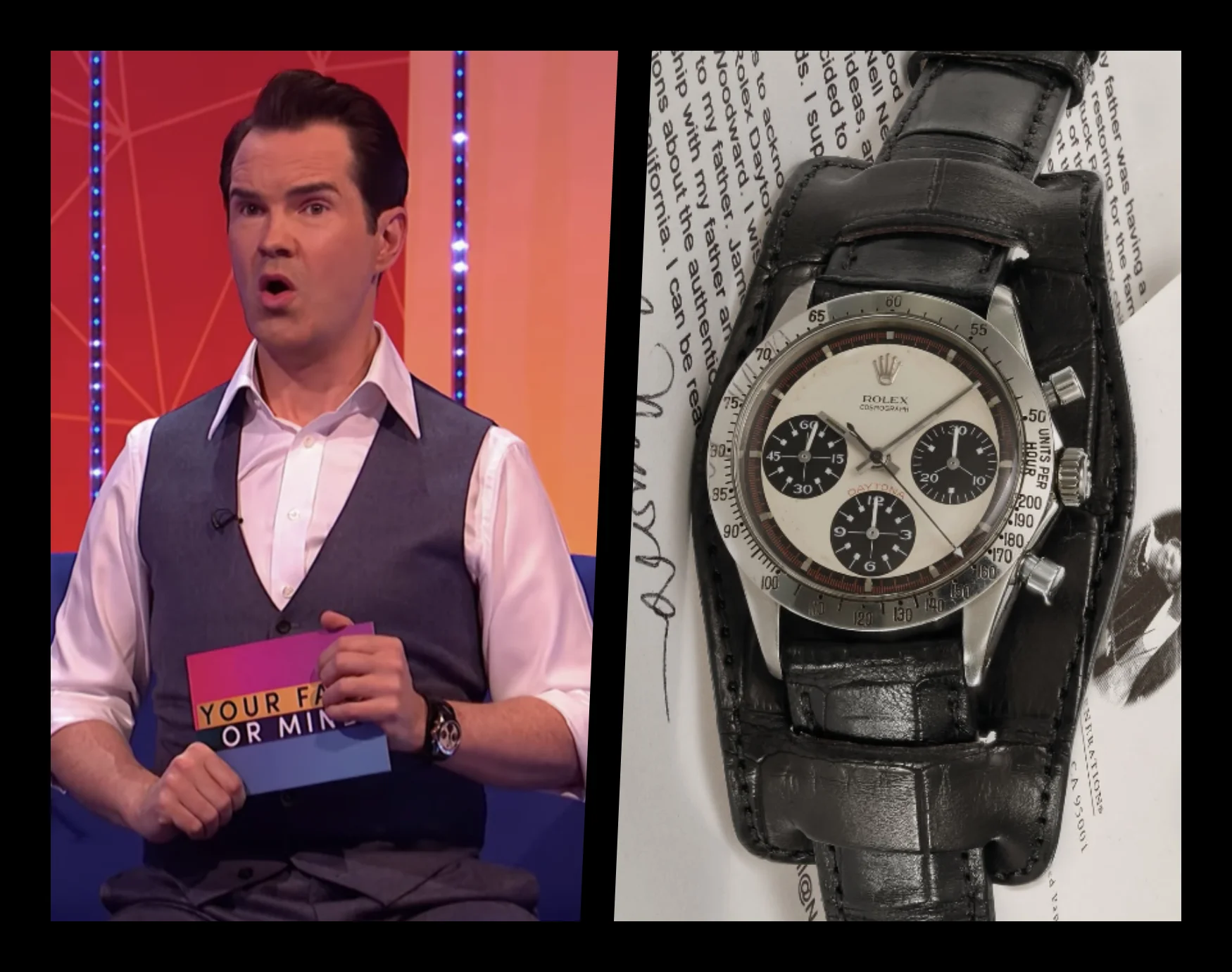 We have well documented comedian Jimmy Carr's love for expensive watches, with a wide range of Patek Philippe pieces including various Nautilus and Aquanaut watches. But the signal his love for watches goes deeper beyond the surface hype of brand power is the fact he was seen hosting a television show not only wearing a "Paul Newman" Rolex Daytona, but wearing it on a bund strap just like Newman himself was pictured doing.
Kevin Hart
You cannot find a picture of Kevin Hart, aside from when he's working out, where he is not wearing some heavy-hitting, holy-trinity horology. Hart is known to have a wide variety of Patek Philippe watches in his collection (which we have covered off ourselves here). But as of late, his partnership with Audemars Piguet has him wearing some of the most desirable Royal Oaks in the world – sometimes even, as his conversation with Hodinkee revealed, before he is supposed to, with Hart accidentally breaking an embargo due to being photographed with an unreleased black ceramic Royal Oak Chronograph. In interviews, Hart acknowledges his watches serve as tangible markers of his milestone career achievements.
Jerry Seinfeld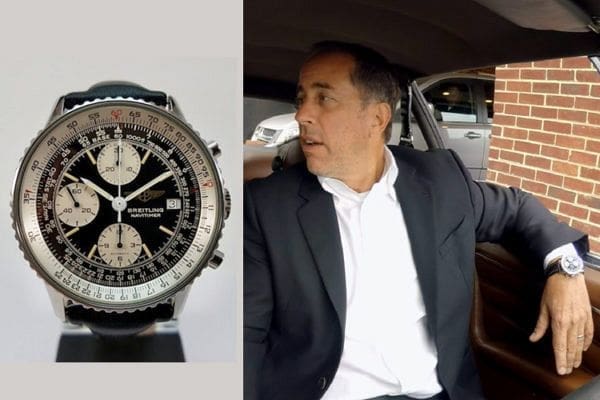 The Comedians in Cars Getting Coffee series is another wonderful hub of footage for watch spotting, with various guests, particularly comedians, often sporting various timepieces. But, of course, Jerry is no exception to the rule. Perhaps more linked to his love for automotive and aviation then as an attempt to flex, throughout the web-turned-Netflix series he can be seen gravitating towards his Breitling Navitimer and TAG Heuer Autavia watches.
Ellen DeGeneres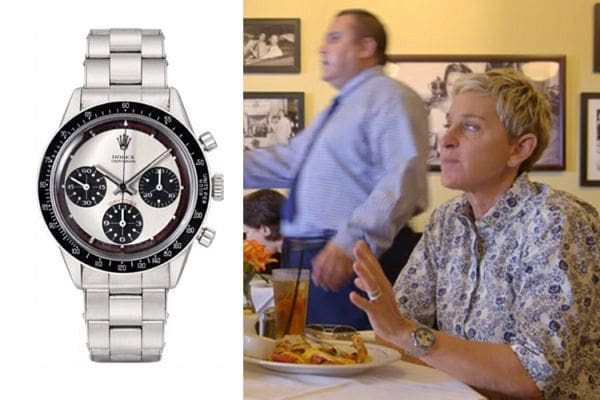 I will not belabour this one. Ellen DeGeneres has one of the most desirable watch collections in the world. If I could assign a particular theme befitting of her collection, it would be "auction house showstoppers" or "the unobtanium". Before her daytime talkshow came to an end, each episode you would find some of the most desirable Rolex and Patek Philippe watches. Sure, you can find her wearing all the impossible-to-purchase modern Rolex pieces like the "Pepsi" Rolex GMT Master II on a jubilee bracelet, various 5711s in different dials and metals, and various Audemars Piguet Royal Oaks, but she also wears, not babies – wears, some serious vintage Rolex as well. Highlights include a Submariner ref. 6538 "Big Crown" (the same model worn by Sean Connery in 007 film Dr. No) and a "Paul Newman" Daytona ref. 6241.