5 of the best titanium watches
Tom Austin
Fellow watch enthusiasts, tell me I'm not the only one that, when trying on a new watch, performs that well-known bobbing motion to get a sense of its heft. You're doing it right now, aren't you? Usually, we're used to our watches being reassuringly hefty and use that as indicator of quality, however, titanium watches have been mounting an increasingly stronger challenge to this theme. Stronger, more corrosion-resistant and around 40% lighter than stainless steel, this element is used in fighter jets, Formula 1 cars, and even spacecraft (alongside a myriad of medical equipment) – until Citizen realised they could make a watch from it, but all much lighter and durable, releasing the Citizen X8 Titanium Chronometer in 1970. Here, we'll look at some of the best watches on the market crafted from this versatile alloy and its many grades.
Tudor Pelegos FXD
Tudor introduced titanium to their catalogue in 2012 with the arrival of the Pelagos 25500TN – the prodigal grandson to the Submariner. The Pelagos had brought a fresh take on modern dive watches, while staying aware of Tudor's rich diver history. The brand introduced the award-winning FXD almost a decade later, presenting it as a collaboration piece created through the relationship with the French Navy, denoted by the MN (Marine Nationale) inscription on the caseback. Overall, it stands as one of the more unique pieces in the range, with the titanium case featuring sculpted, integrated strap bars that are surprisingly challenging to manufacture in this material. This, combined with the blue ceramic bezel insert and legible dark blue dial, is a recipe for one of the best dive watches on the market – a claim strengthened by the Grand Prix d'Horlogerie de Genève, which awarded the Pelagos FXD the Best Diver's Watch award last year.
IWC Ingenieur Automatic 40 Titanium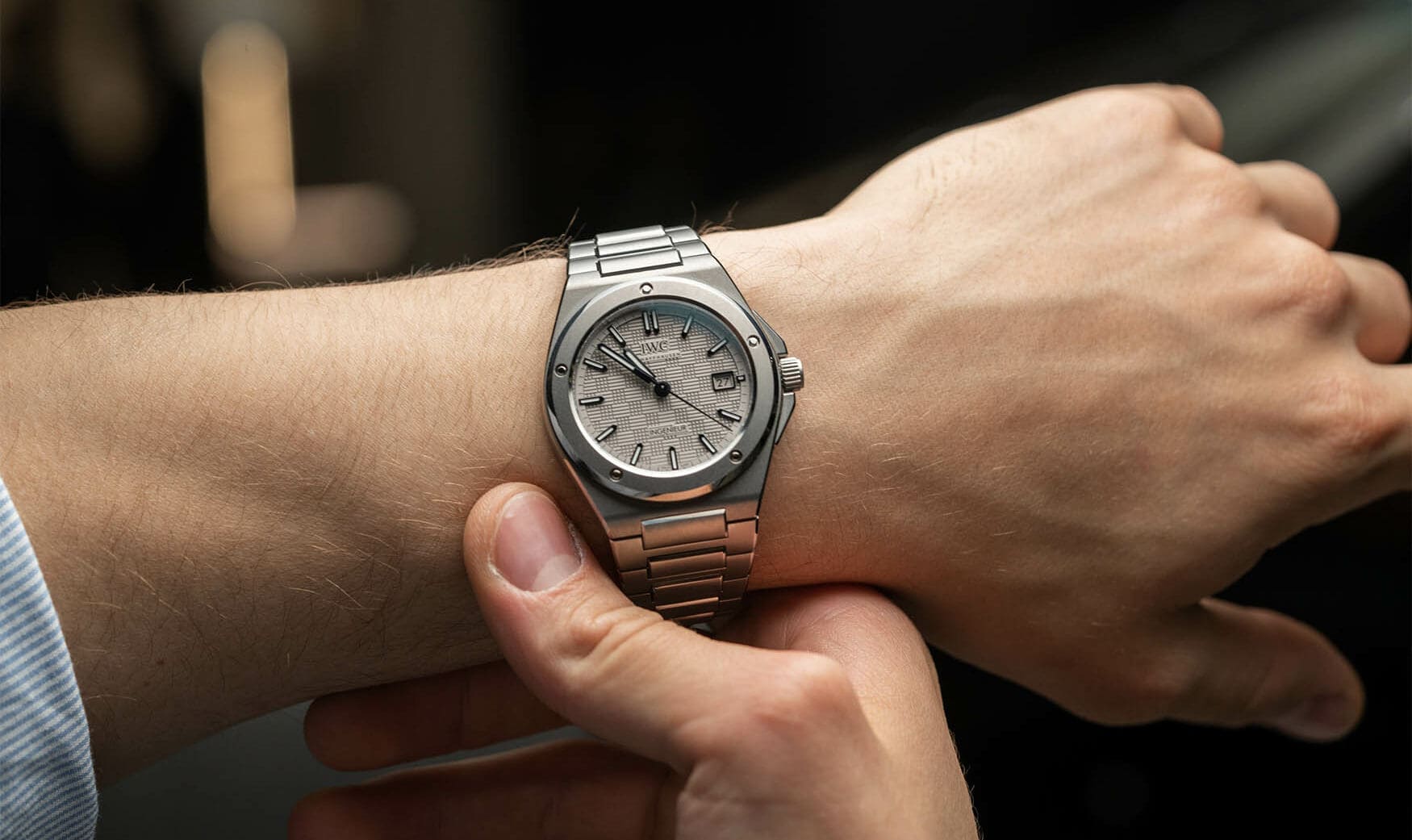 In the 1970s, IWC commissioned legendary designer Gerald Genta to design a luxury tool watch with an integrated bracelet, encompassing the brand's ability to create something strong and durable, yet sleek and aesthetically pleasing. The result was the Ingenieur SL, a watch now engrained in IWC's heritage. One of the biggest launches at Watches and Wonders 2023 was IWC's reimagined 40mm Ingenieur, and while the coloured dials of the stainless-steel pieces stole the show, the titanium variant is there for the true tool watch enthusiast. Chiselled from grade 5 titanium, the Ingenieur features a sandwich-design case, bezel, and caseback, all clamping the watch together for a very wearable 10.7mm thickness. That's thinner than a Datejust, yet managing to squeeze in a five-day power reserve from the 3211 movement, as well as 100 metres of water resistance. The Ingenieur 40 Titanium strikes a new era for IWC, as it moves the brand forward into a higher end of the market, but doing so with a nod to its rich history.
Rolex Yacht-Master 42 RLX Titanium
Rolex is well-known for making headlines despite not actually being the first to do things. For example, you'd be forgiven for thinking that Rolex invented the waterproof watch, despite the actual watch the title belonging to not being quite so clear-cut. The introduction of ceramic bezels for example, while touted as revolutionary, had in fact been in use way before their first Rolex appearance on the GMT Master II in 2005. Point being, despite the titanium Yacht-Master being far from the world's first titanium watch, it is just done so well – kind of like when Apple finally jumps on a feature Android phones have had for years. This marks a huge leap forward for the company, known for taking glacially incremental steps in progressing models forward, Like a Submariner on steroids, the Yacht-Master features a 42mm case and Oyster bracelet machined from their proprietary RLX Titanium. Also note the reintroduction of bevelled lugs and a fully brushed finish. On the inside, you'll find the 3235 movement, with -2/+2 sec/day accuracy and 70-hour power reserve, which is placed under the matte-black, perfectly legible dial. Without a doubt, the Rolex Yacht-Master is the titanium watch of the moment, and as a result, impossibly difficult to obtain, despite not being particularly ground-breaking outside of the Rolex bubble.
Citizen Attesa CB0215-18L
We wanted to include an important brand in the niche world of titanium watches. As alluded to previously, it's a little-known fact that Citizen was in fact the first brand to release a titanium watch. The material has played a big part in their catalogue ever since that 1970 release, with no fewer than 34 different models produced in the lightweight metal today. For this list, we picked the Attesa World timer, a titanium Citizen packed with features and one of the stand-out pieces out of the range. The Attesa CB0215-18L is firstly a world timer for its ability to display 26 different time zones and a perpetual calendar function. All this is crammed into a 42.5mm DLC-coated titanium case, connected to a rather on-trend integrated leather strap. The watch also features a multitude of recycled materials, a hot trend in the industry. Importantly, despite the technology-packed features, the watch is reasonably priced at £895.
Bulgari Octo Finissimo 102713
Most pieces in this list are relatively bulky, and while the titanium Bulgari Octo Finissimo isn't a particularly small watch at 40mm in diameter, it has a trump card up its sleeve – it's a grand total of 5.15mm thin. Bulgari, while originally a luxury jewellery brand, has made a name for itself in watchmaking circles with the Octo's unique visual, being so much more than a fashion watch. Inside lies the 2.23mm-thick BVL 138, decorated with côtes de Genève, chamfering, and perlage, all on display through a sapphire caseback. Bulgari became so enamoured with chasing the thinnest design possible, they even went one step further with the Octo Finissimo Ultra, which deserves an honourable mention in this list of titanium specials, which they managed to flatten down even further to a bonkers 1.8mm. The case of the normal flavour Octo Finissimo itself is multifaceted and angular, but not too masculine, with a sandblasted finish to the finely machined titanium. Coupled with an integrated, flat-link titanium bracelet, the watch looks wears like the most comfortable cuff on all manner of wrist sizes.