The 10 best lume dial watches
Borna Bošnjak
The formula is simple. Lume is cool, so that must mean the more lume, the better. Rather than pointing out any potential flaws in my logic, here's a roundup of full-lume dial watches, covering different styles and price points.
A brief history of luminous watch dials
Murphy's Law states, "A man with one watch knows what time it is. A man with two watches is never sure." In watch collecting circles this is invariably true, but the number of watches in a collection is likely proportionate to the mania of the addiction, rather than proportionate to how punctual the collector might be.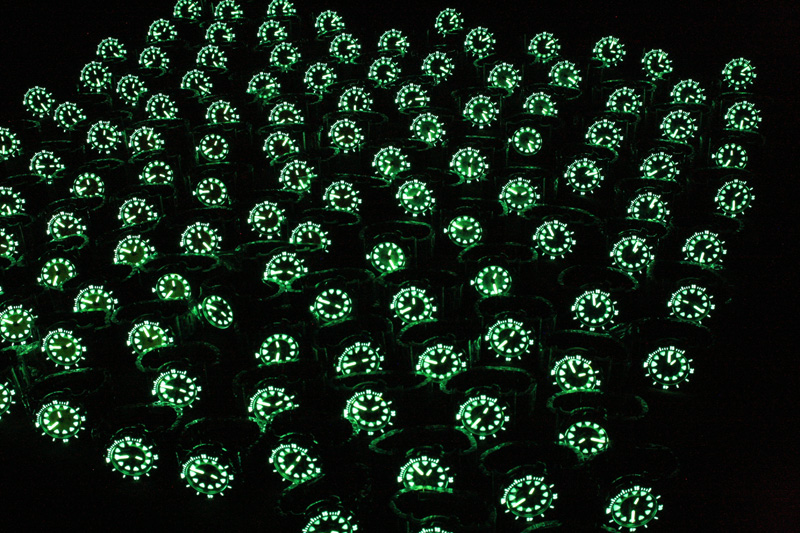 It also seems to be true that you need to know what time it is most urgently when you don't have a clock nearby. This seems to happen generally at night, when you wake in a panic, disoriented and wondering how long till you need to get up for work, and you can't see your alarm clock for the simple reason you only uncover it once you turn on the light. I like to think this was the problem the Swiss boffins were trying to solve when they started producing watches with luminescent dials, tired of the drowsy confusion in the middle of the night and determined to bring clarity to this midnight mire.
In reality, it was driven by the need for soldiers in WWI to have watches that were easy to read in low light. Initially, the chosen method for making it possible to read a watch dial in the dark was the highly toxic material of radium, applied by women working in factories. To have a brush fine enough to paint the markers, the women would lick the brush to a point, ingesting paint in the process they were told by the company was totally safe. When the women started developing anaemia and necrosis in the jaw due to radiation poisoning, litigation was brought against their employer, and the use of radium was slowly phased out.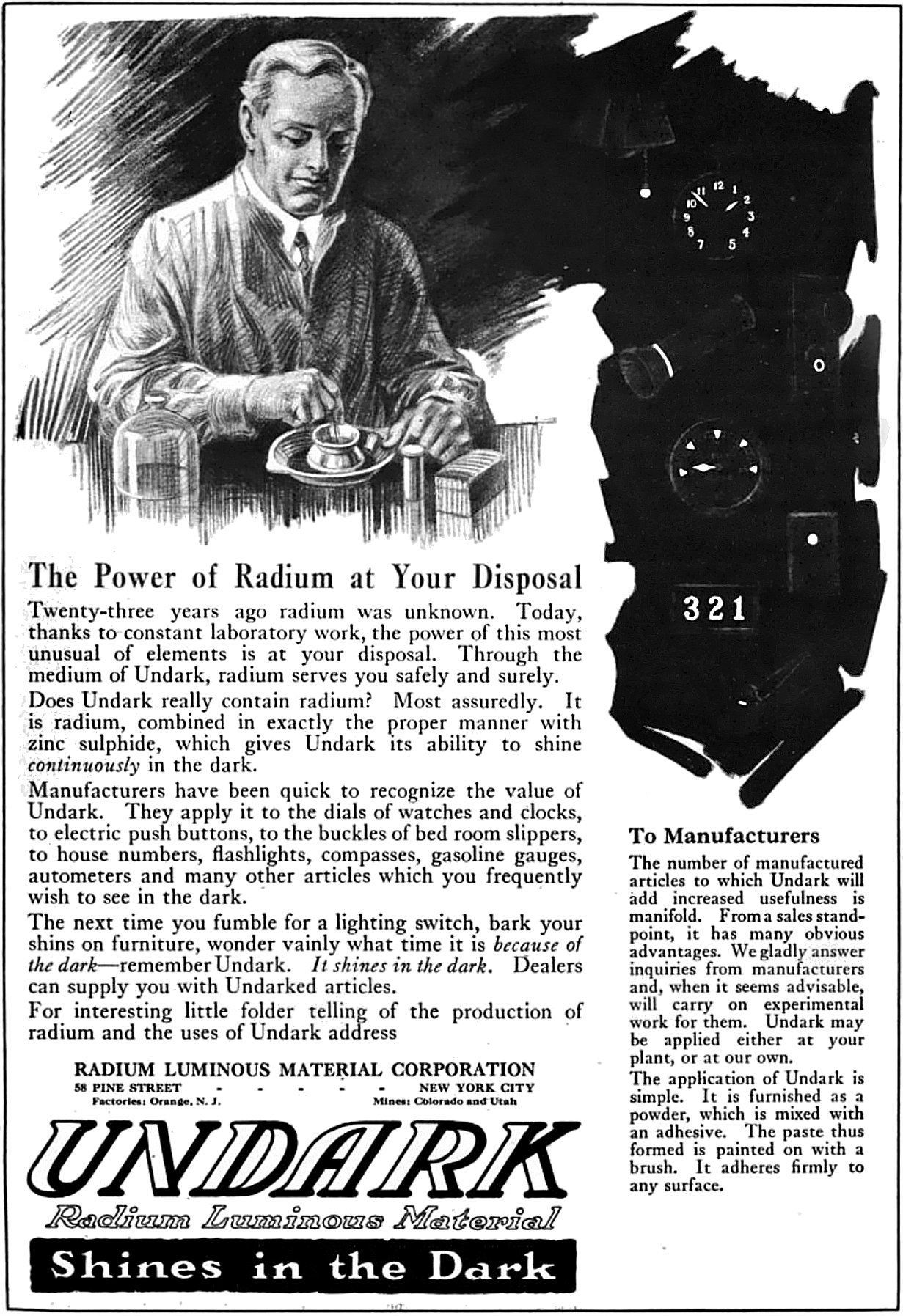 Replacements for radium included tritium (a radioactive substance that is significantly less dangerous), photoluminescent materials such as Super-LumiNova (used by brands such as Seiko and Rolex), and even electroluminescence used by Timex in their Indiglo dials. Here at Time+Tide we are very fond of a number of luminescent dials, so here's a wrap-up of some of the best lume dial watches on the market.
Signum Cuda Titanium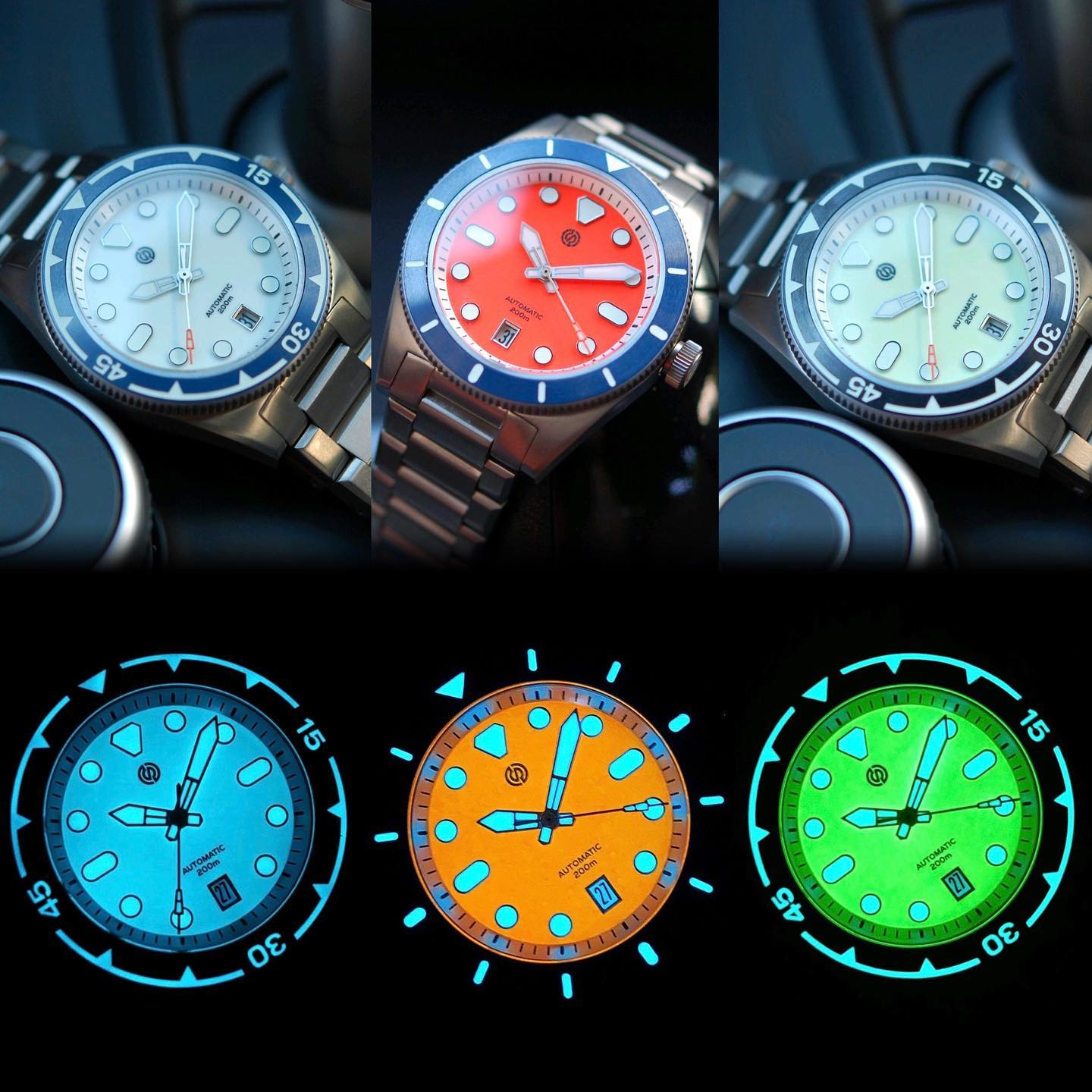 A microbrand in its infancy, the story of Signum is backed by the expertise of Kyle Schut, the man behind Straton Watch Co. Signum leaves behind the TV-style cases and brown palettes of the 1970s, opting for bold, modern designs that are most obvious in the Cuda Titanium Full Lume. Touted as sporting some of the best lume in recent years, the neon trio is a formidable force, especially considering the US$349 price point.
Tissot PRX Quartz full lume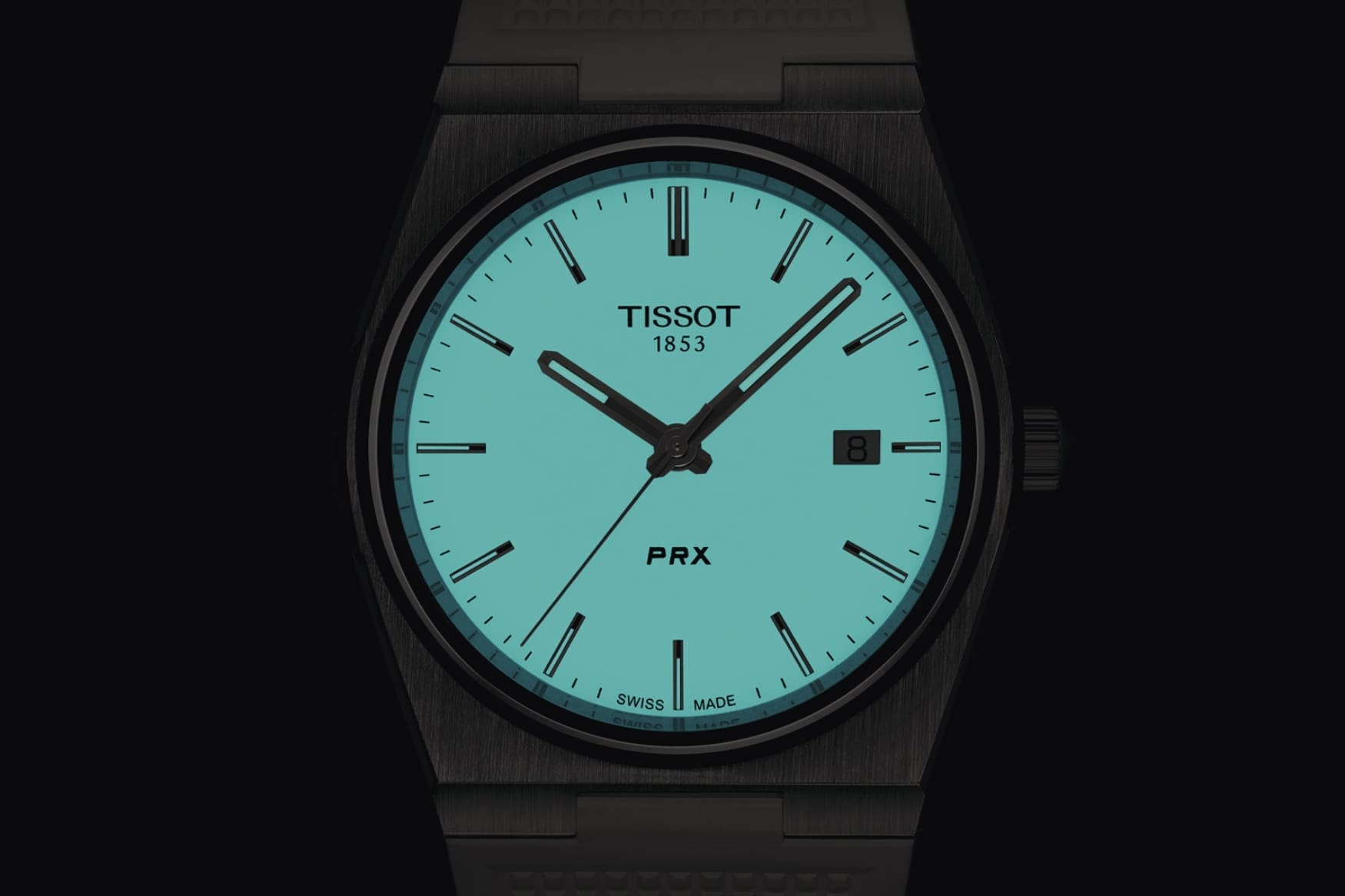 As if the Tissot PRX didn't have enough cool going on for it, Tissot went ahead and released this full lume dial variant in early 2023. The familiar 40mm size and slim case of the 40mm quartz variant combine with a soft white rubber strap with quick release spring bars, but it's really that icey blue dial that pops. Unlike many lume dials, this one doesn't feature that off-white, yellowish tint in normal light, rather presenting as a stark white. Hint hint – you can find this PRX in the Time+Tide Shop.
Citizen Promaster Aqualand Depth Gauge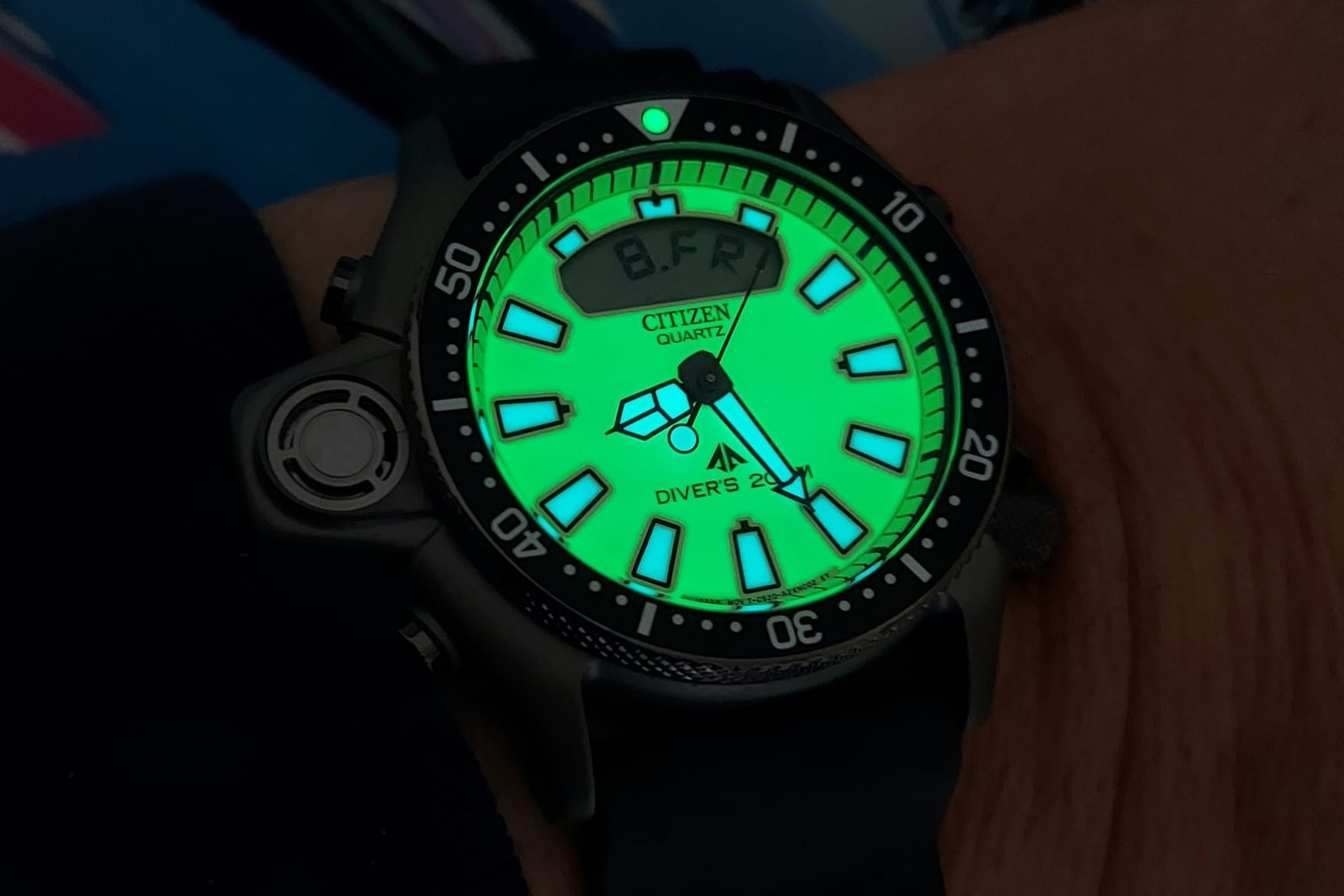 Citizen's Promaster range is all about utility, and there's nothing more utilitarian than a diver equipped with a depth gauge and a two-tone full lume dial. With big indices and pseudo-cathedral hands glowing in blue against the glowing green of the dial, its quartz movement, ISO-certified diver's rating and extra piece of strap to fit over your wetsuit, this is pretty much the ultimate diver's tool.
Doxa SUB 300 Carbon Whitepearl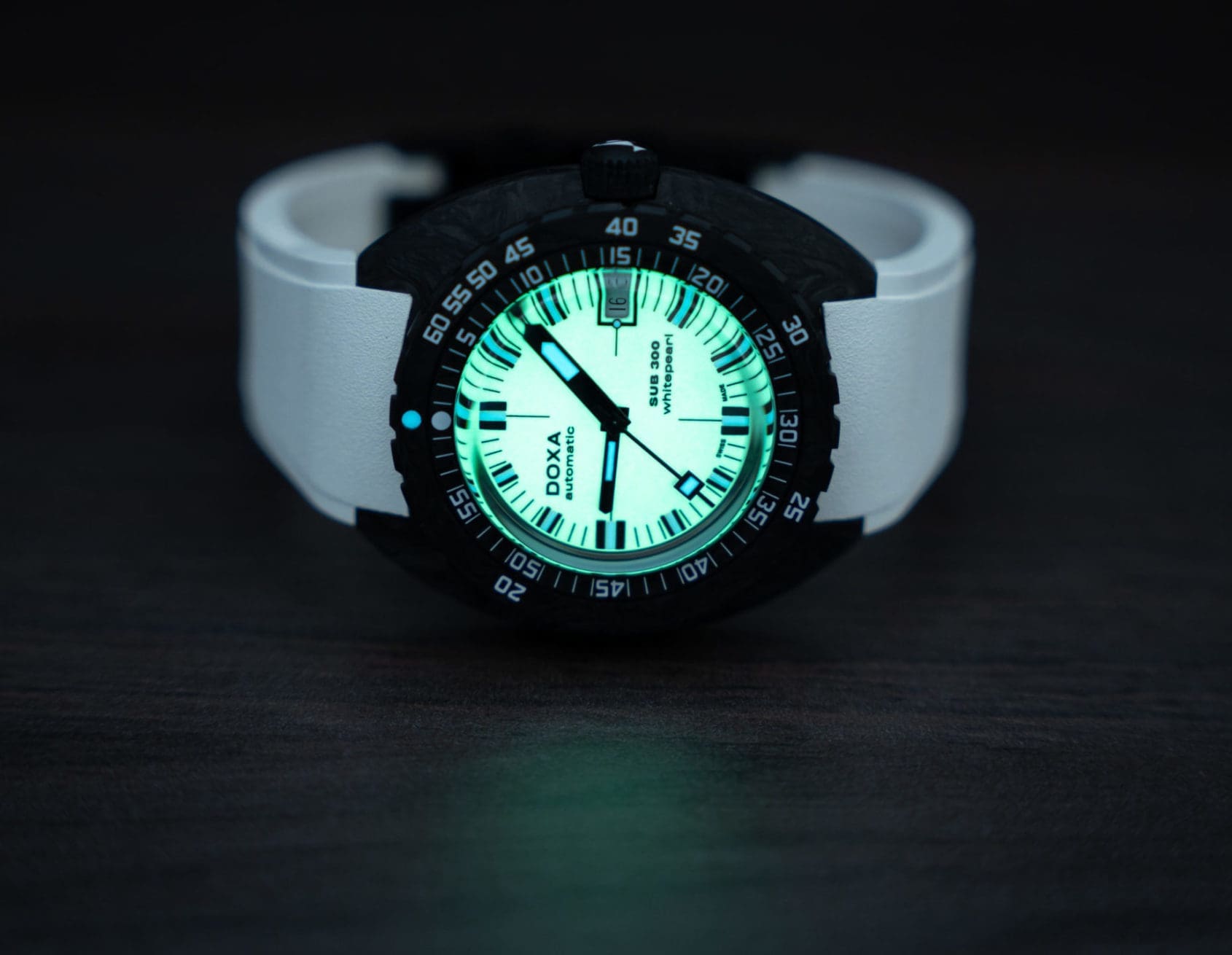 Doxa completely whitewashed their offering at Watches and Wonders 2022, including the Carbon 300 Whitepearl. As if it already wasn't a cool enough watch, the two-tone full-lume dial is sure to help the already excellent legibility of the SUB 300. Better still, you can find it in the Time+Tide Shop.
Bell & Ross BR 03-92 Full Lum
You've already fully lumed the dial, yet thirst for more lume. What do you do? Lume the entire rubber strap, of course. The brightest-shining member of the Bell & Ross "Lum" lineup, the BR 03-92 incorporates a matte black ceramic case for extra after-dark contrast.
TAG Heuer Aquaracer Professional 300 Night Diver
Part of the headlining release of the newly-redesigned Aquaracer Professional 300, the Night Diver recalls the blacked-out and lumed-out models of the 1980s. With bicolour lume and black markers that contrasted against the glowing backdrop, it's another example of TAG Heuer taking the correct amount of inspiration from their back catalogue, while avoiding unnecessary campiness.
Bulgari Octo Finissimo Ceramic Chronograph GMT "Nuclear Option"
What happens when you black out a sleek, architectural design and drown its dial in luminous paint? The "Nuclear Option" by Bulgari and Revolution is what happens. The subsequent, sinister sibling to the "White Light" launched in 2020 was prototyped by a certain Buonamassa Stigliani at Bulgari. Wei Koh of Revolution reminisces of the prototype stages, along with perfecting the level of dial luminosity, resulting in this unique release.
Sarpaneva Korona K0 Northern Lights
An offering from independent Finnish brand Sarpaneva, this has to be one of the most liberal applications of lume we have ever seen. Stepan Sarpaneva teamed up with James Thompson from Black Badger for the project, and we have to say it's pretty impressive.
F.P. Journe Élégante
The Élégante represents the journey of its master perfectly. Starting off as a relatively unknown piece that incorporates a beautifully romantic take on modern watchmaking, it has now become an object of desire for many collectors. The icy blue hue emanating from the instantly recognisable F.P. Journe dial serves as the quirk that tops off this curious quartz piece.
A. Lange & Söhne Datograph Lumen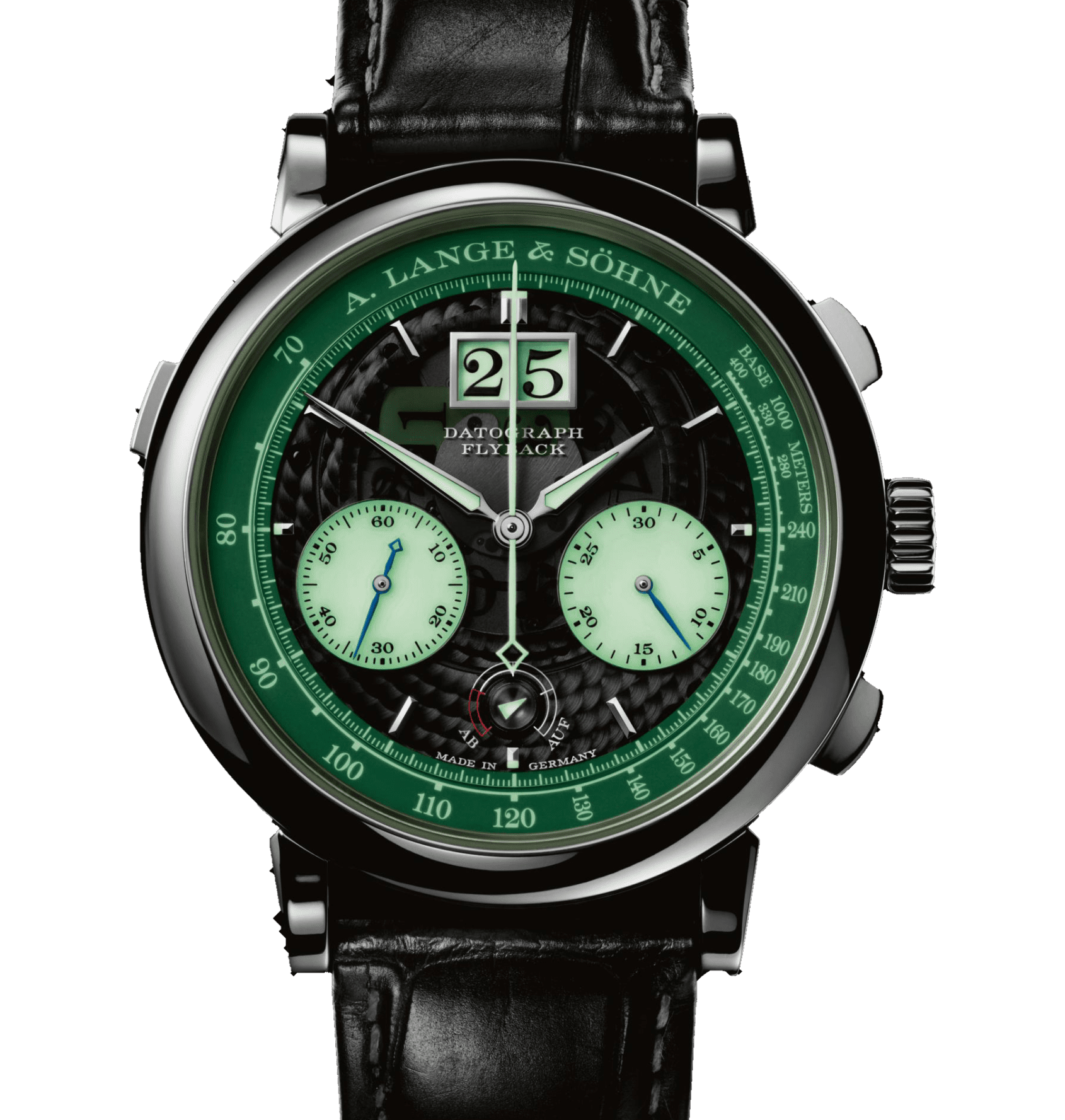 Watches with lots of lume are oft-associated with divers and tool watches, and less so with haute horlogerie pieces. The German powerhouse turned this sentiment upside down with the 2010 release of the Zeitwerk Lumen, iterating through their catalogue and applying the same skeletonised, luminous treatment to multiple models along the way. The most notable of all, in my humble opinion, is the Datograph Lumen. And no, strictly speaking, it doesn't have a dial at all, but with a watch like this, I'm prepared to make an exception.