TRADING FACES: Why I swapped my Rolex Submariner for a Rolex Explorer 1016
Zach Blass
I have penned nearly a thousand articles for this site over the last two years, but two of the most read were under the Trading Faces tag – where I dissect an actual watch trade I have made in my collection. I love that you guys love it, because I love writing them. But now I have a new one for you. as this is the story of how I got my Rolex Explorer 1016 last month, what I had to give up, and why I did it.
What I traded: A 2012 Rolex Submariner 114060
I know, I know. For those who have not seen the Trading Faces story that started it all, the first trade I dissected was the acquisition of this Rolex Submariner 114060 that I now no longer own. As I noted in the original story, the Submariner was a watch I wanted long before I was well and truly a watch geek. It was a grail or goal watch before I even understood what a grail watch was. It is such a legendary watch design, one that has been imitated and homaged time and time again. In a visual dictionary, next to the term "diver's watch" there would be a picture of a Rolex Submariner – no shade to Blancpain.
As a 2012 Submariner 114060, the watch was produced the year it made its debut. While some had their objections, I actually really dug the larger and more brutish maxi-case style. It is such a sturdy, robust and reliable watch. But, as the first Submariner with a ceramic bezel, it was one of the markers of Rolex making the more obvious transition from best in class "tool watches" to luxury sports watches. With a lug-to-lug of 48mm, the watch looked fine on my smaller wrist. And the glidelock extension system meant I could find the perfect fit each passing season as my wrist would slightly fluctuate in size. I acquired the watch in May 2019, trading away my Omega Speedmaster Automatic and Patek Philippe Golden Ellipse to make it happen. I wore the watch religiously the first year, ever so slightly less the second as my collection grew the following year – but it was definitely in my top 3 most worn of 2020. Since then, however, my collection has grown exponentially. I am not trying to brag, I always joke when people recognise my collection far exceeds my means that a Ragnarok of sorts is likely inevitable the day I have more responsibilities (like children). I point it out because as my collection has evolved, the Submariner's place in my collection changed.
What I got in return: A 1967 Rolex Explorer 1016
On the surface it is such a simple and boring watch, and yet for watch enthusiasts this is part of the Rolex Explorer 1016's charm. It is very much an "if you know, you know" reference – someone who is not a watch geek would not know or understand its value. That being said, with the rise of digital watch media and, in part, former Hodinkee Manager of Editorial Operations Stephen Pulvirent shining a huge spotlight on it, the 1016 has rocketed in market value over the years. Its association with Sir Edmund Hilary's Everest expedition as the design successor to a one-of-a-kind Oyster Perpetual that, in some form, joined the journey, has been cemented in horological mythology. For me, the stronger claim to fame is that the Explorer is the watch author Ian Flemming envisioned his 007 character James Bond wearing. And the Explorer 1016 is the watch Flemming is most known for wearing himself.
The Rolex Explorer 1016 has one of the longest production runs for a model ever, first created in 1963 and discontinued 26 years later in 1989. Throughout its lifespan there were many evolutions, with a gilt to matte transition, font and logo variations, calibre upgrade, bracelet upgrades. The Rolex Explorer 1016 I acquired from California-based vintage watch vendor Oliver & Clarke is dated to 1967, with its so-called "frog foot" dial confirming it was a Mk. 1 matte-dial model. It is by no means in perfect condition, the case was previously polished yet covered in the evidence it was well-loved. The case looks like an ice skating rink just before the Zamboni comes out. But I like that. It actually looks like a daily-wearer watch after 56 years.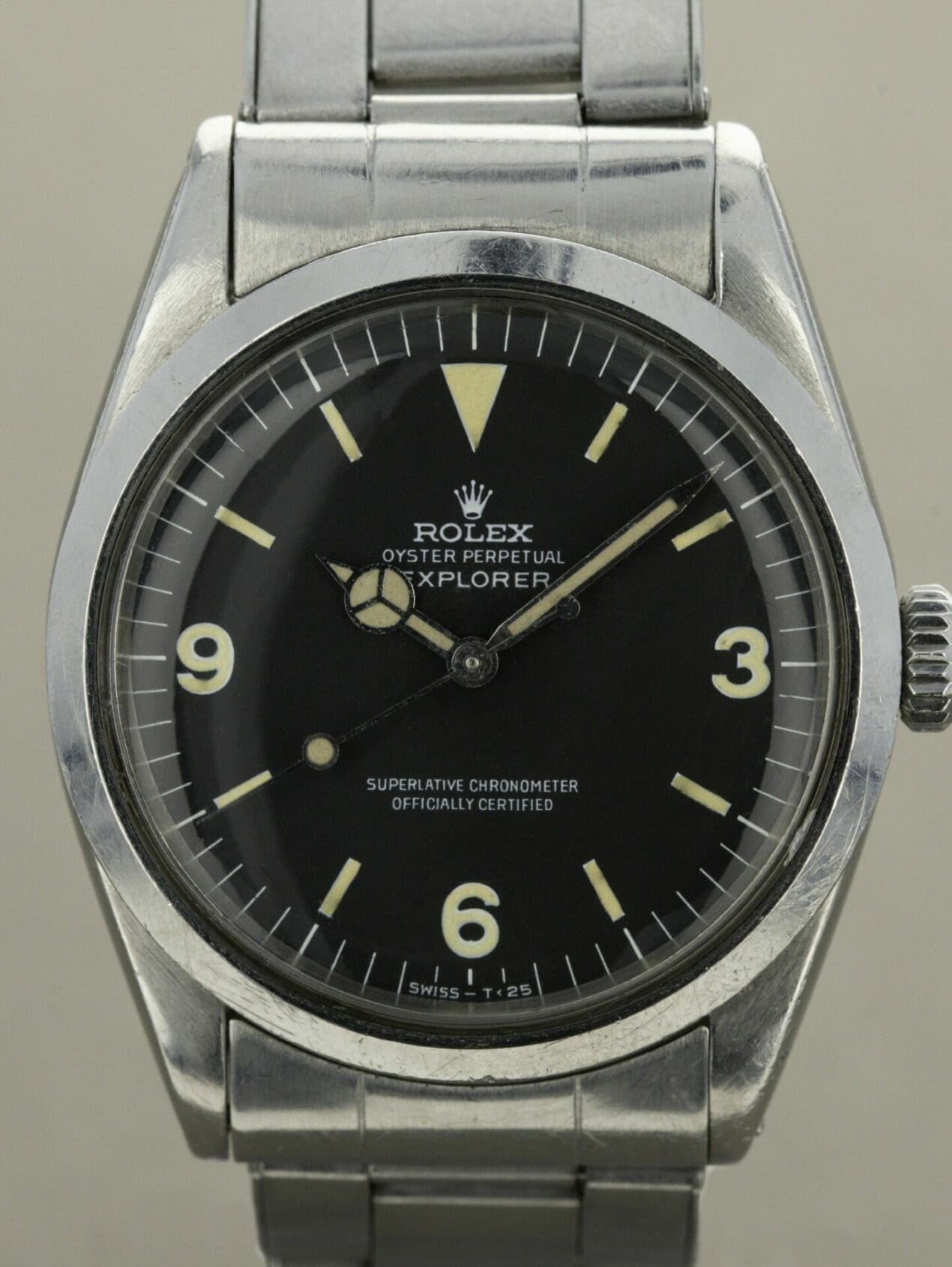 While the case and bracelet have a worn look, the dial is immaculate and the dial is the star of the 1016 show. Lauded for its simplicity, legibility, and no-fuss Arabic numerals, the dial is what attracts collectors. There is not a single blemish to the matte black dial, no spots, blemishes, or previous signs of damage. Were one to wonder if it was too good to be true, as you look closer the patina reveals its genuine aging over the years. Perfectly imperfect, the indices and numerals have take on a bright creamy tone with the edges holding out and hints of crisp white peering through – like a colouring book image that's 99% filled in. In modern faux-tina dials, the aged SuperLuminova® is presented too perfectly and uniformly with zero deviations on the entire surface. This is the real deal. As can happen, the hands are a tad darker than the indices and numerals – aged into a "cookie" tone.
Why I did it
Earlier I mentioned how my collection has evolved. And this was one of a few crucial factors in my decision. When I originally traded for the Submariner 114060, I did not have any other dive watches. Today, I have both a Sinn U1 DS "Grinded Dial" Limited Edition and a DOXA SUB 300 Aqualung US Divers Limited Edition to cover that base. I also feel totally comfortable swimming with other watches I own outside the category, like my Grand Seiko "Snowflake" and "Shunbun", my Zenith Defy Classic Skeleton "Night Surfer" Time+Tide Edition, and my Rolex Datejust 36 126234.
This leads me to my next crucial factor. Since the Rolex Datejust 36 entered my collection last year, between the pair of Rolex watches I was reaching for the Datejust 36 nine times out of 10. Its size better suits my wrist, and its style is more my vibe as someone who often finds themselves suited up in the presence of watch industry executives. The three of my watches I arguably enjoy the most, and fit me the best, are all 36mm and below: my Rolex Datejust 36, my 36mm A. Lange & Söhne 1815 Up/Down ref. 221.021, and my 31.4mm Cartier Santos Dumont Large Beige Lacquer/Rose Gold. And towards the close of the year, I began to realise that moving forward I do not want to compromise for larger sizes unless absolutely necessary.
The immaculate dial of this 1016 was also new ground for me to cover. I have long avoided vintage watches due to the nuances of their authentication and wear experience. By no means does this Explorer replace my Submariner in function. It will never take a dive beyond a desk drawer, and even then I will be cautious of knocking its acrylic crystal. After learning, however, that unlike the 14270 I once owned, I would not need to break off a permanent link to get a perfect fit, I realised this watch was a golden opportunity to finally tick a box in my collection I never had: a perfectly patinated vintage watch. I also already knew just how much I love the fit of a 36mm Rolex from my Datejust, how it would make a great foil to it as well. The Datejust, with its jubilee bracelet and fluted bracelet, is rather bling and formal. The Rolex Explorer 1016, on the other hand, is the exact opposite. If the Datejust is the Rolex people spot all the way across the room, the Explorer 1016 is the Rolex that hides in plain sight. It is a very valuable watch, yet it is only valuable to those who actually know what it is. Which leads me to my next point…
The last and final crucial factor unfortunately is safety. Aside from the New York City area, the only other places I ever wore my Submariner were Boca Raton and St. Louis. To each their own, but on vacations to places like Aruba and Mexico, and press trips to London and Paris, I personally never felt comfortable wearing the Submariner. It is such an icon that it can potentially generate unwanted heat. With plenty of under-the-radar alternatives in my collection to turn to, and not even necessarily out of fear but desire, it became more and more apparent that while I loved the Submariner I may not need it in my collection any more. Its utility was no longer required, I had a Sub for Sub's sake. It fitted me, but other watches fit me better. It looks great, but I have a lot of great looking watches I can wear.
I've always loved the idea of owning a Rolex Explorer 1016, but I have never actively hunted one down. The prices were just out of my range, and, with a one-in one-out policy for that level of an acquisition, I had not entertained the idea I could willingly part with the Submariner. It was really after my Santos arrived at the end November that the seed was planted. As if by fate, I chance encountered the 1016 listing on Oliver & Clarke while showing a friend a very rare Rolex Commando 6429 they had, and still have at the time of writing, for sale. At its listing price, and with my Submariner that was now worth US$4K or so more than when I acquired it, I knew its trade value would get me close enough to the listed Rolex Explorer 1016 where I could make the deal happen. So after taking a night to sleep on it, I took the plunge. And, at least for now, I am very glad I did and have zero regrets.