5 of the best analogue watches for kids
D.C. Hannay
I haven't thought much about kids' watches since… Well, when I was a kid. My first watch was a blue-dialled Timex with a manual movement, and let me tell you, I beat the living snot out of that thing. It took a licking and kept on ticking, until it didn't. I loved that thing to death, literally. It was one of the coolest things I owned, and I remember being captivated at an early age with watches of all kinds. It amazed my tiny dinosaur brain that there was a little machine ticking away on my wrist, and I imagine a lot of you shared a similar experience. Because here we are, all these years later, with that horological fever still coursing through our veins.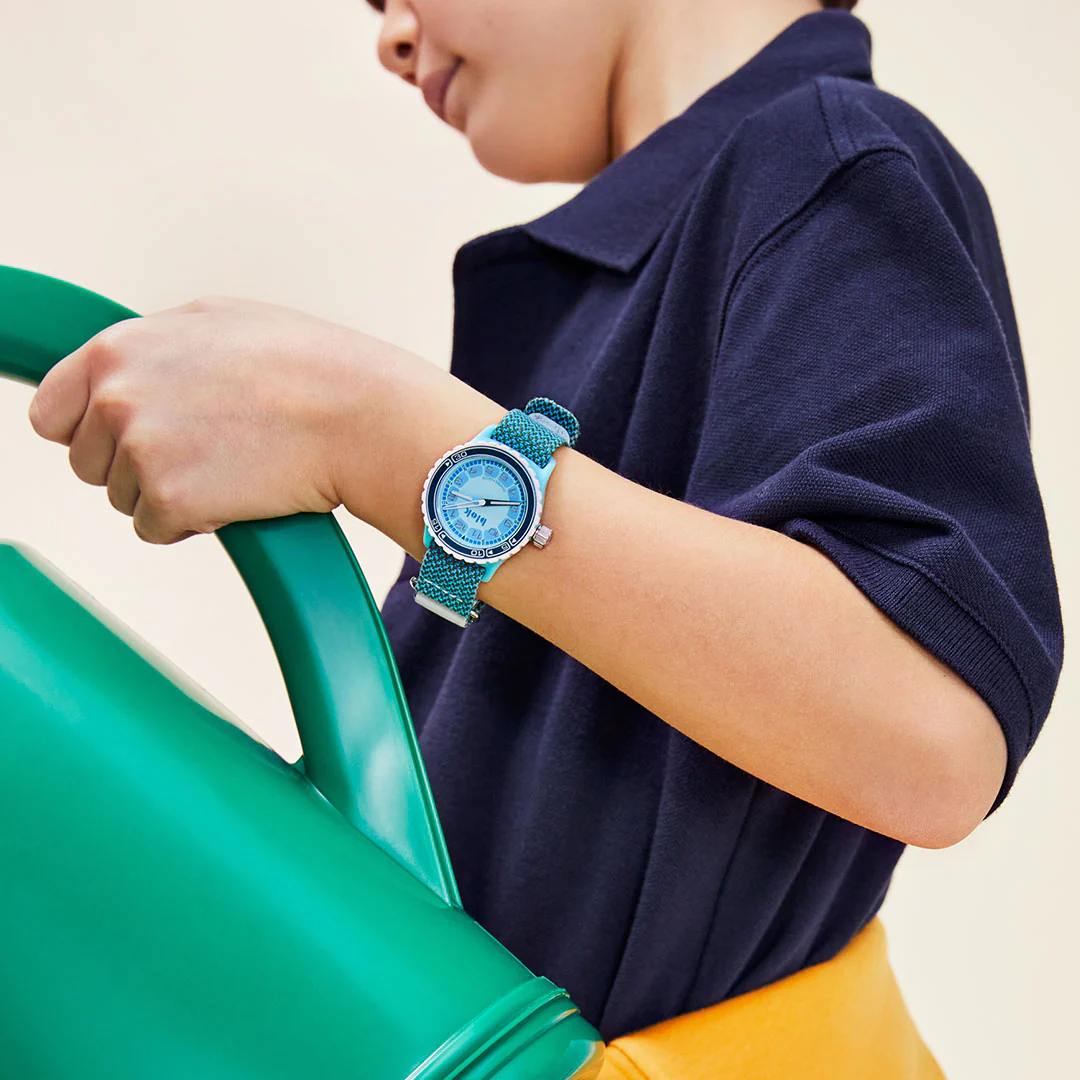 Flash forward to just last week, when we happened to be attending a church event, sitting in front of our niece and her not-quite-year-old daughter. Now, this baby is amazing. In fact, a panel of scientists recently voted her as one of the Top 3 Babies in the entire country. Naturally, she was incredibly behaved in one of the most challenging environments for little kids, occupying herself by flipping through her books and playing with a stuffed animal, but toward the end of the hour, my keenly honed uncle instincts detected that her amusement with those distractions was waning. I knew I had to step in, so I did what anyone would do. I handed her my watch.
That kid's eyes grew as wide as espresso saucers as she took the plastic Casio from my hand. Her mouth dropped open in amazement as she surveyed the flashing digital display, bevy of pushbuttons, and the many varied textures and surfaces of the watch and its strap. Of course, after a thorough examination, the watch ended up in her mouth, but the mission had been accomplished. The rest of the audience was safe, and a newly minted watch collector was spawned.
I think most kids would likely be fascinated with a watch, but sadly few of them are able to tell the time on an analogue dial. If kids happen to wear a watch these days, it's probably a smartwatch (or perhaps a digital one, if they're cool). I think we should work on that, if only to preserve the horological arts for future generations. Unfortunately, crappy kids' watches are everywhere, and you don't want to shell out for a wristbound piece of actual garbage, so buyer beware. To that end, here are five of the best candidates for your little one's first timepiece, in ascending price order.
Timex
Timex has long been a value leader in well-built and well-priced timepieces, and they make a good number of watches aimed directly at kids. That includes the Time Machines series, which combines a 29mm resin case, a quartz movement, 30 metres of water resistance, and a stretchy elastic band, available in a wide range of colours and fun graphics. Timex watches are typically tougher than their specs suggest, having abused my share in the past, so this is a good choice for not a lot of coin. And yes, you can even get a panda dial. Price: starting from US$25
Casio
I'm a longtime Casio evangelist, and I especially love the rugged, highly legible MRW200H-1BV, but I reckon most kids might have trouble pulling off its 44mm diameter. That's where the LRW200H series comes in. You get the same bidirectional bezel, legendary toughness, and 100 metres of water-shedding ability, but in a much more manageable 34mm case size. This one is aimed at the ladies' market, but with a variety of colourways on offer, it's a great watch for kids too, and it'll keep going long after Junior conks out in the minivan on the ride home from the waterpark. Price: US$36
Flik Flak
If your offspring's more into art than action, Swatch's Flik Flak series has their number. They offer a huge array of styles and colours, with all manner of kid-appealing graphics like sharks, unicorns, dragons, rainbows, and even ninjas. They feature a quartz movement, 3 ATM of water resistance, and some actually have rotating bezels for added fun. And being part of the Swatch group has its perks, because you can even get a Flik Flak 'moon watch'. Price: starting from US$40
Parchie
The brainchild of ex-Hodinkee watch journo Cara Barrett, the colour-soaked Parchie line cuts a striking profile, with their 32mm aluminium cases rendered in brilliant hues. Time-telling is made easy with their highly contrasted dials and 12-hour fixed bezels. They also sport Japanese quartz movements, 30 metres of water resistance, oversized crowns, and easily adjustable hook-and-loop fabric straps in complementary colours. And yes, the Parchie even has drilled lugs! They're so nice to look at, I suspect a fair number of grownups will be yoinking these from their kids' nightstands. Price: starting from US$65
Blok
Blok made quite a splash when they first appeared, with their thoughtful designs appealing to parents who also happened to be watch fans. Smart details abound on their flagship 33mm BK 33 model, including a Swiss ETA quartz movement, a bidirectional bezel broken up into four timing "bloks", a colourful bioplastic case, sapphire crystal, and 100 metres of water resistance with a screw-down destro crown.
Now, the just-released 31mm BK 31 simplifies the construction, while adding gobs of Swiss LumiNova, because lume and a flashlight are must-haves for those late summer campouts in the backyard. Price: A$300 from the Time+Tide Shop