5 of the best asymmetrical watches
Fergus Nash
No matter where your taste in watches lies, you can pretty much guarantee they'll mostly be round. Given the circular nature of our journey around the Sun, the way a sundial's shadow is cast, and the very way we display time progressing, it's no surprise that the vast majority of watches are the same. Rectangular and square watches have some big hits here and there, but they're still considered a small minority. If you want to shock and alienate customers, whether for fun or for artistic reasons, then the easiest way forward is to distort the case. While asymmetry hit its stride in the 1950s, there's still a niche appreciation for them today, and we've collated the best examples of asymmetrical watches.
Hamilton Ventura
It doesn't really matter how high-end or sophisticated a watch is, because pop culture has the power to define generations. The Hamilton Ventura is a legend twice-over in that world, first becoming known as "the Elvis watch" after appearing on his wrist in the movie Blue Hawaii, and later being worn by Will Smith in Men in Black. As if stardom in 1961 and 1997 wasn't enough, the Ventura also gets horological brownie points for being the first battery-powered electric watch. Introduced in 1957, the Richard Arbib design promoted the space-age thinking which the Hamilton Electric movement embodied, working towards a high-tech future. Now, the Ventura comes in a variety of references both quartz-powered and automatic. Electric movements may have been thoroughly replaced by quartz ones, but the Ventura shape is still exciting. Prices start at A$1,275.
Cartier Crash
Frankly, Cartier are the undisputed masters of asymmetrical cases. Hamilton in the '50s and '60s could give them a decent run for their money, but Cartier continue to produce plenty of exquisite examples today. It was difficult to decide between models such as the Cloche and the Tank Asymétrique, but I've settled on the Crash as the most iconic of the bunch. Supposedly based on a watch deformed by fire in a blazing car accident, the first Cartier Crash was released in 1967. We know from the Pasha that Cartier aren't afraid to embellish an origin story, but regardless of the truth, it's a fantastic watch design. It undermines typical luxury snobbery, and ironically has become one of the most sought-after models in high-end auctions, spawning countless references and limited editions.
Omega Speedmaster Moonwatch Professional
The asymmetry of the Omega Speedmaster Moonwatch is fairly subtle, but it's been an intrinsic part of the case design since the pre-moon reference 105.012 from 1964. Taking over from the angular and slender profile of the 1957 Trilogy releases, the lyre-lug case design is still used for modern Speedmaster Moonwatches today. The 42mm case essentially just warps slightly to incorporate the crown and pushers, allowing them to be guarded without any awkward or bulky additions to the silhouette. It's that subtlety which allows the case to look symmetrical at a glance, showcasing how asymmetrical design can actually be in support of balance rather than against it. Price: A$11,550.
Rolex King Midas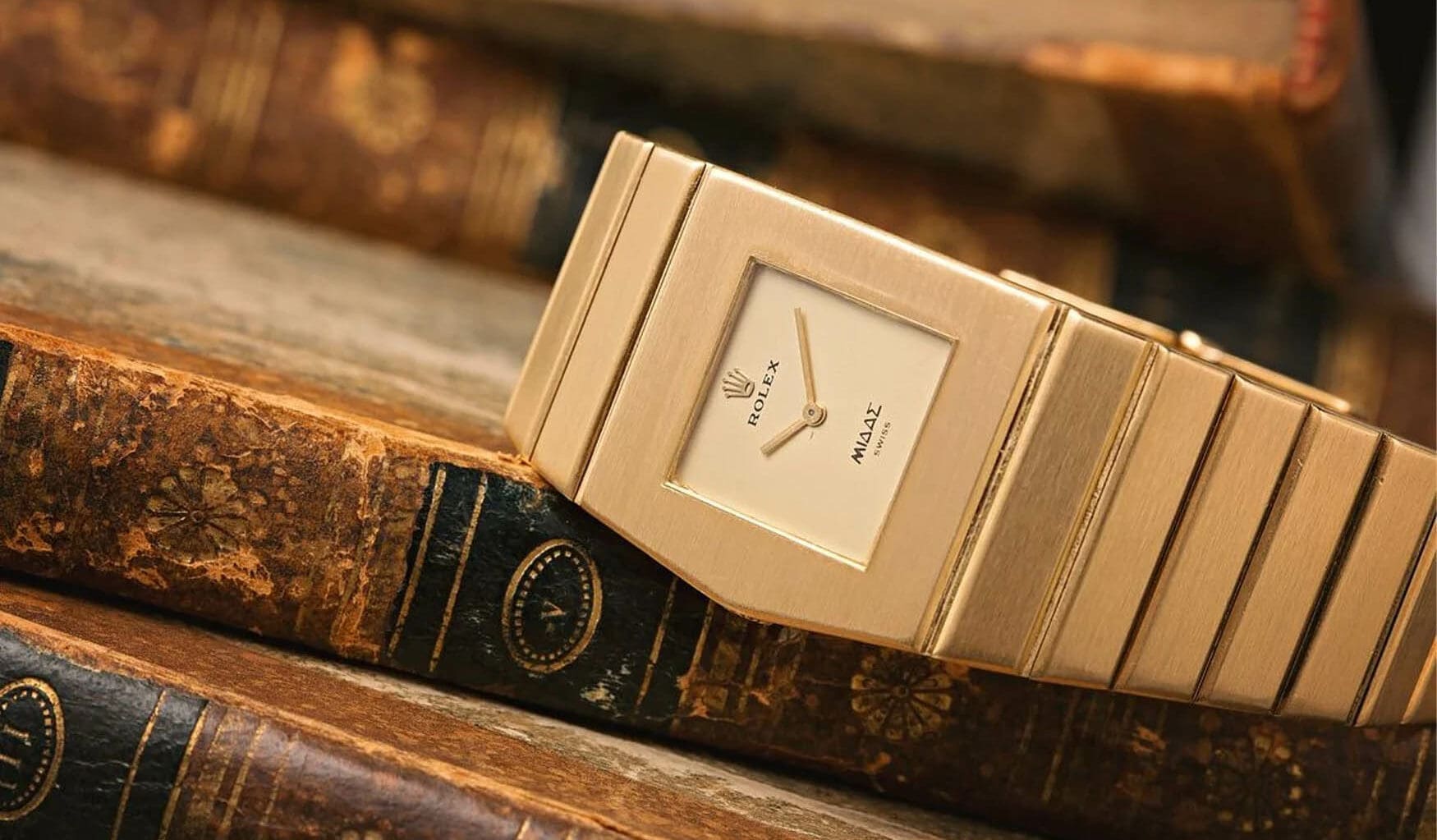 Elvis Presley wasn't limited to just one asymmetrical watch case, as he was also gifted a rare, limited edition Rolex King Midas in 1970. Designed by the near-mystical entity that was Gérald Genta, the Rolex King Midas was released in 1964. Its angled left-side is based on the shape of the Greek Parthenon's pediment, hence the King Midas name, Greek lettering on the dial, and the watch box being shaped and painted like an ancient Greek urn. It's a stunning example of Genta's early integrated bracelet approach, and a lavish display of Rolex's opulence before they focused on sports watches. It's also rare to see such a prestigious watch with a left-handed crown, and the original run of 1,000 pieces was successful enough for subsequent models to be made under the Cellini collection. Secondary market values float around US$15,000.
Berneron Mirage
You may have noticed that although three of the four previous watches are still in production, all of them were designed between 1957 and 1967. Asymmetry was at its peak in those years, where experimentation was craved instead of playing it safe for profits. Sylvain Berneron's brand has been in development for the last two years while serving as Creative Director for Breitling, and the Mirage is his first release. Rather than containing the movement in a traditional circular shape, the hand-wound Calibre CH233 was designed for performance first and shape as an afterthought. Then, the Mirage's case and dial were formed around it, leaning into the warped nature without pulling back on luxury. The result is a brand-new watch which truly captures the artistic freedom of the past, and proves that elegance can come in any shape. Price: CHF 44,000, souscription.