5 of the best affordable dive watches
D.C. Hannay
Divers are still some of the most popular watches on the market, even for those of us whose boldest underwater adventures consist of a quick dip on a beach vacation. And while everyone has their own personal favourites, I think my admittedly subjective selections under $5,000 are pretty solid, with a few leftfield choices holding their own among some undisputed heavy hitters. Here (in order of ascending price) are my five fave dive watch picks under 5K.
Zodiac Super Sea Wolf LHD Pro-Diver GMT – US$2,295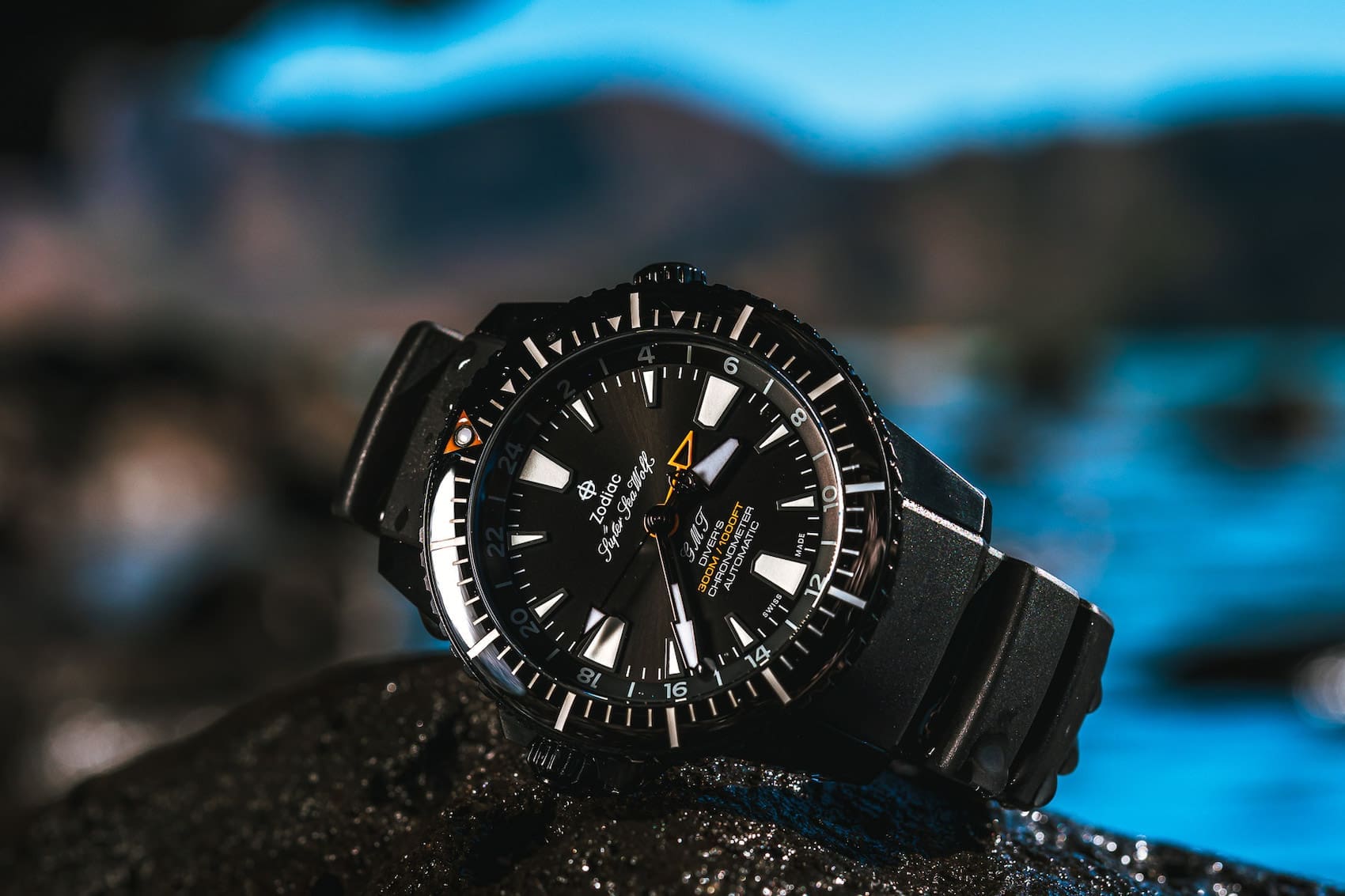 First up is one of those leftfield choices, and it's from one of my absolute favourite brands, Zodiac. Known for colourful releases that bring eye-catching hues to their updated classics, this one's a bit outside the box, with a super-stealthy black countenance that's no less arresting. A serious dive tool, the 42mm Super Sea Wolf LHD Pro-Diver GMT is a 300 metre badass in stark white-on-black, with discrete pops of orange that give it a flight instrument look. In fact, it wouldn't look out of place in the cockpit of an SR-71 Blackbird, and the GMT functionality would come in quite handy while blazing across time zones at Mach 3, but if you happen to bail out at sea, trust me, you're covered.
Sinn T50 titanium – US$3,840
Germany's Sinn is known for their capable timepieces with a cult-like following, and the titanium T50 is one of their most competent. For those that find Sinn's 45mm T1 a bit too much, the T50 clocks in at a very wearable 41mm diameter, with a case height of just 12.3mm. But don't let the smaller size fool you, the T50 is water resistant to 500 metres, and the case is filled with gas that prevents fogging from sudden cold. The dial's look is all business in black, white, and grey, and you can order yours on a coordinating black or grey silicone strap, or a titanium bracelet. Whatever your choice, it won't weigh you down, as the titanium case's weight is a scant 53 grams sans strap.
Doxa Sub 300 Carbon Professional – US$3,890
Speaking of lightweight timepieces with heavyweight specs, the Doxa Sub 300 Carbon has some unimpeachable diving cred. Legendary among serious divers (including famed explorer Jacques Cousteau), Doxa has seen a remarkable resurgence of late, due to their heritage, their famed durability, and those retina-searing coloured dials. The Sub 300 Carbon weighs just 87 grams, but still boasts a 300 metre rating, and it's a certified chronometer to boot. I personally love the classic bright orange of the Professional dial, especially when amplified by that steeply domed sapphire crystal. But no matter which colour you prefer, you can find your own in T+T's Shop right here.
Seiko Prospex SLA042 Tuna – US$3,900
Here's one for the bigger-wristed among us, the Seiko Prospex SLA042, known among Seiko fans as the "Golden Tuna", due to its resemblance to a tin of the aforementioned fish. Roger Moore's James Bond wore a 600-metre quartz version in For Your Eyes Only, but the current edition is an automatic, utilising Seiko's in-house 8L35 inside that 52.4mm sea monster of a case. And it's the 1000-metre case that's the star of the show here, with an inner monobloc case of titanium, a gold-coloured stainless bezel, and that iconic outer shroud in black ceramic. If you've got that Big Wrist Energy, the latest Tuna is a bold reinterpretation of a classic that refuses to go unnoticed.
Tudor Pelagos 39 – US$4,600
Tudor's Pelagos is a renowned diving tool, but at 42mm, it can be a bit much for some wrists. Thankfully, Tudor has an option sized for the rest of us, the Pelagos 39, released late last year. The titanium case is tough, lightweight, and now at 39mm, has a more classic Sub profile than ever before. The movement is Tudor's COSC-certified MT5400, built by partner manufacture Kenissi, and I love the knowing wink of the red text on the no-date dial, a nod to classic Subs of yore. In a great bit of fan service, Tudor's game-changing T-Fit clasp is standard on the titanium bracelet, which offers superb fit and a dive extension, eliminating gripes about previous Tudor clasps. All in all, it's a stellar package from The Shield, who's been taking The Crown's tool-watch lunch money for some time.