Oyster vs Jubilee: Which bracelet does the Rolex GMT Master II look better on?
Zach Blass
To an extent, this is a completely ridiculous debate. If you're lucky enough to receive that wonderful call from your AD letting you know that your brand new Rolex GMT Master II Batman or Pepsi has arrived, chances are you don't give two shits what bracelet option it comes on. But, if in this magical scenario you are given a choice then what would you choose: the Oyster or Jubilee bracelet? Matt and Zach pick sides and argue their case.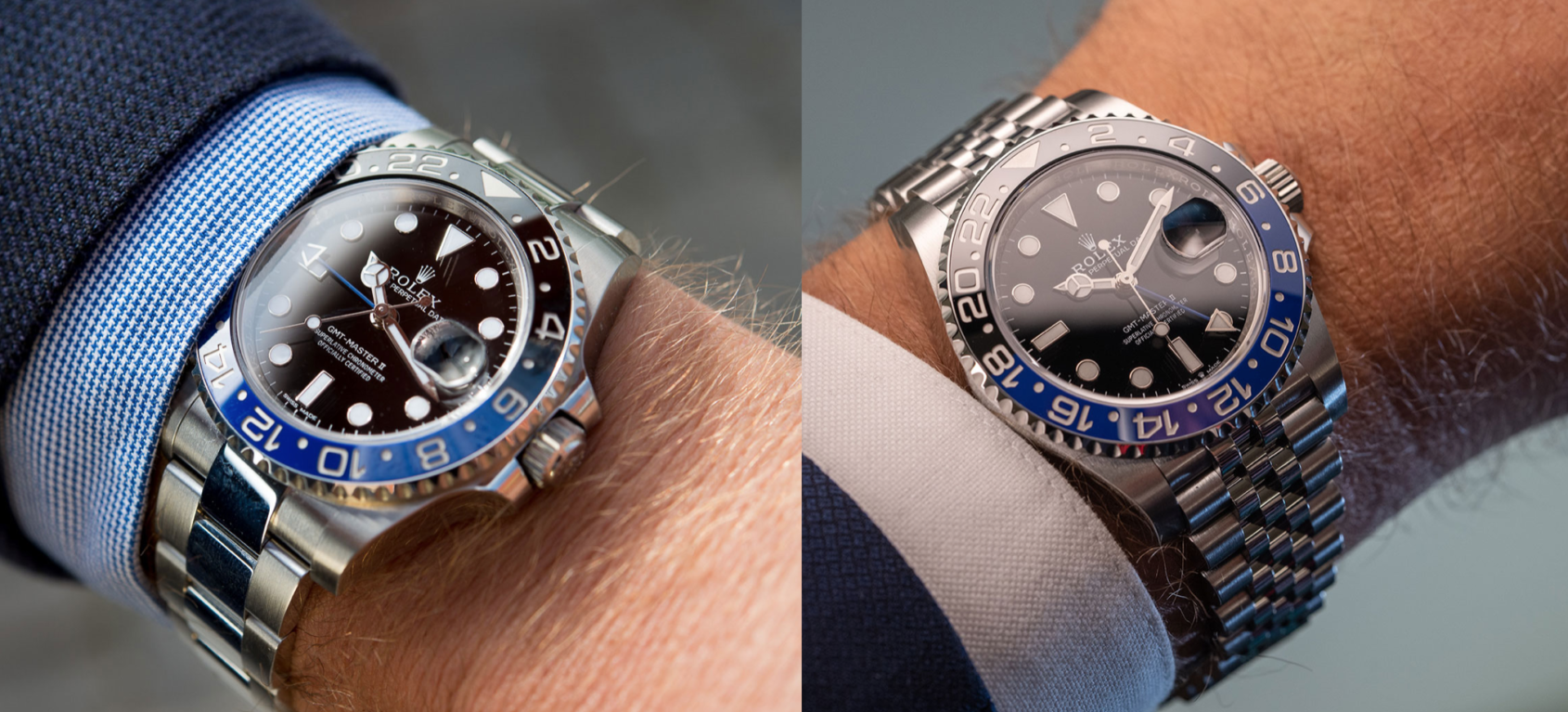 Matthew Pickering: Team Oyster
So, if you've read any of my articles before you might know that I picked up a pre-owned Rolex GMT Master II Pepsi on Jubilee. I'm the first one to say this watch is amazing. The Jubilee absolutely rocks. The way it drapes around my wrist makes it the most comfortable watch I own. It's also a lot more versatile than I thought it would be, pairing well with swim shorts at the beach all the way up to a suit and tie.
You might now be thinking then, well, aren't I Team Oyster? Why am I making Zach's argument for him?
Well, in the lead up to picking up my watch I went back and forth on it so many times. Mainly because I wanted my Rolex GMT on Oyster. I couldn't find one which ticked all the boxes. Batman? The animated series sure (best 90's cartoon of all time, come at me haters). But the watch? No thank you. The Oyster just works. It's more versatile, flies under the radar and just looks bad-ass. There's really not much else to say. Now to call the Rolex service centre and see if they'll let me swap bracelets.
Zach Blass: Team Jubilee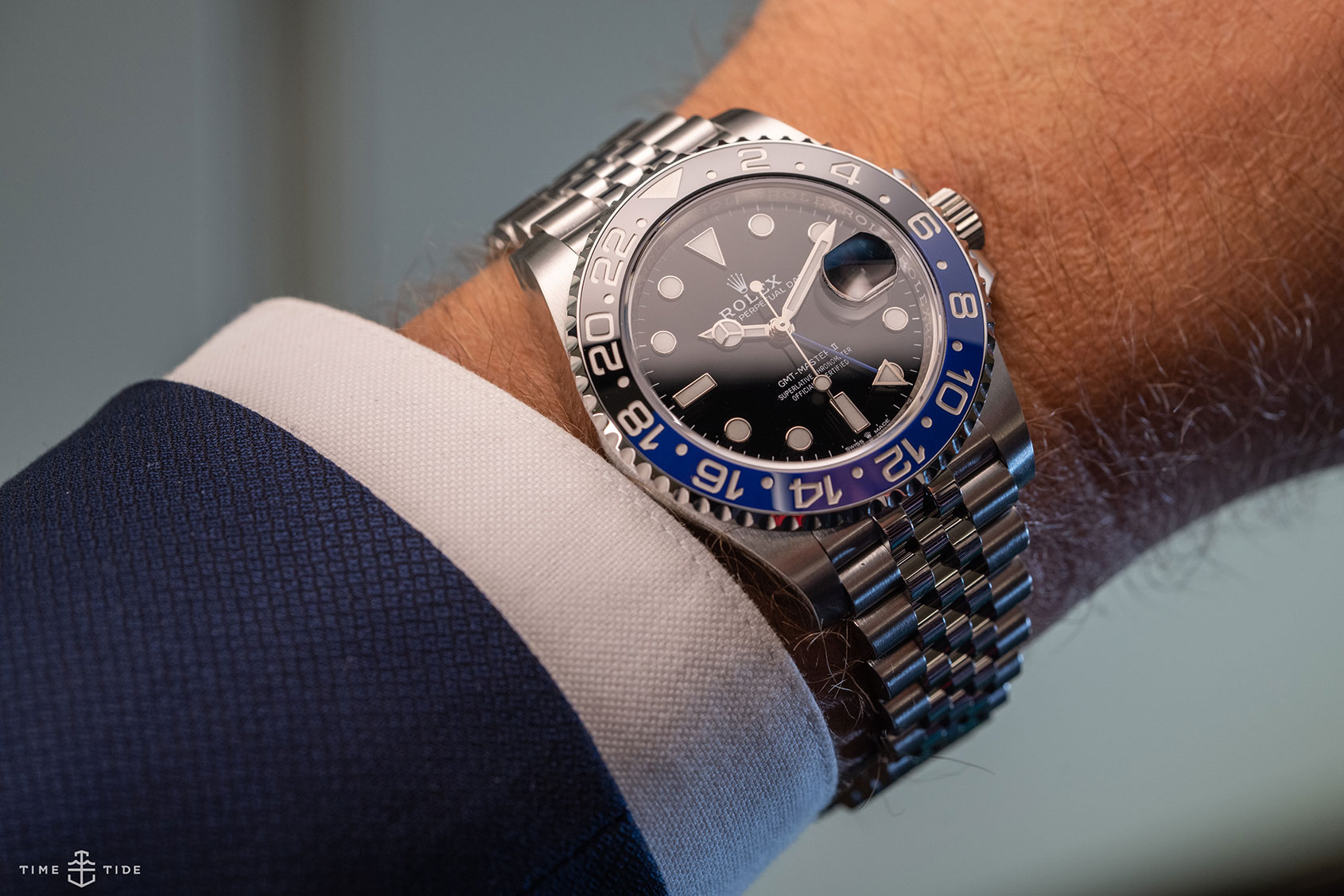 I've repeatedly told Matt I'll fly to Australia and kick his butt if he makes that swap, and now that I am fully vaccinated I can (to an extent) make good on that promise. I'll concede this: there is nothing objectively wrong with a GMT Master II on an Oyster bracelet. But in the modern catalogue you are not getting a fully brushed Oyster, instead you get the centre polished links that you would find on a Rolex Datejust. In my opinion the Jubilee better evokes the cosmopolitan coolness of the golden age of flying. When the watch was introduced in the 1950s, air travel was still a very sophisticated affair, with travellers suiting up like Don Draper as they flew around the world. Even many of the Rolex print advertisements showcased a pilot's wrist donning the GMT Master II on a Jubilee, driving home the class and sophistication of flying.
I actually posed this question to Kevin O'Leary (a.k.a Mr. Wonderful), of Shark Tank fame during a Clubhouse chat with Bob's Watches. Kevin was definitely in Matt's corner here, citing that vintage jubilee bracelets are a pain to maintain and don't have the same solidity and robustness as its Oyster counterpart. But the modern Jubilee is stronger than ever, with rattle stretch bracelets a thing of the past across all modern bracelet styles. When you consider that all the bracelets today have fairly equal solidity and robustness, I begin to focus on the aesthetic.
The Jubilee, as I stated before, really elevates the design of the GMT Master II and at the price point it sits at today is not the first Rolex GMT someone would buy for hardcore daily wear. I would think if someone were to wear a GMT Rolex on an expedition, they would more likely gravitate towards an Explorer II. The GMT Master II has an aura of sophistication to it, and I find the Jubilee bracelet better ties the watch and its roots together.
Matt describes it himself above. It is extremely comfortable and conforming around the wrist, and far more versatile – very well situated in any scenario from the beach to the boardroom. If the Oyster bracelet offered today for the GMT Master II were fully brushed, I would understand people saying it evokes GMT Master watches of the past. But, as it stands, the Jubilee configuration is the only style that truly pays tribute to those early Rolex GMT Master ref. 1675 watches.