Kevin Hart's watch collection is the stuff of your horological dreams
Ricardo Sime
There is something special about a comedian's ability to make you laugh. For a few moments in time, all your defences come down so that the stresses of life melt away. And chances are, if you've been laughing over the past decade, one man has been the deliverer of many of those jokes. That would be American comedian Kevin Hart, whose personal brand of humor has led to tremendous success over the years. So much so that he has easily built up one of the most stunning watch collections out there.
Follow me as we check out some of the biggest watch hits of his amazing career.
A Star is Born
It's 2009. A comedian from Philadelphia who's had a few small roles in movies and a short set on Comedy Central gets booked for a show on NBA All Star weekend put together by Shaquille O'Neal and hosted by Cedric The Entertainer. That comedian is Kevin Hart, who takes the stage as the last act.
In what's been considered one of the most important sets of his career, he brings the house down. That set will lay the foundation on which he will soon build a comedy empire. And, of course, if one is planning on world comedic domination, what better watch to put on your wrist than what appears to be a Rolex Submariner. My eyes are telling me that it's a 16610 and not the Maxi cased 116610.
Great choice Mr Hart. Great choice indeed.
Hardest Working Man in Show Biz
It's 2012 and Kevin Hart is now a force to be reckoned with. In four years he has gone on three comedy tours culminating in his 10-country, 80-city gem, Let Me Explain. Here, he bares it all, from cheating in his marriage to how he deals with his children. It's this candour that sold-out crowd after sold-out crowd falls in love with.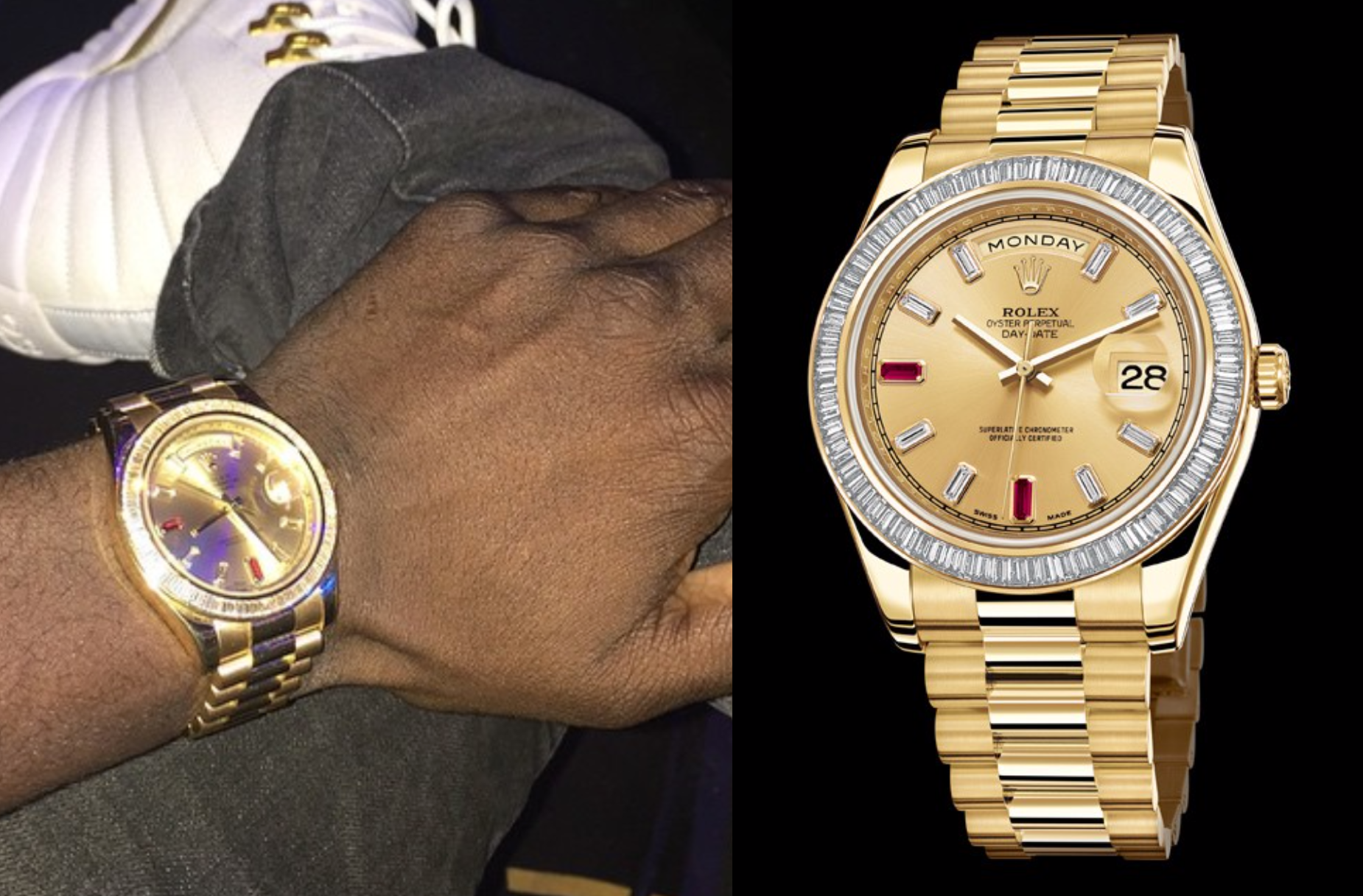 Now, while the content of his show will have you rolling on the floor in laughter, as a watch person, your eyes will wander. Right to the gold bracelet peaking out from Kevin's Hart cuff. Yes, the Rolex saga continues as Kevin is wearing a Rolex President Day Date 1803 Gold. By this point in his career, he's amassed a few gold models, including the discontinued Rolex Day-Date II 218398 BR-83218 pictured above.
HE GOT MONEY!
View this post on Instagram
Ever wonder what people mean in the watch community when they say you've "gone down the rabbit hole"? Well, just take a look at Kevin Hart's Instagram between 2013 and 2016 for a proper definition. The man goes on a watch-buying spree that would make a billionaire blush. Not only does he grow an affinity for the Rolex Daytona (in multiple versions I might add), Kevin also starts veering towards the land of high complications.
Hello Audemars Piguet (Royal Oak CONCEPT GMT TOURBILLON 26560 Titanium Watch)
View this post on Instagram
Nice to meet you Patek (5712)
View this post on Instagram
Becoming the Consummate Collector
As the years have gone by, Kevin Hart has continued to amass dozens more watches. He's even taken an interest in Richard Mille. This is all possible through his amazing success as both a comedian and an actor, not to mention his countless investments. The sky continues to be the limit for this man. And while some may find his collection over the top, I find it fascinating. This guy is living my horological dreams and I can't wait to see what's next.