5 of the best tough watches
Tom Austin
Wristwatches generally serve one main purpose, which is of course to tell the time. Some of them display times in other parts of the world, some tell us how fast something moves, or some simply just the current time, but in a very attractive way. One boundary that has constantly been pushed since the first wristwatch is durability. By nature, humans push themselves further and further, too. We like to climb the highest mountains, dive in the deepest parts of the ocean, or even fly out into space – and we like to take our watches with us. For all of these escapades, you're going to need something tough. Something able to do that one basic function while being exposed to the harshest things you can throw at it. Here's a few suggestions.
Sinn EZM 7 Mission Timer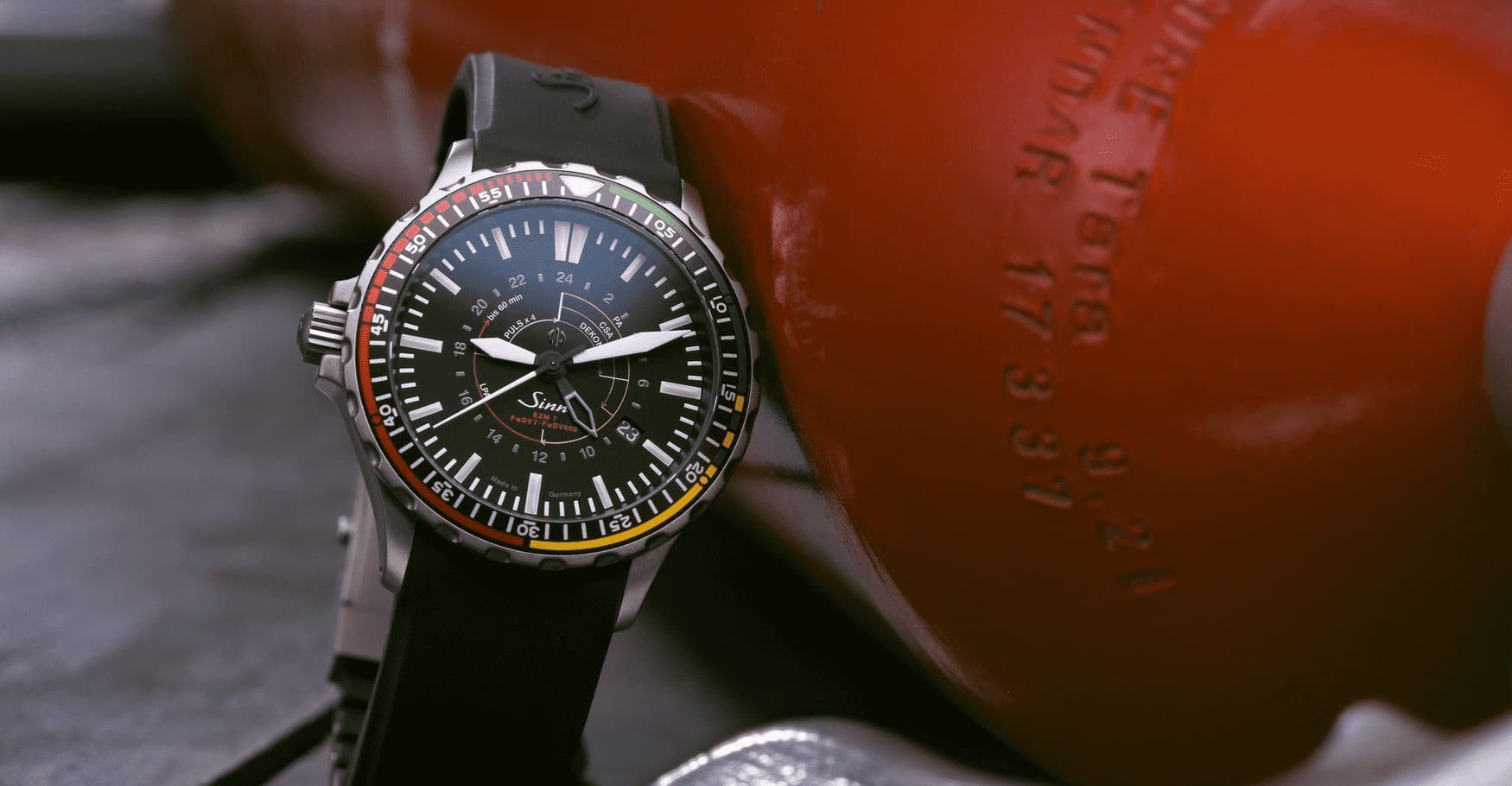 We've all had that feeling. You buy a new watch, and you carefully pop it on your wrist, moving your arm out of the way when walking through doorways, keeping it away from other people with their handbags flailing around (how rude of them), but alas, no matter how careful you try to be, you get that first ding when reaching over the back of your coffee machine one bleary eyed morning. Damn it! Stainless steel, the most common watch case material, ranges within 200-400HV according to the Vickers scale. At that level of hardness, it's easy to pick up a scratch or two. Sinn, however, take a harder-than-nails approach, with their Tegiment hardening. It's a chemical process which hardens the surface layer of the steel to around 1,200HV, and as a result renders their cases practically untouchable. Sinn are known for watches for all manner of occasions, however one of the toughest watches to come out of their engineering lab is the EZM 7 Mission Timer, a watch developed specifically for the German fire brigade. It is especially resilient to heat and the penetration of water and dust, and of course, is finished with the Tegiment coating throughout. The dial and bezel can be used to read durations for breathing apparatus and rescue operations even when wearing large cumbersome gloves. It's not too intrusive either, at 43mm wide and 12mm thick. This watch will make it out of a blazing inferno in one piece, and will help to make sure you do too, along with whoever you are rescuing, you absolute badass.
Luminox Navy Seal 3502.L
It's no mystery that elite special forces put themselves through some of the most merciless conditions, and arguably the toughest of them all are the US Navy Seals. Known for their resilience and exceptional levels of training in the harshest of conditions, it's only fitting that they have a watch to go with the gig. Produced in collaboration directly with the outfit, Luminox developed a watch tough enough to withstand the conditions and be useful in night missions all the way back in 1992. The Luminox Navy Seal 3502.L is their best-selling tough watch, with a huge 45mm case (which probably looks pretty small on most Navy Seals), made from their strong, yet lightweight Carbonox material. The black and white dial offers awesome visibility in the daytime, but also has an incredibly bright illumination system, which stays functioning for up to 25 years. Inside sits a Swiss quartz Ronda movement, because this watch doesn't need to be fancy. It needs to be durable, accurate and reliable. Most Navy Seals get wet once in a while too, so the Luminox is water resistant to 200m, perfect for infiltrating that underwater enemy base. The Navy Seal 3502.L is the choice of one of the toughest military regiments in the world, so it earns its spot in this list solidly.
Victorinox Swiss Army I.N.O.X.
Victorinox, originally a Swiss knife manufacturer, celebrated their 130th anniversary in 2014, with the release of the I.N.O.X., an innovative model which took 7 years to develop from the ground up, and resulted in a wristwatch which was able to survive 130 of the toughest tests they could think of. The result was a watch which represented Victorinox's core values – authenticity, robustness, and reliability in all conditions. The I.N.O.X. Mechanical is a 43mm stainless steel watch with a Sellita SW200-1 movement, even featuring an exhibition caseback, which is a surprise given what torture this watch can resist. During testing, the I.N.O.X. was dropped from 10 meters onto a hard surface to test shock resistance, it was strapped to an Olympic bobsleigh and sent down one of the fastest tracks to test extreme vibrations, and even ran over by a military tank weighing 64 tons. In fact, Victorinox was so confident that on their launch event, they invited people to come and put the watches through some of these tests of their own and try and break it. Nobody managed it, even though some went as far as boiling it in a kettle. The Victorinox is a true king of toughness.
Marathon 41mm Anthracite Diver's Automatic
Marathon SAR (Search and Rescue) watches were first introduced in the 1990s, and are still in active use today, issued to US and Canadian government officials and operatives, and built to military standards. These Swiss-made diver's watches are available in 36, 41 and 46mm sizes, and are built like actual tanks, forged in 316L stainless steel and processed with a highly durable ion-plating. This coating gives the watch a stealthy anthracite appearance which keeps it well-hidden on those night reconnaissance missions, but also gives it a protective layer of armour, helping towards the watch's durability and hardiness. The bezel is also ion-plated, and is chunkily machined to be operable with thick gloves. Fitted with an automatic Sellita SW200 movement, which is a trusted and hard working example, the movement is ideal for a watch which needs to survive in extreme conditions. You can even go full commando and get the watch with "US Government" emblazoned on the dial.
G-Shock GW-9400Y-1ER Rangeman
We couldn't have a tough watch list without a G-Shock, right? For this we've picked arguably the toughest G-Shock of them all – the Rangeman, as featured on the wrist of Chris Hemsworth in the movie Extraction, and, more importnatly, on the wrists of real-life badasses. It does more than just look tough, too. It's also a modern explorer's watch, and the Rangeman comes equipped with a full toolkit of technical equipment for those traversing uncharted territory. Featuring an altimeter, compass function, temperature, and barometric pressure readouts, it's ready for wherever you go, and whatever situation you put it through. It's also solar-powered, so you're unlikely to be stuck with low battery. As for overall toughness, it doesn't get much harder than this, featuring a Hollow Core guard structure for shock resistance and anti-vibration, along with a durable resin outer shell. G-Shocks are the do-it-all watches we've come to know and love, with their unrivalled shock resistance, durability, and class-leading features which for the money are almost unbeatable.