A little variety in life goes a long way. Nobody wants to see roads full of the same car, or hear the same three songs over and over in shopping centres, so why shouldn't this apply to watches? London-based modifiers Wildman are being the change they want to see in this global movement of super-custom timepieces, where no colour combination is too bold and there's no shame in having your own initials on the dial. Whether a custom order, or part of their collection full of limited editions, the smallest changes can have the biggest impacts on watches that may otherwise drown in bland ubiquity.
Submariner Date Pink Edition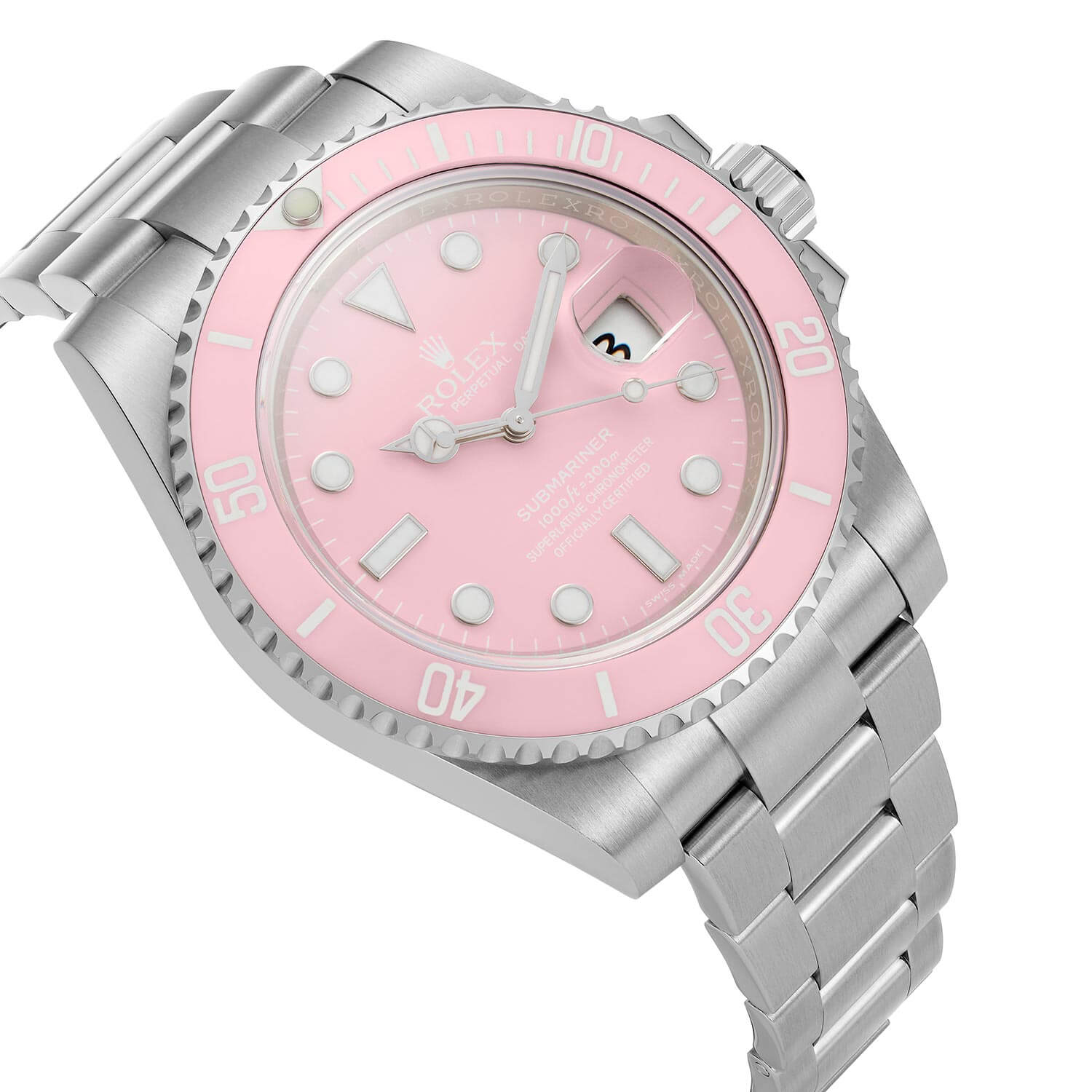 There's pink, and then there's pink. Wildman's latest project is definitely the latter, and if you can't imagine yourself rolling Miami's summer streets wearing one of these, then it is clearly never going to be on your list. Gaudiness is one of the most easily detestable traits a watch can have these days, after decades of iced-out bling pieces being used as wealth-flaunting devices. There should still be room for fun, though, and a loud colour is the easiest way to get that. Rolex themselves introduced brightly coloured Day-Dates and Datejusts in the '70s known as 'Stella' dials, from which this originally 116610LN Sub is inspired. Wildman's website describes the colour as a 'youthful and feminine upgrade', but don't let that turn you off considering something different.
Milgauss GV
Rolex's Milgauss has always been somewhat of an outlier — its lightning bolt seconds hand giving it a quirky aggression, distinct from its more refined siblings. Likewise, Wildman's modified Milgauss stands out amongst their collection with an eye-catching dial. Supposedly inspired by Rolex's honeycomb dials from the '50s, the green and orange highlights undeniably change it to evoke a venomous snakeskin. The green-tinted crystal and black DLC-coated case make for a lethal combination, so you'd better hope it doesn't start to constrict your wrist.
GMT-Master II Pepsi
While vintage rarities seem to be re-created often in the world of modification, this adaptation of a modern GMT-Master II goes one step further by using the Arabic bezel variant of a reference 6542 from the '50s. While it may be odd to have such strongly faux-aged luminescent paint on an otherwise pristine watch, it is a relief to see a classic design such as this without any of the 'tropical' patina on the dial. Having been adapted from the modern 116710LN, this piece keeps its up-to-date wrist presence with the 'Maxi Case' lugs, and also its hardiness with a ceramic bezel insert in place of the original bakelite.
GMT-Master II
At the opposite end of the GMT spectrum, we can see how the same original watch can be transformed to a completely different personality. The military inspiration is instantly recognisable with the khaki green splashes on the bezel, GMT hand, and date wheel, and the white-gold elements on the indices and hands otherwise keep good contrast and legibility where it would otherwise be impeded by the blacked-out lume. If the black diamond-like coating on the case and bracelet is too much for your tastes, also supplied is a matching green NATO strap for added comfort and army stylings.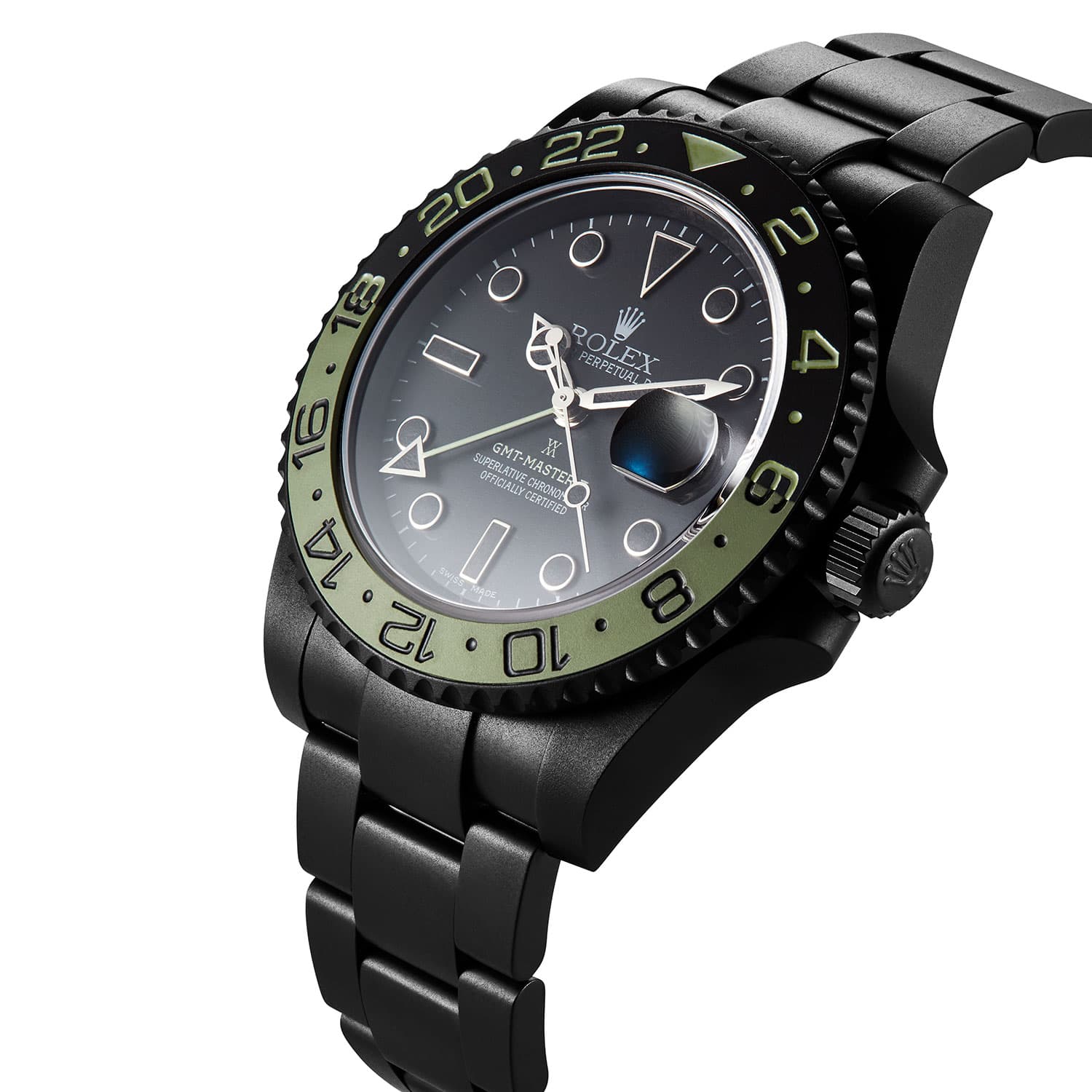 Aquanaut
No watch is too expensive to be customised, as Wildman prove by offering a variety of Royal Oak models in addition to the modified Rolex pieces. They don't stop there, though, with the Patek Philippe Aquanaut Travel Time being given the DLC treatment for a stealthier, sportier look. Often touted as being the ultimate luxury daily-wearer, this variety of the Aquanaut just fits a black case perfectly, bringing more attention to the white details of the dial and that ghostly skeletonised GMT hand. Some may rally together and say that customising something that commands as hefty a retail price as this is ruining its value, but this is money spent largely for subjective enjoyment. If the DLC had been applied to the rose gold model, that would be a different story.