7 Seiko Spring Drive watches you should know about from past and present
Zach Blass
Usually, when you think about Spring Drive movements the mind wanders to Grand Seiko. To be fair, Grand Seiko currently has the largest selection of Spring Drive powered watches in their catalogue, but they were not the first to use it. Twenty-two years ago, Spring Drive was commercially launched by Seiko and Credor in 1999 with both brands still producing Spring Drive watches today. The technology, controversial to mechanical purists who cannot get with the times, is lauded by many for its unparalleled accuracy and beautiful fluid sweeping motion that has no stutter or tick. Some cry "quartz foul", but the movement leverages primarily mechanically driven components that are regulated by a quartz oscillator. So little electrical energy is found in the movement that it would supposedly take every person in the United States wearing one to power a single lightbulb. So to shine a spotlight on Seiko's ingenious tech, I wanted to share seven Seiko Spring Drive watches from past and present that I believe you should know about.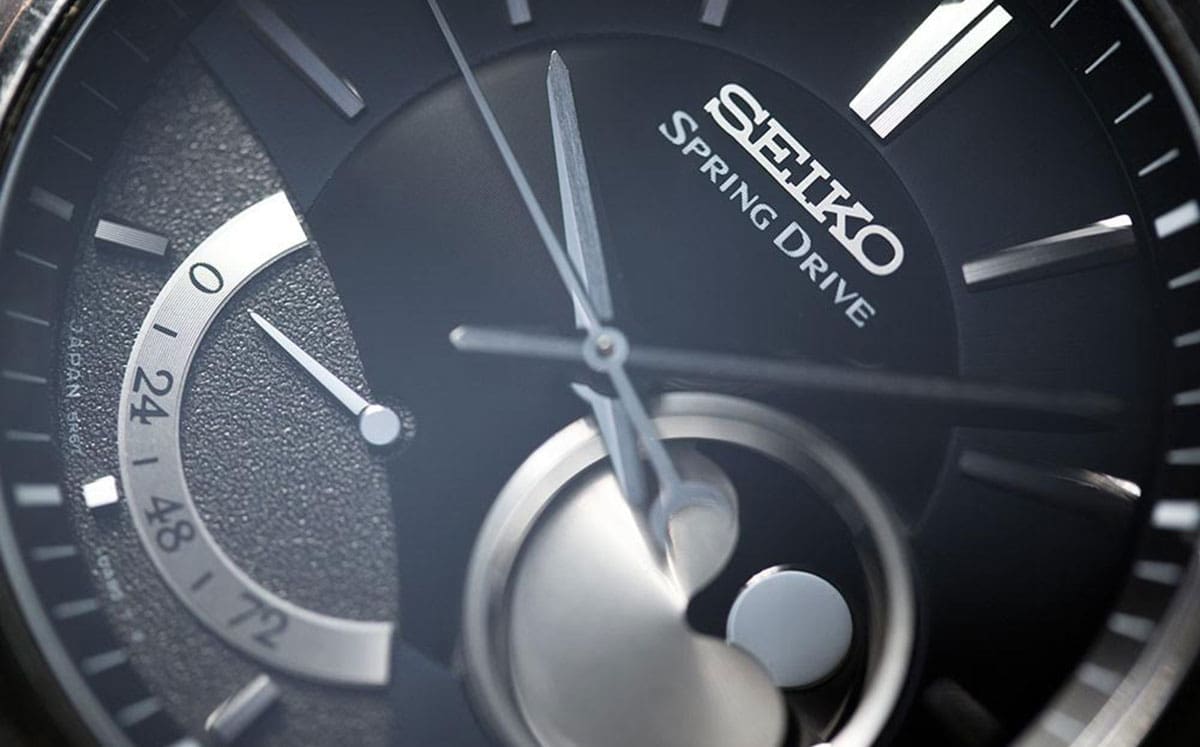 The one that started it all: Seiko SBWA001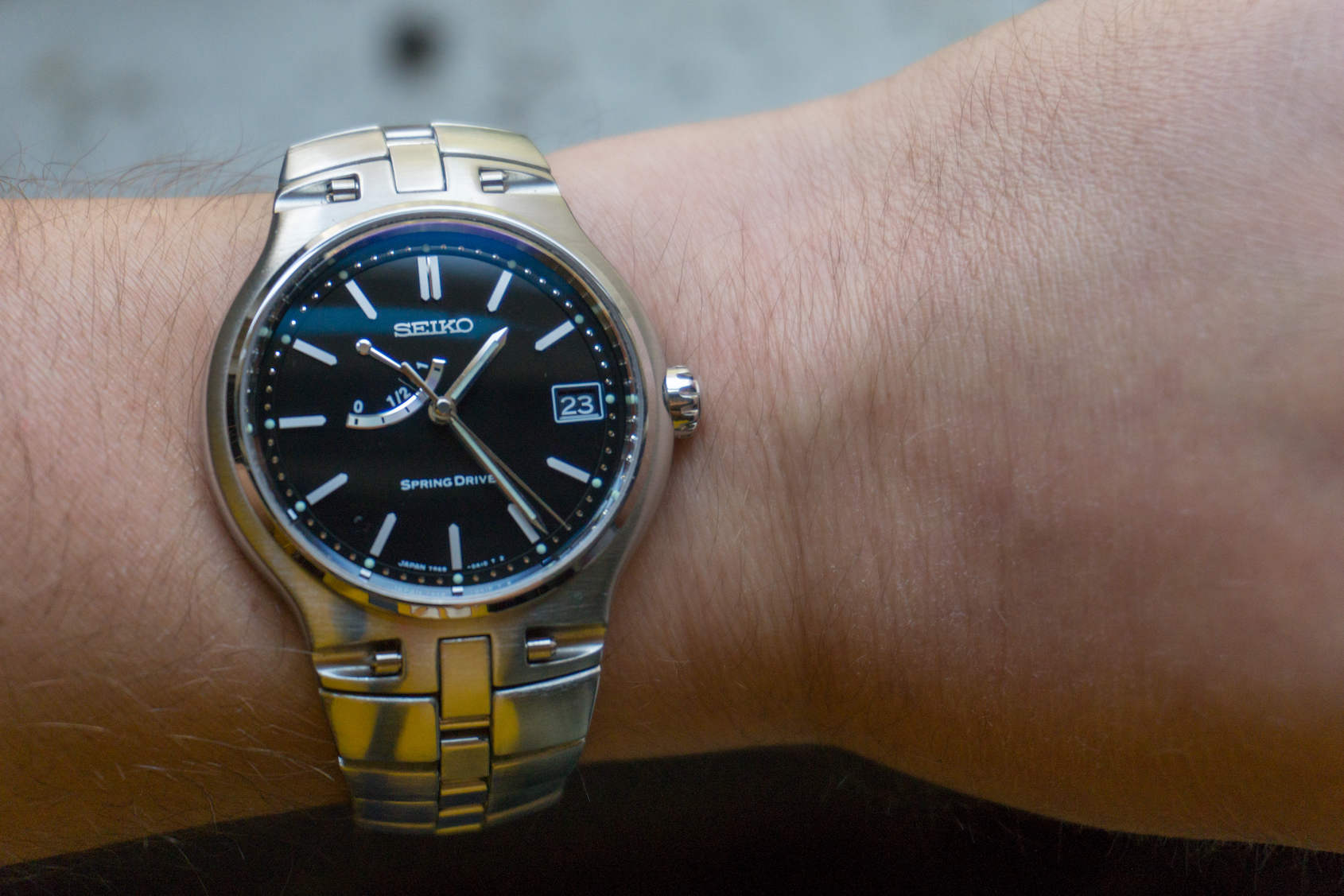 I first encountered the Seiko SBWA001 at the 20th anniversary of Spring Drive HSNY lecture on the wrist of lecturer Joe Kirk, the national training manager for Grand Seiko USA. It was an apt time to wear the rare Japanese Domestic Market limited edition, as it was where Seiko's journey began with Spring Drive commercially. As Seiko, Grand Seiko, and Spring Drive gain further traction and admiration worldwide many will begin to hunt and chase these historical pieces. I personally got lucky sourcing one in rather pristine condition on eBay, but with only 500 made it is not so simple to find on demand. I have had many people DM me, asking if I was willing to sell the watch, but it would take quite a sum for me to part with it. I love the compact size, unique design, and manually wound Spring Drive movement on full display via its exhibition caseback. It also means a lot to me that it is the first commercially sold Spring Drive watch. If you see one listed for sale and find yourself on the fence, my advice is to snag it if you can or risk serious FOMO when it ends up on someone else's wrist.
The one that went to space: Seiko Spring Drive Spacewalk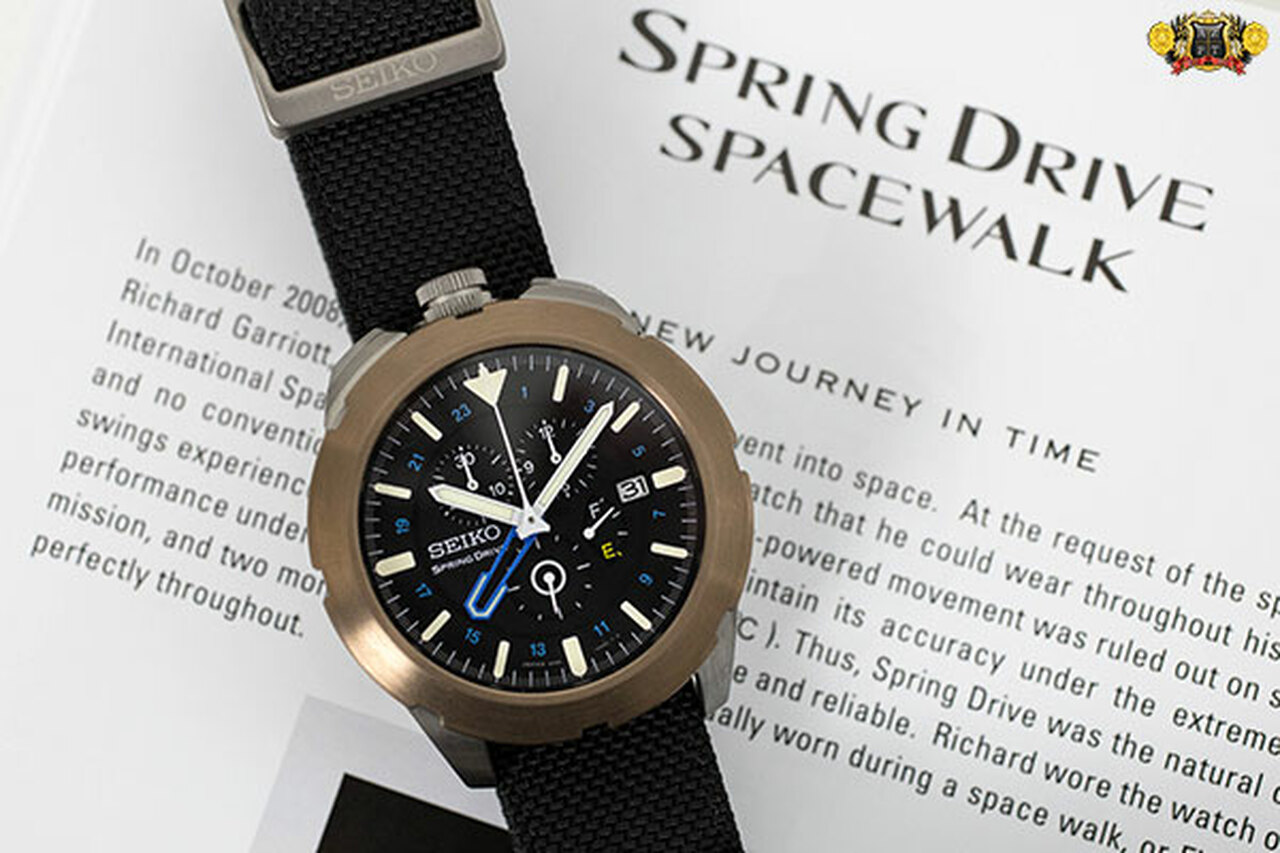 The Seiko Spring Drive Spacewalk was born in 2008, created for civilian astronaut Richard Garriot who wanted to follow in his father's footsteps and travel into space. Richard, a video game designer who later sold his company to EA (Electronic Arts), would make his way into outer space in 2008 via the Russian Soyuz TMA-13 – becoming the sixth civilian to ever make the journey. He would spend 12 days on the International Space Station, the Seiko Spring Drive Spacewalk strapped to his wrist for his duration there.
Arizona Fine Time explains: "It had been built expressly for his space flight and was designed to withstand the extreme temperatures, pressures and radiation conditions involved in an Extra-vehicular Activity (EVA), or spacewalk. It performed flawlessly throughout Richard's 12-day flight in space… On their return to Earth, the watches were studied, assessed and tested at Seiko Epson's facility, and their perfect performance during the EVA was independently verified."
Richard Garriot had always aimed to use his adventure as a platform to further encourage space exploration, which is why his Seiko Spring Drive Spacewalk was later sold at auction in an effort to raise money for the Nature Conservancy and the Challenger Centre for Space Science Education – realising a whopping $45,600 USD in September 2009.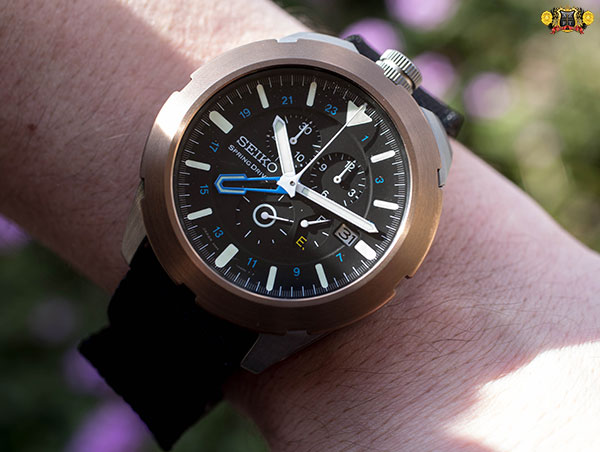 In 2010, Seiko gave buyers around the world a chance to own a largely identical watch to the one Richard Garriot wore, the SPS005, a commemorative limited edition of 100 pieces. The watch has the exact same specifications as the watch that went into space with one modification. Arizona Fine Time explains: "To ensure ease of manual winding, the crown on the original was not a screw-in; however, the perfect functioning of the watch, both inside and outside the ISS, revealed that the self-winding mechanism worked flawlessly in space, so a screw-in crown is now used in the commemorative edition to enhance the overall security of the case." The 100 watches were each sold for a high price tag of $28,000 USD.
The robust and lightweight titanium 100 metre water-resistant watch is rather large at 48.7mm in diameter from 3′ to 9′, 50.3mm in diameter from 12′ to 6′, and 15.7mm thick. Its bullhead design was meant to be incredibly easy to read and operate, with a reliable 5R86 Chronograph GMT Spring Drive movement for superior accuracy. Full disclosure, I am currently seeing these watches with asking prices between $60,000 – $80,000 USD. If you spot one for sale, from someone who does not know what they have, jump on it – it would be the definition of a barnyard find.
The one that stands out with a moonphase complication: Seiko SNR017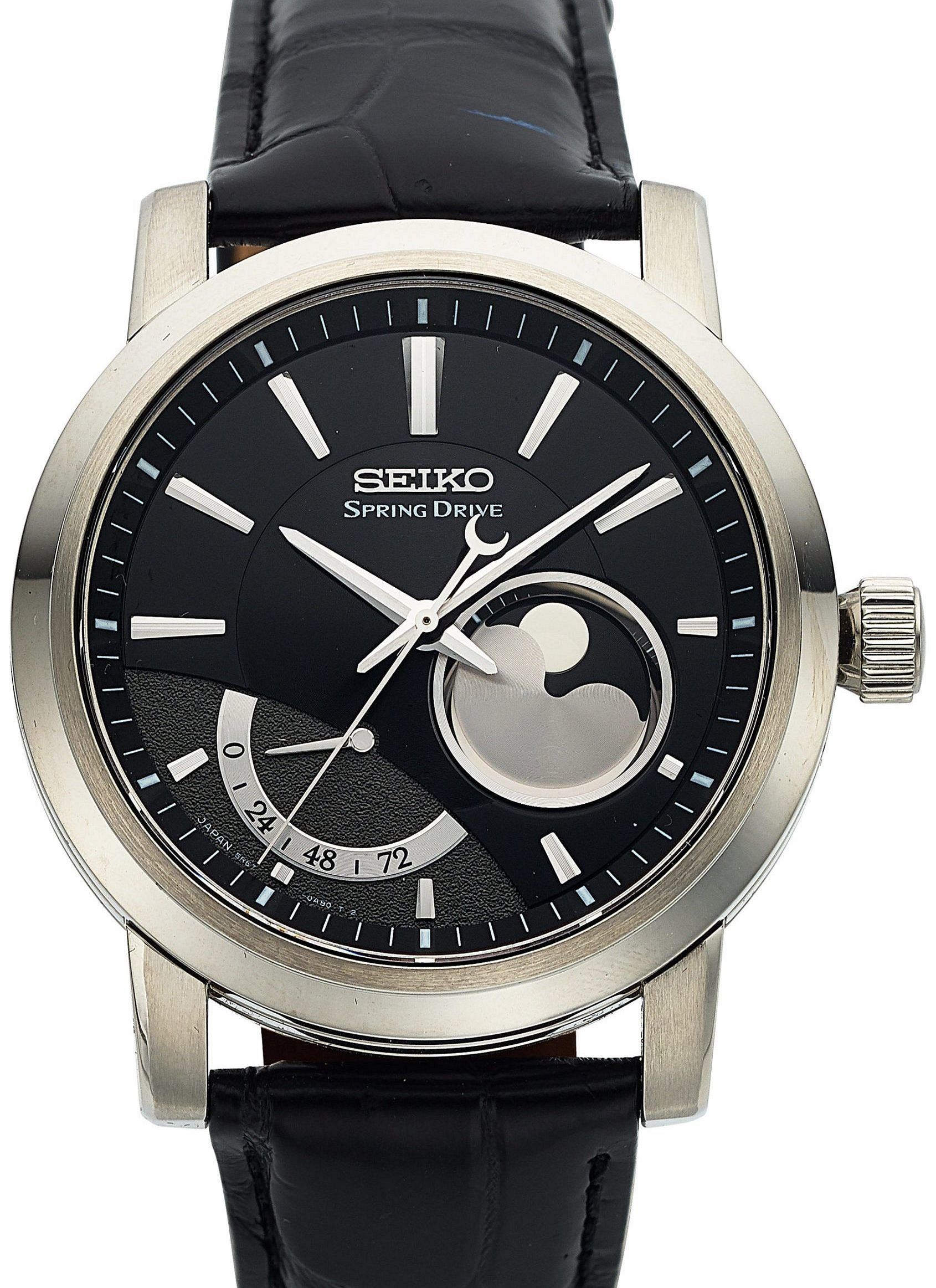 Spring Drive has been paired with many complications across Seiko brands, with chronographs, GMT's, chronograph GMT's, and even minute repeaters. But rarely have we seen Spring Drive paired with a moonphase complication. The Seiko SNR017 was released in 2008 as a limited edition of 200 watches and featured both Moonphase and power reserve indicator complications on the dial. The stainless-steel watch, 42mm in diameter, has an interesting "three body" case with an intriguing pseudo-stepped form.
It is a bit thick, housing the 6mm thick automatic Spring Drive caliber 5R67 visible beneath an exhibition caseback. Returning to the dial, the gloss black dial breaks to a frosted texture between 5:30 and 8:30. There you will find a chapter ring power reserve indicator that displays how full its 72 hour gas tank is at any given moment. Between 3′ and 5′ on the gloss black portion of the dial you will find the Moonphase aperture, a silver toned moon applied to a gloss black backdrop. The frosted crescent-shaped region effectively looks like you are peering over the horizon of a planet, the gloss black portion evoking the dark depths of outer space.
One really neat aspect of the movement is that while finished to a near-standard of say the Grand Seiko 9R65, it does not utilise Tokyo Stripes. The movement is decorated with Côte de Sole, an arabesque pattern. The watch as a whole is not something you see everyday from Seiko or Spring Drive, and therefore if you are eager to own something rare and different, the SNR017 might be worth hunting down.
The one with Batman meets deep-sea Cameron vibes: Seiko Prospex SNR049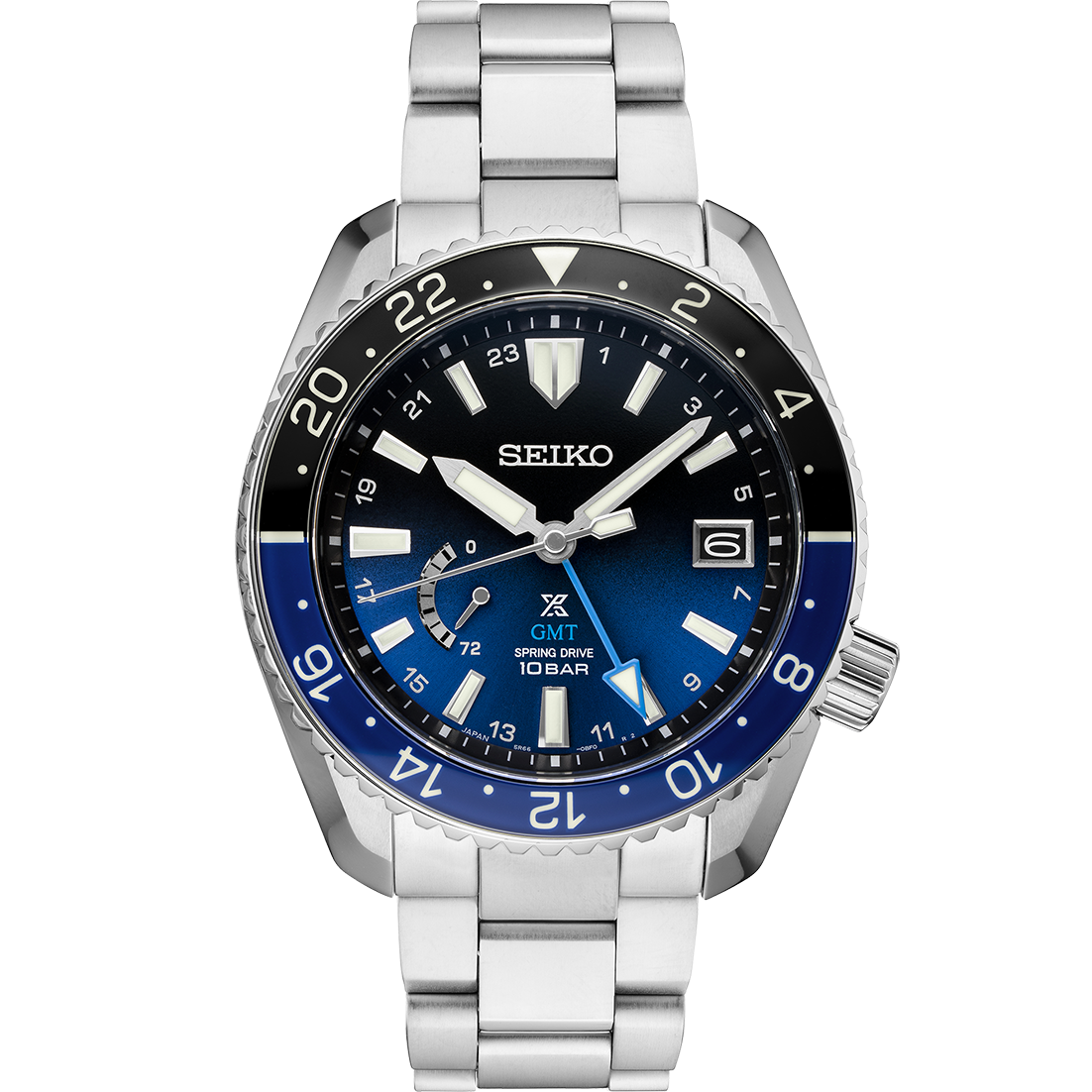 Now let's dig into models that have been introduced more recently in the Seiko catalogue. The Seiko Prospex SNR049, a titanium limited edition of 400 watches, carries a faceted form akin to Grand Seiko geometries thanks to Zaratsu polishing. The dimensions are definitely intimidating on paper, at 44.8mm in diameter and 14.7mm thick, but like many Seiko / Grand Seiko references is far more compact than you would expect. With a lug-to-lug of 50.9mm it will wear like a 42mm watch – just perhaps a tad wider. What immediately stands out about this GMT Spring Drive watch is its black and blue sapphire bezel and it's matching black to blue gradient dial. It really blends aesthetics and functionalities found on the Rolex Deep Sea James Cameron and Rolex GMT Master II "Batman", and technically sets itself apart with the Spring Drive GMT caliber 5R66. It features 72 hours of power reserve and a calendar-linked, time-difference adjustment function that really elevates the GMT experience. It is more expensive than most Seiko references, but when you factor in a Zaratsu-polished titanium case, sapphire bezel and Spring Drive movement the premium makes much more sense. Price: $5,500 USD, Limited Edition of 400 watches.
The one that smashes the Hulk: Seiko Prospex SNR045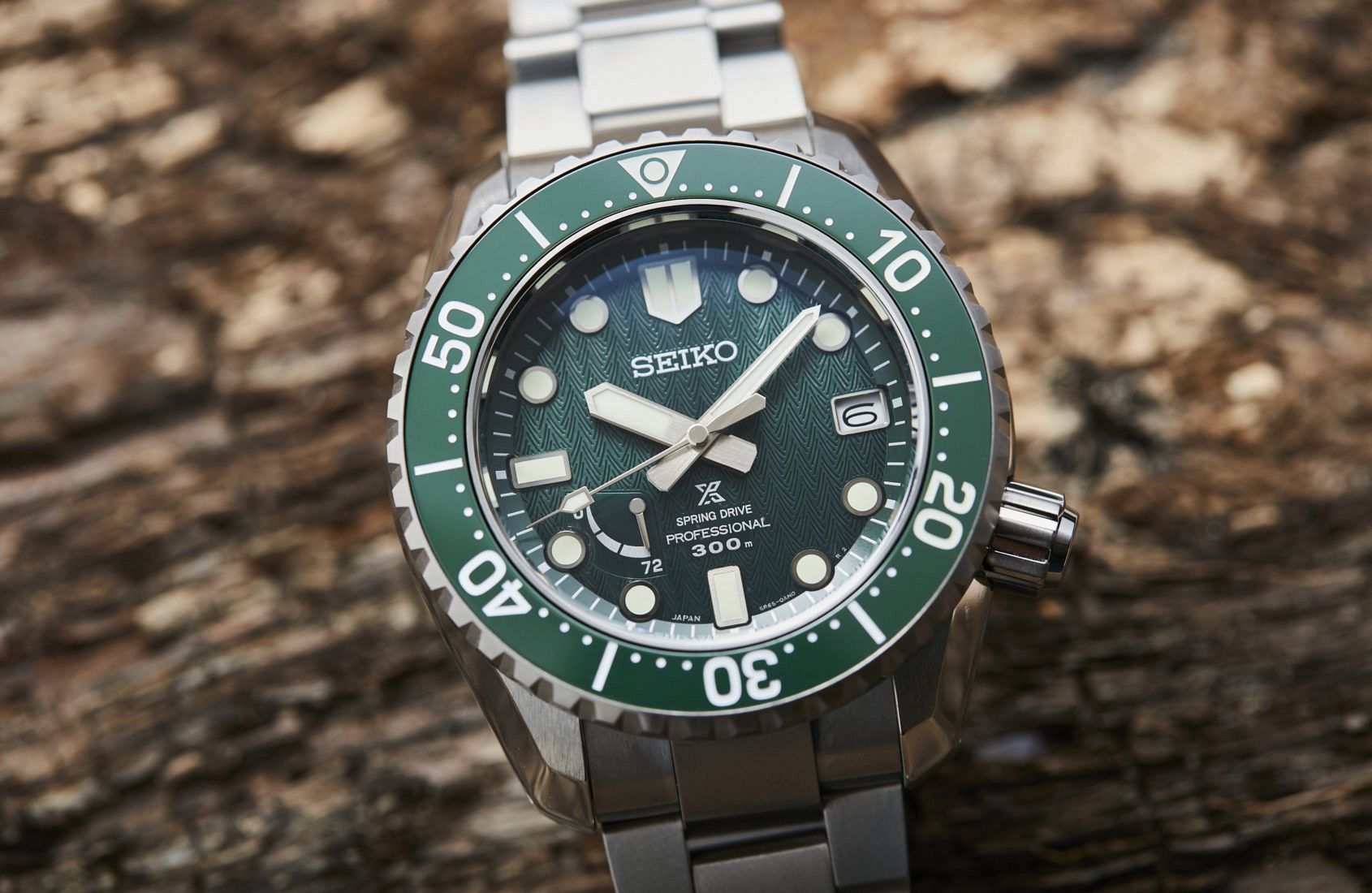 The Seiko Prospex SNR045 carries the same case profile as the SNR049 above, but trades the GMT complication away for an added 200 metres in water resistance. Also, while equally large on paper it's also cased in lightweight titanium which assuages any concerns it would feel like a paperweight on the wrist. The 300 metre water-resistant diver catches the eye thanks to its green bezel and textured green dial. It was released last year, before green was the "it" color of 2021, and many immediately began to draw comparisons to the Rolex Submariner Hulk that is now discontinued. Yes, they're vastly different watches for sure, but they both scratch the itch of having a gorgeous green watch in your collection. Where the SNR045 has an advantage over the Hulk is through it's Zaratsu hand-finished case and, of course, its highly accurate Spring Drive caliber 5R65 that runs within a second per day and has a three day power reserve as well. Price: 6,000 USD, Limited Edition of 500 pcs. 
The one that elevates your collection with an enamel dial: Seiko Presage SNR037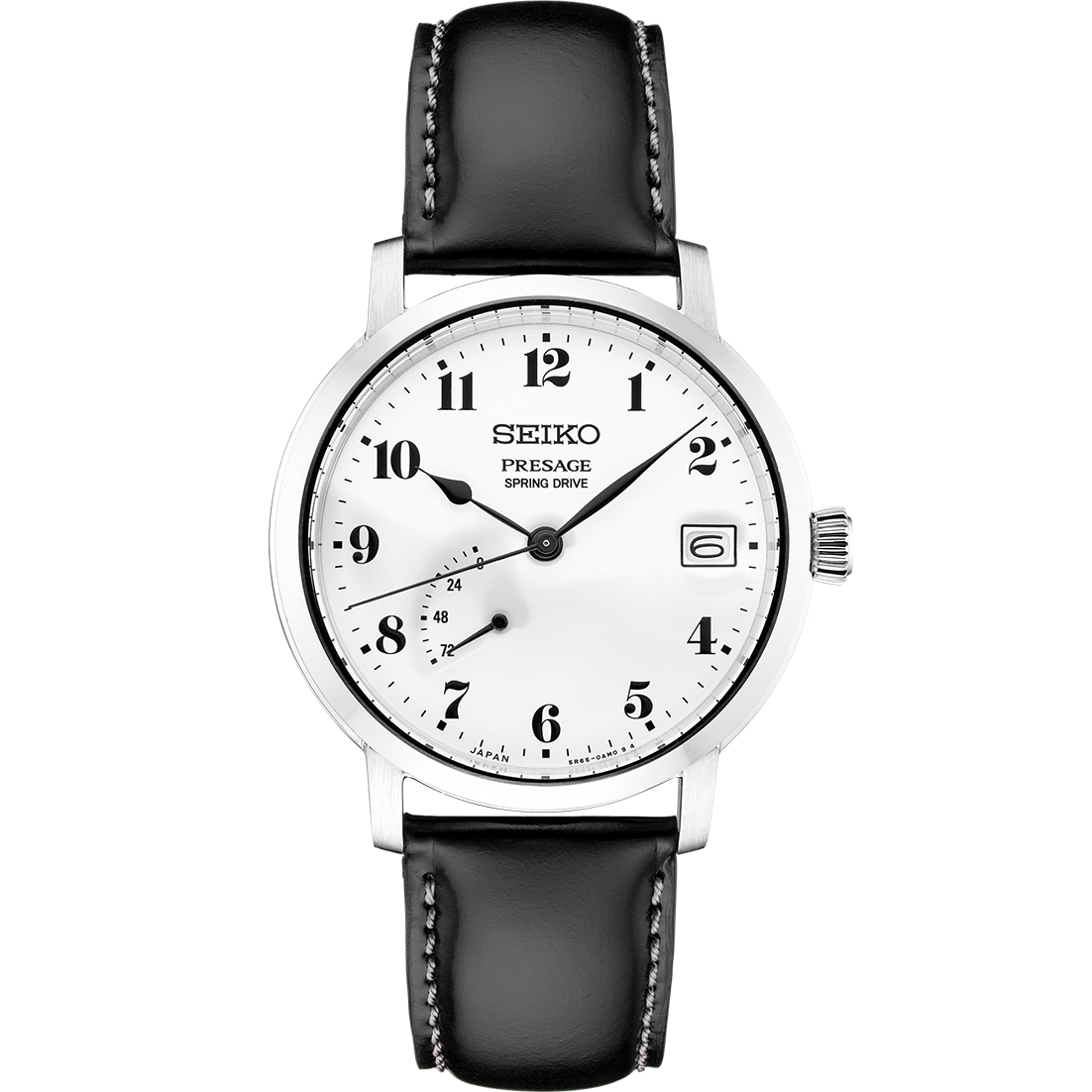 Enamel-dialled watches are coveted within the dress category, and Seiko has paired Spring Drive and Enamel together with the Seiko Presage SNR037. Both classic and chronometric, the stainless steel watch, 40mm in diameter, 13.1mm thick, and 46mm lug-to-lug, features a crisp white enamel dial with more sophisticated sensibilities. The spade hour hand and porcelain white enamel dial evoke the glory days of the pocket watch era, but keep in mind it maintains superior accuracy thanks to its modern Spring Drive caliber 5R65. As the power reserve indicator on the dial displays, the 5R65 has 72 hours of power reserve typically expected of Spring Drive calibers today. Price: $4,500 USD
The one that is ripe for hikes and camping this summer: Seiko Prospex SNR025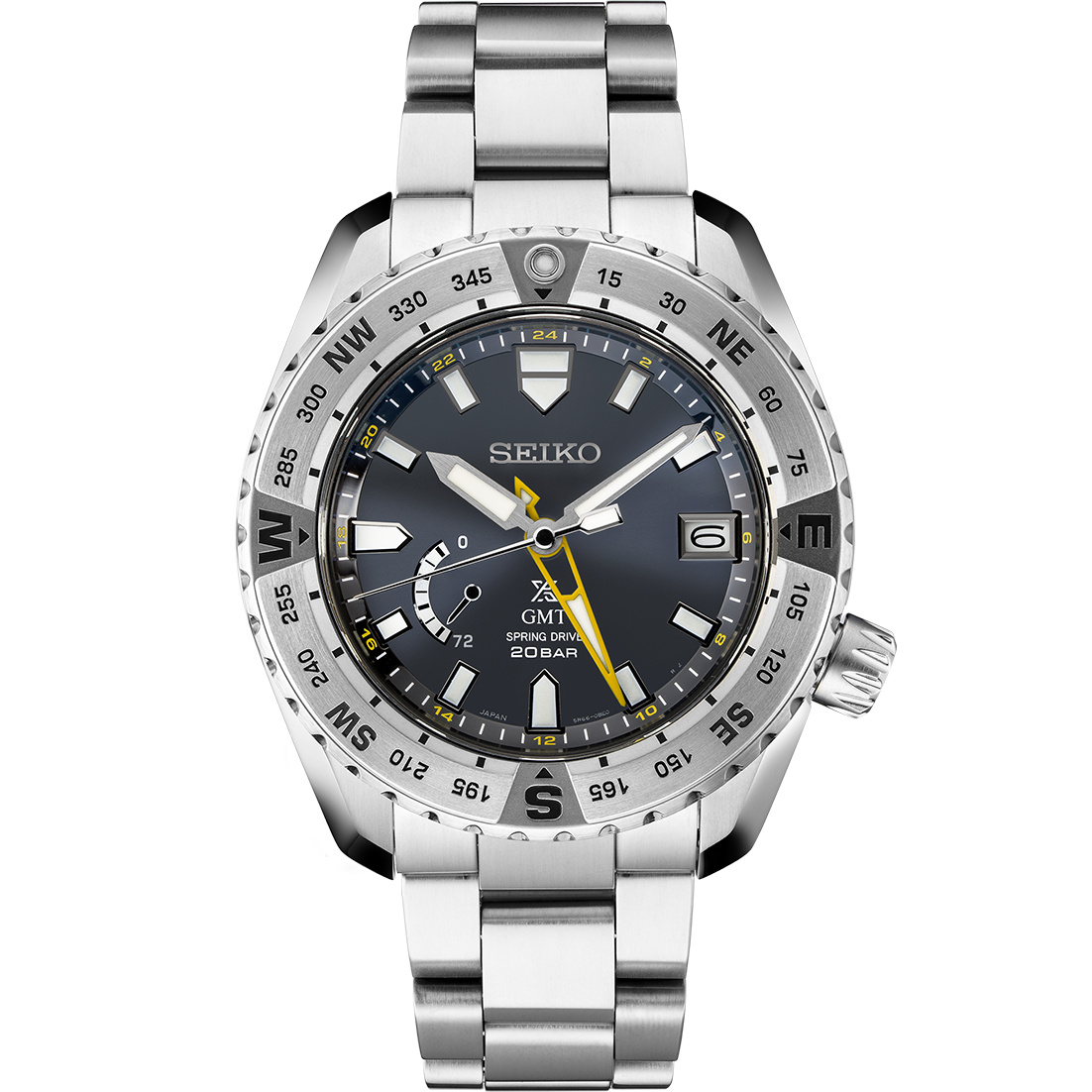 If you were looking for something in the technical middle of the SNR045 and SNR049, the Seiko Prospex SNR025 is worth checking out. It is a GMT Spring Drive watch, but it raises the water-resistance found on the black and blue SNR049 from 100 to 200 metres. While it shares the same 44.8mm x 14.7mm x 50.9mm dimensions, and faceted Zaratsu finished case, this 5R66 powered GMT Spring Drive watch features a compass bezel that is perfect for summer hikes and camping. Considering the ubiquity of dive watches today, the compass bezel is a nice change of pace that switches up both the aesthetic and functionality. The slate sporty dial features large hands and hour indices filled with LumiBrite, ensuring high visibility come night time. Price: $5,000 USD.