THE RULES: No Submariners with black tie – 5 tips for tuxedo-appropriate timepieces
Ceri David
Welcome to the party season, aka an obstacle course of events that, between now and February, will test the limits of your wardrobe. All manner of creative/edgy/infuriating dress codes will be thrown your way, but if there's one thing we're sure of, it is this: whether it's for New Year's Eve or The Oscars, at some point you will be wearing a tuxedo. And that has implications for your wrist, which you may or may not be ready to hear…
First up, although we're not here to get all pedantic on your suit, it would be negligent of us not to remind you of a few guidelines, slash hard and fast rules, worth bearing in mind. Pay attention, please:
The rules part one – the suit
1. A regular suit is not black tie
Your workwear is not black tie (unless you're a butler. Wait – are you?). A sports jacket and chinos is not black tie. Get the right suit for the job, take good care of it, and it will last for years.
2. Your suit needs to fit
That doesn't mean you can't buy off the peg. Just get it tailored once you do, so that the jacket hugs the torso, the sleeves show about a centimetre of shirt cuff and the trousers just brush the top of your shoe at the heel when standing.
3. Footwear is key
No brogues. No monk-straps. Nothing brown. In fact, nothing you already own. Invest in a pair of black patent Oxfords like these from Mr Porter and view them as part of the tux. i.e. Do not wear them to the pub.
"But I'm a rebel, I'm an individual, I don't have to play by the rules."
Now, clearly you're thinking Pharrell Williams doesn't stick to any stupid rules, and no one ever shoves him back in the Uber when he arrives at the velvet rope. And you're not wrong. And – great news – when you become a world-renowned creative genius, you too can break the rules. Until then, trust us, and you'll have a much better time.
With that out of the way, we can get to what is, for us, the crux of the matter: your choice of timepiece on the night. This is something many, many (many) men get wrong. And we don't just mean guys more accustomed to a track pants and Uggs vibe. Culprits include some very successful, well-dressed individuals who definitely ought to know better – who choose a watch that's too bulky, too utilitarian, too casual, too waterproof, FFS. What – are you worried someone's going to throw a really large martini at you?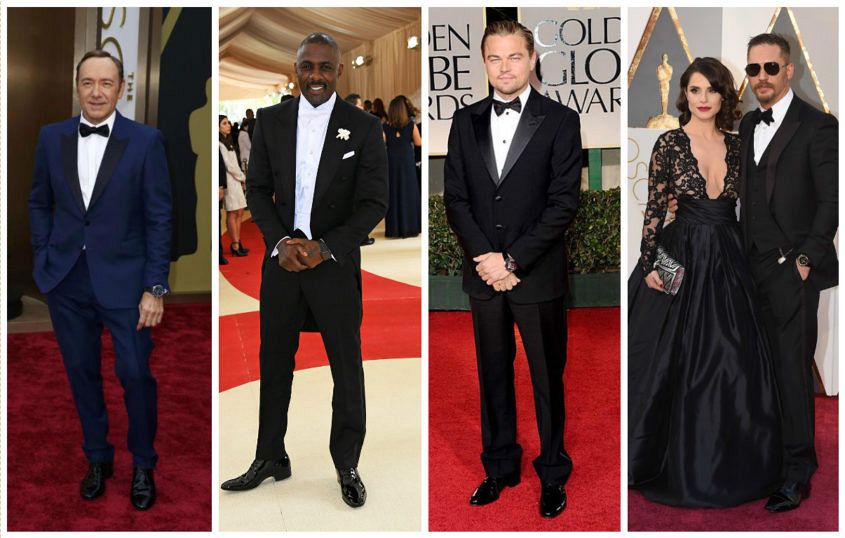 Seriously, these are gods among men, yet their choice of wristwatch reveals a vulnerable mortality we do not wish to see. (Come on Idris: a smart watch is not a smart look – even a blacked-out one. And Leo – really? Are you going scuba diving after this?)
The rules part two – the watch
To avoid the many and varied pitfalls, we've come up with the following instructions – which you can feel free to forward on to Spacey, Elba et al at your convenience:
1. Size does matter
Go no larger than 39mm in diameter – and yes, we know that rules out practically everything.
2. Black tie means black
Always wear a black leather strap. Not brown, not purple and never metal, and yes, that includes Milanese. Still no.
3. Watch your figure
Slim, low profile, to fit neatly beneath your shirt sleeve – your watch should be glimpsed, not seen.
4. Keep it simple 
Hours, minutes and seconds will do, thanks. This isn't a racing suit or a wetsuit.
5. Think 'elegance' 
That is the very point of black tie, so choose a watch that's elegant enough to match the rest of your ensemble.
A black tie-appropriate watch should be glimpsed, not seen.
No surprise that Gosling and his vintage Rolex is showing us how it's done, right? But regardless, what unites all of the above is that your eye isn't drawn immediately to the wrist – and that's crucial when wearing a watch with black tie. It should be subtle. Low-key. Not the star of the show, but part of a team, working together. And if that explanation is still not prescriptive enough, take a look at a selection of our favourites:
So there you have it. Now go forth and kill it this party season.