7 of the best carbon fibre watches
Tom Austin
Carbon composite technology has come on a long way since its initial creation in the 1960s. It was originally implemented in aerospace manufacturing once British engineers discovered its strength and lightweight potential. From there, it pushed out into motorsports and other industries that needed complex shapes and strength properties. Eventually, the material, which is created by interweaving strands of fibres and mixing them with high strength resins, found itself creeping into the wristwatch world. A lot of it was only decorative, however, which often doesn't age well. Fast forward to 2023, and watch brands are pushing the boundaries of what's possible with this intriguing material, utilising new forging techniques to create almost impossible case designs, and now making full structures in carbon fibre, all of which are absolutely unique thanks to the fascinating way this material is crafted. Here is our pick of seven of the best carbon fibre watches you can buy.
Tissot Sideral
Lets face it, most Hollywood remakes from the '70s suck. We've seen it all before, and nothing manages to recapture that magic of the originals. There is, however, a watch brand that seems to have taken the '70s remake concept and actually got it right. Tissot is on a major roll right now, following on from the blockbuster hit PRX, and now back with a sequel reintroducing another gem from the '70s – the Sideral. Keeping true to its history, the Sideral retains the lugless cushion shaped case, and the unique regatta timing dial and rotating bezel. This time, the case is forged from carbon fibre, weighing in at a featherweight 90 grams. This summer smash hit is available in 3 different colour schemes – the blue version even has streaks of colour woven into the carbon fibre itself. The movement is the solid Powermatic 80 automatic, visible from the exhibition caseback. Finally, it's finished off with an interchangeable quick release rubber strap. Find it right here, in the T+T Shop.
Doxa SUB 300 Carbon Whitepearl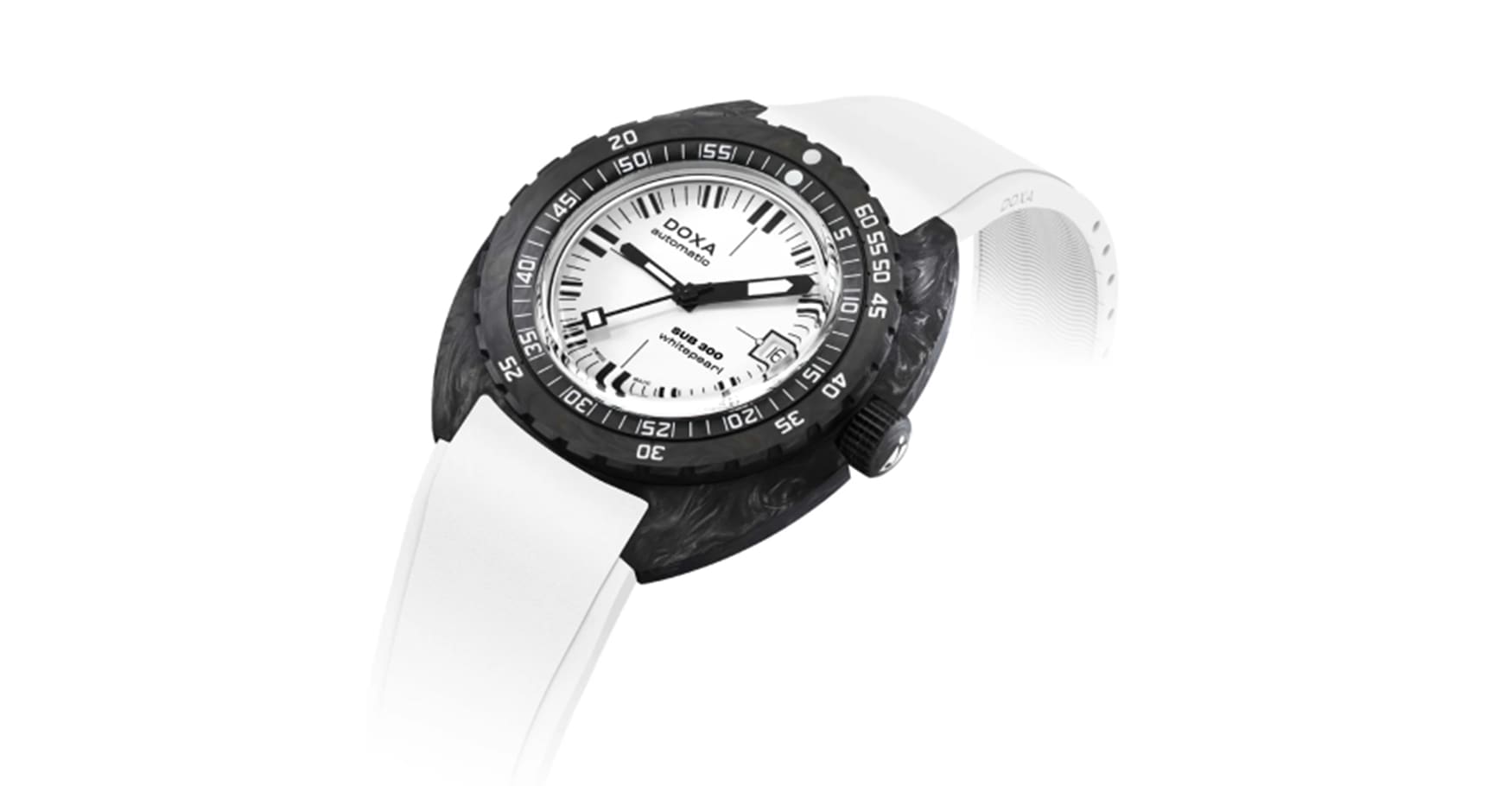 Back in the '60s, when the world's best watchmakers were racing to be the first to be on the Moon, Doxa was busy looking somewhere a little different. Working closely with French naval officer and ocean explorer Jacques Cousteau, Doxa developed their dive watches to new standards, and helped push the limits of the unknown at that time, deep underwater. The Doxa SUB 300 was the first watch of its kind – the first commercially available watch with a helium escape valve, resulting in it withstanding deeper dives. In 2021, Doxa took this one step further, with the SUB 300 Carbon. The case is identical in shape and proportion to the steel version, at 42.5mm in diameter and 13.4mm thick, however in forged carbon fibre, the watch is several times lighter than its steel sibling, and with the titanium inner chamber, is equally capable of its dive rating of 300 meters. It's a perfect case of introducing modern materials while remaining true to its origins. Coincidentally, you can find it in the Time+Tide Shop.
Zenith Defy Extreme E Second Edition
This year marks the third season of the Extreme E electric rally championship, and as main event sponsors, Zenith have produced a watch to commemorate it, manufactured with the ethos of the sport in mind – sustainability. The 45mm case is crafted in robust carbon fibre, and the interchangeable Velcro strap is produced from recycled racing tyres. The watch is powered by the fantastic El Primero 21 1/100th of a second, high-frequency chronograph calibre, which is perfect for timing close racing at motorsports events. The movement is visible through the beautifully openworked dial, featuring splashes of Extreme E's official green colour. If green isn't your thing, there are also Purple and Orange versions to celebrate different events.
Bamford B347 Carbon
Bamford is well known for their affinity with retro chronographs, and the B347 is no different. A perfect blend of nostalgic racer style and cutting edge materials, the B347 is introduced with a 41.5mm forged carbon fibre and a classic reverse panda dial. The look is unique, reminiscent of vintage Heuer, but produced in a wide array of awesome colour combinations and styles which Bamford is well-known for. This monopusher chronograph features the Sellita SW510 movement, with a single pusher at 2 o'clock, and is presented with a sleek rubber strap, of course also available in every colour you can think of. Bamford's approach is simple – take a heritage-style chronograph and wrap it in some hi-tech components, and you've got yourself one very sexy racing watch.
Girard-Perregaux Laureato Absolute Crystal Rock
2022 saw Girard Perregaux continue their watch design language evolution and unveil their latest creation, the Laureato Absolute Crystal Rock. This large, yet stealthy, beast of a watch weighs in at just 94 grams, made from what Girard-Perregaux calls Carbon Glass – a slightly different combination of materials which results in a wild blend of shapes, shades and textures on the finely crafted case, while retaining that familiar GP shape and design. The watch is powered by the GP03300 self-winding calibre, providing chronograph functionality and a 46hr power reserve. The Laureato is available with a rubber, textile and titanium strap with folding buckle.
Bulgari Octo Finissimo Minute Repeater Carbon
Most carbon fibre watches tend to be the exact equivalent of their robust stainless steel stablemates, and as such, could be perceived as being a bit boring – a form over function type of thing. Bulgari seldom stick to the rules others follow. Now, we know that Bulgari are renowned for their ultra-thin designs, and you'd be forgiven for thinking that kind of behaviour wasn't translatable to carbon fibre, but don't forget, they don't follow the rules. Bulgari have produced a carbon fibre watch, no more than 6.85mm thick – the thickness of about 7 credit cards – and remarkably, managed to squeeze in an incredible minute repeater movement with 42 hours of power reserve. This sits underneath a cut-out forged carbon dial, with the case's layered design lending itself perfectly to this material. It wouldn't look out of place on the wrist of Christopher Nolan's Batman, that's for sure.
TAG Heuer Monza Flyback Chronometer
TAG Heuer has had a challenging few years behind it, with a recent resurgence thanks to a tasteful revisit of its historical icons. The Monza is now back, and it's been given an ultra-modern upgrade. Introduced in 1976, it gave a then-modern take on Heuer racing chronographs of old, experimenting with a new case design which today has become an icon in itself for TAG Heuer. The Monza Flyback Chronometer and its forged carbon case take that '70s DNA, injecting 21st century design features and some pretty extreme ones, at that. The dial is skeletonised, displaying elements of the Calibre Heuer 02 Flyback movement under striking blue sapphire sub-dials and red hands. The cushion case is carved from forged carbon fibre and finished with grade 5 titanium chronograph pushers. This watch is a statement from TAG Heuer, showing everyone not to forget where they came from, but also where they are going.