The 5 best salmon dial watches
Mitchell Barber
Every year, it seems there's a new trend in dial colours that takes the industry by storm. In 2021, it was blue, in 2022 green and this year, 2023, is rainbow (apparently). But among the fleeting enthusiasm and the short-lived trends, one colour has lingered to become a staple of the diehard watch collecting community. It's all about salmon. Now, being a (loose) vegetarian, I wouldn't normally go for fish. But in this case, I'll make an exception to bring you my list of the five best salmon dial watches in no particular order. I promise that's the only fish-related comment I'll make in this article…maybe.
H. Moser & Cie Streamliner Center Seconds Smoked Salmon
From the king of fumé  dials, we have the newly released Moser Streamliner Centre Seconds "Smoked Salmon". In its first update since being launched in August 2020, the Centre Seconds continues its distinctive design language and adds a more classic looking dial (RIP Green Dragon). With a vertically brushed light salmon in the centre that darkens to a rich black at its periphery, it's a beautifully conservative execution in a decidedly un-conservative watch. What makes this dial special, however, is the clarity and simplicity of its design. There is very little to get in the way of the colour, even the logo fades away into the background. Now, I could wax lyrically all day long about the Streamliners' case architecture, bracelet design and in-house calibre, but alas, there's more fishing to be done…. Sorry, I couldn't resist.
Breitling Premier B01 Chronograph 42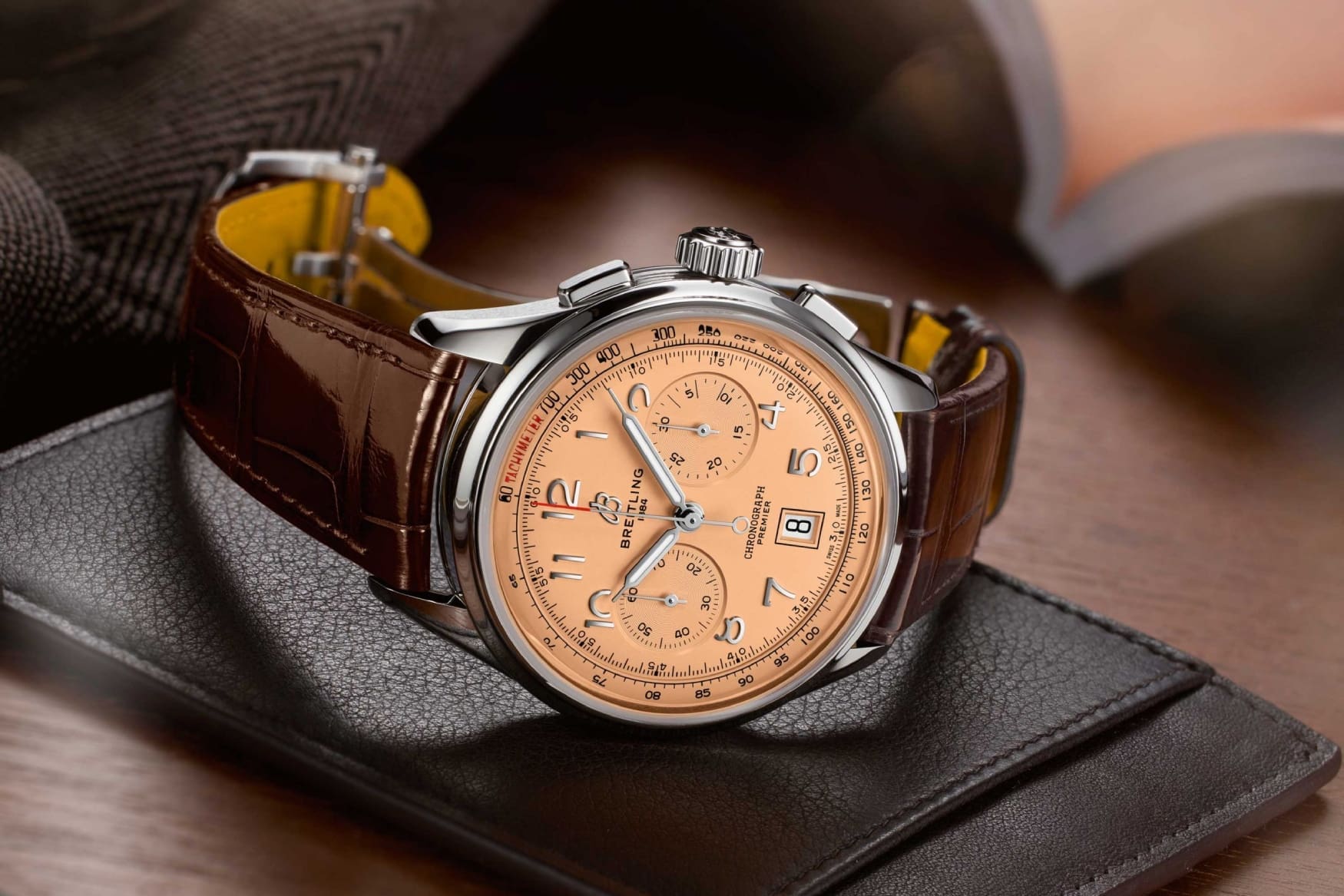 Imagine for a minute, if you will – you're a young professional. You've just received your first pay cheque, and, being an avid reader of Time+Tide, you want to blow it all on a nice watch. Something special, perhaps. After seeing someone on Instagram wearing a Patek Philippe 5172G, you say to yourself, "that's the one!", and promptly head to your local AD. Only to be told that you'll probably never be offered one. At first, you're disappointed, but as you exit the boutique, you spot a lovely little Breitling out of the corner of your eye. "Is this available?" you whisper to the sales associate, relieved at the sight of his nodding head. Although the Breitling Premier B01 Chronograph bears a striking resemblance to the aforementioned Patek, it absolutely stands on its own. With its in-house movement, thoughtful date execution and beautiful salmon dial, it's a winner in my books.
Chopard L.U.C 1860
Released at Watches & Wonders 2023, the Chopard L.U.C 1860 is a faithful reproduction of the first-ever L.U.C watch from 1996. Although the real focus of this watch is the movement, the L.U.C 96.40-L, Chopard has knocked it out of the park with the dial. It's made from gold, finished with a hand-crafted guilloché and made salmon via a galvanic treatment. What a stunner! At 36.5mm, it's the perfect size for a dress watch – tell me this wouldn't look amazing with a tuxedo. It's also made from Chopard's Lucent Steel, a partially recycled alloy that is 50% harder than its 316L counterparts.
Grönefeld 1941 Principia
Let's move up the scale with the Grönefeld 1941 Principia Automatic Salmon Dial. In true haute horlogerie fashion, this salmon dial beauty has all the hallmarks we have come to love from the Horological Brothers. Ridiculous movement finishing, intricate case design, exotic straps (hello buffalo), and attention to detail that that puts most to shame. At 39.5mm, in either white gold, red gold or stainless steel, this is a watch for the slightly flamboyant, and deep-pocketed watch collector. As an aside, go and check out the Grönefeld website, they go into glorious detail on their specs page. Here's what they say about the winding system of the calibre G-06: "For 24 hours of autonomy 633 rotations of the oscillating mass are required". Classic.
Fears Brunswick
To bring it back down to earth a little, the Brunswick from UK-based "Fears" is a salmon-dialled option that won't have you selling kidneys. With a dial galvanically coated in rose gold and copper, it has a rich salmon colour and a vertically brushed finish that's applied by hand. Adding to its clean design, we have a seconds sub dial at six o'clock that has beautiful circular graining. The design as a whole is a throwback to early Fears watches from the '40s and '50s, cased in an elegant cushion shape. It's vintage, elegant and the perfect pairing to the sweet salmon colour of the dial. Under the hood is the ETA calibre 7001, a movement that has been in use for years. It's nothing to write home about aesthetically, hence the use of a closed caseback, but it gets the job done and makes for a reliable daily wearer.