5 of the best limited-edition character Casio G-Shock watches
D.C. Hannay
Casio as a first watch is something that a lot of us can relate to. No matter how many fine mechanical timepieces are in the collection, there's just an effervescent joy in these plastic wonders that transport me back to a simpler time, when my biggest dilemma was which Saturday morning cartoon to watch. I've owned many (and still do), including half a dozen G-Shocks, and I love them all. Along with their mind-bending array of standard-production models, Casio is infamous for releasing an unrelenting flood of limited editions and collabs, including many that pay homage to those characters that populated our tiny developing minds. Given their limited nature (and some serious FOMO), the majority of them sell out instantly upon release. But if you're a hardcore G-Shock collector, they can be found on the secondary market, although you'll pay for the privilege. Here are 5 of the best and most coveted limited edition character G-Shock models living rent-free in my head.
G-Shock x Super Mario Bros.
Since he was first introduced in Donkey Kong, Mario has become Nintendo's most enduring character in the most popular franchise of all time, spawning an endless stream of games, merchandise, TV shows, and feature films ("It's-a-me, Star-Lord!"). I'm sure I'm not the only one who wasted an afternoon stomping Koopa Troopas, or went full Mad Max in the latest edition of Mario Kart. But for their recent G-Shock collab, Casio threw it back to the original 8-bit version of the plucky plumber, and my old-school gamer self couldn't be happier.
The 5600-based DW5600SMB-4 is based on the timeless square-look G, but jazzed up with a bright red case, a blue face, and a strap with a repeating pattern featuring the box-smashing handyman. If you rock overalls and a red hat on the regular, this colourway will coordinate perfectly. Cool Easter egg: activate the backlight, and you'll see Mario appear on the display.
G-Shock x Gorillaz
In creating the world's most famous virtual band, Blur's Damon Albarn and Tank Girl artist Jamie Hewlett took the music world by storm when the first Gorillaz album dropped in 2001 with the breakout hit, Clint Eastwood. A far cry from Albarn's brand of Britpop, the unique collaboration mashed up elements of dub reggae, hip-hop, punk, disco, and world music into an intoxicating highball, performed by a motley cast of Hewlett's animated characters (and some A-list musical collaborators). The "band members" had four very distinct personas and attracted their own fans, which of course led to a raft of merchandising opportunities, including a series of G-Shocks (six in all). You can see an entertainingly bizarre interview between singer 2-D, guitarist Noodle, and the father of the G-Shock, Kikuo Ibe, here.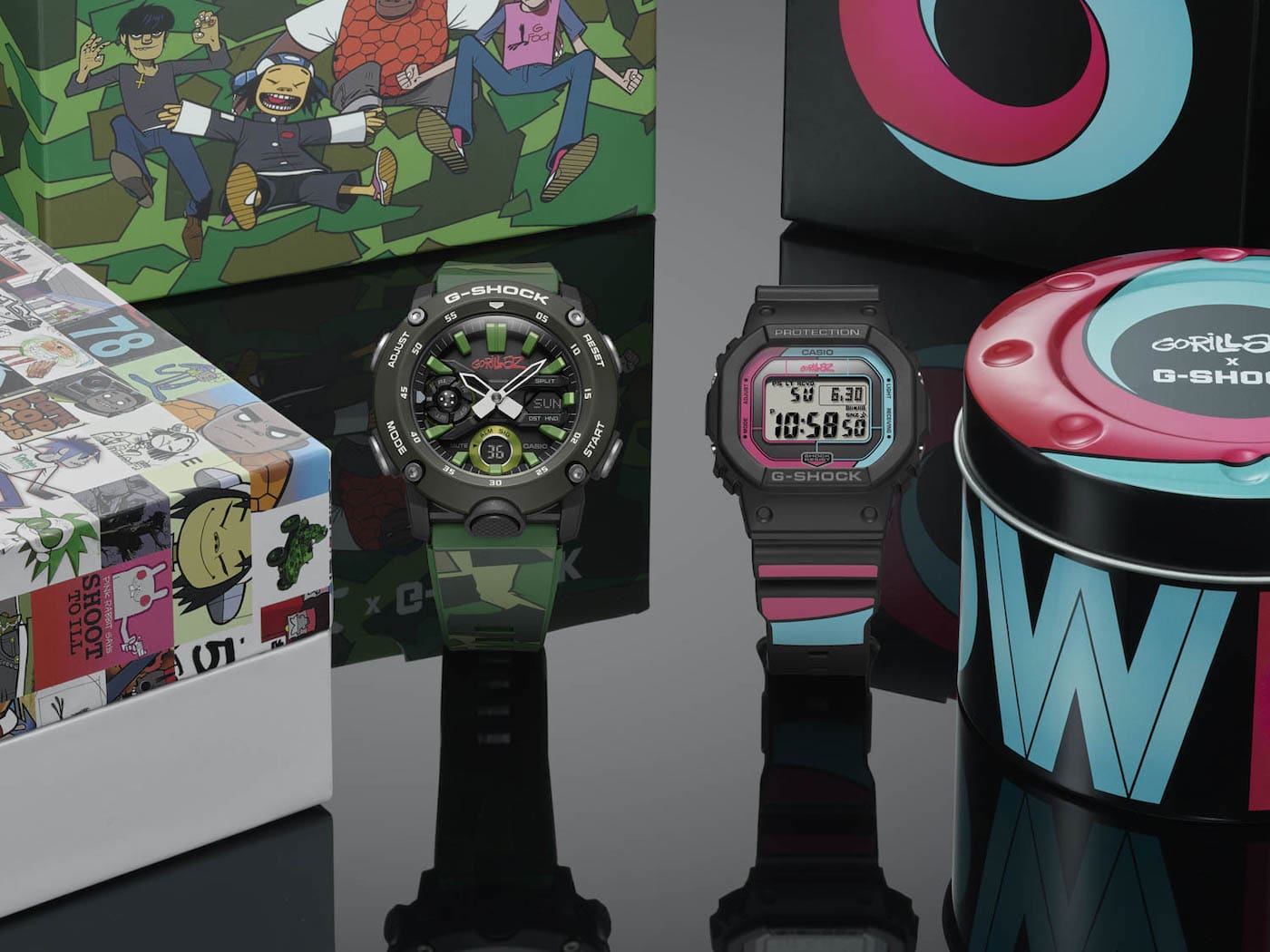 Maybe coolest of all is the GA-2000GZ-3AER, a camo-laden tribute to the very first album. Based on the popular GA-2000 ana-digi series, the Gorillaz version features the Carbon Core construction of the Casioak, but in an oversized 51.2mm diameter case. Along with the usual G-Shock toughness, you'll get a matte black case, a mineral crystal, green dial indices, and the red Gorillaz graffiti logo at 12. In another cool touch, the geometric camo strap reverses to solid army green.
Baby-G x Pikachu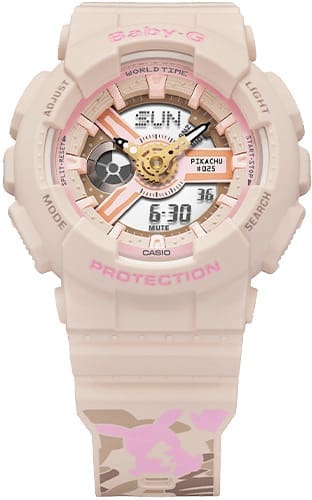 Another character beloved throughout the world, Pikachu is the by far the most popular of the huge range of Pokémon monsters, and the cuddly little creatures have been featured on G-Shock collabs more than once, including this sweet Baby-G. This rose-pink edition features candy pink dial and strap accents in the smaller Baby-G form factor.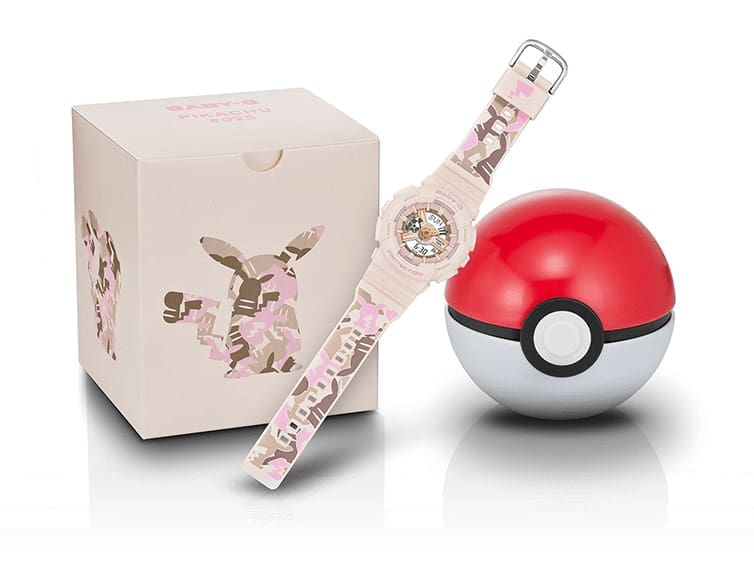 The golden hands are designed to resemble Pikachu's long ears, the silhouettes on the strap show the heart-shaped tail of the female Pika, and the super-cool packaging is literally a Poké Ball. It might be tough tracking one down, but if you're a diehard Pokémon fan, you gotta catch 'em all, right?
G-Shock x Dragon Ball Z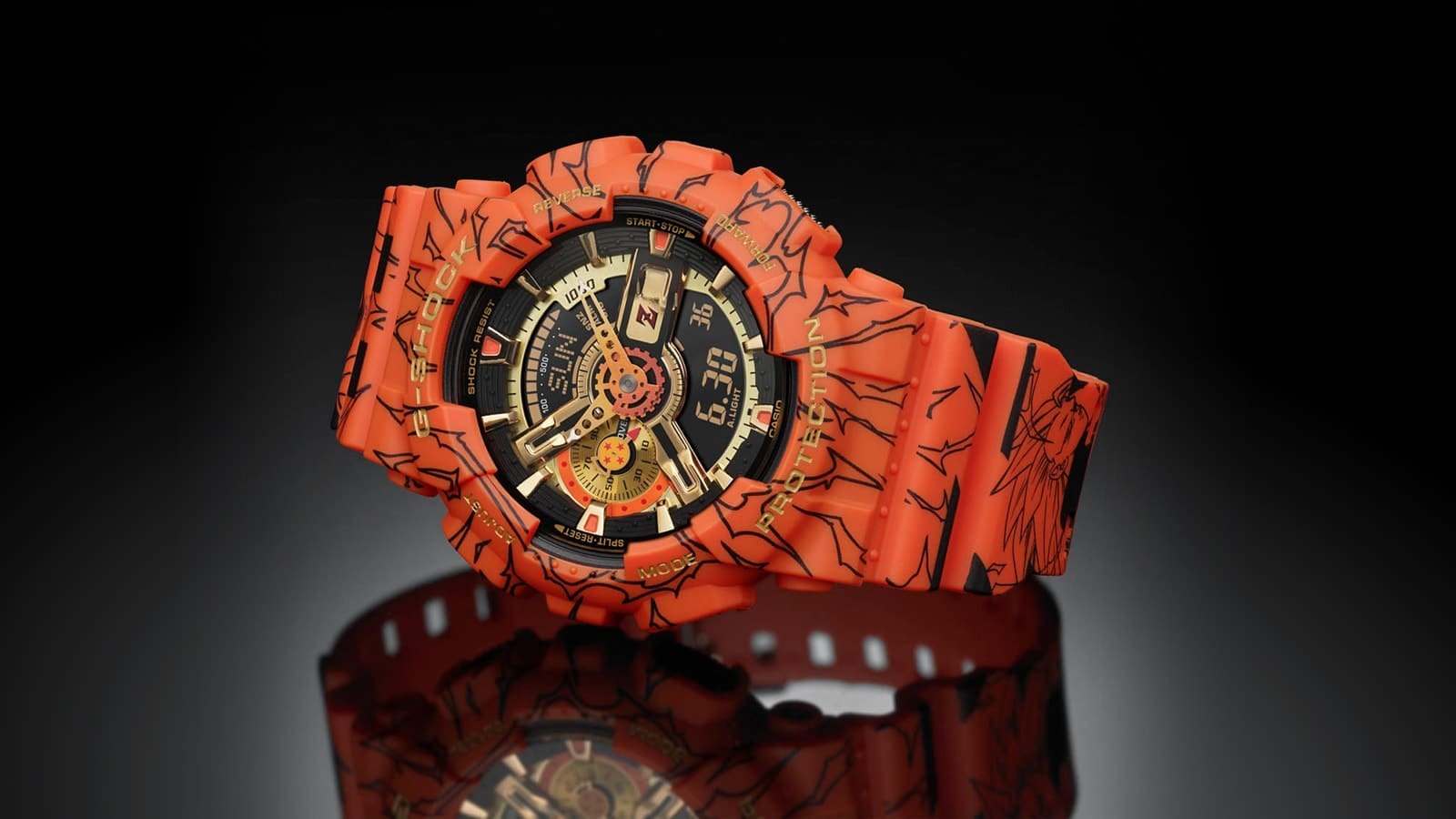 There's nothing subtle about this one. If you're a fan of Dragon Ball Z, everyone's gonna know it, given its bright orange colourway and explosive all-over graphics. The GA110JDB-1A4's 55mm case diameter showcases the watch's rugged texture, but the real fireworks are on the analogue/digital dial. You'll find Son Goku's 4-starred Dragon Ball represented on the 9 o'clock subdial, and the "Z" insignia opposite at 3. Gold accents riddle the dial, handset, and debossed case graphics, so going incognito is not an option.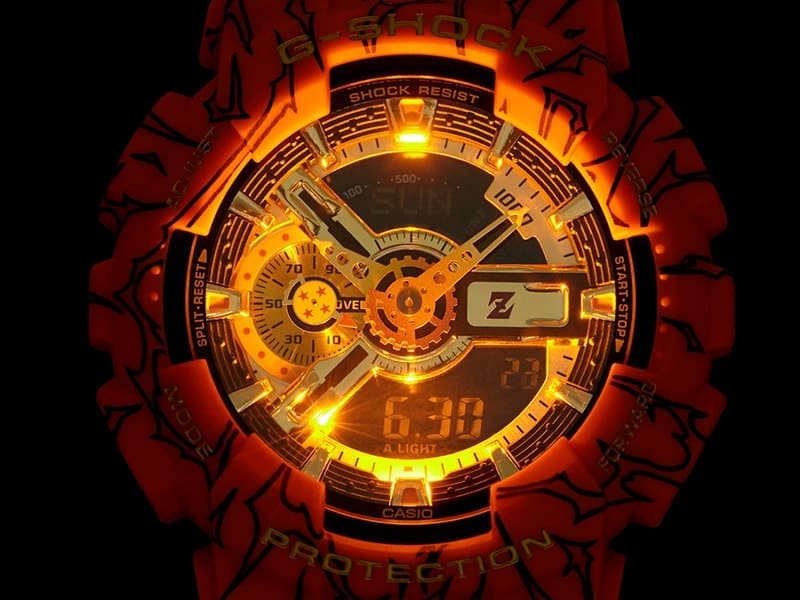 All the usual G-Shock attributes are present, including the 200 metres of water resistance, shock proofing, and mineral crystal, and functionally, this model adds a unique speedometer mode. But the real party trick is the watch's backlight. The whole thing glows a bright golden hue like a New Year's celebration, and makes this G look like it's about to go Super Saiyan.
G-Shock x Transformers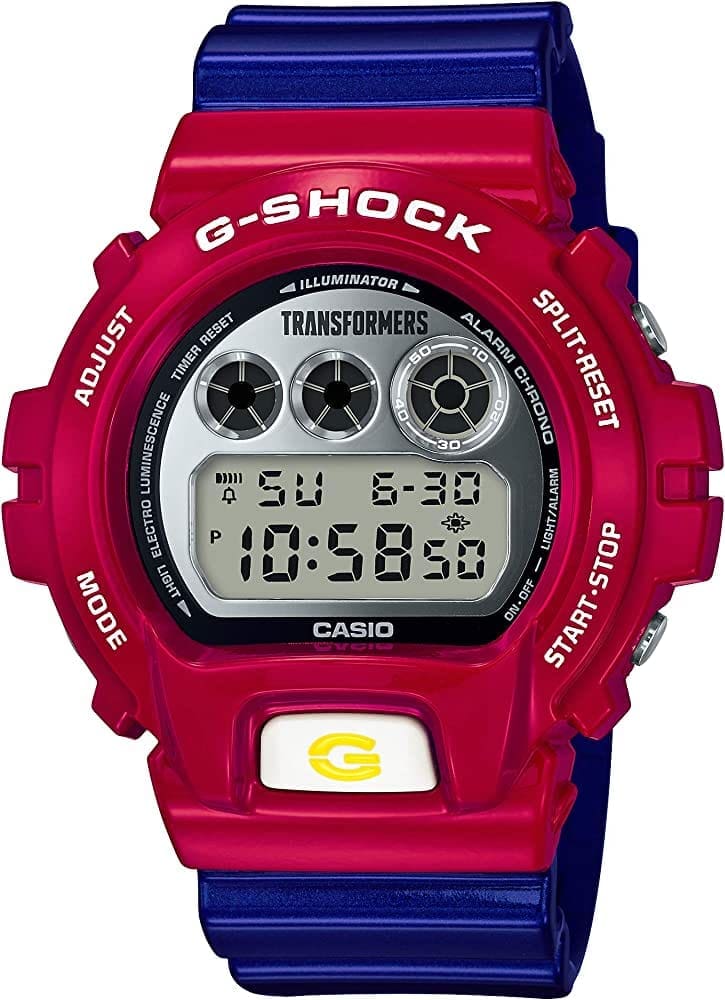 This collab is definitely "more than meets the eye". Transformers have been a huge franchise generating billions in revenue since I was young, and the robot-slash-vehicles have spawned cartoons, video games, a slew of toys and merchandise, and an explosively over-the-top series of Michael Bay movies (but hey, aren't they all?). Oh, and didn't they have the coolest theme song ever?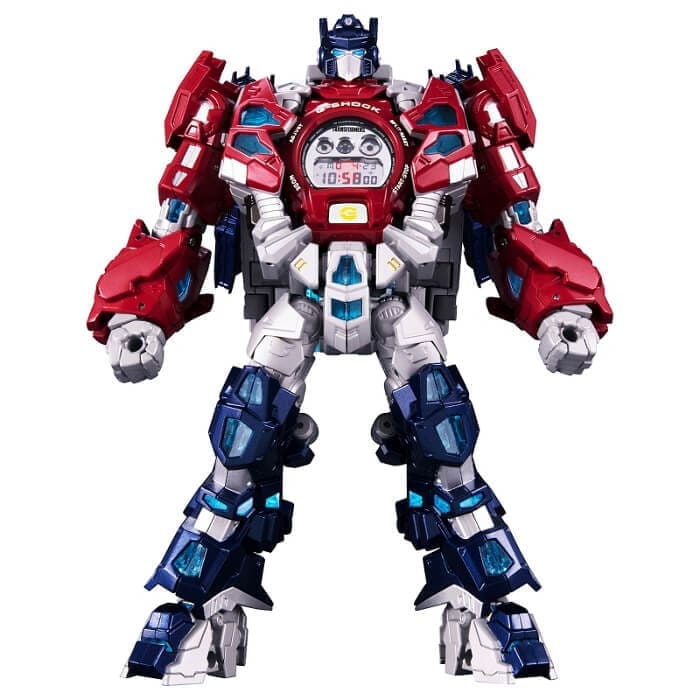 By the way, this edition has to have the most baller packaging of just about any G I've ever seen. In fact, it may be cooler than the watch itself. Based on the venerable DW-6900 series, the red and blue case and strap combo is bold enough, complete with a white and yellow "G" button and Autobot display graphic that activates with the backlight. But the presentation? Next level. The included display stand is an Optimus Prime figure, and the damn thing actually transforms! You can configure it as a display pedestal, or standing proud in full robot mode, with the watch secured in Prime's chest. When was the last time you played with your watch box?