9 of the best gold watches
Borna Bošnjak
A gold watch is the ultimate status symbol. Though the recent horological trend has skewed towards steel as the material of choice, the timelessness of gold is continuously proven by brands like Vacheron Constantin and Parmigiani Fleurier, introducing flagship models in precious metals. Don't get me wrong – gold done incorrectly can be gaudy and overcompensate for lacklustre personality – but when properly executed, there's a particular gravitas that only a gold watch carries. Read on for our selection of nine pieces that hit the nail squarely on the head.
Rolex Day-Date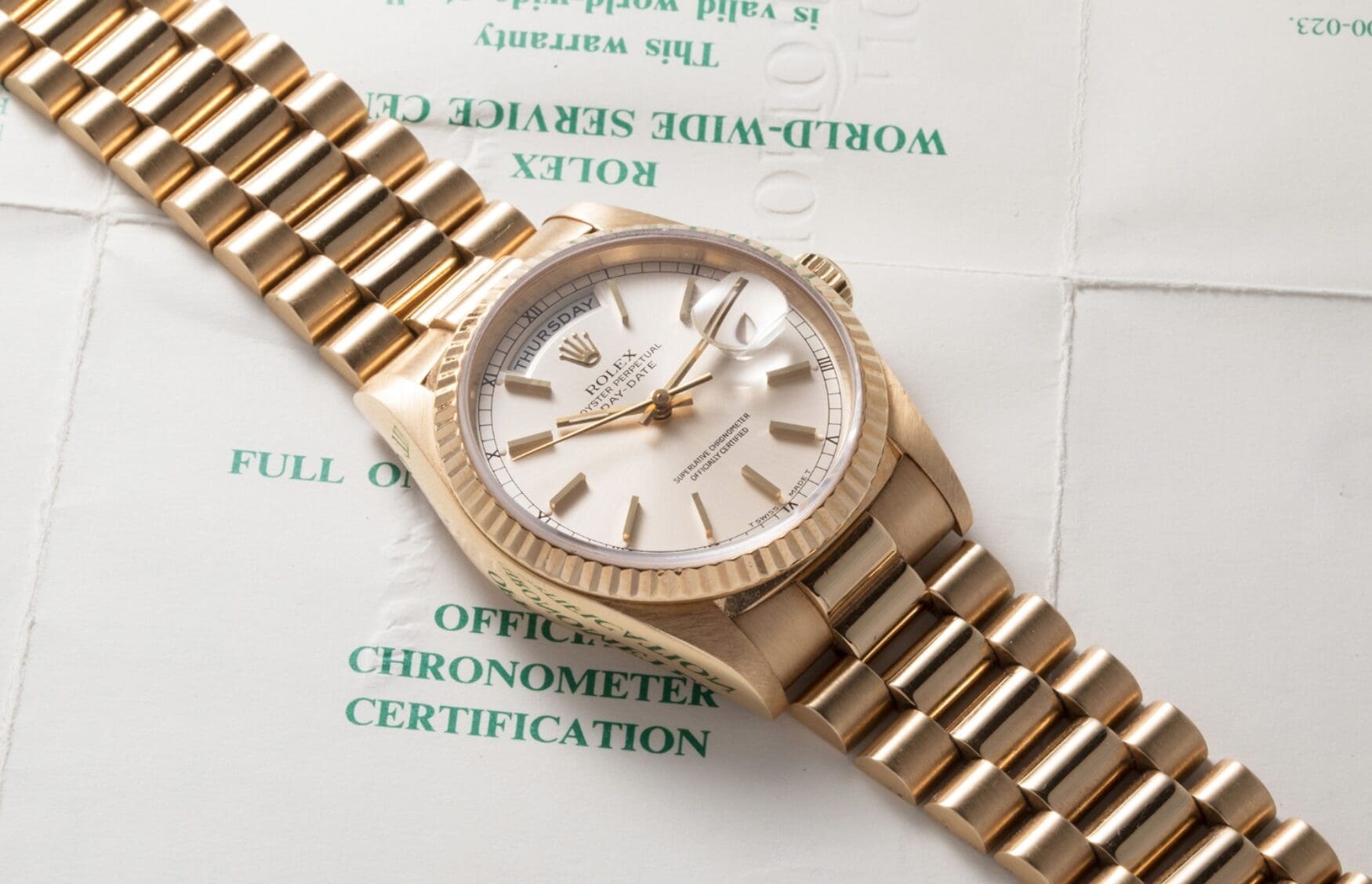 The first watch on this list could only ever be this one. The Rolex Day-Date isn't just a recognisable gold watch, it's one of those rare watches deserving to be called iconic. Often associated with world leaders, it has been worn by presidents, monarchs, dictators, star athletes, celebrities and even spiritual leaders like the Dalai Lama. You're not short of options either, with the Day-Date available in three types of gold and platinum – just make sure you option it with a fluted bezel and President bracelet.
Price: starting from A$51,900
Bulgari Octo Finissimo Blasted Gold
One of the likely associations with any gold watch is that it's shiny – after all, why would you even wear a gold watch if not to show it off as much as possible? Jokes aside, if you're after the warm, luxurious heft of a solid gold watch, but want none of the associated blinginess, Bulgari has just the watch for you. The Octo Finissimo Blasted Gold is completely matte, which lets its architectural, angular design really shine (pun intended). A closer look at the case and bracelet, however, will reveal just how resplendent of a job Bulgari has done with the finishing of its surfaces. The Blasted Gold is now discontinued, replaced by a mixed-finish variant that, while stunning in its own right, just doesn't quite capture the panache of this fully matte number.
Price: ~A$60,000 on the secondary market
Omega Speedmaster Professional in Moonshine on Moonshine
Owing to its lunar heritage, the Speedy has always been a bit of a tool-tastic, no-nonsense piece in its iconic black dial and steel case combination (regardless of the lack of water resistance). When Omega released the Speedy in its two Moonshine gold variations however, it became clear that it has serious luxe potential, and that the special-edition Moon landing Speedies in yellow gold were no happy accident. While the golden panda is lovely, it's really the green dial that captured enthusiast hearts, especially fitted on the accompanying Moonshine gold bracelet. An honourable mention has to go to the rosy Sedna gold-cased Speedmaster, too, though it's just narrowly pipped by its yellow gold siblings.
Price: A$67,075 (green), A$70,735 (panda) 
Casio G-Shock Dream Project Pure Gold G-D5000-9JR
A solid gold square G-Shock is just about the complete antithesis to what this watch was created to be, which is the very same reason that makes it so cool. Making its initial appearance at Baselworld in 2015, the concept became reality four years later as a limited edition of 35 pieces. Weighing in at nearly 300 grams, everything that could be gold on this watch is, including the bracelet screws, but it still manages to retain the famous shock-resistance that built up the G-Shock brand to what it is today. Even though it could technically survive it, please do not give into your intrusive thoughts of throwing this one off your balcony.
Price: ¥7,700,000 (retail, ~A$82,500), all sold out
Vacheron Constantin Les Historiques 222
Being wary of the potential spoiler in the introduction, the 222 was the very first watch I thought of when researching this article. There's nothing quite like it out there, from the unique lustre of the brushed gold to the unusual presence given off by the 37mm case. In an interview with Andrew, Vacheron Constantin's Style and Heritage Director Christian Selmoni notes the case to be "close to perfection". He's right.
Price: A$123,000
Audemars Piguet Royal Oak Double Balance Wheel Openworked in frosted gold
Speaking of unique, this list would be incomplete without a frosted gold Audemars Piguet. Though there's a couple of models to pick from, including a very pretty purple-dialled chrono, I feel that the shimmering hammered surface best suits the Royal Oak Double Balance Wheel Openworked, particularly in white gold. Created by tiny, precise strikes of a diamond-tipped tool, the frosted surfaces take on the look of diamond dust, their texture highlighted by mirror-polished bevels. The gorgeous openworked movement ain't too shabby, either.
Price: CHF 86,700
Parmigiani Fleurier Tonda PF Skeleton
There are few watches that, though I wasn't too excited about when seeing the press images, I was pleasantly surprised by in the metal. There are even fewer watches that change my opinion on a wider topic completely, and the Parmigiani Fleurier Tonda PF Skeleton is an example of one of those. It made me open to the idea of openworking, courtesy of its organic, flowing bridges and, being aware that I'm likely repeating myself, the best bracelet I've experienced on any watch. It's a lucky coincidence that they're difficult to source in Australia, or I'd have to consider parting with a kidney (or two – I'd make it work).
Price: CHF 94,000
F.P. Journe Chronomètre à Résonance
F.P. Journe is member of a rare breed of watchmakers that experimented with resonance, initially observed by Christiaan Huygens in the 17th century. Journe's latest watch capitalising on the phenomenon comes 20 years after the first limited-production series, and is more complex than ever, employing a differential that sends power to each of the two separate going trains, as well as double one-second remontoirs d'egalités.
"Why is this watch on a list of best gold watches?", I hear you ask. It's not just the case that's made of rose gold, but the entire movement, too – an F.P. Journe signature.
Price: A$235,000
Greubel Forsey Hand Made 1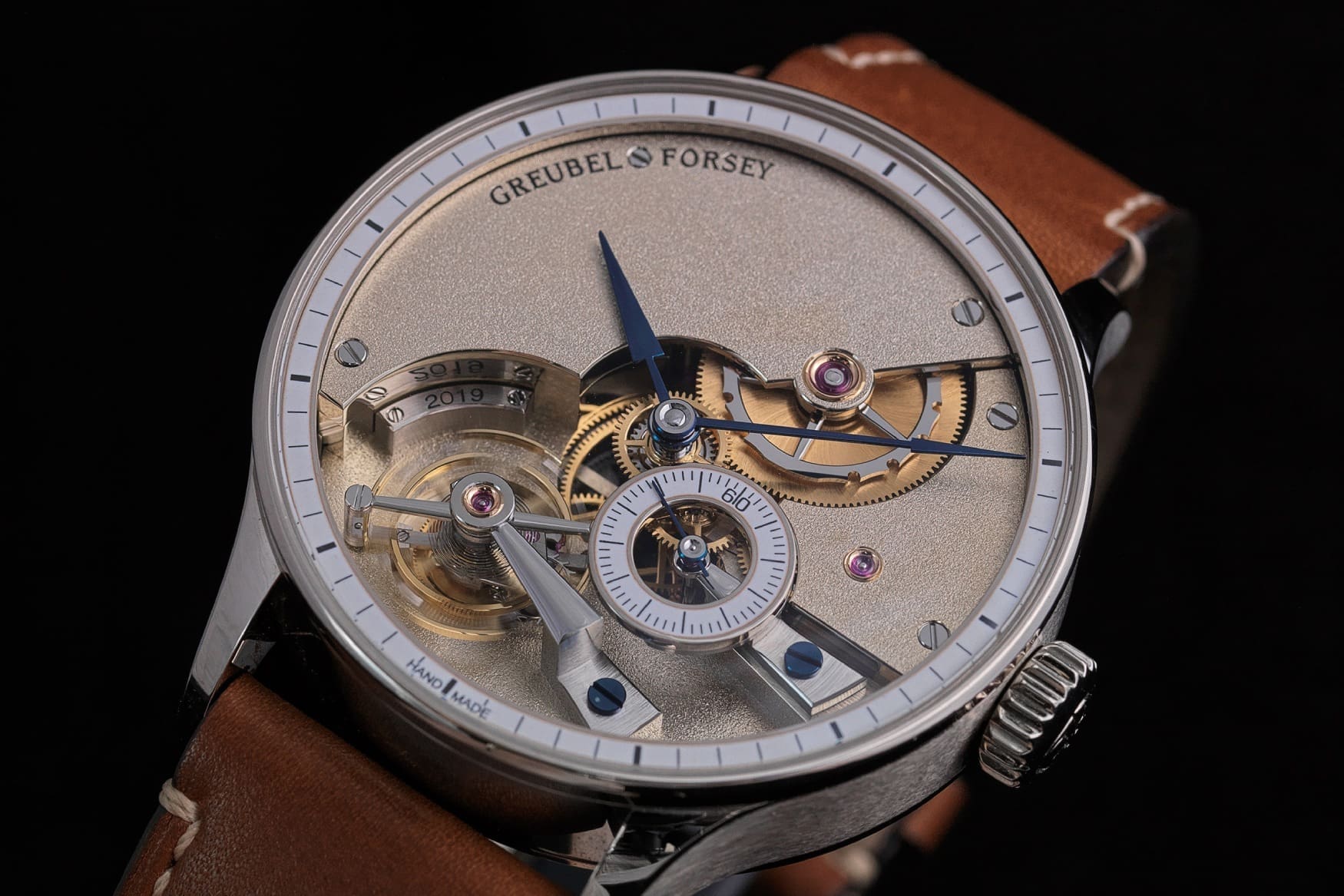 The duo of Robert Greubel and Stephen Forsey are best-known for their immaculate, hulking, incline tourbillon-equipped pieces with sapphire windows in the sides of the case. Why, then, would such a brand be interested in a time-only, single-tourbillon creation? Rather than being mechanically complex, the challenge in the Hand Made 1 is in the degree of human involvement to produce each component. Every single screw is made on a manual lathe, as is the case for the turning of the gorgeous white gold, pantograph-cut case. Even the balance spring and pallet fork are hand-made by two individual artisans specialising in this art.
Price: On request, estimated to start around CHF 750,000