5 of the best panda dial chronographs of 2023
Mitchell Barber
From iconic racing watches to auction darlings, panda dial chronographs hold a special place in the hearts of collectors all over the world. Little wonder most brands have their own interpretation of the much-loved design. The panda dial was popularised in the 1960s and 1970s, largely thanks to mainstream brands such as Rolex, Omega and Heuer beginning to incorporate it into their designs. They then became associated with motorsport for their legibility and sporty aesthetics. The contrasting black sub-dials against the light background made it easier for drivers to read elapsed time and measure speed. Unlike the animal, the watchmaking panda is far from endangered – here's our top five, in no particular order.
Rolex Daytona
It would be impossible to discuss panda dial chronographs without mentioning the Rolex Daytona. Originally introduced in 1963, the Daytona quickly became an icon. The Oystersteel case, coupled with a white dial and contrasting black sub-dial rings, evoke a sense of heritage while at the same time being fundamentally modern. Not many watches can straddle that line so perfectly. It may be mostly pointless to discuss the Daytona in the context of getting one, but it's so iconic that this list would feel incomplete without it. After all, the reason we love panda dials so much is because of one very famous watch.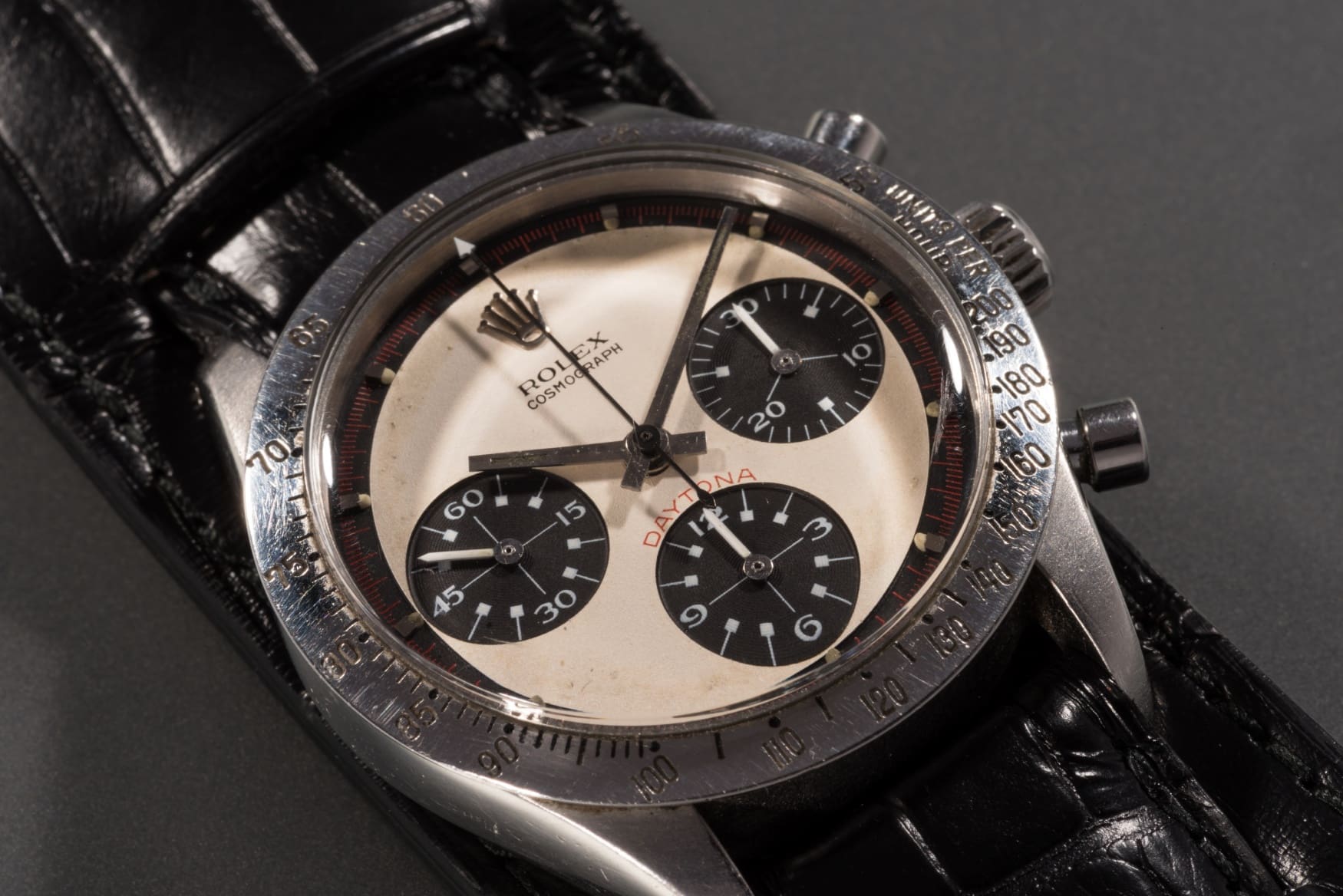 The Paul Newman is a legendary timepiece that has become one of the most sought-after watches in the world. Named after the famous American actor and racing enthusiast, this Rolex Daytona model gained immense popularity after Newman was spotted wearing it in the 1969 film Winning. Legendary guy, legendary watch.
TAG Heuer Carrera 60th Anniversary
TAG Heuer's watches have long been synonymous with motorsports and precision timekeeping. The Carrera, in particular, is named after the Carrera Panamericana, a border-to-border road rally event in Mexico. This new 60th anniversary edition pays homage to the original Carrera models from the 1960s while incorporating modern technology. Its silver dial with black sub-dials is beautifully complemented by the lack of a date and vintage lume detailing – it's vintage inspired but doesn't feel like it's trying too hard. Powered by a modern in-house automatic movement, the Heuer 02, the Carrera 60th anniversary delivers accuracy, reliability and handsome finishing. The movement is great, but it's all about the dial side for this one. If vintage aesthetics are your thing, then this panda dial from a brand with real heritage is a must-try.
Zenith Chronomaster El Primero A384 Revival
The quintessential high-frequency chronograph. The Chronomaster Revival from Zenith is a vintage throwback to one of the most important watches in history. In 1969, Zenith created the first-ever automatic chronograph movement. This was a big deal at the time, and they have continued to evolve the El Primero until today, apart from a short stint in the mid-'70s involving an attic. The model shown here is 37 mm, has a white lacquer dial and fits the wrist like nothing else – it's a vintage lover's dream. Activate the chronograph, though, and you're greeted by a very un-vintage, high-frequency seconds hand. The El Primero movement, albeit modified, also powered the Rolex Daytona until the year 2000, and is my pick of the bunch.
Breitling Navitimer B01 Chronograph 43
From the inventor of the dual-pusher chronograph comes a panda dial that is tied so heavily to an industry, that it's almost not ok for us non-pilots to wear it. The Breitling Navitimer is the quintessential, vintage-inspired pilot's watch. Just look at it – it's like the watch version of a bi-plane from the mid-'50s.
Thankfully, the vintage vibes of the Navi are only skin deep, as it's powered by the modern B01 movement produced by Kenissi. Adding to its aviation-inspired looks is a slide rule bezel, helping those that know how to use it to do all sorts of calculations, sometimes even mid-flight. Multi-tasking much?
Seiko Speedtimer
The last watch on this list is something a little more accessible on the price scale but no less cool. In a change of pace, the Speedtimer is powered by a solar quartz movement. Calm down, purists, we all need a panda we can throw on and not worry about! In this case, the panda sub-dials have a real function, as each black circle hides a solar cell that powers the quartz movement.
The panda dial design, with its striking black and white contrasting elements, continues to captivate watch enthusiasts, paying homage to a rich history that dates back decades. Whether you're a motorsports enthusiast, a vintage watch aficionado, or simply someone who appreciates the fusion of form and function, these five panda dial chronographs stand out as remarkable examples of a timeless aesthetic. With their enduring allure and lasting legacy, they're a testament to the history of horology, racing and culture.