The 5 best pulsometer watches
Mitchell Barber
All the way back in 1707, a gentleman by the name of Dr John Floyer, renowned for treating asthma (probably with leeches), developed the first-ever watch with a scale that would help him measure the pulse. Thanks to his pulsometer, Floyer became the first physician to study the rhythm of the heart in his clinical practice. It would be remiss of Floyer not to write about such an invention, titling his literary work The Physician's Pulse-watch, Or, An Essay to Explain the Old Art of Feeling the Pulse, and to Improve it by the Help of a Pulse-watch – some name. Either way, this book is a marker in time, and unequivocal proof that Floyer was a badass and that he absolutely invented one of the most practical and interesting dial styles in watchmaking. Trust a doctor to keep immaculate records!
Omega Speedmaster Chronoscope
Though there's certainly no lack of Speedy variants out and about, the Speedmaster Chronoscope brought something new upon its 2021 release. At 43mm, it's a little big for me, but the assortment of scales on the dial and the beautiful hand wound movement around the back have me won over.
At first glance, the dial is certainly busy with its overlapping tachymeter, telemeter, and pulsometer scales, but the 1940s-inspired spiral style track pattern is supremely legible. This is what I imagine Dr Floyer's dial looked like. Powered by the Co-Axial Master Chronometer Calibre 9900 movement, it's as modern as they come, and the finishing is great.
A. Lange & Söhne 1815 Chronograph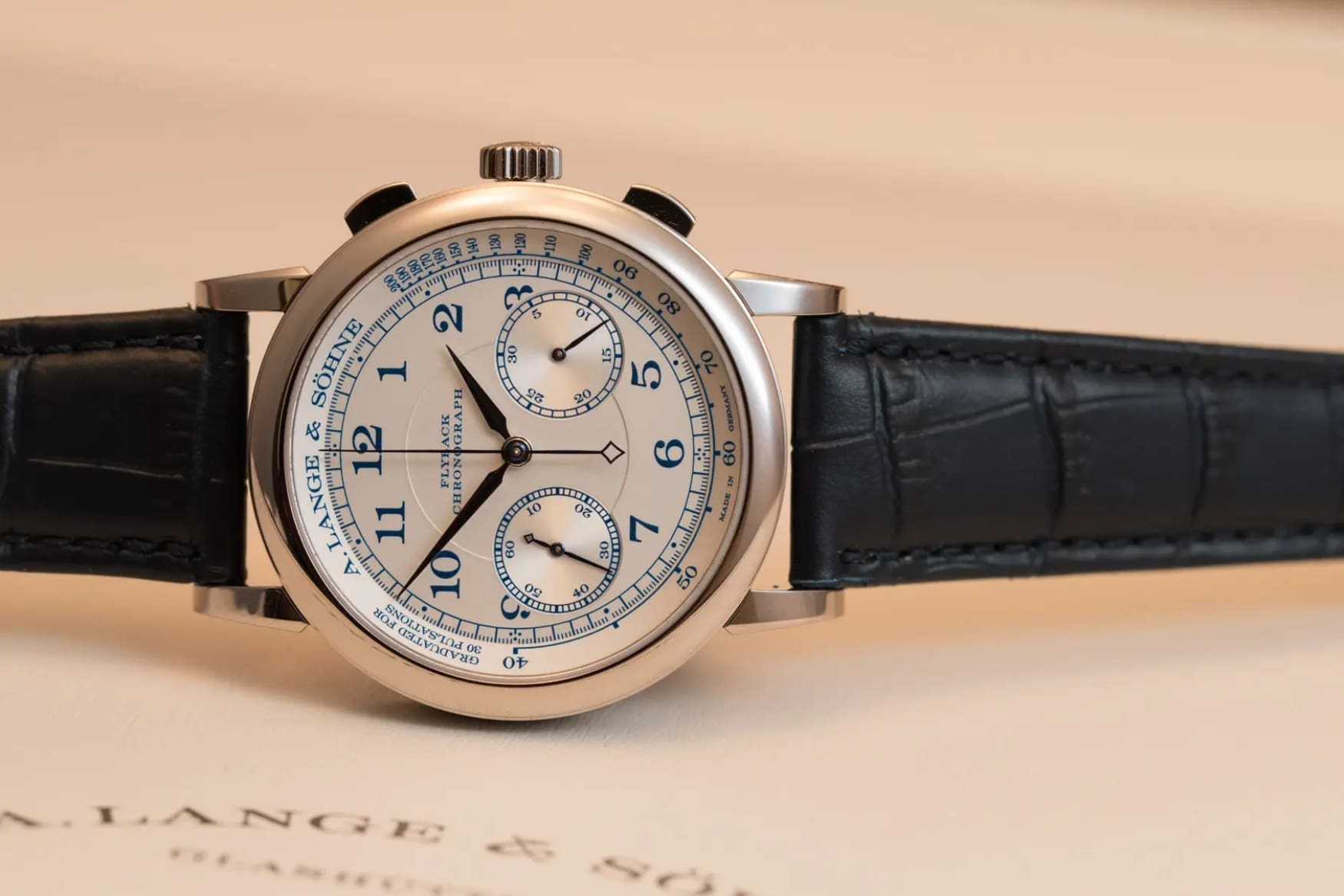 The 1815 Chronograph is, by far and away, my favourite watch on the planet. I love this thing, and it just happens to have a pulsation scale! Coming in at 39.5 mm, this watch has near perfect proportions, a beautifully balanced dial and a movement to die for.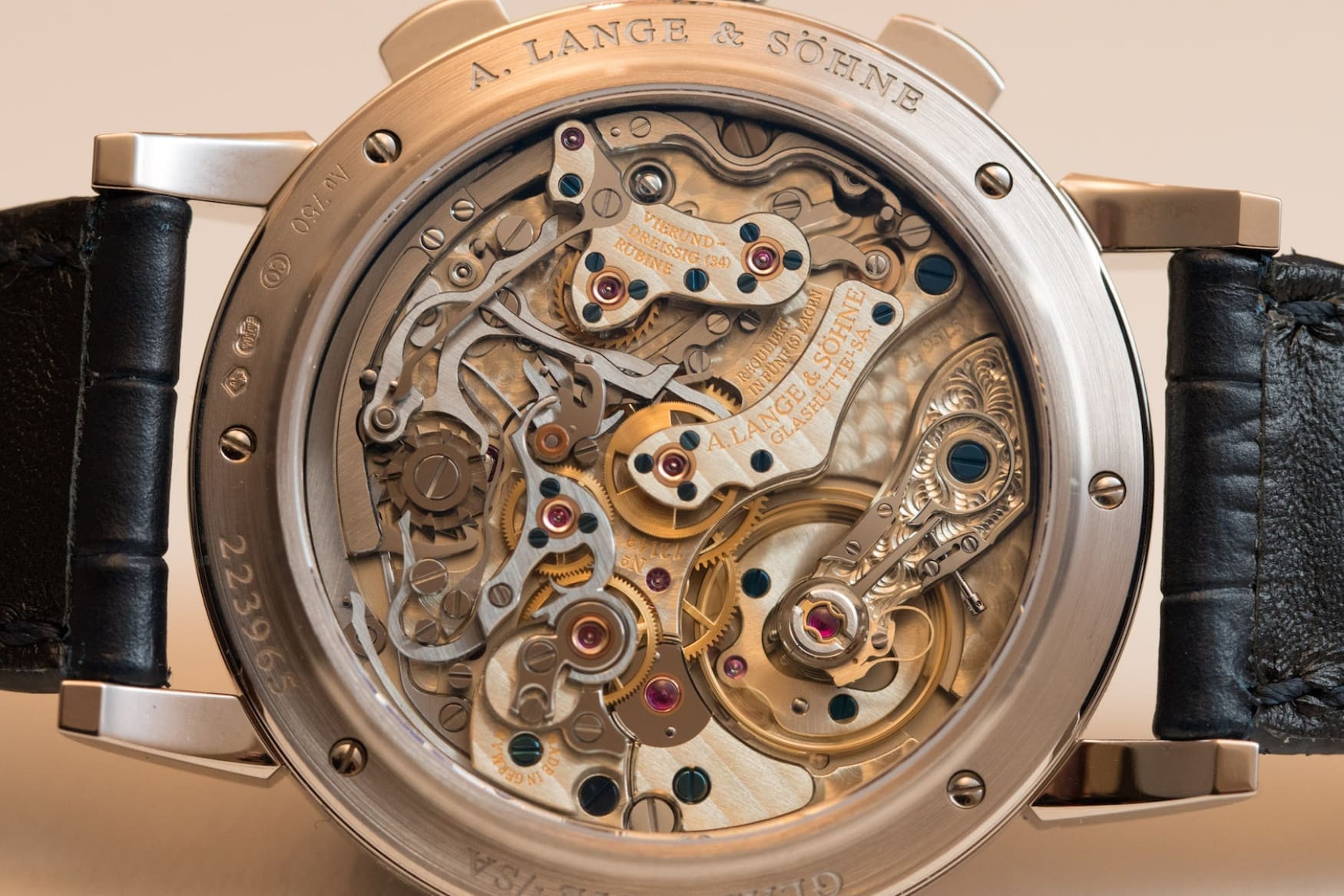 The calibre L951.5 has a power reserve of 60 hours and is manually wound, so there's nothing impeding your view of the immaculate finishing. Being a German watch, the movement architecture is inherently different, and the depth is incredible. With bridges in German silver, it's an entirely new experience. If you ever get the chance to see one of these in person, savour it!
Furlan Marri Nero Sabbia ref. 1072-A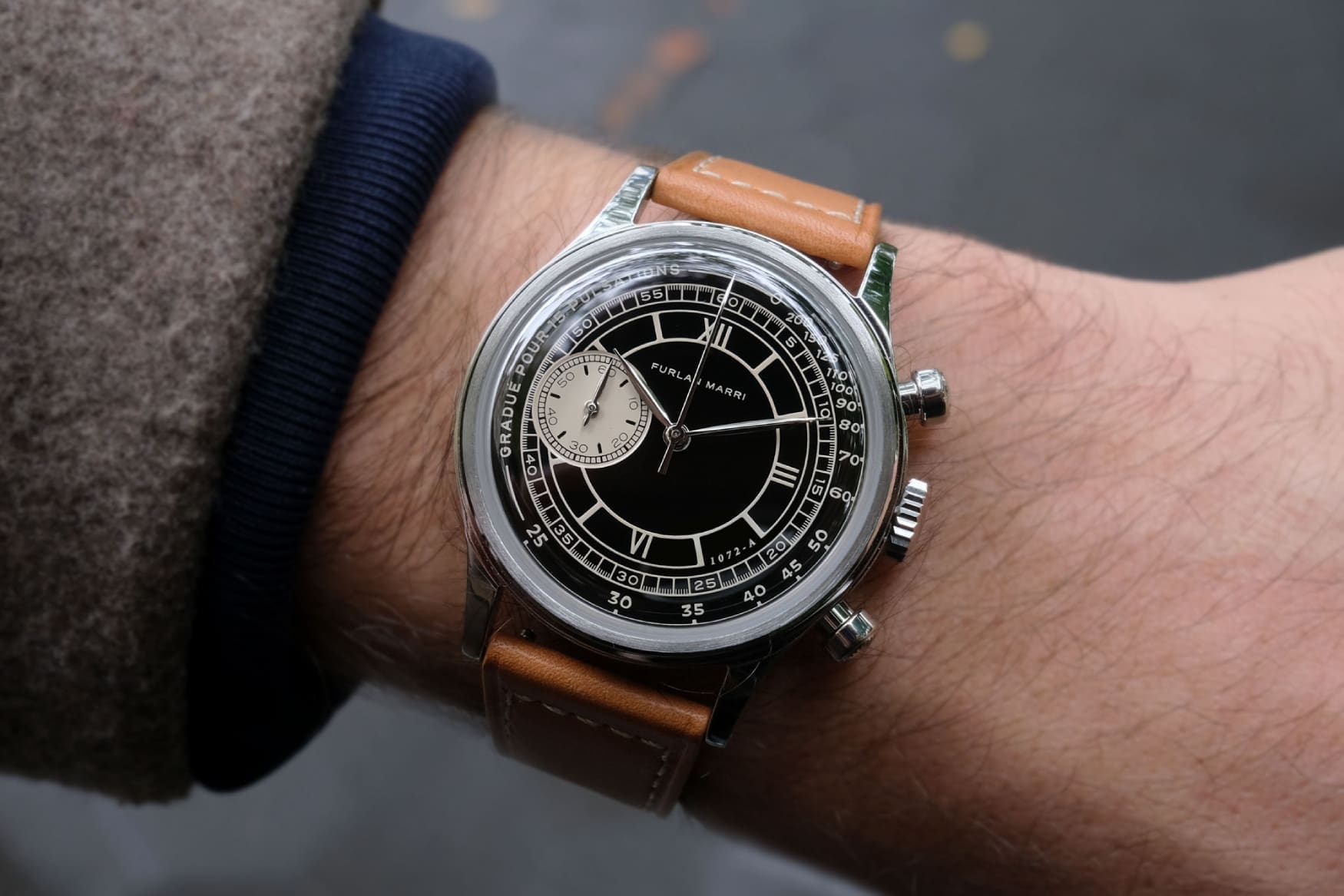 If vintage-inspired chronographs are your thing, then the Nero Sabbia from Furlan Marri is for you. This watch is all about the details. Check out the fluted pattern on the ends of the chronograph pushers, the intricate engraving on the buckle and the beautiful sector style printing on the dial. You get a 60-minute counter at 9, subtle Roman numerals and the all important pulsations scale around the periphery. Furlan Marri have done a fantastic job making the dial feel balanced on the Nero Sabbia, no easy feat considering it has one off-centre sub-dial.
Although this watch is all about aesthetics, you're getting an interesting movement under the hood. Powered by a Seiko mechaquartz movement (a quartz movement with a mechanical chronograph module bolted on top), it benefits from the accuracy and reliability of a battery-powered watch while keeping the old world charm of a mechanical chronograph. You've got to have that sweeping seconds hand!
Oris Big Crown ProPilot Rega Fleet Limited Edition
The Big Crown ProPilot Rega Fleet Limited Edition by Oris is a tribute to the Swiss air-rescue Rega, known for its life-saving missions and the aircraft they use. Each watch comes with a special engraving on the case back – an image of the Bombardier Challenger Rega ambulance jet is one of its many versions. Adding to its tactical aesthetics is a red-tipped GMT hand, a black PVD-coated case and a bezel-mounted pulsations scale. This is one of the more rough-and-ready watches on the list, and I can just imagine it on someone's wrist as they hang out the side of a helicopter on an alpine rescue mission.
Doplr Pulse-Watch
In an almost textbook throwback to Dr Floyer's watch, the Doplr Pulse-Watch was developed by doctors, for doctors. Not only can it measure the pulse, but it also has an asthmometer scale to measure the respiratory rate. It's the little details that make this watch interesting, such as the double-ended seconds hand. This is there so you don't have to wait 60 seconds if you miss the start of your measurement. It also has waterproof straps, in case, you know, you take it swimming… or spill bodily fluids on it. Fitted with an ETA 2824 and with a 38-hour power reserve, the Pulse-Watch is fit for purpose.
Throughout its rich history, the pulsometer has evolved from an essential tool in its early years to an antiquated technology that isn't really relevant anymore. In saying that, all the watches we love can trace their roots back to a time of relevance and necessity – we love watches because they make us feel something, not because they're modern tech. Pulsometers are a snapshot into another time, where there was an intimate connection between timepiece and wearer – a time when people relied on these things to not only tell the time, but potentially save lives too.