The 5 most collectible quartz watches to annoy the snobs
Mitchell Barber
The relevance of quartz watches as an option for "serious" collectors has been hotly debated on the forums, blogs and at the meetups. "They don't have a soul", "they tick" or "it's a glorified Apple Watch" are all arguments against quartz that are based on a whole lot of nothing – just excuses to follow the crowd instead of following your curiosity to an actually fascinating technology. Some of the most prestigious brands currently make, or have made, quartz watches in the past, and it's no longer a technology that was necessary for a brand's survival in the mid-`70s. Quartz is now a platform for innovation, performance and craftmanship that many brands are embracing.
But first, how do we define a quartz watch? In the last few years, the line between mechanical and quartz has been blurring. Take Grand Seiko's Spring Drive for example. It's a bit of both. So, to avoid attracting any unwanted commentary about my choices, I'll classify them as any watch that regulates its timing with a quartz crystal or a microchip. That means it can be powered by either a battery or mainspring. Do we all agree? Don't @ me.
In a nutshell – if you're ignoring quartz, you're missing out. So, in the interest of expanding your horological horizons, here's our list of the five most collectible quartz watches.
F.P. Journe Élégante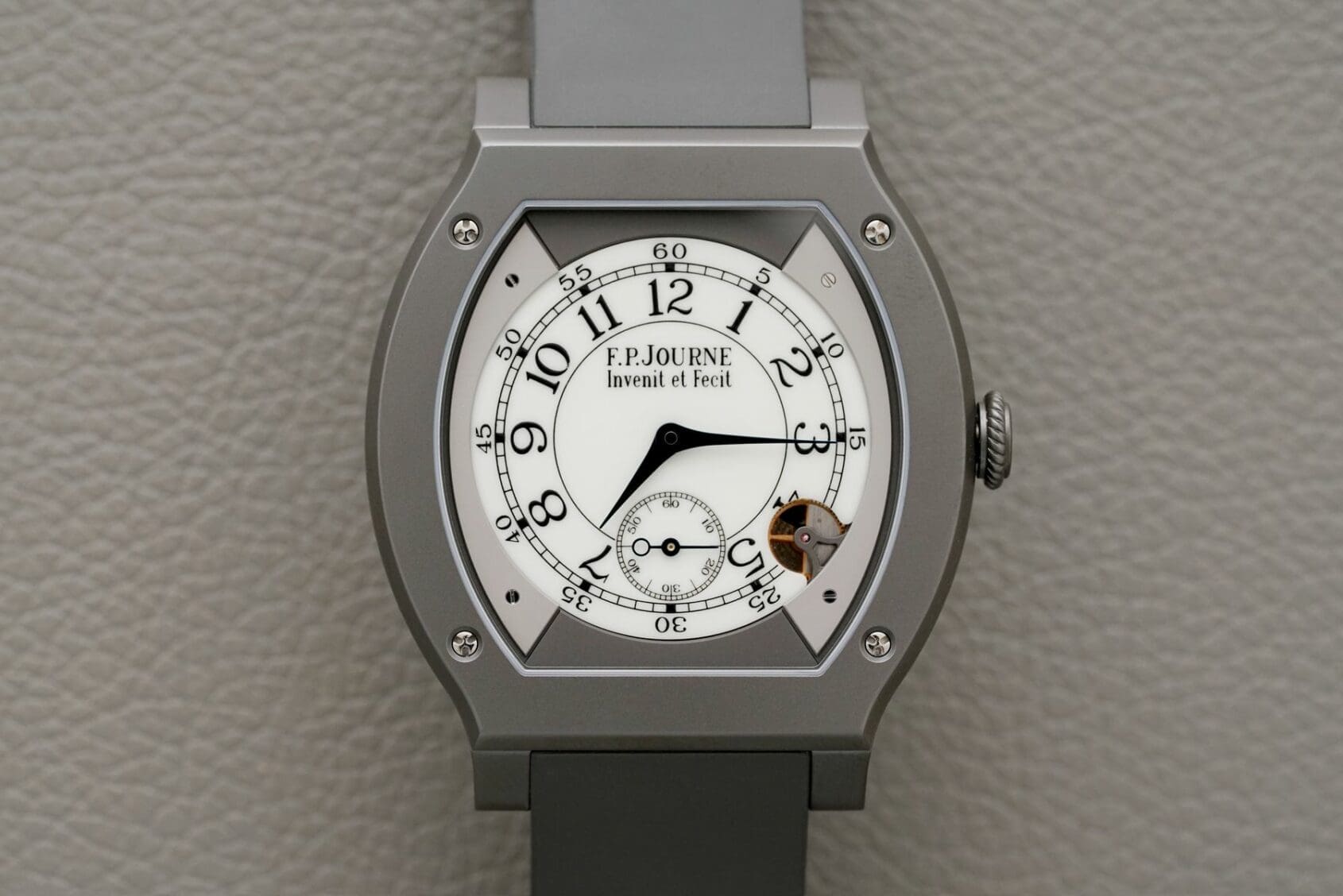 I would be remiss not to start with a watch from one of the hottest brands in the horosphere – F.P. Journe. Who doesn't want a Chronomètre Bleu, am I right? Pedigree of its maker aside, the Élégante and its Calibre 1210 is a technical masterpiece that pushes the boundaries of what's possible with a quartz watch. Its headline feature is its standby mode. When the watch is motionless for 35 minutes, it stops the movement of the hands – all in the interest of preserving battery life. One would be forgiven for thinking that when this happens you would have to reset the time whenever you wanted to wear the watch – thankfully this isn't the case. With the help of electro-mechanical wizardry, the Calibre 1210 keeps track of the time and resets the watch as soon as motion is detected, when you pick it up off your side table for example. You can see the motion detector through an aperture at 4 o'clock on the dial. The hands will then spring into life, taking the shortest path to the correct time. Magic! This system makes for a huge battery life, 8 to 10 years in normal use and up to 18 years in standby mode. Give one to your newborn and they won't have to change the battery until they're out of the house! Price wise, they range between A$50,000 – A$80,000 on the secondary market.
Rolex Oysterquartz Day-Date
A long-underappreciated watch from Rolex that has exponentially gained traction combines the precision of a quartz movement with the prestige of Rolex's iconic Day-Date. The Oysterquartz Day-Date was introduced in 1977, not just as a response to the quartz crisis, but also a jab at the emerging integrated bracelet trend. Gerald Genta revolutionised the sports watch in the early `70s, and you better believe Rolex wanted a piece of the pie! Despite being discontinued in 2003, the Oysterquartz Day-Date remains highly coveted by collectors due to its relative rarity, unique movement, and integrated bracelet design. It represents a significant chapter in Rolex's history and one that is unlikely to be repeated. Interestingly, Rolex service centres keep spare parts to maintain serviceability for Oysterquartz watches, so there's no need to take your Oysterquartz for a shopping centre battery swap. Second-hand prices fluctuate depending on the reference between A$20,000 – A$40,000.
Swatch x Omega MoonSwatch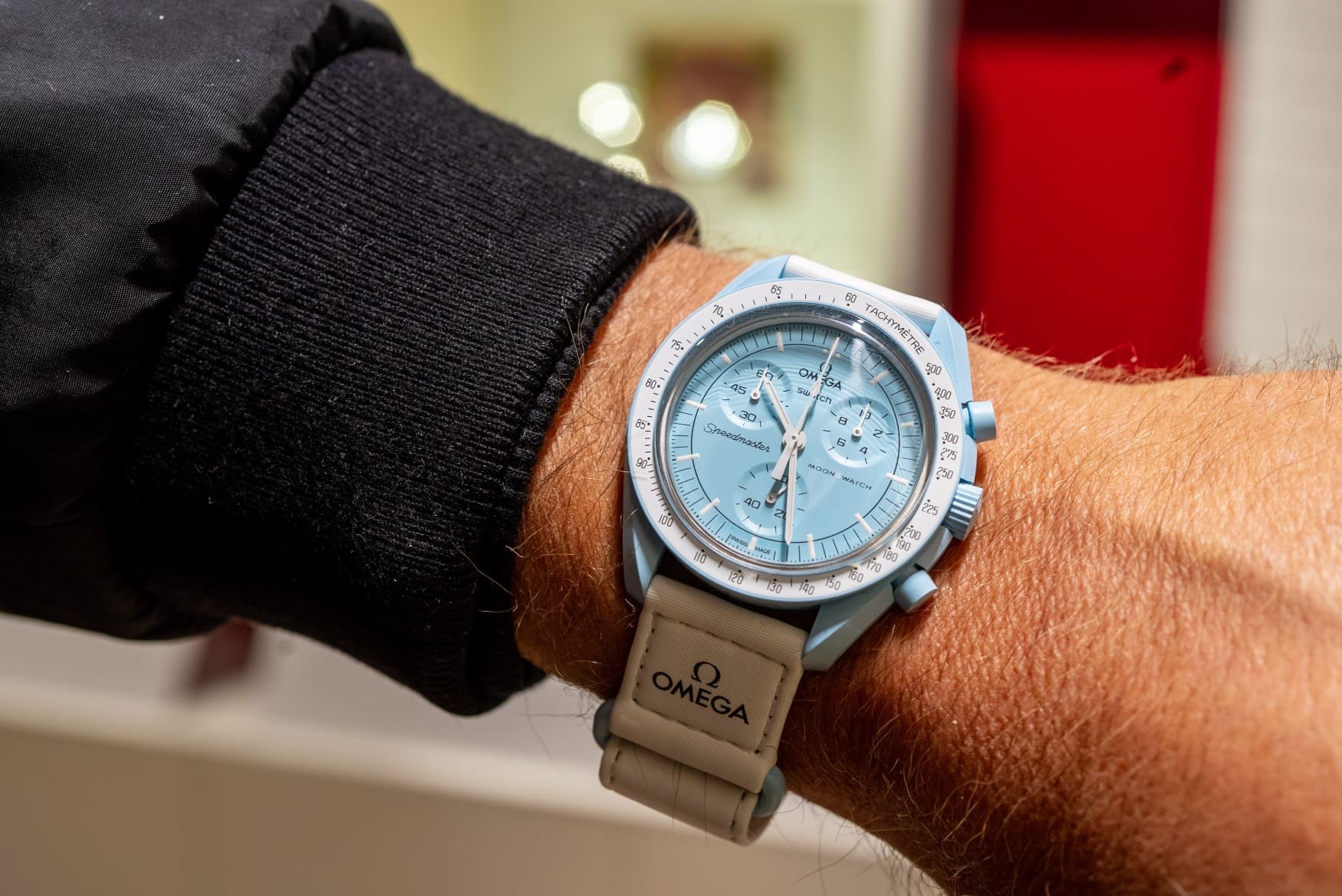 No list about collectible quartz watches would be complete without the completely ridiculous success that is the MoonSwatch. This watch stopped the world when it was released on March 26, 2022, a few days before the annual Watches & Wonders fair in Switzerland. With a case made from Bioceramic and a quartz chronograph movement, the MoonSwatch is a great way to get some of the way to a big boy Omega, at a fraction of the cost. The case dimensions and shape are identical to the full-fat Moonwatch, and you get multiple colour options, plus a surprisingly high-definition planetary image on the battery cover. If you're a space nerd, this is the one for you.
If you do want one, however, you'll have to battle the other space/watch/secondary market pricing fans that want a piece of the MoonSwatch pie – especially if you want the Moonshine Gold version, an extra-exclusive piece with a gold-plated seconds hand. Pull out the camping chair, get comfortable, and don't forget an umbrella! Price: A$415 (retail)
Audemars Piguet Royal Oak Quartz
Let's face it, there's no shortage of Royal Oaks in this world. They have been in production since the early '70s and have had countless references spanning different sizes, materials, colours and complications. That said, there has never been a point in the Audemars Piguet Royal Oak's history where they have not been collectible, or sold for extravagant prices. Despite being created as a reaction against the quartz crisis, quartz has of course found its way into plenty of the Royal Oak models with smaller cases, with or without extravagant diamond placement. A lot of these quartz references have been designed with women in mind, however there are plenty of the 33mm models that make great unisex options. Depending on the condition and case materials, a quartz Royal Oak in 33mm can go for anywhere between AU$10,000 – $60,000.
Citizen Caliber 0100
If accuracy is your jam, there's no going past the Caliber 0100 from Citizen. With an annual tolerance of +1 second per day (yes you read that right), it's the world's most accurate watch. They were able to achieve such accuracy by using a manufacturing technique called LIGA or Lithographie, Galvanoformung, Abformung. German for lithography, electroplating, and moulding. This deserves its own article but here's the process in short – you create a mask (stencil) that you can shoot X-rays through, and the "shadow" it makes electroplates a metallic material onto a surface. It's the same process used when making microchips. Creating small parts this way all but eliminates tolerance issues. Science is amazing. Collecting is all about having the best of things, and the Caliber 0100 certainly is the best in its class. It's technically incredible. New and used, various references go for A$7,000 – A$12,000.
If we look purely at practicality, technology and innovation, it's easy to see the importance that modern quartz watches have within the industry. But it's the emotion, or lack thereof, that has us doubting them. If we only opt for their less accurate, more fragile mechanical brothers, we are missing out on a whole world of watches.