The 5 most collectible quartz watches
Fergus Nash
The war between mechanical purists and quartz elitists has been raging on since 1969, and perhaps even earlier from the inception of electric movements. But one thing that the mechanical snobs can't deny is that there is a thriving market for high-end quartz watches. Beyond just the healthy supply of quartz watches being released by incredible brands, there are some which even sell for way above their retail prices, earning pride of place in lofty collections. With the exception of the Moonswatch which has had more than enough coverage lately, let's take a look at 5 of the most collectible quartz watches around.
F.P. Journe Élégante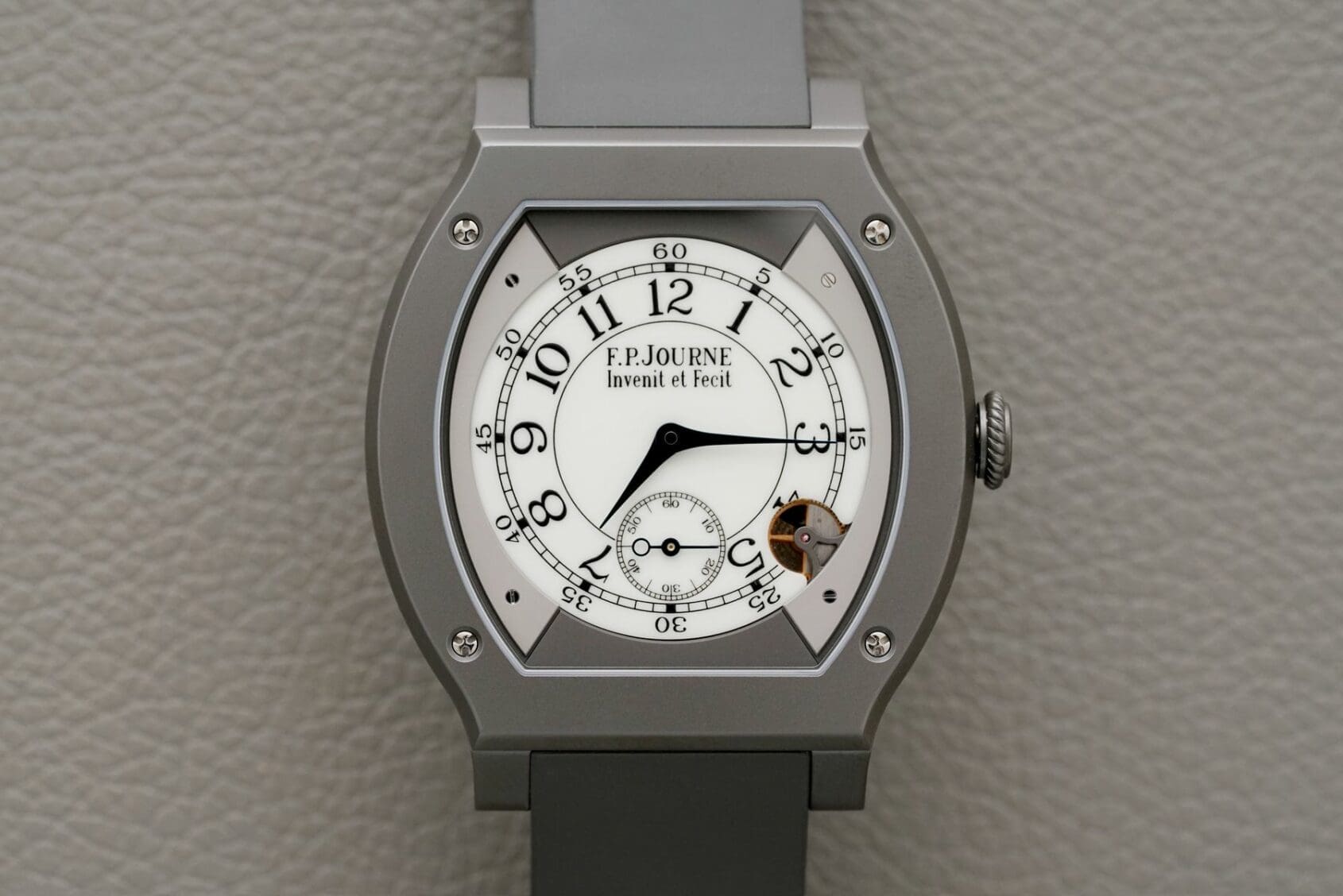 To label the F.P. Journe Élégante as a quartz watch could almost be construed as undermining, was the watch not so outwardly proud of its battery-powered heart. The movement is a revolution in electro-mechanical matchmaking, using a motion sensor to activate the time display and enter into standby mode after 35 minutes of stillness. Whilst inactive, a microprocessor keeps track of the time without expending energy into moving the hands. This extends the life of the battery to between 8-10 years were you to wear it every day, or up to 18 years if you keep it locked up. One of the main benefits of quartz watches is their autonomy, and the F.P. Journe Élégante requires barely any user interference. Aside from all of that technical mastery, it's also a beautiful work of horological art, fusing industrial and classical design elements effortlessly like only F.P. Journe can do. Price wise, they range between AU$50,000 – 80,000 second hand.
Rolex Day-Date Oysterquartz
You probably knew this watch was coming when you read the headline, as the power of the Rolex brand is enough to propel anything into historic fame. Rolex first released quartz watches in 1970 using a movement shared with a heap of other Swiss watchmakers, and it wasn't until 1977 that the Oysterquartz was released with Rolex's in-house movement. This was different on many counts, not least because it was one of the only quartz movements to be highly decorated in the same manner as a mechanical one, and the Day-Date model was released in a blazing display of solid yellow gold. With the Day-Date design already being a timeless classic, the Oysterquartz version is a dream for any collector because of its inherent quirk. Second-hand prices fluctuate depending on the reference between AU$20,000 – 40,000.
Citizen Calibre 0100
When Citizen first unveiled their Caliber 0100 movement housed in a pocket watch, there wasn't a huge amount of buzz in the watch world. When they housed it in a wristwatch the following year in 2019, suddenly the entire internet was shouting about the most accurate watch ever made. Trying to contextualise an accuracy within one second per year is almost impossible, as our brains can't really comprehend those two scales of time within the same sentence. Perhaps the best part of the three Calibre 0100 watches released so far is their humility, despite the complete over-engineering of quartz crystal technology to sheer perfection and the immaculate finishing on the case and dial. At the end of the day, Citizen have perfected the understated, practical and nice-looking quartz watch. If you're looking for a groundbreaking watch to add to your collection, this will surely be a historic model in years to come. New and used, various references go for AU$7,000 – 12,000.
Omega Speedmaster Alaska IV Prototype
Many watch collectors, especially those Speedmaster fanatics, are aware of the famous Alaska Project Speedmaster with its giant red shield, designed to withstand temperatures between -148C  and 260C. A lot of things changed between 1969 and 1979, not least the developments in quartz movements and LCD displays. A group of prototypes, estimated to be somewhere around 20 pieces, were given to NASA pilots for testing before the final reference 184.0004 watches were sold for approximately a year and a half before being discontinued. These watches would eventually go on to inspire the controversial Speedmaster Skywalker X-33, but in their own right are oddly charming and a great quirky addition to any collection. The production models tend to sell for around AU$5,000 – 7,000, however there are still some of those rare prototypes floating around. Two sold at a Christie's auction as a pair for US$47,500 in 2015, later one sold at a Sotheby's auction for only US$12,500 in 2019, and one is currently on Chrono24 listed for CHF 60,000.
Audemars Piguet Royal Oak 33mm
Let's face it, there is no shortage of Royal Oaks in this world. They have been in production since the early '70s and have had countless references spanning different sizes, materials, colours, and complications. That said, there has never been a point in the Audemars Piguet Royal Oak's history where they have not been collectible, or sold for extravagant prices. Despite being created as a reaction against the quartz crisis, quartz has of course found its way into plenty of the Royal Oak models with smaller cases, with or without extravagant diamond placement. A lot of these quartz references have been designed with women in mind, however there are plenty of the 33mm models which make great unisex options. Depending on the condition and case materials, a quartz Royal Oak in 33mm can go for anywhere between AU$10,000 – 60,000.