The Nomos Ahoi Neomatik 38 Sand and Sky are a mid-size take on their Bauhaus diver
Time+Tide
Nomos is the type of brand that can easily surprise anyone, and be misunderstood just the same. For a long time, it was best known for its time-only, everyday, elegant, Bauhaus-style timepieces that came in smaller diameters. Honestly, that's all many of us pictured Nomos to be. That was until the brand started to beef up its collections and offer something rather unique: what seems like watches we should wear for the Met Gala and that can actually be worn for a dive or, for that matter, any demanding outdoor activity we shall feel inclined to take them on. The latest release from the German brand, the Ahoi Neomatik 38 Sand + Sky, best exemplifies the originality, out-of-the-box thinking, and superb execution Nomos is now known for. So, let's take a hands-on look.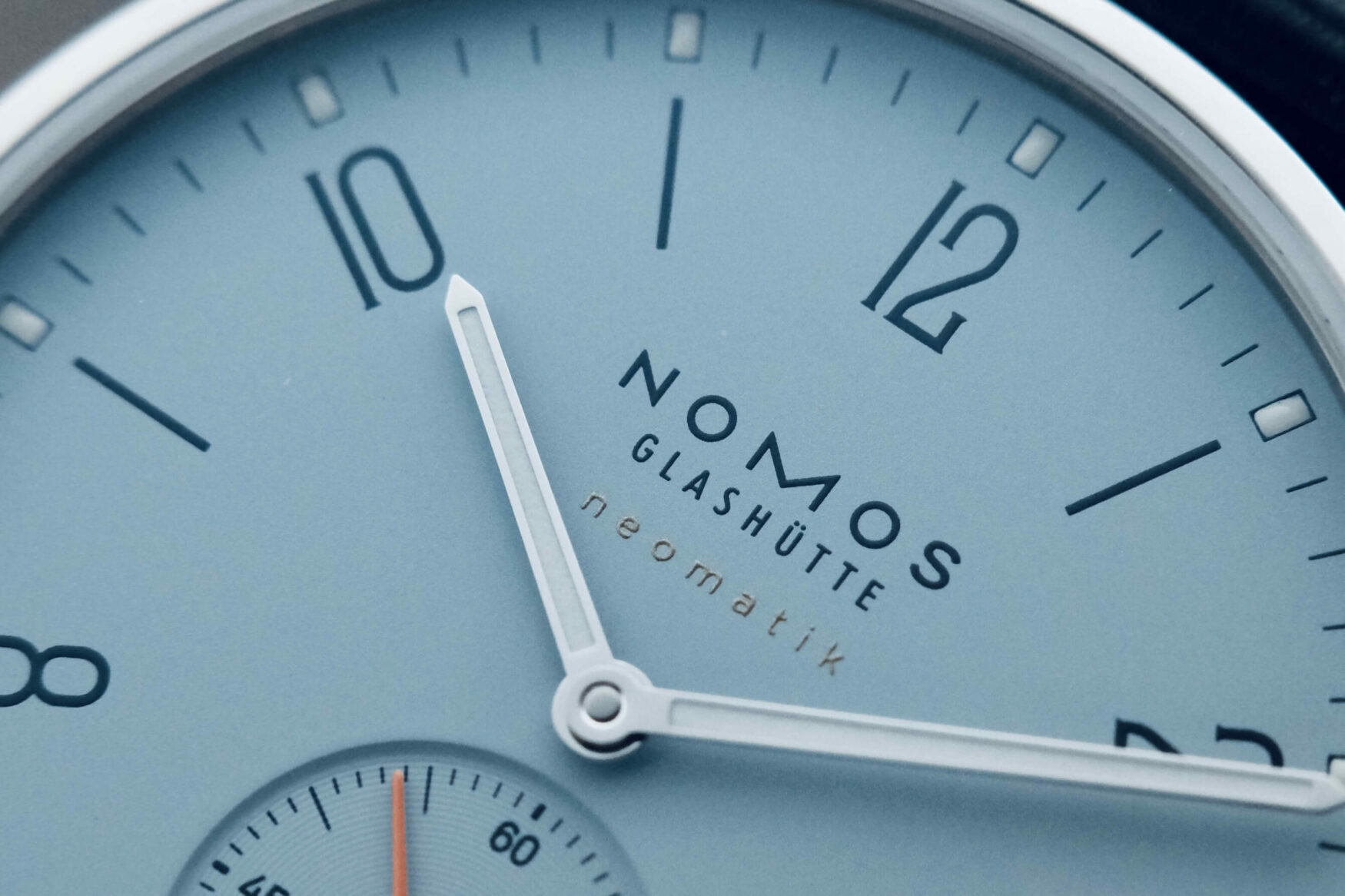 The dials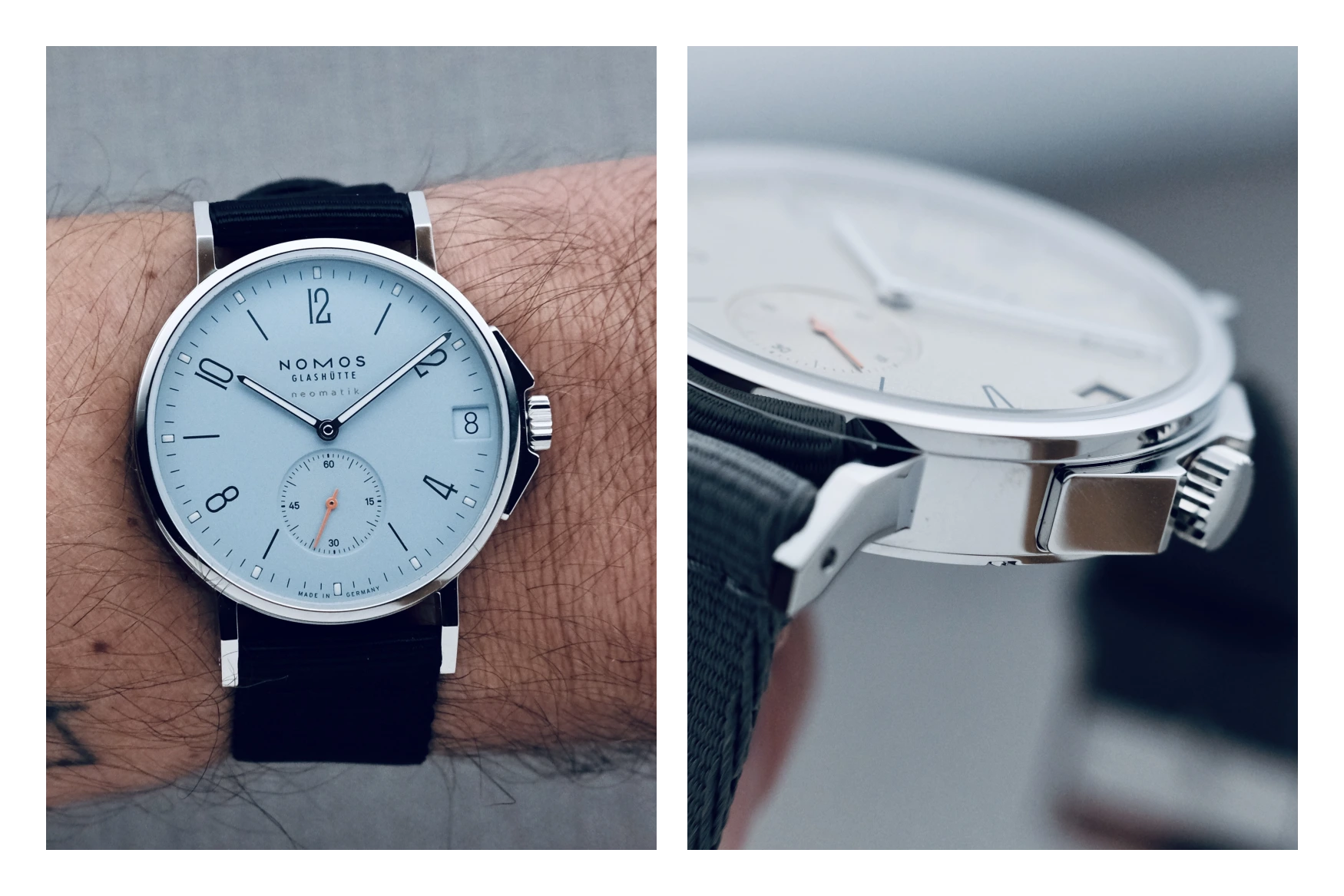 First things first, "Sand + Sky" refers to the two colorways the Ahoi Neomatik 38 are offered in. While in the recent past Nomos has become playful with colors, and found unique color combos no other brand has been able to replicate or improve upon. The Sand and Sky are unique and appropriate for this style of watch. The Sand comes with a gold-looking matte texture which could very well remind us of a utopian tropical beach no one has ever been on. It has more of a gold leaf hue which truly is elegant and well executed. The Sky version for its part showcases a baby pastel blue which perhaps could make us think of the gentlest of blue skies or a lightly colored cloud. I said these colors are appropriate because the Ahoi Neomatik 38s are sports watches through and through.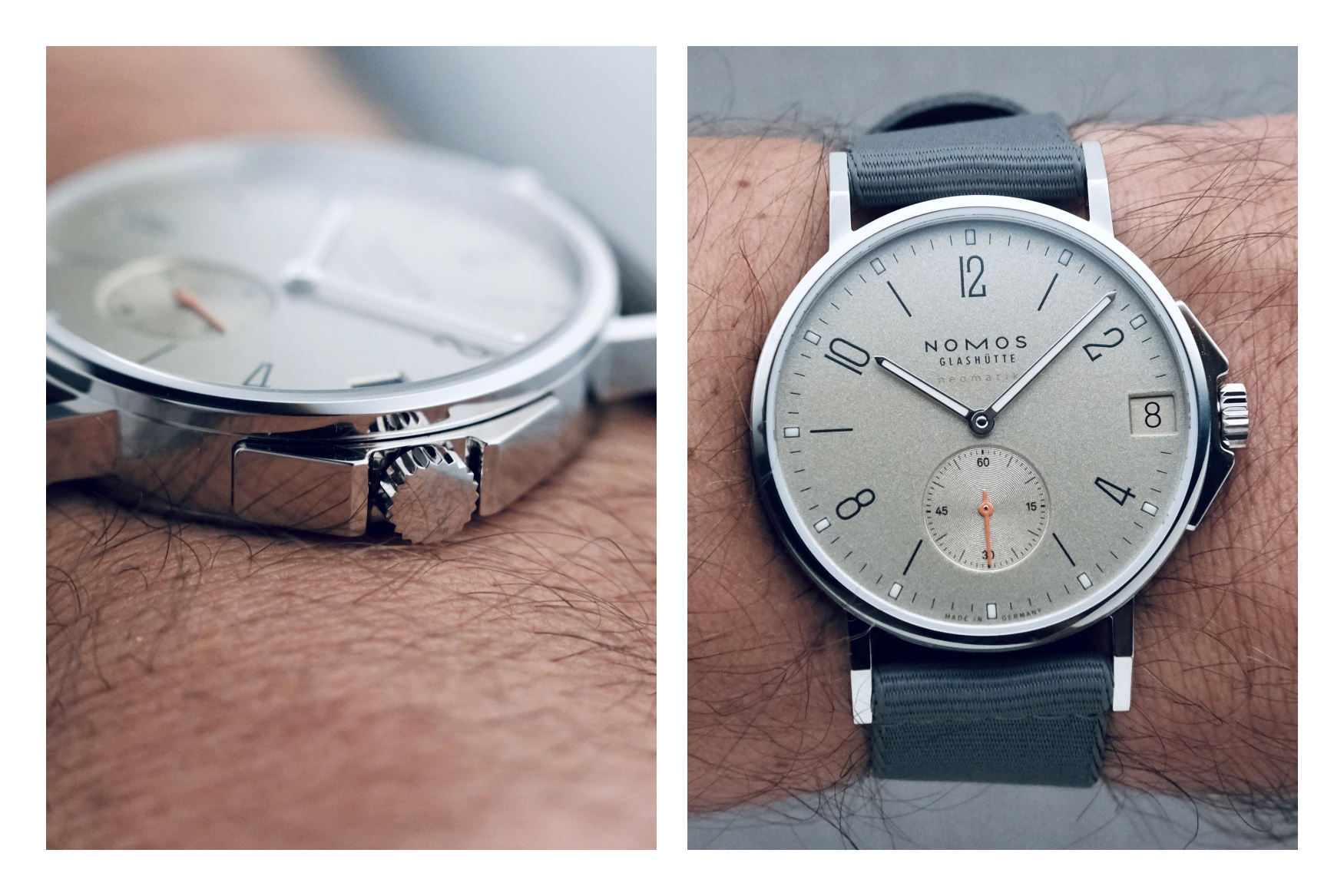 What makes these two models true Nomos creations is the unique combination of Bauhaus-style Arabic numerals with the large date aperture and the in-house caliber DUW 6101, amongst other things. Correct me if I'm wrong, but there is no other brand that currently makes this kind of sports watch. Typically, adventure-ready timepieces are endowed with large hour markers, monochromatic colour schemes, considerable water resistance, and a bulky case. Well, that's not what we find here. Besides the modern-looking Arabic numerals, the case of the Ahoi Neomatik 38 does not look like that of the typical sports watch that you'll take hiking or diving. The hands are rhodium-plated and polished, the former ensuring they won't tarnish over time. SuperLuminova can be found on the hands and rectangular lume plots wedged between the printed Arabic numerals and the vertical rehaut so that one can easily read the time in low-lit conditions.
The cases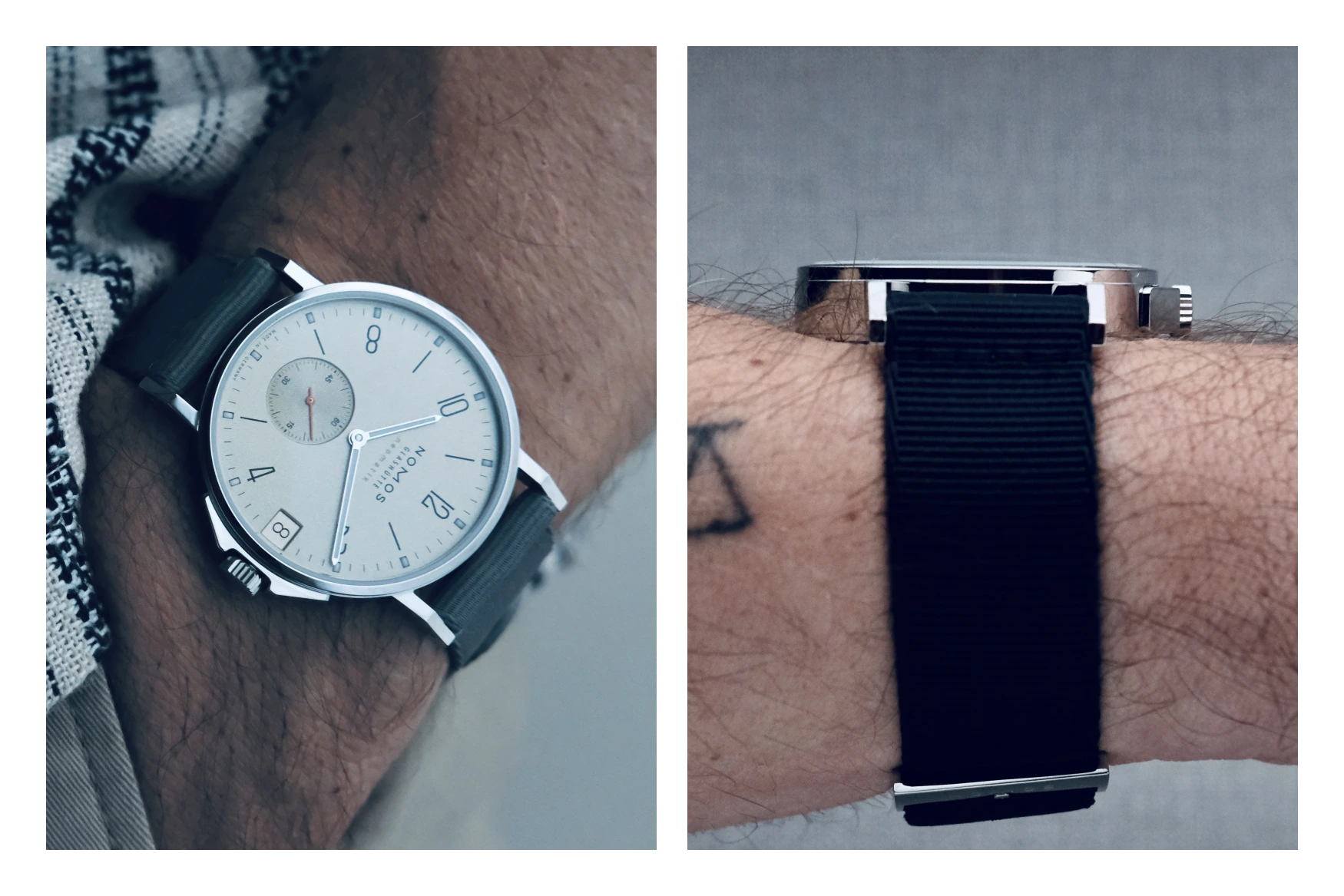 Another thing the brand is known for are the long and thin lugs that give any Nomos timepiece the appearance of a spider glued to the wrist – whether or not that's a good thing, I leave with you. The lugs are indeed long and protrude out of the case and angle down toward the wrist, and being fully polished (like the rest of the case), they do stand out. With a diameter of 38mm, a lug-to-lug of 48.7mm, and a thickness of 9.8mm, the Ahoi Neomatik 38 fit fine on a 16cm/6.25in wrist as pictured here – but you always have the Ahoi 36mm should you deem the 38mm too large. One might lament the long lugs, but hey, we all know what to expect with Nomos.
Furthermore, it should be noted that the matching, woven fabric strap aids in reducing the visual footprint of these models. Apart from the lugs, the Ahoi Neomatik 38 has the classic Nomos flat case profile complete with straight chamfers on the top and bottom sides. However, since the Ahois are sport watches, Nomos flanked the small screw-down crown with noticeable crown guards. The latter is perhaps what gives these models their sporty looks and what differentiates them from numerous other Nomos models. If we think of crown guards, we might think of diving, which brings us to the question of water-resistance – 200 meters. Not bad for a 9.8mm timepiece with a double sapphire sandwich construction.
The movement
Although we just mentioned the water resistance and two sapphire crystals, it's not too late to further emphasise the extraordinary, and yet subtle, build quality of the Ahoi Neomatik 38. First, the movement which is designed, engineered, and made in-house by Nomos in Glashütte. The DUW 6101 beats at 28,800 BPH (4Hz), has 42 hours of power reserve, and comes with a uniquely engineered date complication. The large date disc is placed outside the movement architecture and made in a way that the date can be adjusted in both directions. A pretty neat feature if you ask me.
The verdict
As it might become apparent throughout this review, it's not every day that we see this type of sports watch. Not only do the Ahoi Neomatik 38 look very Nomos and utterly Bauhaus, but they also take us by surprise due to having some serious specifications and matching built quality, though you have to take my word on the latter. Both models retail for A$5,780 which is reasonable, if a little pricey, given what's on offer. Having said that, the sapphire caseback option adds a 10% premium, which isn't insignificant. It isn't easy or cheap for any brand to develop its own calibers, and Nomos went the extra mile by developing a unique bidirectional quick-set date complication which we don't see very often, if ever, at this price point.
Nomos Ahoi Neomatik 38 Sand + Sky pricing and availability
The Nomos Ahoi Neomatik 38 Sand + Sky models are available now for purchase. Price: A$5,780 (steel caseback), A$6,310 (sapphire caseback)
| | |
| --- | --- |
| Brand | Nomos |
| Model | Ahoi Neomatik 38 |
| Case Dimensions  | 38mm (D) x 9.8mm (T) x 48.7mm  (LTL) |
| Case Material  | Stainless Steel  |
| Water Resistance  | 200m (screw-down crown) |
| Crystal(s) | Sapphire crystal and exhibition caseback |
| Dial | Pastel blue (Sky) or gold leaf (Sand) |
| Lug Width  | 20mm |
| Strap  | Woven fabric   |
| Movement  | In-house automatic DUW 6101 |
| Power Reserve  | 42 hours  |
| Availability  | Available now  |
| Price  | EUR 3,520, A$5,842 |