Everything you need to know about NOMOS
Fergus Nash
If you've been around the watch hobby for a while, NOMOS is one of the brands that will have surely stood out when you first came across it. They're a unique company for a heap of reasons, but the main appeal is the instantaneous charm that runs through their DNA. It's not easy to claim an unmistakeable character whilst also sticking to an ethos of simplicity, but NOMOS have crafted their niche masterfully.
To understand any watch company, the first stop should always be the history of the brand. For many of the big names, you'll see a lot of emphasis placed on the age of the business. Even modern start-up microbrands have taken to buying the rights to a defunct company's name, just so they can lay claim to decades or even centuries of untapped heritage. NOMOS only got started in the 1990s, but they have other wells from which to draw their identity. Glashütte is a relatively tiny town in Germany's east, with the Czech Republic's border less than half an hour's drive away and a population of approximately 7000 people. It also happens to be the beating heart of Germany's mechanical luxury watch industry, with lauded brands such as Glashütte Original, Mühle Glashütte, and of course A. Lange & Söhne calling those rolling hills home.
Although NOMOS wasn't around to benefit from the genius of Ferdinand Adolf Lange, nor affected by the Soviet occupation during WWII, they identify strongly with the history of the area — validating this connection with their dedication to quality of build and design. While they stick to the Glashütte stories as a point of pride, it can somewhat undermine their own achievements within their 34 years of operation. In 2005, still in infancy by horological standards, NOMOS made the switch from ETA-base movements to their own in-house Alpha movement. The Alpha was, and still is, one of the most impressive attainable manual wind movements by any nation's standard. Some specifications may not seem all that special, with only 17 jewels and 43 hours of power reserve, but the 2.6mm thickness makes it the perfect candidate for thin, elegant watches. One look through a display caseback is instantly bewitching, with understated yet fastidious decoration along the rhodium-plated three-quarter plate.
By 2014, the NOMOS Swing System was introduced as an alternative to buying escapements from Switzerland, eliminating any doubt that the Alpha was indeed a manufacture movement. NOMOS now produce a total of 11 different in-house movements — five automatic and six hand-wound. Aside from the Alpha that is still a widely used unit, the others all use the prefix "DUW" that stands for "Deutsche Uhrenwerke" or "German Clockworks" to further emphasise their local nature. The legal requirement for a "Made in Germany" stamp is intentionally vague to cover a vast array of industries in such a nation, however the displaying of Glashütte on the dial requires that at least 50% of the watch's total value is produced within the town. In the case of NOMOS however, this number is up to 95%. Even with their relative youth, NOMOS aren't shy about protecting the integrity of the Glashütte name, even taking legal action against Mühle Glashütte in 2007 when their movements weren't meeting the standards. Thankfully, Mühle were able to increase their local involvement and avoid insolvency, further strengthening the Glashütte watchmaking culture.
Today, the cult of NOMOS is as strong as any major watch brand, and their reputation far outweighs their short existence. They produce approximately 80 different watch variations across 11 model families, with their own individual charms and quirks despite a phenomenally cohesive brand identity. Their design philosophy is most strongly aligned with the Bauhaus school of German art, combining form and function in a revolutionary post-WWI culture boom. Previously suppressed expression was able to be mixed with mass-production for the first time, and ornamentation made way for clear communication and utilitarianism.
The Tangente was among the first NOMOS models to be released in the early '90s, and has become a flagship model for the brand given its simplicity. The elongated numerals are incredibly evocative of Bauhaus design seen on posters everywhere in the 1920s, and the thin blue pencil hands add just a touch of class to the pure white dial. The balance is immaculate, with no unnecessary dial text and enough flair to keep you glancing down. The case is slender in both thickness and with the bezel, making the dial appear much larger and more legible.
The Ludwig delves further into the realm of classicism as the name suggests, taking a lot of  favourite elements from the Tangente, replacing the Bauhaus numerals with Roman ones, and rounding aspects of the lugs and crown. The minute track is also more reminiscent of an enamel-dialled pocket watch, leaning into the age of Glashütte's watchmaking tradition.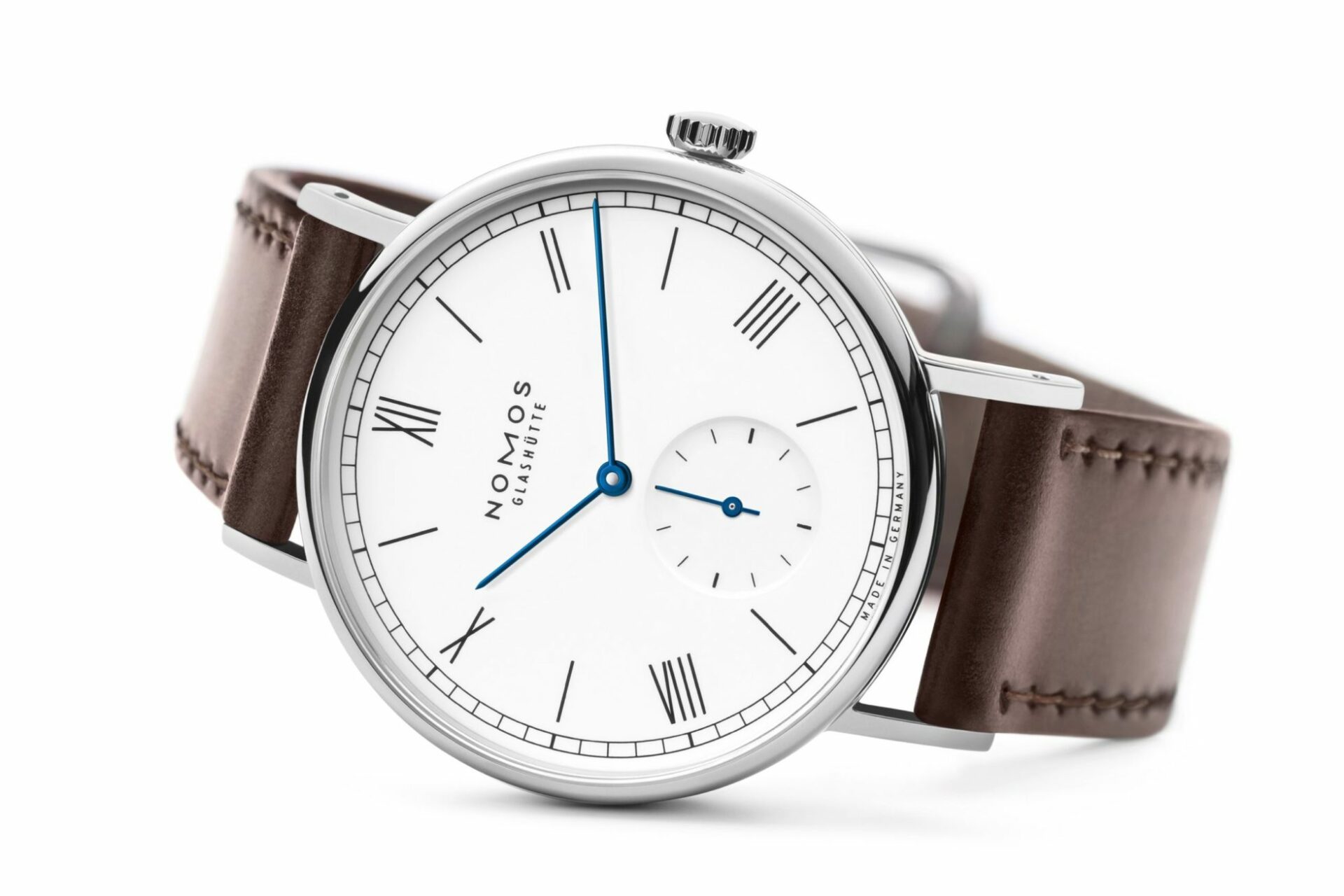 The Tetra is one of very few truly square-shaped watches available to buy new in this era, and it just happens to be one of the best ever. The modernist attitude comes across with those identifiable numerals and a cleverly squared-off small seconds subdial, and the stepped lug design rams home the architectural art-deco influence that instantly transports the wearer back in time with a glance at the wrist.
The Club is NOMOS' proof that they can make a sports watch without losing any hint of their elegance and character, and drastically widens their appeal to those who may shy away from the extreme style of the more spindly models. With vintage-style fat lugs and a more substantial set of hour markers, there are plenty of Club variations to suit anyone who would consider them. The Club Campus models are even intended to be given as graduation gifts, with personalised engraving at no extra charge.