5 of the best Italian watch brands
Tom Austin
Italy is synonymous with style and elegance, and has a rich legacy of craftsmanship in watchmaking which is all too often overshadowed by their Swiss neighbours. There's always something distinctive about Italian watch brands that makes them stand out from others – they take their own routes with unique designs and impeccable attention to detail. Italian influence runs through many mediums. For example, they made some of the most beautiful and revered cars of the 20th century with Ferrari and Lamborghini, all with their individual stylistic traits which make them what they are, and indeed, make them very Italian. Or of course, there's clothing, Italy is arguably the epicentre for fashion and style, with some of the oldest and most influential brands in the world originating from the region. It comes as no surprise then, that Italian watchmaking is very much a pillar of its own in the watch industry. Whether it's on the wrist of the Marina Militare, with highly legible dials and robust casework, or delicate, elegant watches combining precious metals with colourful gemstones, Italian watches always ooze unique character and charm. Let us take you on a giro d'Italia and find some of the best Italian watch brands.
Giuliano Mazzuoli
First, we have an independent brand Giuliano Mazzuoli, perhaps one of the lesser-known watch brands from Italy, founded in Florence in 2005, by Mazzuoli himself, it's a niche independent watch brand with a distinctive, characteristic design language. Principally a designer and architect, founder Mazzuoli has numerous design successes under his belt, such as unique writing instruments and stationery, which built a decades-long relationship with the MoMA in New York. Mazzuoli eventually went on to turn his hand to creating a wristwatch, after being inspired by an air pressure gauge on an air compressor in his print shop. Multiple prototypes later, the Manometro was born, the first in a line of unique, dial instrument-inspired wristwatches.
The range goes on to include the Contagiri, inspired by the dials of an Alfa Romeo 8C supercar, the Trasmissione Meccanica, influenced by clutch and transmission mechanisms, and finally the more traditional Carrara, which features a case made from Italian marble from the Apuan Alps in Carrara, around 100km from Florence.
U-Boat
A relatively young watch brand, U-Boat was founded at the foot of the Gragnano hills in Tuscany in the year 2000. What is relatively unknown, is that its heritage goes back a lot further than that. Founder Italo Fontana's grandfather Ilvo, had been commissioned in the 1940s to produce watches for the Italian navy, a project which failed to come to fruition, and the watches were never made. Upon discovering his grandfather's old sketches and design ideas for military dive watches 60 years later, Fontana Jr was inspired to realise his grandfather's ambitions and go on to create the wristwatches we know today.
The watch designs are distinct, and it's refreshing to see that they are certainly not a direct copy of the typical dive watch DNA we see in most brands. They could have simply taken elements from multiple brands of dive watches, and yet they produce watches such as the Capsoil and the Darkmoon, large, oil-filled watches which when submerged, create the illusion of the absence of a crystal, and an optical effect of a more intense display and much greater legibility. While the aesthetics often divides opinions, it makes the watches truly distinctive and shows that U-Boat is not afraid to tread its own path, and that deserves respect.
Unimatic
Unimatic is the product of two Milanese industrial design students, Giovanni Moro and Simone Nunziato, who met at University, studying at the Politecnico di Milano. The pair struck up a friendship after discovering they shared a common interest and passion in wristwatches amongst other things, industrial design included. In 2015 they released their first watch as Unimatic, the Modello Uno. Following ongoing success, the product lineup has since expanded to 4 core watches; a diver, a field watch, a chronograph, and a military-inspired watch, with a multitude of collaborative special editions.
Once again in true Italian style, Unimatic have gone on to do things their own way, taking traditional design elements and applying their own style of minimalistic, industrial – almost brutalist – formulations. The dials and bezels are uncluttered, the watch case edges are chunky, angular and raw. They almost look like they're missing elements, until you realise the look is intentional, and there's something interesting about how they've managed to make something so utilitarian look so chic.
Panerai
In 1860, Giovanni Panerai opened his first shop at Ponte alle Grazie in Florence. This is where the story of Panerai begins, as it went from a diving equipment shop, to a watch shop and workshop, and eventually to the city's first watchmaking school, deep in the epicentre of Italy's home of artisanship and artistic creativity. At that point, Panerai had already been producing precision instruments for the Italian military, but in order to meet their ever-increasing demands, Panerai developed a radium-based powder to make the dials of these instruments brighter in low light conditions, and it was at this point in 1916, that Radiomir was born. It wouldn't be until the 1930s that the first Panerai-dialled Rolex watches were produced, with the reference 2533 heralded as the first Radiomir.
Today, they're part of the Richemont group and have their modern manufacturing embedded in Switzerland, but it is a brand that is proud of its Italian history. Panerai now has three core lines consisting of the Radiomir the traditional Radiomir, the more technical Luminor and finally the hardcore Submersible. Each line has a wide array of material choices, from stainless steel, bronze, gold, and even carbon fibre, and each one is instantly recognisable as a Panerai, not only with its distinctive size but also elements such as its patented crown guard system and oversized numerals. If your wrists are big enough, there's a watch for everyone in their collection, and as a brand that these days doesn't get quite as much attention as it used to, it certainly deserves more, given they are loaded with history and helped to put Italy on the watchmaking map.
Bulgari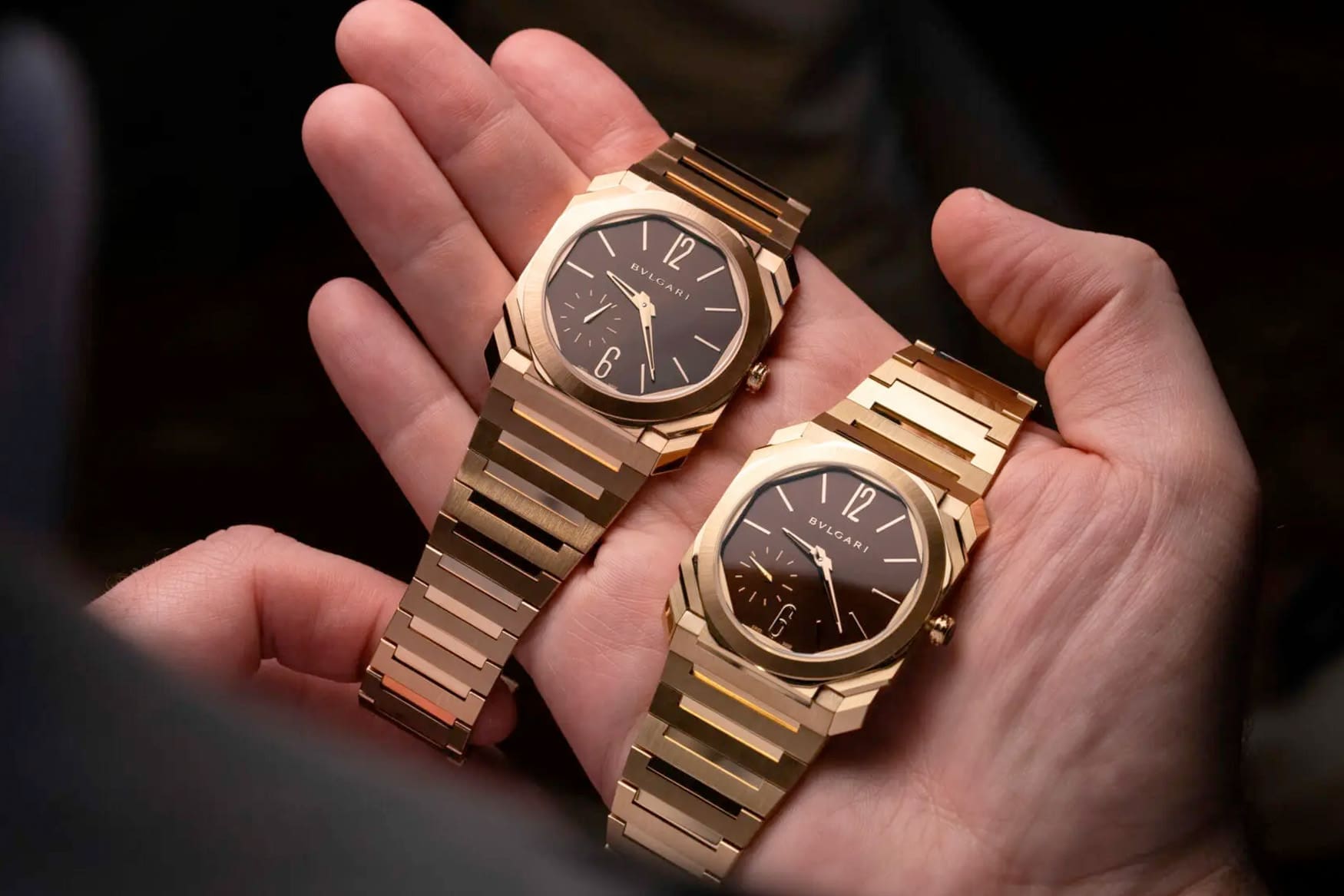 Bulgari is one of the most revered jewellery brands in the world. Founded in Rome in 1884 by Greek silversmith Sotirios Voulgaris, the brand was quickly able to establish a reputation for exquisite craftsmanship and inventive creations. Over the decades that preceded, they have gone on to produce some of the most famous icons in the jewellery world, being notably worn by legends such as Elizabeth Taylor in her film Cleopatra. Or for those of you with more contemporary taste, perhaps the $7m 107-carat sapphire worn by Anne Hathaway at Cannes in 2022 will give you an idea of how important Buglari's jewellery history is.
Where do watches fit in here? As far back as a lot of the biggest watch brands in the entire industry in fact. Records of wristwatches being incorporated into ladies' jewellery go back as far as the 1920s, in line with the dominant Art Deco style of the era. Rectangular watches began to be offered to gentlemen in the 1930s, and then things really took off in the 40s, with the introduction of the first iterations of the Serpenti, coiling around the wrist and lower forearm. This was Bulgari breaking boundaries and setting trends that no one else dared touch. Their watches went on through through the 1970s to the '90s taking on a more sporty approach, with watches like the Aluminium, which paved the way for the watches we see today in the Octo collection. They've continued to push boundaries with the Octo, introducing challenging materials and technologies, which so far have landed them eight world records for thinness, ranging from a 5mm tourbillion to the incredible 1.8mm-tall Octo Finissimo Ultra. Bulgari is so much more than a jewellery brand having a go at watches. They're an Italian powerhouse of design and innovation, and it's quite frankly amazing what they've achieved over the decades.