11 of the best stone dials from $100 to $150,000
Fergus Nash
Not too long ago I delved into the history of stone watch dials, as their rising popularity cannot be denied. In an age where brands are fighting harder and harder to offer fresh aesthetics, it's difficult to beat not only the unique aspects of an organic material but also the luxurious connotations with precious stones. Of course, innovation in this area has also trickled down into some of the budget markets thanks to microbrands and modding communities, but that doesn't restrict the majesty of some loftier releases with much higher price tags. Let's take a look at some of the best stone dial options across a wide price spectrum.
US$100 — Meteorite dial for modded Seikos
While this low-cost entry may be a component rather than an entire watch, the cheapest option for getting a stone dial on your wrist by far is modifying a Seiko. There are plenty of options for meteorite dials in a variety of colours to suit many different Seiko releases, and they rarely cost more than US$100. Consider also the option to customise the colour of the indices or the inclusion of a logo, and your small investment can become something truly unique. Be warned though, building watches from easily assembled parts is incredibly satisfying, addictive, and you may end up spending much more than you set out to.
US$369 — Signum Cuda Lapis Lazuli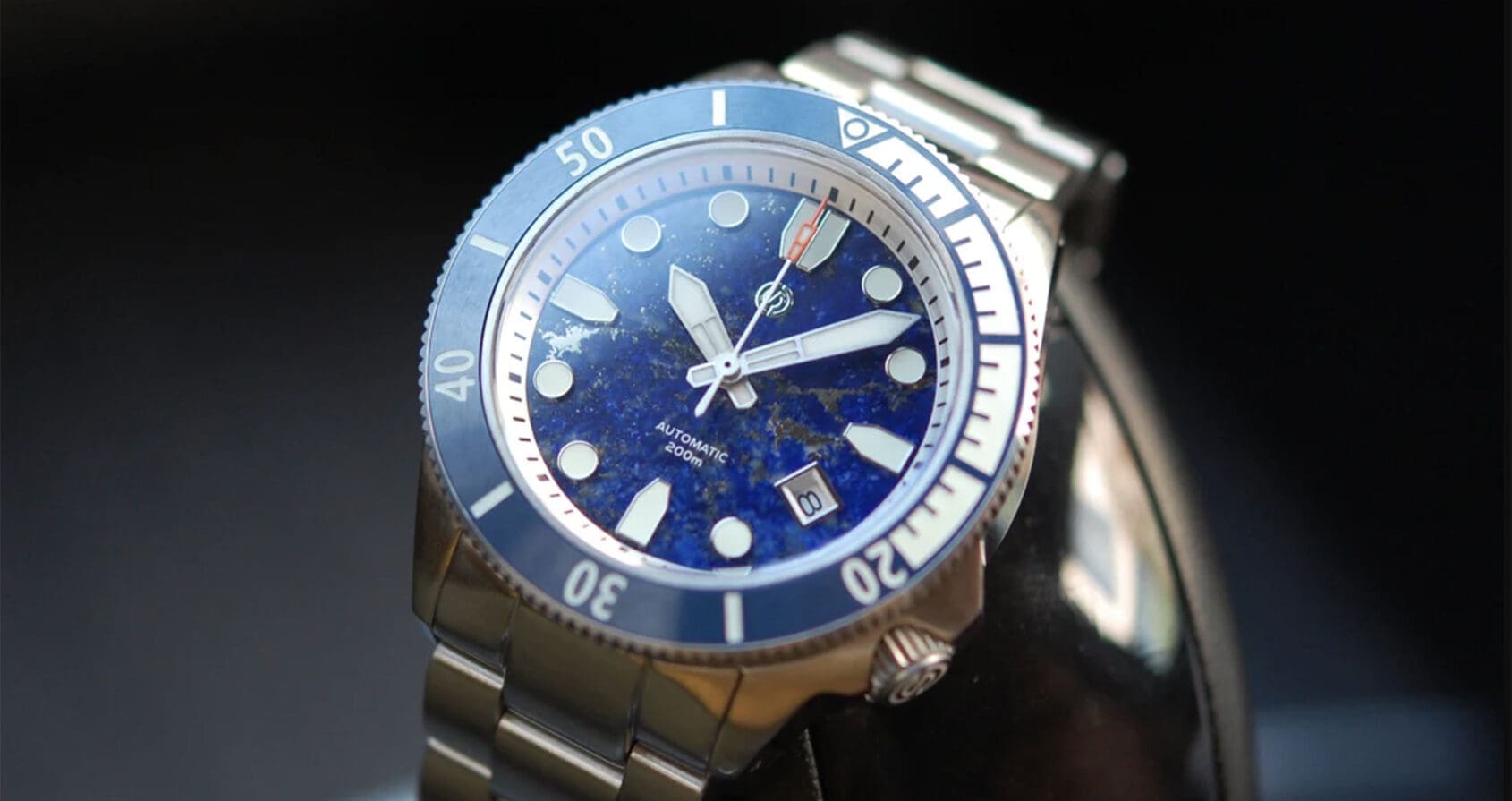 Blue dials and dive watches are a match made in heaven, but even better is a high quality and high value diver with one of the most famous blue stones. Signum have released all kinds of precious dials, but weighing up specifications it's hard to go past the Cuda as one of their best bang-for-buck options. Powered by a Seiko NH35 or NH38 depending on whether you want a date display, you also have your pick of a 38.5mm or 42.5mm case size. 200m of water resistance, a ceramic bezel insert, a sapphire crystal, and a solid steel bracelet are just icing on the cake.
US$529 — Zelos Swordfish 40mm TI 'Blood Moon'
We try not to recommend watches which are out of stock, but if we always stuck to that rule then we would never mention Zelos. The Swordfish watches, among many other of their ranges, were fast to sell out when they were first released. Zelos were one of the first microbrands to popularise the use of meteorite as a dial material in dive watches, and the Swordfish went a step further by tinting them and using a sandwich construction. This 'Blood Moon' version carries a haunting maroon glow — one that we hope Zelos will return to in their future releases.
US$1,090 — Mido Baroncelli Wild Stone
Elegance and detail are of the utmost importance to the Mido Baroncelli Wild Stone, using every atom of its 33mm diameter to present a perfect dress watch that doesn't sacrifice too much utility.  The dial is well balanced between the central oval of striped malachite and a lightly stippled white border, while yellow gold neatly borders both the stone section and the date window at 6 o'clock. The watch is also available with aventurine, tiger's eye, or tree jasper, but all of them feature Mido's popular Calibre 80 automatic movement with an 80-hour power reserve.
CHF2,500 — Louis Erard Excellence Petite Seconde Lapis-Lazuli
Released in 2022 among versions of malachite and aventurine, the Louis Erard Excellence Petite Seconde Lapis-Lazuli has one of the most stimulating lapis dials I've ever seen for an attainable cost. Louis Erard are all about giving their customers the highest luxury experience they possibly can for the least amount of money, with real art influences that don't feel gimmicky. This watch, which is a limited edition of 99 pieces, pairs the frosted blast of blue and grey with rhodium-plated hands and a polished 39mm case.
US$4,450 — TAG Heuer Carrera Quartz 36mm
It's debatable whether or not you count mother of pearl as a kind of stone, but it fits the criteria of being an organic material with unpredictable patterning that's difficult to work with. Here in a rather sporty 36mm case, the mixed hues of white and grey form a gently undulating background for silver hands and markers, plus a trapezoid date window at 3 o'clock. The diamond-set bezel amplifies the wow-factor as you turn the watch around on your wrist, as the whole thing plays with the light beautifully.
US$10,500 — Omega Constellation 29mm
The Constellation has always been so much more than just a retro-styled oddity, originally designed to showcase the very best of Omega's abilities in accuracy and design. This model in a two-tone steel and 18k rose gold case features a rare natural aventurine specimen for its dial, rather than the silicate-infused glass that most aventurine dials use. The texture is almost like television static, with streaks of darkness running through the blue depths. The calibre 8700 grants this watch Master Chronometer status, as certified by METAS.
US$20,400 — Piaget Possession Rose Gold Malachite Diamond
Of course, we couldn't have a list of stone dials without Piaget, and the Possession is the perfect example of an ornamental watch without any distractions. The 29mm 18k gold case is set with 42 diamonds, including on the crown which blends in, and has no need for lugs to draw your eye away from the centrepiece. The malachite dial is hypnotic, and its only added details are the hands, printed logo, and small Swiss Made label.
US$59,400 — Omega Speedmaster Calibre 321 Platinum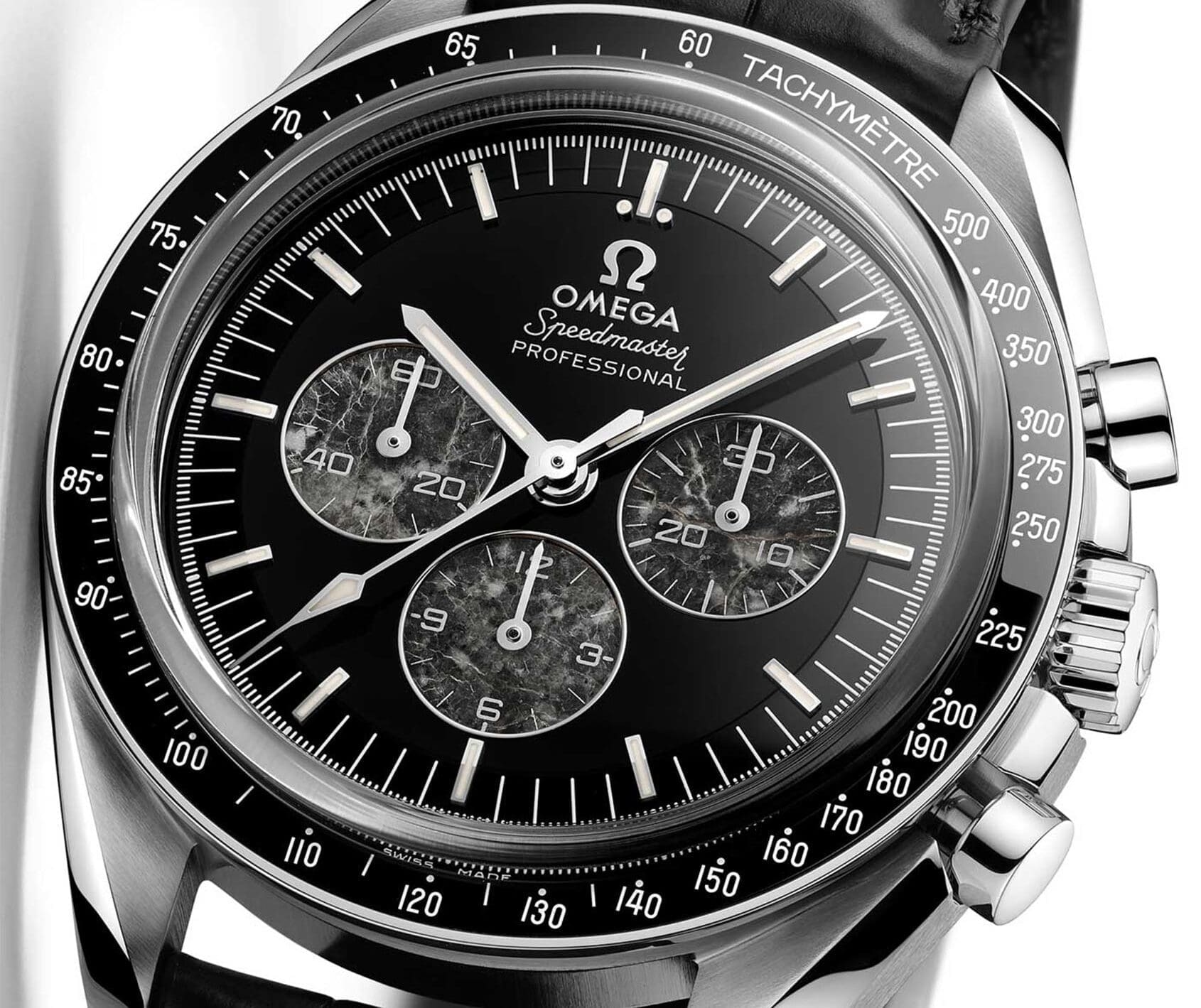 The Omega Speedmaster Calibre 321 is an awe-inspiring recreation of that most famous watch worn on the moon, yet Omega didn't stop with just a simple reissue. This reference has a case hewn from platinum, but its most obvious signal of distinctiveness are the sections of lunar meteorite used for the three subdials. As well as the meteorite, the glossy black dial is made from polished onyx with a deep piano-black lustre, perhaps making this watch the ultimate stealth wealth Speedmaster.
US$71,000 Bulgari Divas' Dream Black Opal
Black Opal is one of the most sought-after gemstones in the world because of its rarity and vivid mix of psychedelic colours. The Bulgari Divas' Dream watch makes it look like some kind of mystical portal, surrounded by a gorgeous rose gold case and scaled bracelet studded with diamonds. Delightfully petite at 33mm wide and suitably slender, this watch is still sure to be noticed and adored.
US$150,000 — MB&F Legacy Machine Flying T
Representing the haute-horology end of the scale is the MB&F Legacy Machine Flying T, featuring not just one but two dials made of precious stone. Although it's also available in lapis lazuli and malachite, I personally think the tiger's eye reference is the most stunning with its diamond-set 18k red gold case radiating warmth and sophistication. Despite being only 38.5mm wide, the extremely domed sapphire crystal reaches to 20mm tall to accommodate its towering movement, flying tourbillon cage, and the angled hours and minutes subdial.