The watches worn in HBO's Succession are a masterclass in stealth wealth magnificence
Zach Blass
Recently HBO dropped their trailer for the upcoming third season of their hit show Succession. The show revolves around an ageing media titan Logan Roy (Brian Cox) – a parallel of sorts to Rupert Murdoch – whose children are competing to replace him at the helm of his international conglomerate. The billionaire and his warring family all indulge in some heavy-hitting timepieces and watch enthusiasts have been eager to identify all of the pieces that make cameos. Usually with such a popular show there would already be a comprehensive guide to all of the characters' watches. But the truth is not everyone in the show makes it easy to spot what they have on, leading to inference and best guesses on forums such as Reddit. Here we have assembled the definitive spots of the show.
Kendall Roy: Vacheron Constantin & Patek Philippe among others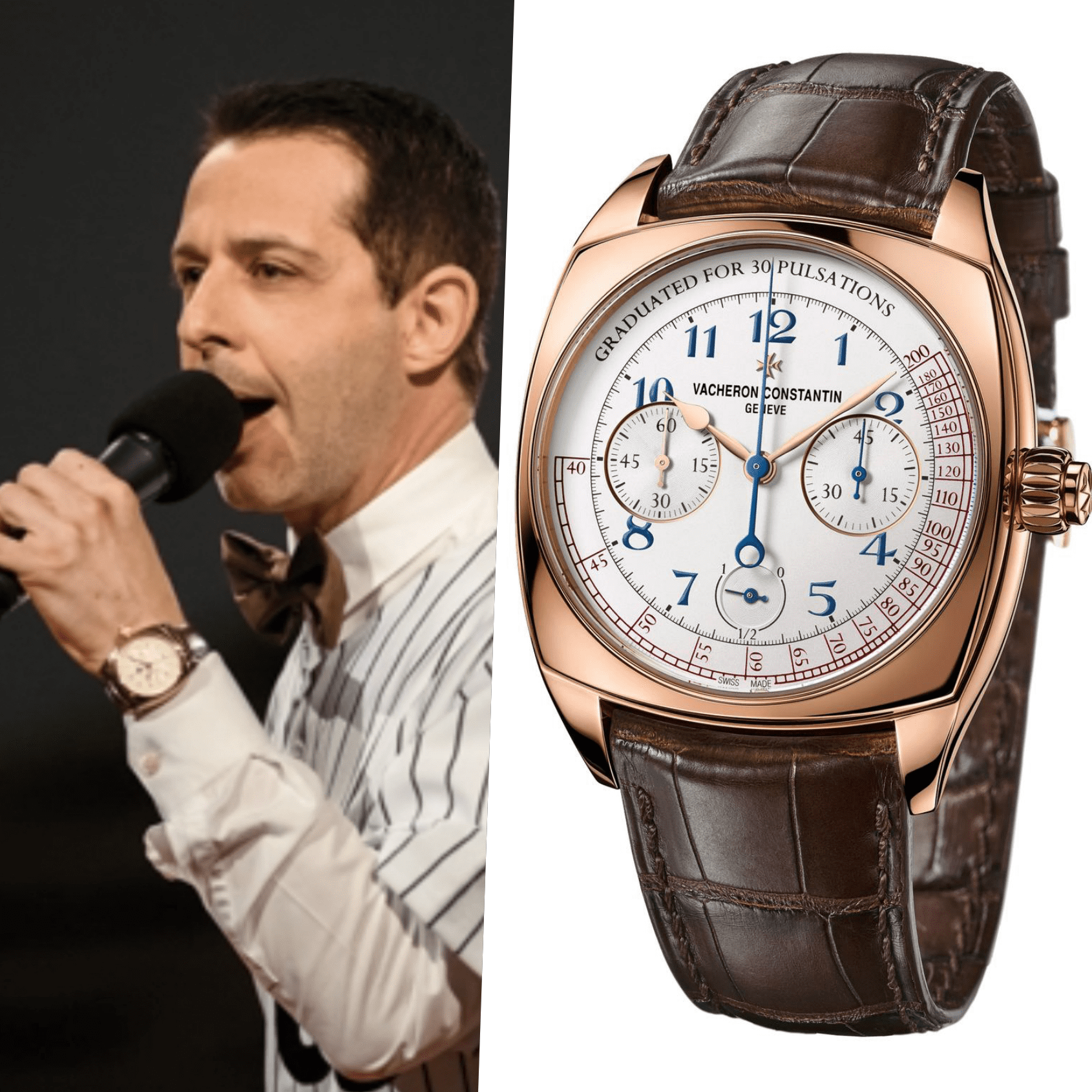 Kendall Roy may be troubled, insecure and have a major coke habit but, in my opinion, he also has the best watch collection on the show. Early in the show, he shows clear favouritism for Vacheron Constantin – a great brand to wear if you want to distinguish yourself and exude an air of power. With the motto "one of not many" perhaps it is not a stretch to say Kendall wears their pieces to convey he is someone who is not replaceable, an important point to make considering the show is filled with Game of Thrones moments as Logan's children scheme to try and take their own place on the Iron Throne of the new conglomerate.
This first Vacheron pictured above during Kendall's excruciatingly misguided rap, is the 260-piece limited edition Harmony Mono-Pusher Chronograph, with the manually wound in-house caliber 3300. Its 42mm cushion squared case oozes classic luxury, a design inspired by an archival piece from 1928, and a rather rare flex for any owner who straps it on. As it stands, this watch is no longer on Vacheron Constantin's website so you'll have to search for this piece secondhand if you are looking to add it to your collection.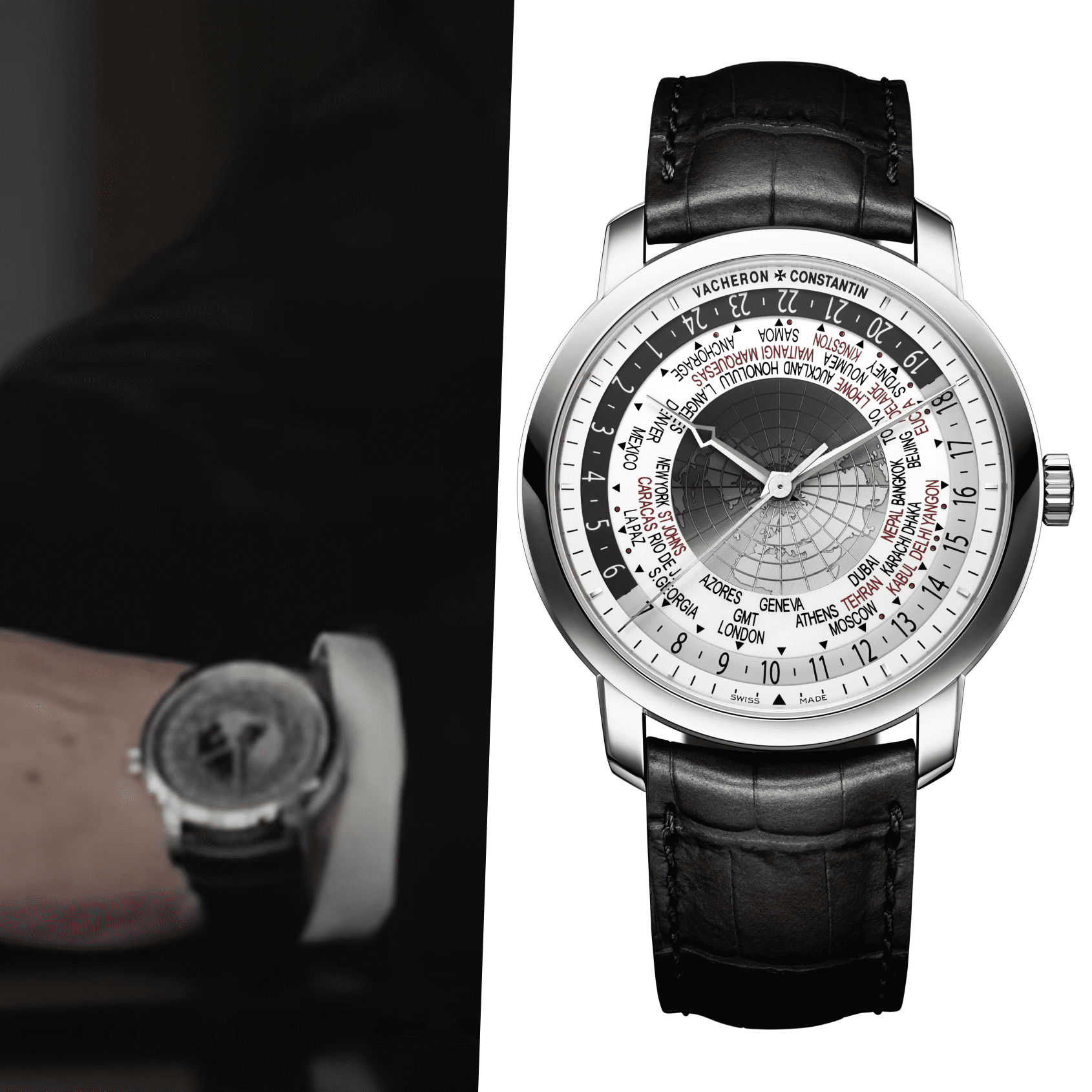 The next Vacheron Constantin is Kendall's Traditionelle World Time, another watch which has unfortunately disappeared from Vacheron's online catalogue. The 43.5mm white gold case exhibits a classic world time dial, a fitting complication for someone who plays a large role in a global news conglomerate. With this piece Kendall can keep track of time across the globe, and do so in style.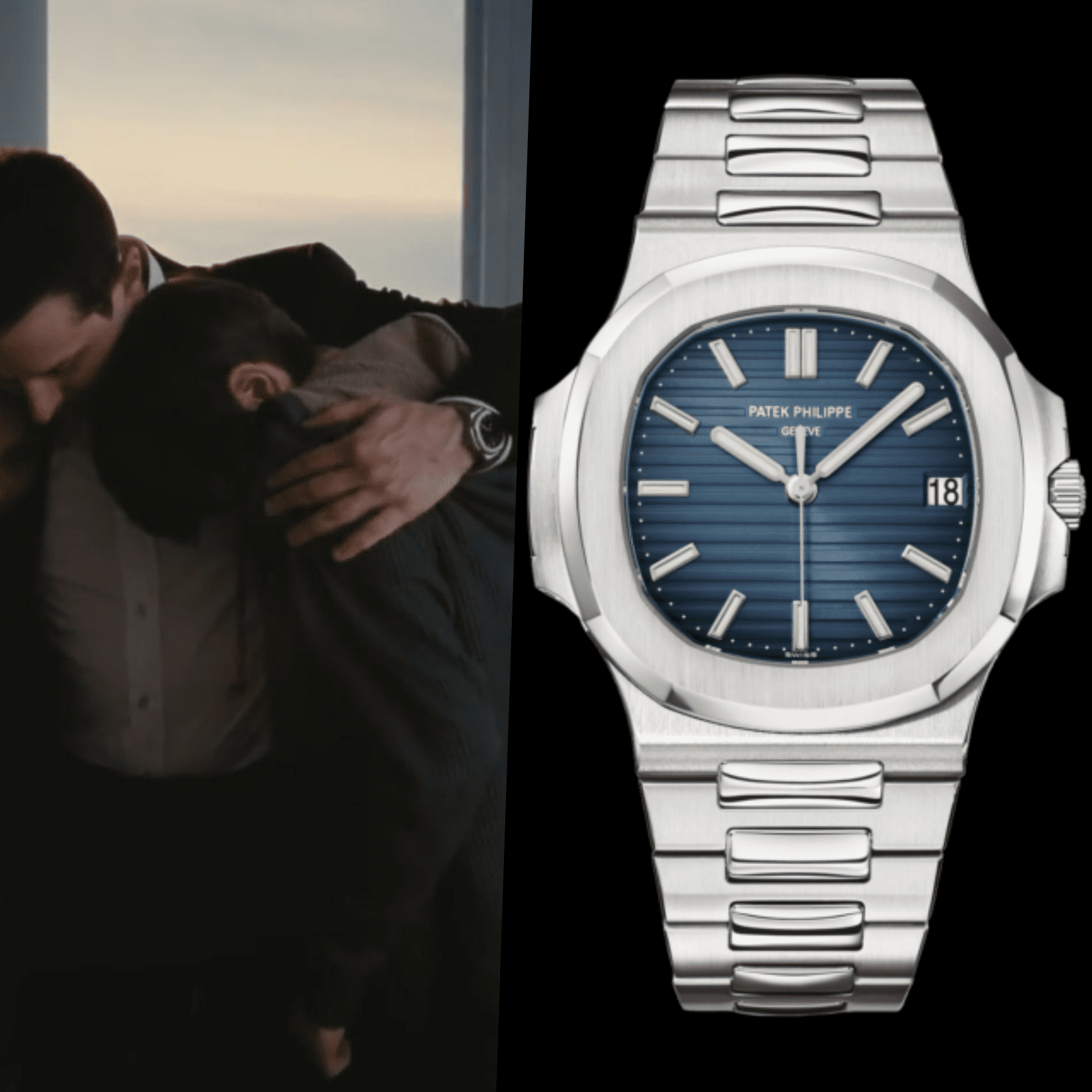 Then there's this watch that needs no introduction – of course, someone from this powerhouse family has to have the Patek Philippe Nautilus 5711/1A in their collection. The watch peers out from his sleeve as he hugs his two children. Its iconic profile is easily discernible, and unless there is a sub-dial out of view here it is safe to assume the character is wearing the 10-year wait-listed time and date configuration of the watch.
Siobhan "Shiv" Roy: Cartier Panthère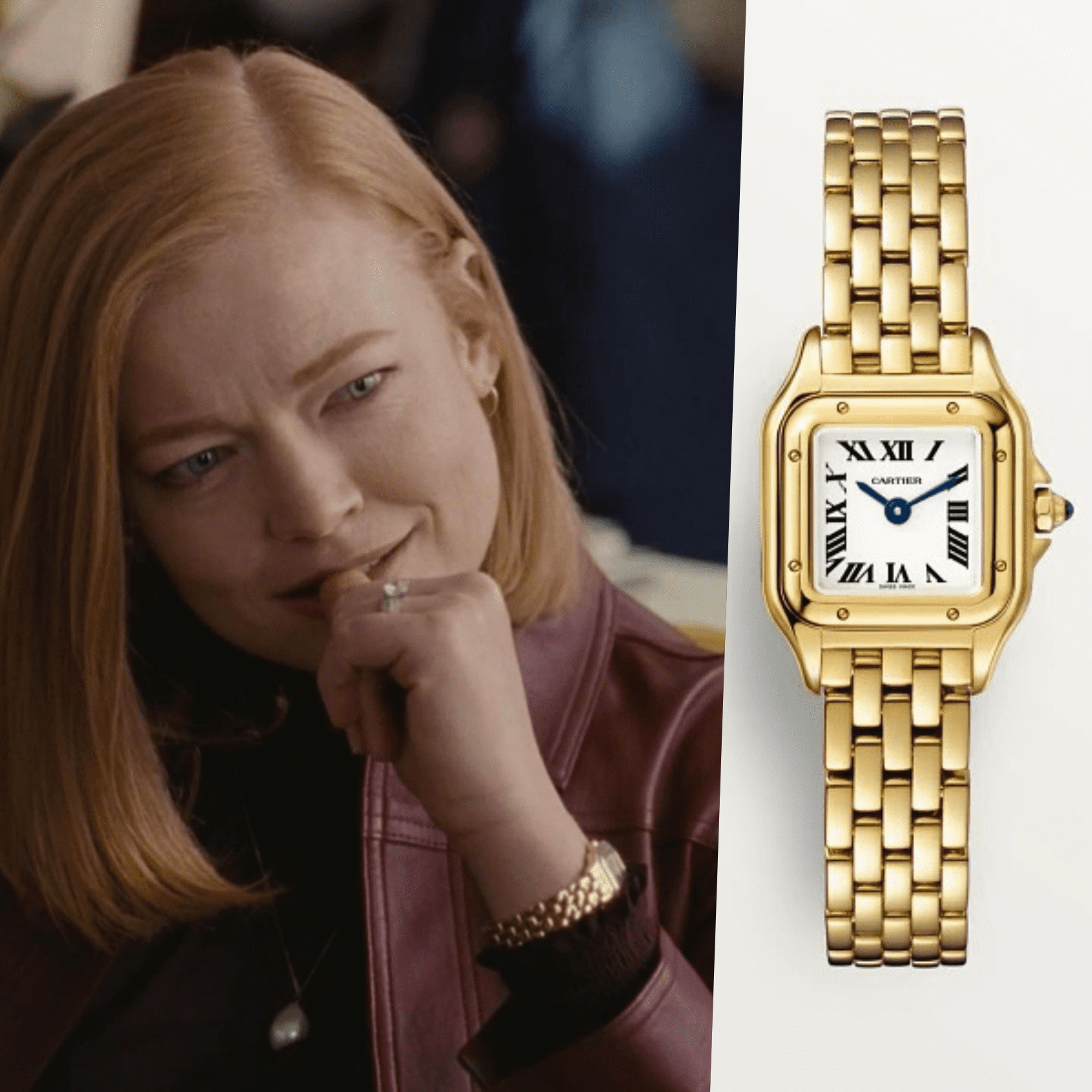 Siobhan, a.k.a. Shiv, is a cut-throat character who clearly "wears the pants" in her relationship with Tom. As someone who means business, it makes sense she wears something elegant and reliable: the Cartier Panthère. She wears it in both yellow and white metal, switching between both throughout Succession episodes. The quartz-driven watch is a no-nonsense symbol of status and power, a perfect match for Shiv's persona.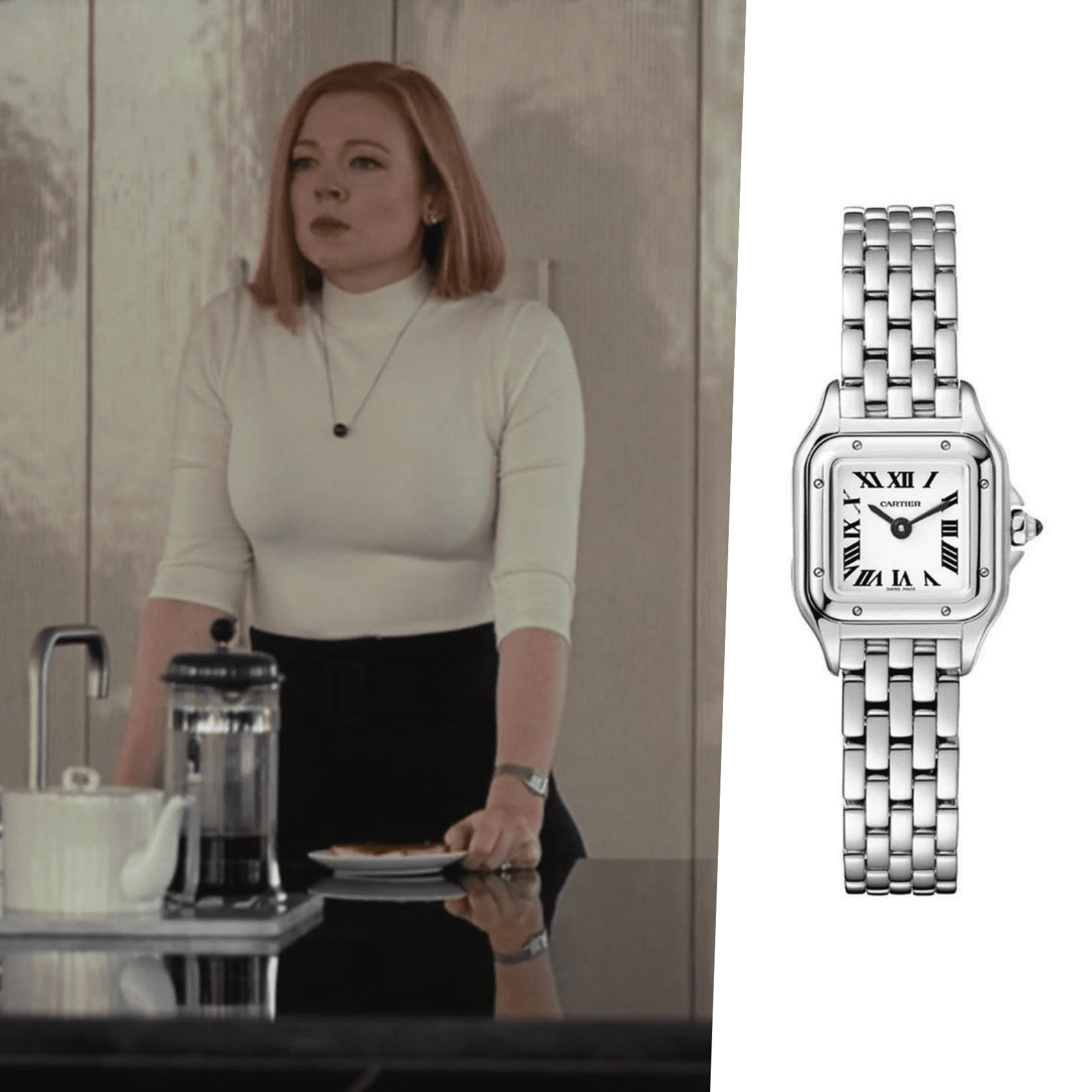 Tom Wambsgans: Cartier Santos & Panerai Luminor
Tom follows his Siobhan's suit – they're a clear Cartier couple for the majority of the show. While Tom allegedly had a fake Carte Ballon Bleu on in earlier seasons, for Season Three he receives an on-screen upgrade with the latest Cartier Santos strapped to his wrist in the trailer. With the unfavourable angle, it is unclear which dial variant it is, or if its the medium versus large, but it appears to be entirely stainless steel.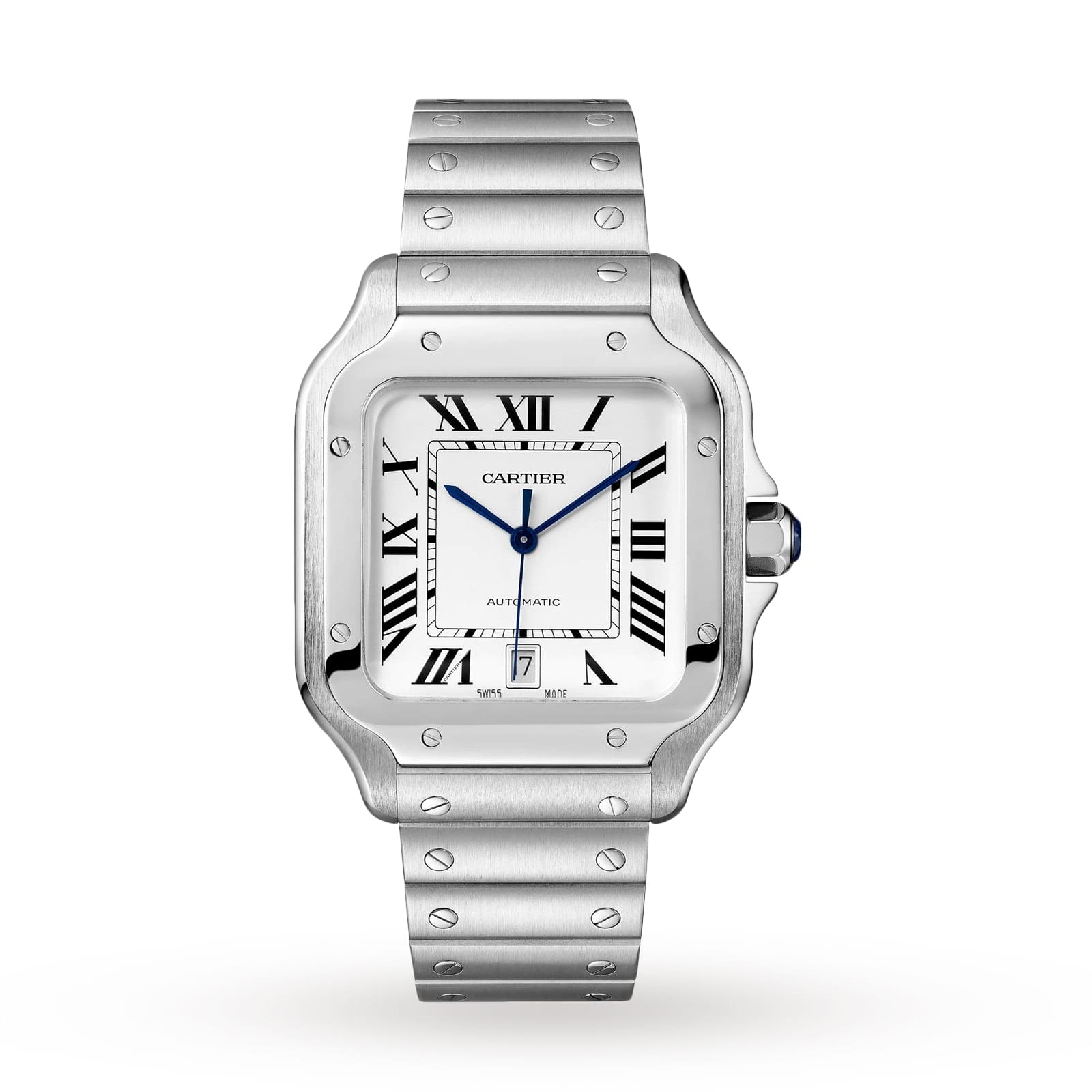 It is a phenomenal choice, as the Cartier Santos has never been better with its modern 100 metres of water resistance and quick change straps and links. Yes, you read that right, the links of the Santos bracelet can actually be added or removed with only your finger necessary to perform the operation.
Tom's obsequious nature was famously established in an early scene where he repeatedly tries to present a Patek Philippe watch as a birthday gift to Logan. "Its incredibly accurate," Tom tells Logan when he finally hands it over. "Every time you look at it it tells you exactly how rich you are." As Tom moves to open the box, the camera does not reveal which Patek is inside, but the Panerai Luminor on his own wrist is visible. Based on how it does not dwarf his wrist by any means, it may be safe to say that the aforementioned Cartier is the large configuration – which means it could have either the white or blue dial. Hopefully this becomes clearer as Season 3 airs.
Roman Roy: a trusted Rolex Datejust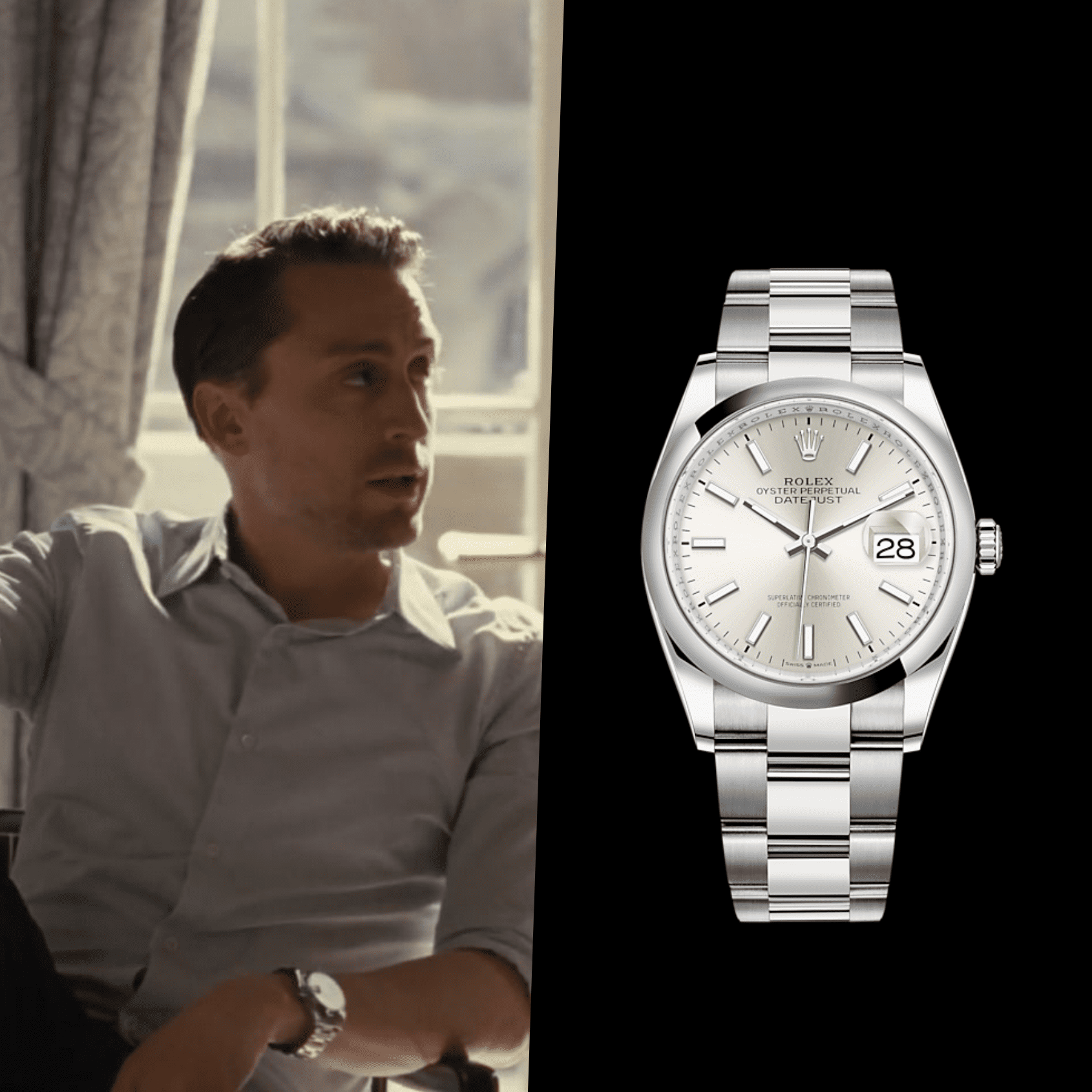 Roman, while ostensibly the boldest and most deviant character in the show, opts for a relatively basic watch. I am all for the choice, as I have never met a wrist a Datejust would not flatter. While his excessive behaviour would have you think he was more a fluted bezel and Jubilee bracelet guy, Roman actually wears a smooth bezel and Oyster bracelet configuration. It also speaks volumes that the character wears a silver dial Datejust, perhaps signalling he is less audacious deep down than his fronting personality suggests.