Jaeger-LeCoultre's Reverso Tribute Chronograph arguably won Watches & Wonders 2023
Zach Blass
At this point, Watches & Wonders 2023 feels like it was both yesterday and a year ago. Ultimately, it's well away in the rear view mirror. Four months later, however, it becomes clear which novelties were the big standouts. It's the ones still stuck in your mind after the excitement of the fair has passed, and the ones people still continue to discuss today. Looking back at the metrics on social media, it has become apparent that the Jaeger-LeCoultre Reverso Tribute Chronograph ref. Q389848J has a stake to claim as the watch that won the 2023 fair. Based on a model from 1996, it offers the opportunity of having both the appeal of a crisp, two-handed, dressy watch and a busy-in-the-best-way chronograph.
The case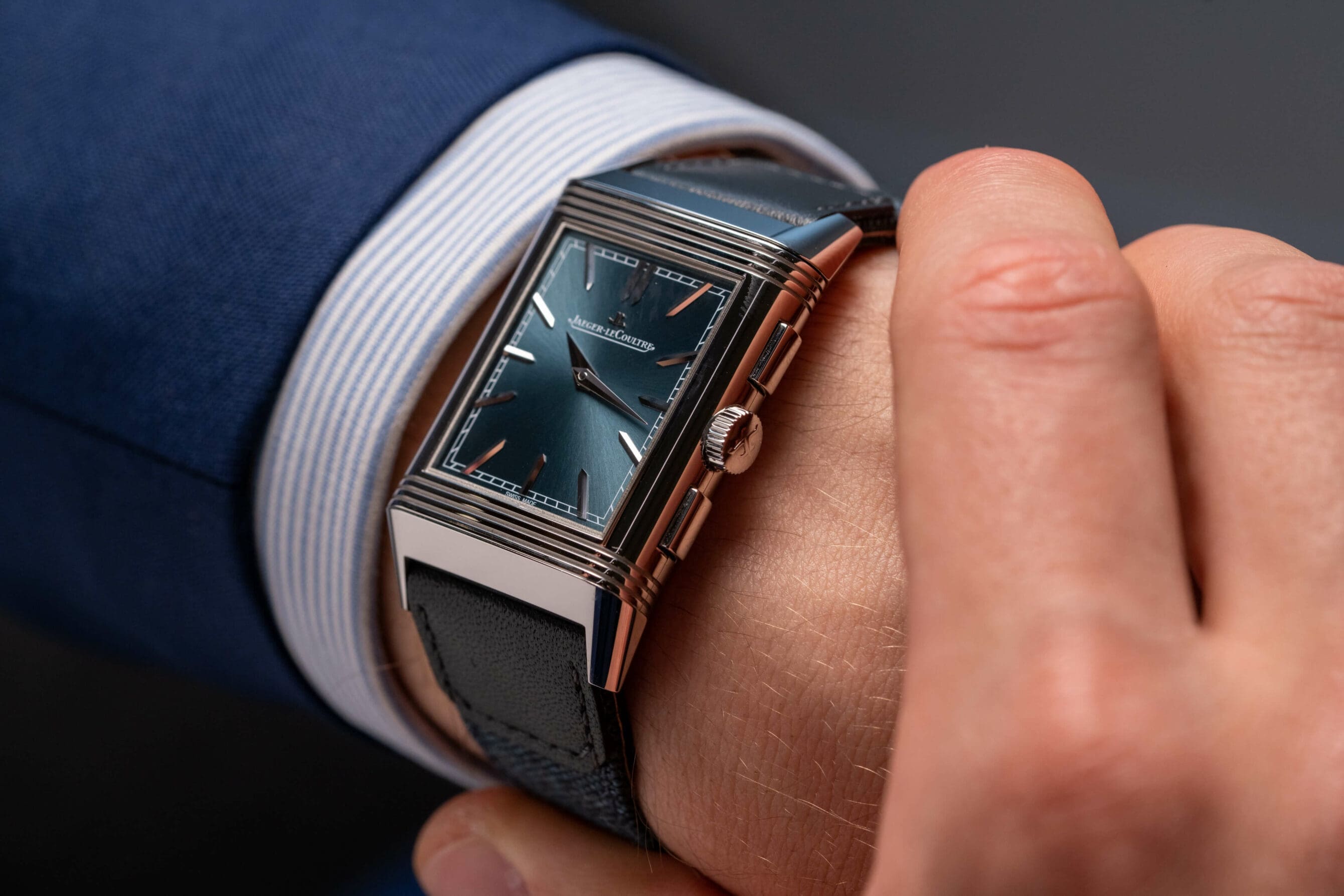 Even with its added chronograph complication, Jaeger-LeCoultre understood that, for an icon like the Reverso, the complication cannot dictate its design. The complication must rather be adapted to fit the Reverso idea. A sports watch in origin, the Reverso today offers a golden ratio-based rectangular case which continues the tradition of a flippable mid-case carriage. With its 29.9mm diameter, 11.14mm thickness, and 49.4mm case length, the Reverso Tribute Chronograph retains its harmonious proportions. Astoundingly, when compared to the Reverso Tribute Duoface Small Seconds, JLC has mitigated much of the bulk added by the complication, increasing in thickness and diameter by 0.8mm and 1.6mm, respectively. Where things have scaled up to an intimidating measurement, at least for me, is the 2.4mm increase in case length. While the lugs do slope downwards, the caseback piece holding the mid-carriage is on the flatter side, making the lug-to-lug measurement less forgiving to smaller wrists like mine (~6.5 inches).
The dial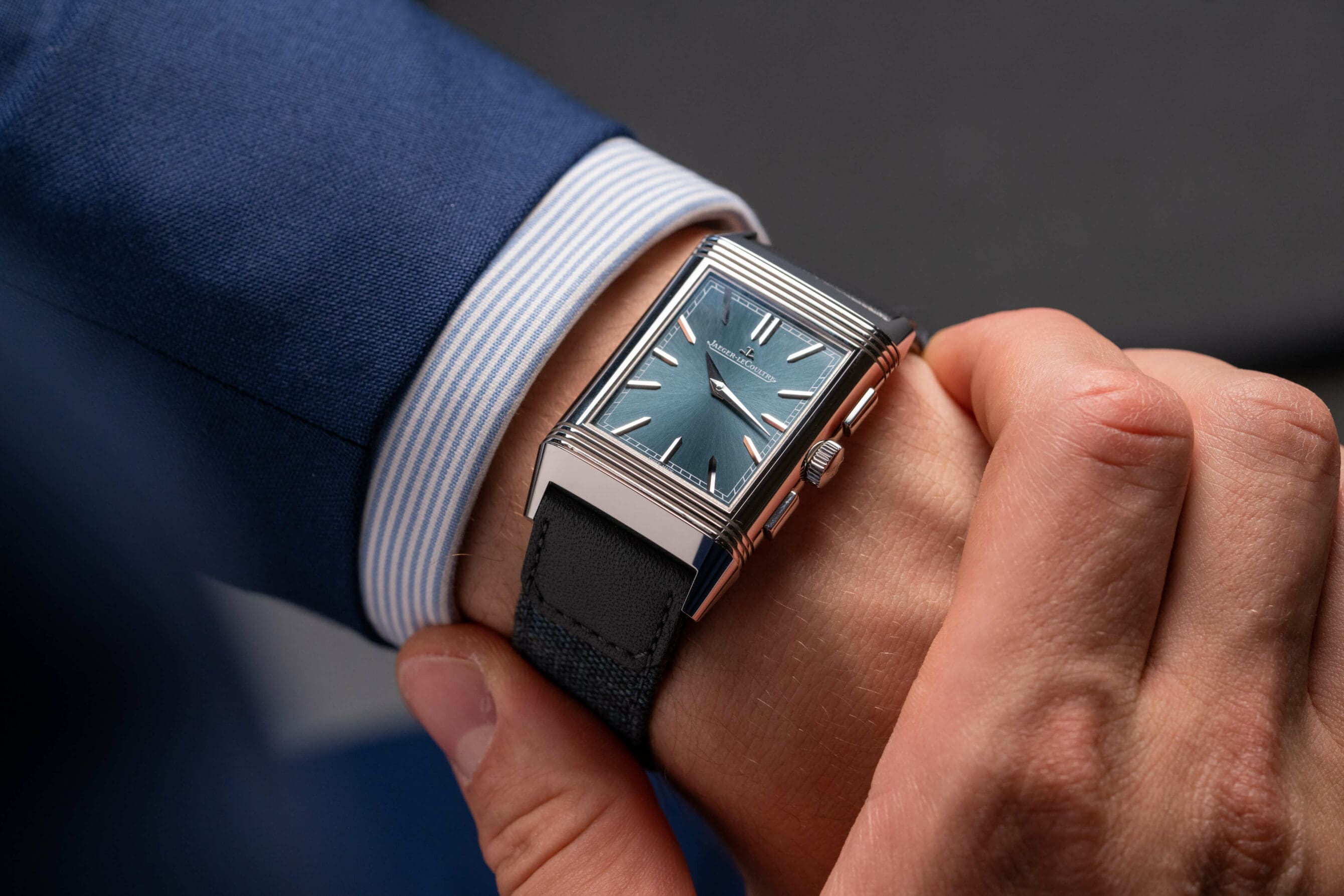 While brands market their watches by boasting the number of complications or certain "firsts" their novelties have achieved, the first thing the average consumer notices is the dial and its colour. Sure, a horological feast for the eyes awaits on the reverse side of the mid-case, but the first impression is ultimately its icy blue front dial. With the ubiquity of blue in the marketplace, I really appreciate that JLC opted for a blue-grey tone. It offers the familiarity and versatility of the colour, but its subtle injection of grey offers a faded and fresh sense. The watch appears at first as a simple, two-handed, dressier piece with elegant dauphine hands and polished and applied indices. You'd be forgiven for thinking the dial is rather static, without the sign of life a running seconds hand would offer. It's only the pushers flanking the crown that reveal there is a hidden party trick up this watch's sleeve.
The movement – and second dial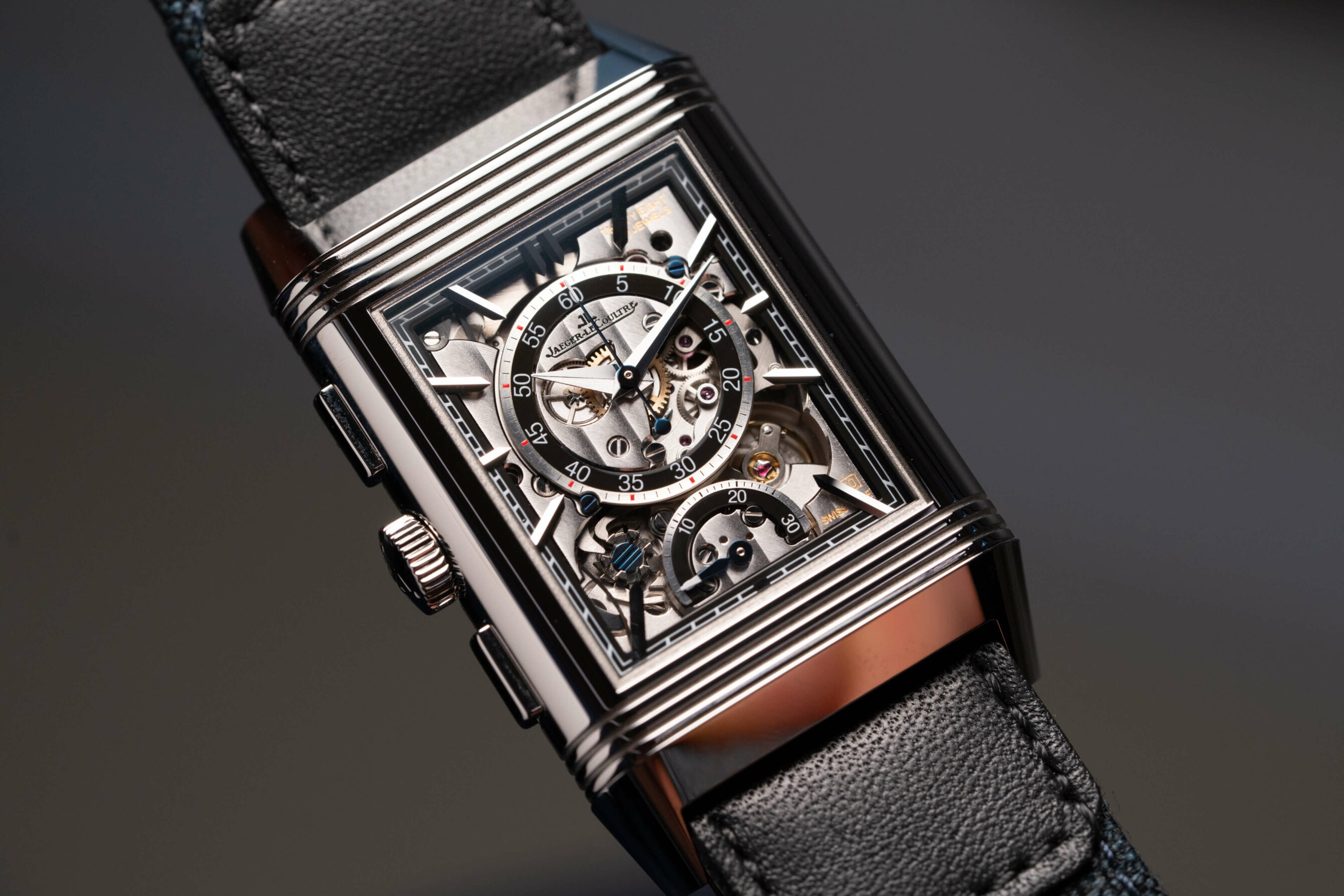 Flipping the carriage of the case over, the watch becomes alive. Taking from TikTok fitness nomenclature, the Reverso Tribute Chronograph would have the ultimate sleeper build, hiding a ripped bod beneath a mean pump cover. A silly analogy, but fitting, as this second dial really flexes what JLC is capable of, while the front dial shows JLC's ability to show strategic restraint. In full view is the debuting in-house, manually-wound, column-wheel, chronograph calibre 860, with 52 hours of power reserve, a set of dauphine hands on either side, and a chronograph with a retrograde 30-minute counter.
The pusher actuation is sublime. The start/stop pusher is buttery smooth until the pleasantly crisp click of actuation. In my opinion, the reset pusher was even smoother, with a subtler click that I could hardly feel. Honestly, the pushers just feel great, and it's clear JLC paid attention to the little things when designing this chronograph system. With open rings indicating the functions, the vast majority of the calibre is exposed, with handsome côtes de Genève, thin chamfering, and blued screws all revealing the strength of the watchmaker's watchmaker. Visually, what this two-faced design offers is an on-demand dress and sport mode. Should you simply want the hours and minutes – more befitting formal and smart casual occasions – it's there. For increased functionality and a sportier dial, just flip the case anytime you want – kind of like being peering at the engine of your supercar.
The strap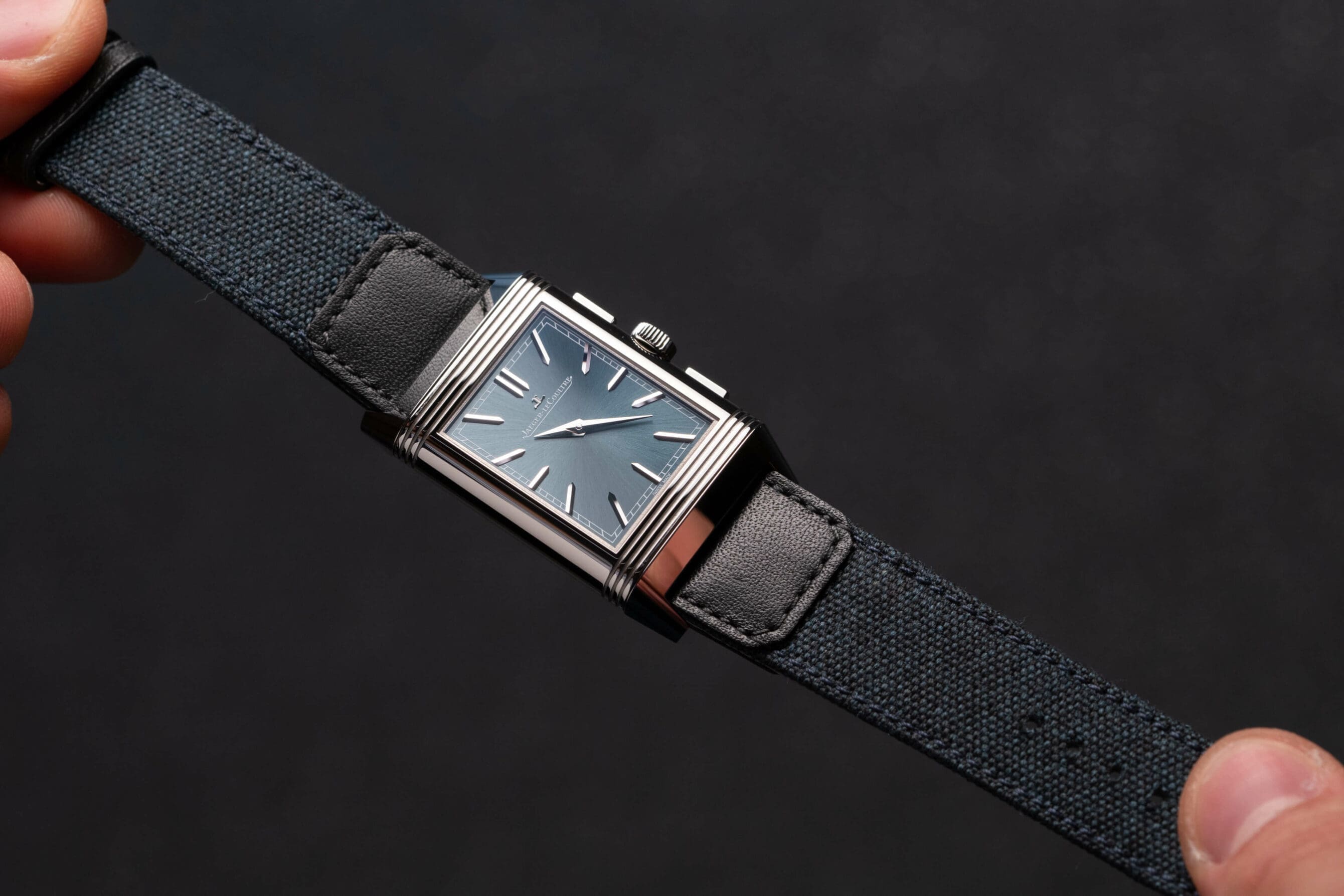 With its Fagliano straps, JLC has offered options that speak to sensibilities of both dials. Above, you can see the bleu marine option comprised of calfskin leather, with a blue canvas upper, giving off a more casual and suave-sporty vibe that could still be dressed up. For moments where you are suiting up or want to lean more into the elegant side of the Reverso's nature, there's a full black calfskin leather option for you to switch to. Thankfully, a quick-change system allows you to easily swap between the two at your discretion, without the need for extra tools or a trip to your local boutique.
The verdict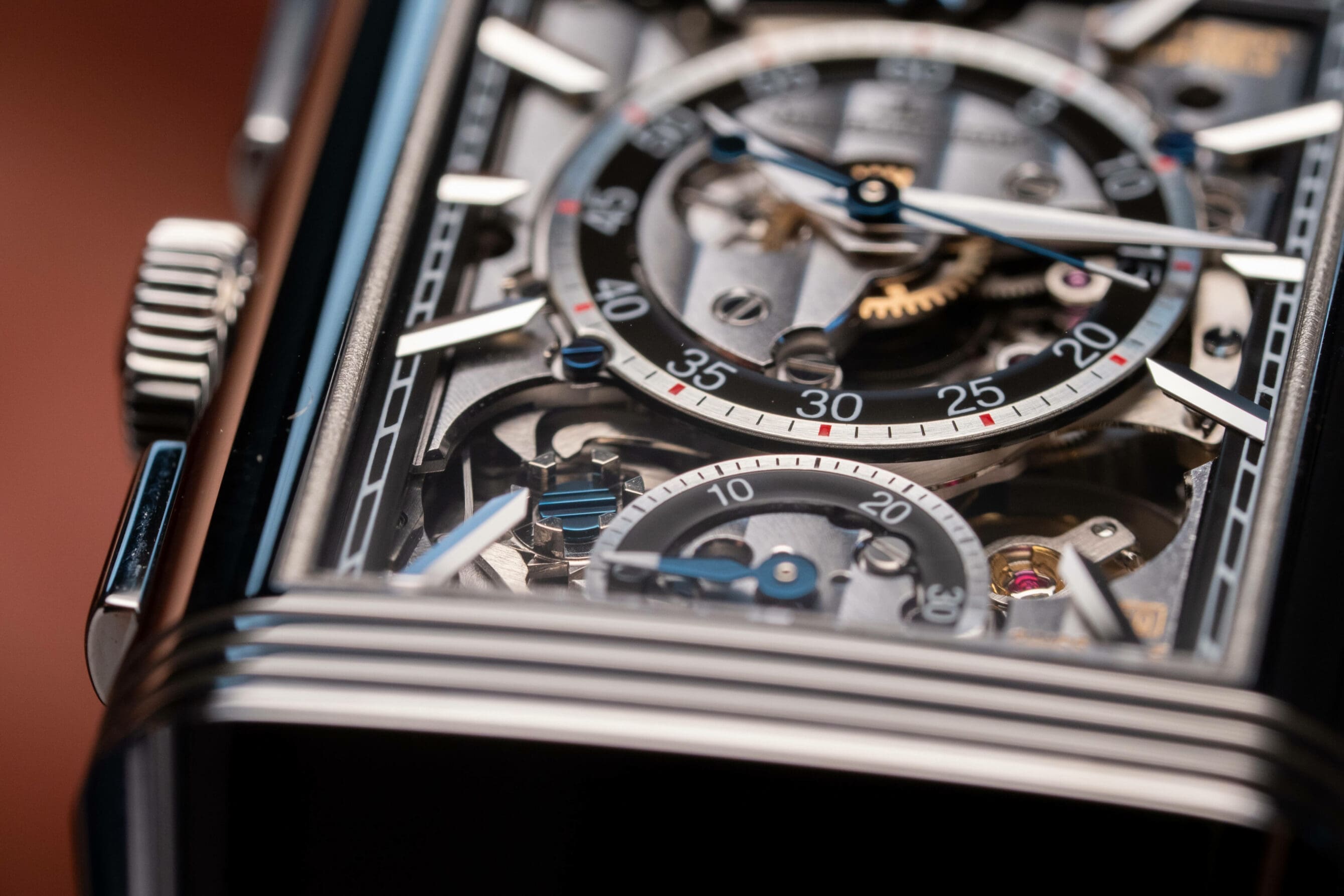 Having fully digested the proposition, its raison d'être becomes quite clear. It is a distinct interpretation of engaging with a chronograph, with an attractive, not-your-basic-blue dial. With a complication whose function is often romanticised, an on-demand chronograph that neatly tucks away is a nuanced way of doing things. The Reverso design was born from a pragmatic need to protecting the crystal during sports like polo. Today, the design now largely offers JLC a means to play with indications and dials in a manner other brands cannot – a distinct advantage in variety and versatility. For me, the Jaeger-LeCoultre Reverso Tribute Chronograph is the perfect example of this advantage and the way it allows JLC to be both different, and desirable. It is one thing to be innovative, but it is a whole other proposition to be both innovative and intriguing in an aesthetically pleasing way. Sure, Richard Mille holds the record for the thinnest watch – but is its design something any of us would actually want to wear? With over 21,000 likes on our initial reel of the Reverso Tribute Chronograph during Watches & Wonders, it is clear that this reinterpretation of what a chronograph can be is favoured and celebrated amongst the #watchfam.
View this post on Instagram
If I am being honest, this watch actually makes me angry. Not because the watch itself is bad, I think I've made that abundantly clear. As objective as I have tried to be, I think the watch is stellar in execution. Where it makes me angry, or envious, rather, is that I do not readily have US$25,000 (A$40,200) to drop on it, nor am I convinced its 49.4mm case length best suits my smaller wrist. There have been price increases within JLC's catalogue, no different to other brands routinely adjusting for inflation, but, that's definitely on the higher side for a steel chronograph. That being said, its distinct engineering and required know-how unique to JLC does justify its price quite a bit in my book. If anything, keenly aware this may be a rarer offering due to its boutique exclusivity and yearly production, JLC is opting to get what could have very well been its secondary market price, had it been priced just under US$20,000, up front.
Jaeger-LeCoultre Reverso Tribute Chronograph ref. Q389848J pricing and availability:
The Jaeger-LeCoultre Reverso Tribute Chronograph ref. Q389848J is available now as a boutique exclusive. Price: A$40,200, US$25,000
Brand
Jaeger-LeCoultre
Model
Reverso Tribute Chronograph
Reference Number
Q389848J
Case Dimensions
29.9mm (D) x 11.14mm (T) x 49.4mm (LTL)
Case Material
Stainless steel
Water Resistance
30 metres
Crystal(s)
Sapphire crystals
Dial
Blue-grey sunburst (front)
Openworked (reverse)
Strap
Fagliano Collection calf leather and canvas
Black calf leather
Movement
Jaeger-LeCoultre Calibre 860, manually wound
Power Reserve
52 hours
Functions
Hours, minutes (front)
Hours, minutes, retrograde chronograph (reverse)
Availability
Now, boutique exclusive
Price
A$40,200, US$25,000