As useless as a white crayon: 5 watches that don't tell the time
Fergus Nash
We're all aware that wristwatches haven't served an essential purpose for quite some time now. Wearing a watch is less about telling the time and more about aesthetic considerations and accessorising. Plenty of independent and haute-luxury brands emphasise this with outlandish designs that view time-telling as a secondary function, but it's much harder to find watches that do away with the concept of timekeeping altogether. Here are 5 watches that won't show you the time of day no matter how long you stare at them.
Romain Jerome Day & Night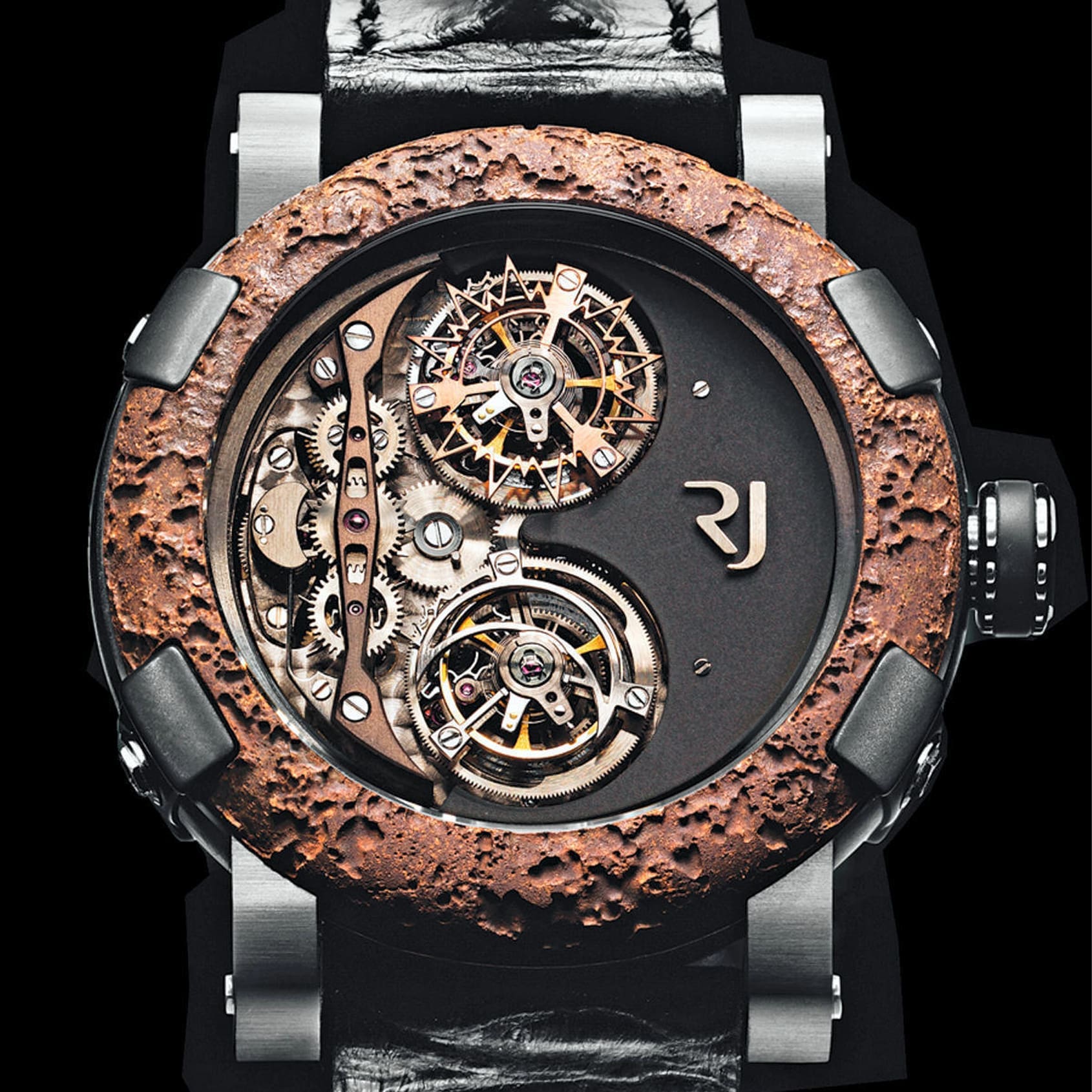 Romain Jerome are sadly a brand which is no longer with us, having declared bankruptcy in 2020, but their legacy remains vivid and wild offending and impressing watch enthusiasts in equal measure. The Romain Jerome Day & Night watch was first released in 2008 to great admiration and controversy, essentially using two individual tourbillons as a day/night indicator. During the morning hours, the upper tourbillon cage shaped like a sun in resplendent red gold would dance away, and this duty would swap over to the moon shaped steel tourbillon. Although you may be able to see when the time hits 12am or 12pm, you'd definitely struggle to get the watch synchronised to any clock thanks to its lack of hands. Despite it's uselessness as a timepiece, the rust-effect bezel, bold 46mmm case and the frankly intoxicating skeletonisation on the dial made the Day & Night a great conversation starter and eye magnet, selling out within 48 hours.
Van Cleef & Arpels Midnight Planétarium
Keeping track of the heavens is a guaranteed method of having a big-picture outlook on life, but it certainly won't help you be on time to your next meeting. The Van Cleef & Arpels Might Planétarium is a glorious display of artisanal watchmaking, presenting a three-dimensional display of our closest solar system neighbours. The heliocentric dial accurately tracks the orbit of Earth, Mercury, Venus, Mars, Jupiter, and Saturn, with each tiny planet crafted from a sphere of precious stone. The gorgeous aventurine dial is decadent against the rose gold case, and although they have generously included month and date functionality around the dial's circumference, the golden shooting star against a 24-hour scale does little to provide you with accurate time reading.
H. Moser & Cie. Swiss Alp Watch Infinite Reboot
H. Moser & Cie. are a brand unafraid to commit to a joke, as proven by their numerous Vantablack watches that began as an April Fool's post. The Swiss Alp watch began as an evident parody of the Apple Watch, only this time produced with traditional Swiss mechanical craftsmanship and exceptional luxury quality. This particular version takes this up a notch with a completely black dial save for a rotating disk at the dial's base, representing a mock loading symbol. This is a display of tongue-in-cheek opulence like no other, that will surely pull double-takes from across the room. While other handless versions of the Swiss Alp Watch can feature a minute repeater to at least chime you the time, the Infinite Reboot only serves to show you that time is progressing.
Hautlence Playground Labyrinth
The Hautlence Playground Labyrinth is possibly the most infamous example of a "timeless" wristwatch in recent years thanks to its total abandonment of watchmaking fundamentals, instead replacing the dial with a maze game. Similar to the cheap plastic maze-and-ball games you may have won at arcades as a child, the Playground Labyrinth will have you rotating your wrist in unimagined ways to get the tiny ball around its course as deftly as possible — it just happens that the maze is hewn from solid gold and the ball is made of platinum. The titanium case is finished in great detail, as to be expected from a watch of this luxury, and the crown does still have some function in returning the ball from its end point to its start point using a system of cams.
Haldimann H9 Reduction
Perhaps the most philosophically driven watch of this bunch is the Haldimann H9 Reduction, and that of course makes it the most hated watch too. Available upon release with a 39mm or a 42mm case in solid platinum, the H9 was fitted with an incredible calibre H.Zen-1 — complete with a triple-barrel flying tourbillon and ornate hand-engraving. It even has a completely functional hour and minute hand with which you could theoretically read the time. Unfortunately for those who would like to know that time, the entire dial is covered with a totally opaque black crystal. While the other watches merely neglect to offer you an accurate time, the H9 Reduction simultaneously provides you with an incredible horological tool and then prevents you from reading it. Immediate critics jumped on this watch to label its questioning of time as pretentious, however the response it elicited clearly demonstrates its validity as an art piece.