11 of the best pink dial watches
Zach Blass
While typically thought of as a traditional industry, the watch marketplace has never been more colourful. Brands are becoming bolder, exploring a wide spectrum of textures and hues. And, this is not for the sake of novelty. It is because buyers genuinely are looking for new ways to express colour and personality on their wrist. Some colours get more love than others, particularly blue and green along with the basic black and white. But, these days pink is becoming more and more popular – and I am loving it. Sure, there has always been a bit of pink in brand catalogues. These watches, however, were marketed to a particular segment, were of a smaller stature, and, more often than not, dressy and quartz. Times have since changed. Pink dial options have never been more diverse, so here are 11 of the best pink dial watches you can actually buy (no enigmatic waitlists) from least to most expensive.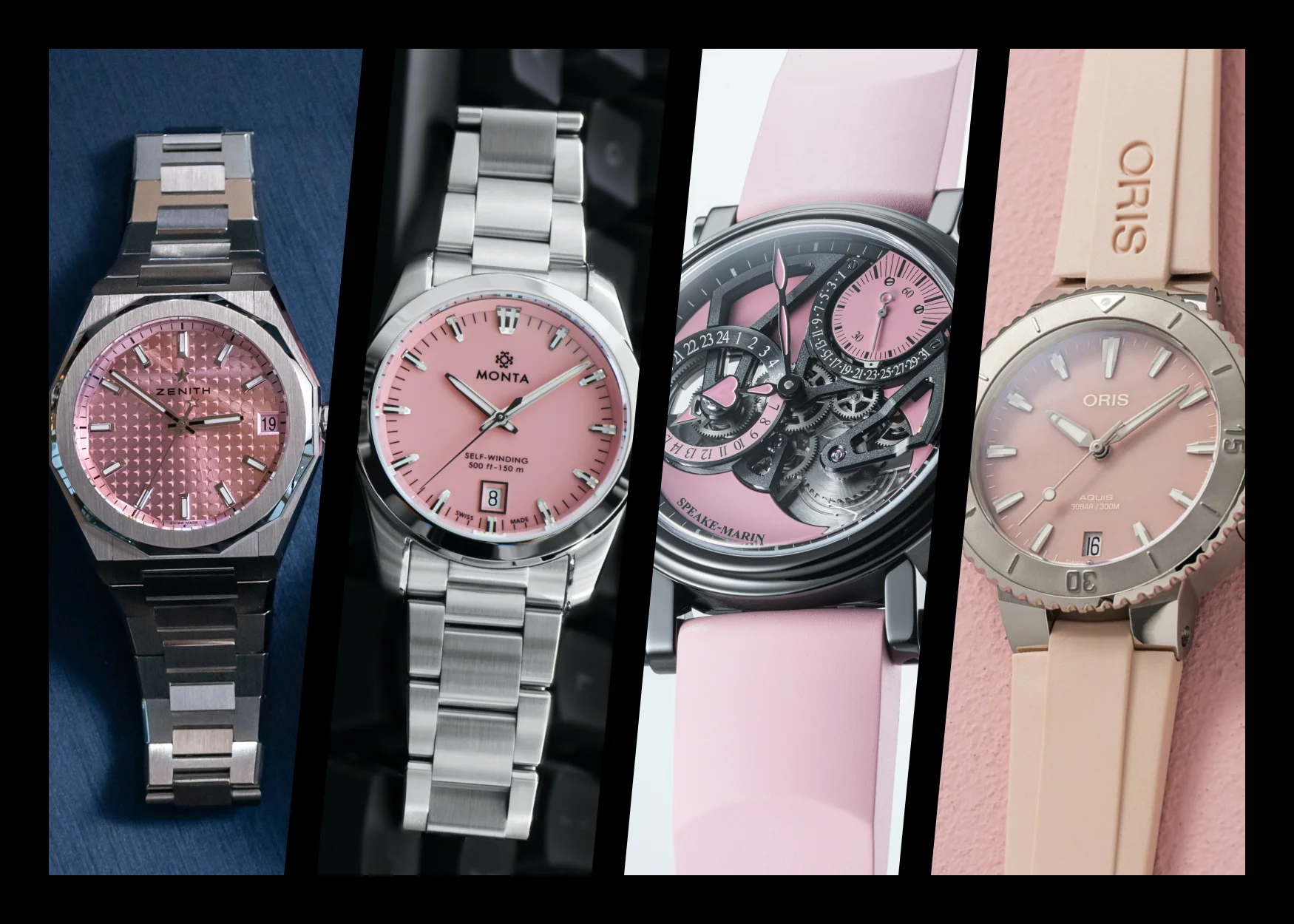 Internally, there was a bit of discussion as to whether or not a pink list was justified. Why? Well, some might consider salmon dials pink – and we have explored some of the best salmon dial watches in a previous list. In my mind though, salmon and pink dials are two totally different things. True salmon, I feel, has a clear hint of orange in its hue. These watches, however, are irrefutably pink and deserve to have their own day in their own dedicated list. So, VAMOS!
Farer Lander Kano 36mm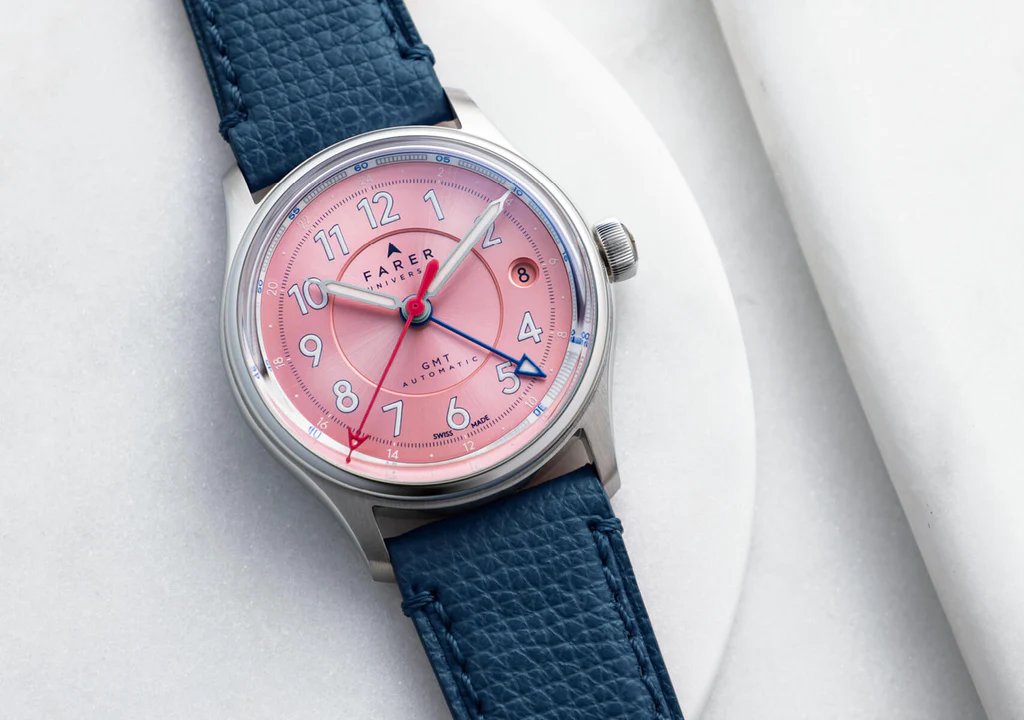 Considering the price of the watch, and the scale of the manufacture, I love just how detail-oriented the Farer Lander Kano 36mm is both visually and technically. The fact Farer made the effort to have the date window colour match the sunray pink dial earn them major points in my book. But that is just one small detail. Looking at the package overall, you get a 100 metre water-resistant, stainless-steel watch, classically sized at 36mm (D) x 11mm (T) x 41.2mm (L2L), that utilises an automatic GMT calibre with 56 hours of power reserve. This is a playful daily wearer that is high-functioning for the price, and visually executed very well down to the little details.
Price: US$1,450
Nomos Club Campus 36 Deep Pink
For some pink Bauhaus, your destination is Nomos. The Club Campus Deep Pink skews on the darker side of the pink spectrum, distinguishing itself from the more common brighter candy pinks we typically see. As expected from Nomos, you get high-quality in-house German watchmaking at a more approachable price point. The 36mm steel case is quite slim at 8.2mm thick, and still manages to offer 100 metres of water-resistance. It is a smart-casual daily, subtly sporty in its specs, and for those who think 36mm is too small just keep in mind its lug-to-lug length of 47.5mm means it has a larger presence than its diameter suggests.
Price: US$1,500 (with solid caseback), US$1,800 (with sapphire caseback)
Monta Noble Pink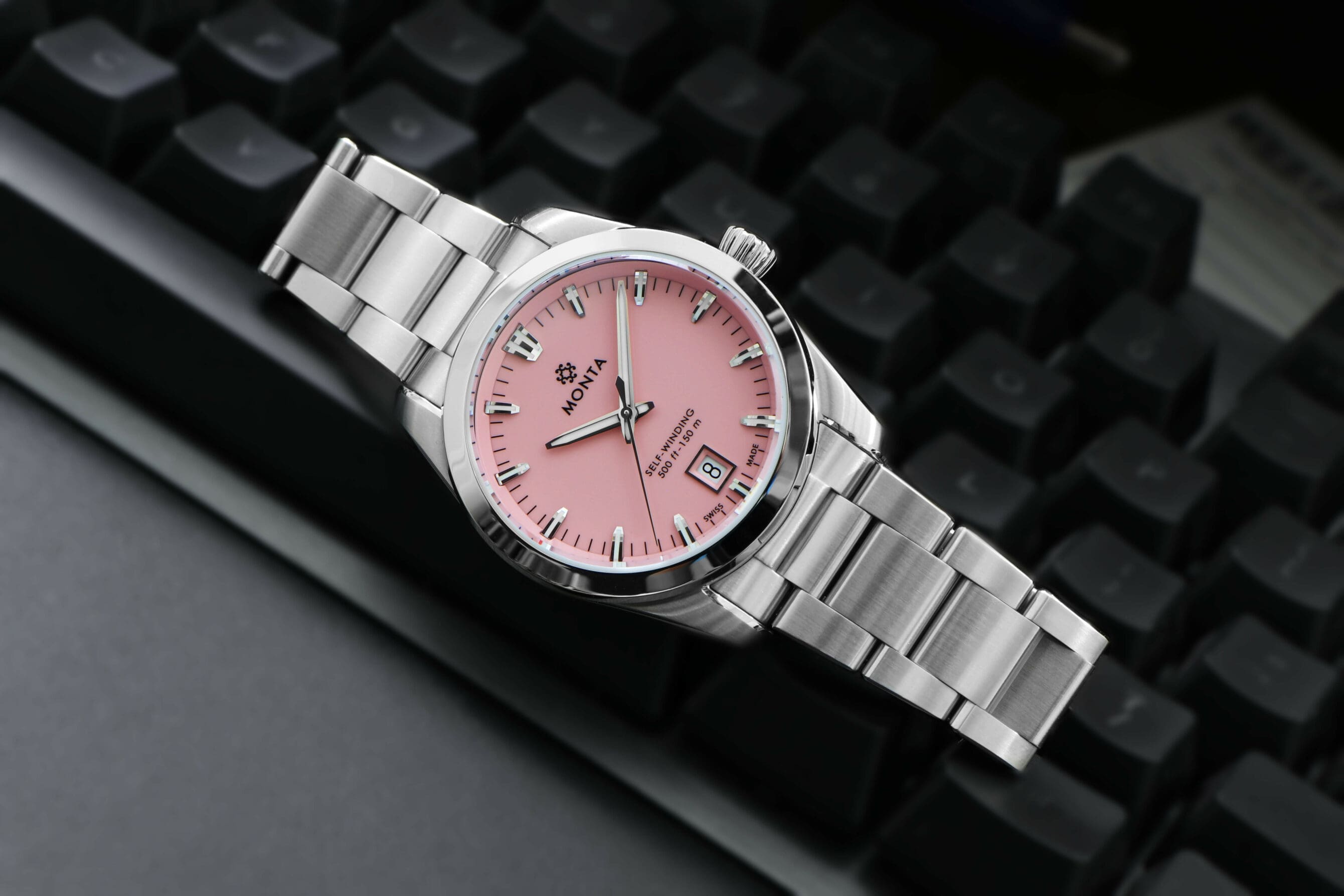 For those who have lusted after the Candy Pink Rolex Oyster Perpetual, but have yet to get the call that may never come, if your interest is purely in the pink-lacquer dial I would highly recommend checking out the Monta Noble Pink. Unlike the Oyster Perpetual, it splits the difference between the OP's 41mm and 36mm sizing with 38.5mm case, 9.7mm thick, and 47mm lug-to-lug. It even offers a 150-metre depth rating that surpasses the 100-metre rating of the OP. Also crucial: the OP Candy Pink 36 has a retail price of US$6,100. At least visually speaking, the Monta Noble Pink hits all the same notes for a fraction of the price. It may not be Oystersteel (904L), and it may not be a Superlative Chronometer, but it is definitely a rock-solid option at its price-point.
Price: US$1,795 (Limited to 115 pcs.)
Frederique Constant Highlife 'Ladies' Automatic
The first integrated design of the list, the recently introduced Highlife 'Ladies' Automatic offers the popular Highlife design in a more compact 34mm case that still drops down to a 50-metre depth rating and a Sellita calibre (versus a COSC manufacture calibre), but retains the appreciated versatility of its larger sibling with its interchangeable bundled bracelet and strap. It goes without saying that you should not let the "ladies" nomenclature deter purchase. As a man, I am all for 34mm as a viable option. This watch is for everyone who would appreciate a compact, handsome, and entry-level integrated stainless-steel design with a proudly pink textured dial.
Price: US$1,895
Oris Aquis Date 36.5mm Blush Pink
If colourful pink expressions are most suited for summer, then a beach-ready pink dial diver certainly fits the bill. The Oris Aquis 36.5mm Blush Pink offers 300 metres of water resistance, even with its more compact frame, and also distinguishes itself within the pink segment with a mother-of-pearl "Blush Pink" dial. It may not utilise one of the manufacture's in-house calibres, but the Sellita movement inside offers robust performance at a lower price. You could get the watch on a bracelet for surprisingly little more money, but, in a rare instance for me, I think this watch looks its best on the dial-matching rubber strap.
Price: US$2,350 (on rubber), US$2,400 (on bracelet)
TAG Heuer Carrera Date 36mm
If Ryan Gosling, in the role of Ken, is not wearing this TAG Heuer Carrera Date 36mm in the upcoming Barbie movie, that would be a huge missed opportunity. The beauty of its 36mm size is that it would even work equally as well for Margot Robbie who leads the film in the role of Barbie. Some pinks are brighter, some darker. Sometimes the pink hue can be very subtle, as you will see later on in this list. But this is as bold as it gets, with an unashamed in-your-face yet tasteful burst of rich hot pink. This recently introduced Carrera 36mm date collection shaved off approximately 2mm of thickness and lug-to-lug length from its predecessor, with a classic proportion of 36mm (D) x 10mm (T) x 41.2mm (L2L). The jump up from the TAG Heuer Calibre 5 to the Calibre 7 was a welcome refinement as well. Cool, classic, chic, it is a playful take on the legendary Carrera for sure.
Price: US$3,200, A$4,600
Fears Brunswick 40 Pink
Fears' design language, particularly their dial design, is absolutely top-notch. Upon the introduction of the sportier Brunswick 40 collection, the standout for me was the pink dial model. The two-level flamingo pink dial is expertly crafted in Germany, and achieves its distinct shade with drops of grey mixed into the special matte-lacquer. Furthermore, the black gold-coated Edwin numerals and hands are super legible and handsome. And, the applied Edwin numerals add such depth and dimension to the dial – each numeral first milled out of brass, diamond-polished, and then black-gold coated. Having held the watch before, the case and bracelet feel great on the wrist and you will be surprised to learn this robust-elegant watch is actually 200 metres water-resistant.
Price: US$3,500 (excl. VAT)
Omega Aqua Terra Shades
The Aqua Terra Shades 34mm may have a more feminine-associated dial with its rounded indices and date aperture. But, even though it's smaller at 34mm (diameter) x 11.9mm (thickness) x 40.5mm (lug to lug) it still offers a 150-metre depth rating and a METAS Master Chronometer automatic co-axial calibre. I am not going to belabour this one – this is a petite yet powerful pink watch.
Price: US$6,300
Grand Seiko SBGA413 / SBGY026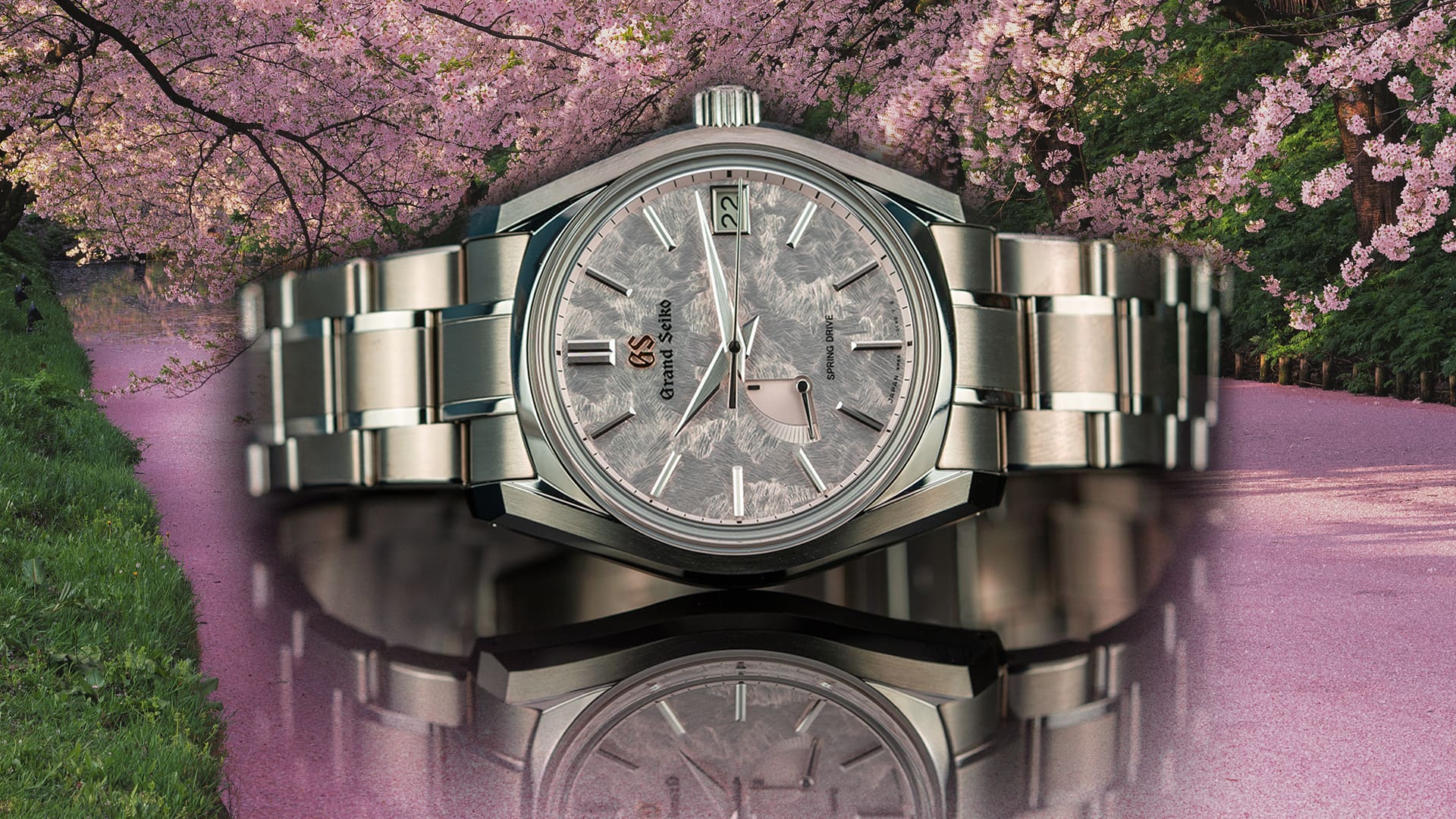 A watch I would credit for the male pink-awakening, the subtly pink Grand Seiko SBGA413 brought the beauty of sakura (cherry blossoms) to the world of watch collecting. The embodiment of spring within the four seasons collection, this 100-metre water-resistant hi-intensity titanium watch is super light and robust on the wrist and it carries favourable dimensions of 40mm (D) x 12.7mm (T) x 47mm (L2L). The faceted 62GS case geometry really shows off the high level of finish Grand Seiko offers, the hairline-brushed and distortion-free mirror-polished Zaratsu surfaces perfectly executed by hand. With its 9R65 Spring Drive calibre, you get a weekend-proof calibre accurate within a second a day as well. This is irrefutably the most accurate watch pink dial watch in the world.
If you want to take it a step further, act fast. There is a 100-piece limited edition SBGY026 that offers an ever purer take on the sakura-inspired rock-patterned dial paired with a rose-gold case from the Elegance collection.
Price: US$6,600 (SBGA413) / US$27,500 (SBGY026, limited to 100 pcs.)
Zenith Defy Skyline 36mm
I appreciate the evolution of the Defy collection into its Skyline era, and how the 1/10th of a second counter offers a distinct element only Zenith offers in the integrated-design segment. But, part of me resonates more with a traditional sweeping second hand that makes one rotation every 60 seconds. That is why I was glad to see the introduction of the Defy Skyline 36mm that brought not only a more compact option for those interested, but also an option with a 60-second central seconds hand. The fit and finish of the Defy Skyline 36mm is really great, and the starry dial looks great in pink – with bonus points for a colour-matched date window. You have a 100-metre water-resistant stainless steel case, 36mm (diameter) x 10.3mm (thickness) x 40.6mm (lug to lug), in-house Elite 670 50-hour automatic movement, and the watch is bundled with both an integrated bracelet and dial-matching rubber strap that each feature interchangeable systems.
Price: US$8,500
Speake-Marin Dual Time Pink
Things get serious, albeit still visually playful, with the recently unveiled Speake-Marin Dual Time Pink. A limited edition duo, presented in 38mm and 42mm black DLC-coated grade 5 titanium cases, they follow the familiar framework of their previous One & Two Dual Time watches but with a new Pantone 700C pink flavour. Speake-Marin really leans into the pink – using the shade on the openworked dial, the luminous filling of the central and sub 24-hour hands, the day half of the 24-hour ring, the backside text on the movement bridge, and even the signature Speake-Marin wheel on the backside of the calibre. The handsome hand-finishing can be seen on the front and back of the movement, with bridges finely chamfered, frosted and darkened on the front and striped on the back. Pink meets high horology.
Price: CHF 34,500 (38mm / 10 pcs.), CHF 34,900 (42mm / 28 pcs.)