Seven of the best G-Shock limited editions from the last 12 months
Luke Benedictus
If variety is the spice of life, then whoever who signs off on the G-Shock limited-editions must have some extremely tingly tastebuds. The staggering range of influences that inform these pieces is like something out of a Dr Seuss fever dream, happily jumping from Borneo rainbow toads to NASA space travel. The sheer number of limited editions that G-Shock crank out is extraordinary, too.  According to G-Central (the G-Shock Watch Fan Blog), the brand produced 88 limited editions over the last 12 months at the time of writing. Here, in no particular order, are seven of our favourites.
A Bathing Ape (BAPE) x Kid Cudi x G-Shock DW-6900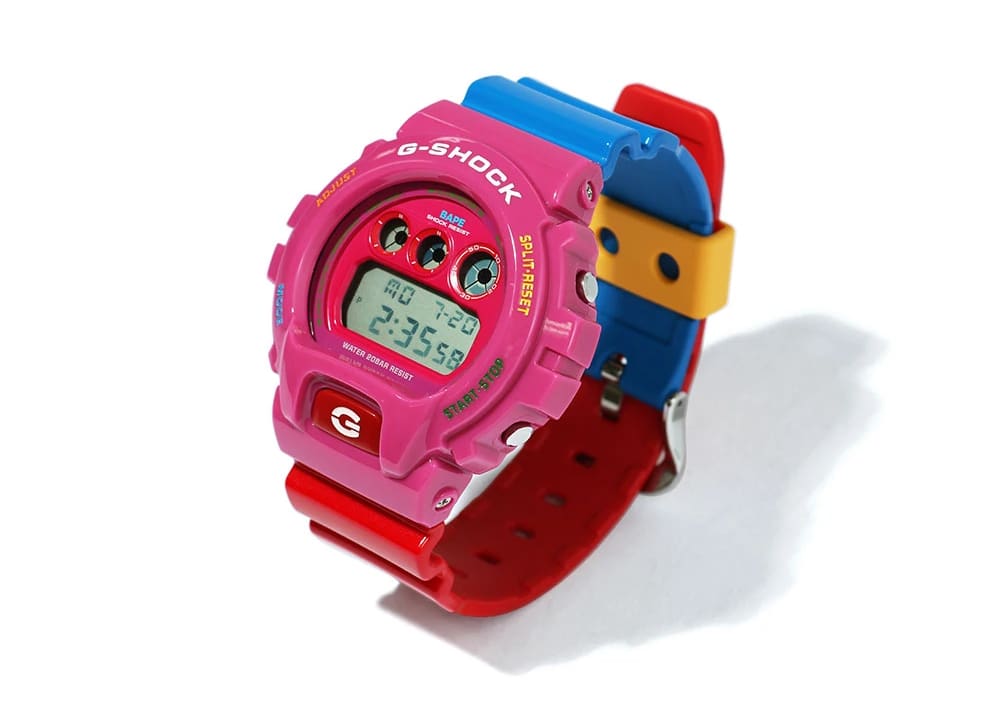 Before his career as a rapper took off, Kid Cudi worked at the BAPE Store in New York. Throw in the fact that he's also a die-hard G-Shock fan and this collaboration feels like it was always destined to happen. The watch itself is a technicolour DW-6900 with a bright pink bezel, red and blue bands, and a yellow band keeper. Hit the EL backlight and up pops the BAPE Gorilla alongside Kid Cudi's Moon Man logo. It all adds up to a super-fun combo that's guaranteed to boost your serotonin levels as soon as you fasten it onto your wrist.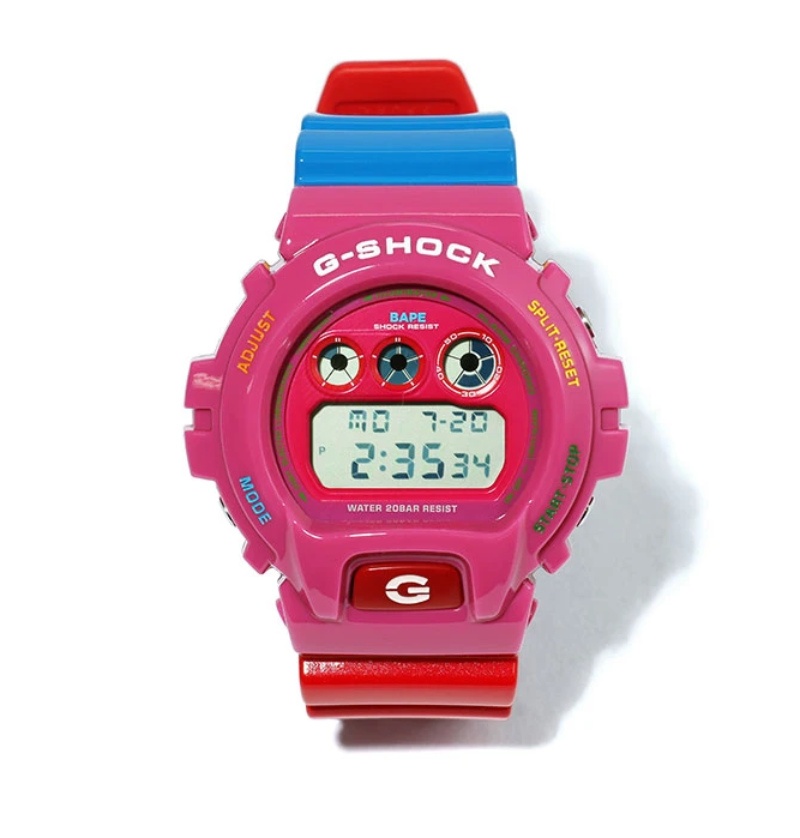 Casio G-Shock GLX5600 Surf Life Saving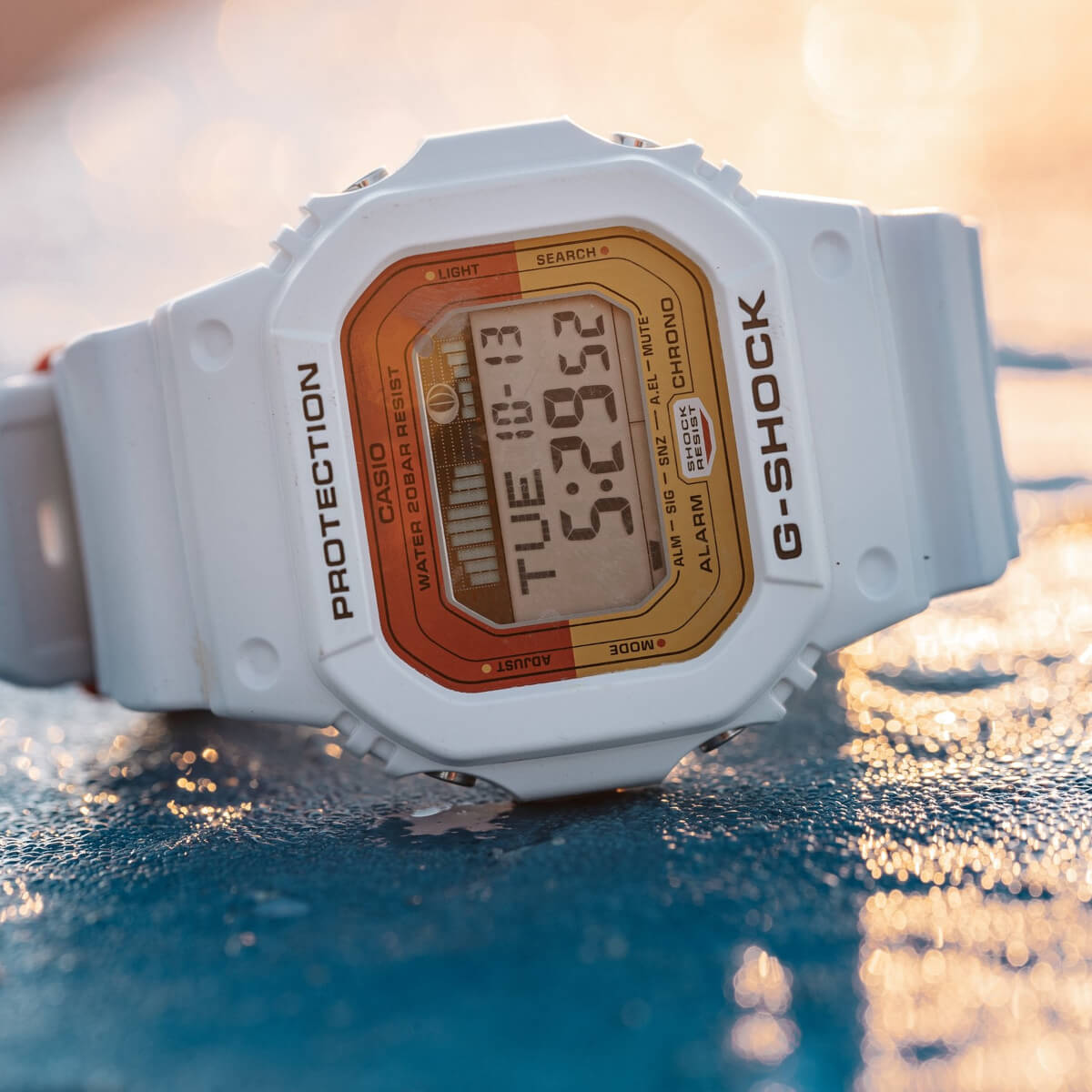 Australians have a special relationship with the beach given that 85% of the population live within 50km of the ocean. The beach is where we relax, socialise, exercise and often have our ashes scattered, too.  Watching over us at the beach are our lifeguards, a reassuring presence particularly when the surf gets rough. This G-Shock collaboration with Surf Life Saving Australia is a wrist-bound celebration of these unsung heroes. It uses the GLX5600 model as its base, but features a completely white case and strap, as well as the instantly recognisable yellow and red colours of the lifeguards. As we said here it might just be the ultimate beach watch.
Bamford London x G-Shock 5610
The Bamford Watch Department are some of the world's premier modifiers of luxury Swiss watches. Here they turn their attention to the G-Shock, sexing things up with dashes of their trademark powder blue on the outer ring of the dial, the underside of the strap and the lettering of the printed text. Another stand-out detail is the negative-display dial with green numerals, which tie in with those light blue accents while adding a retro sci-fi edge. The only bad news? This piece sold out in six minutes flat. Read our full review here.
G-Shock Frogman GWF-A1000BRT-1A "Borneo Rainbow Toad"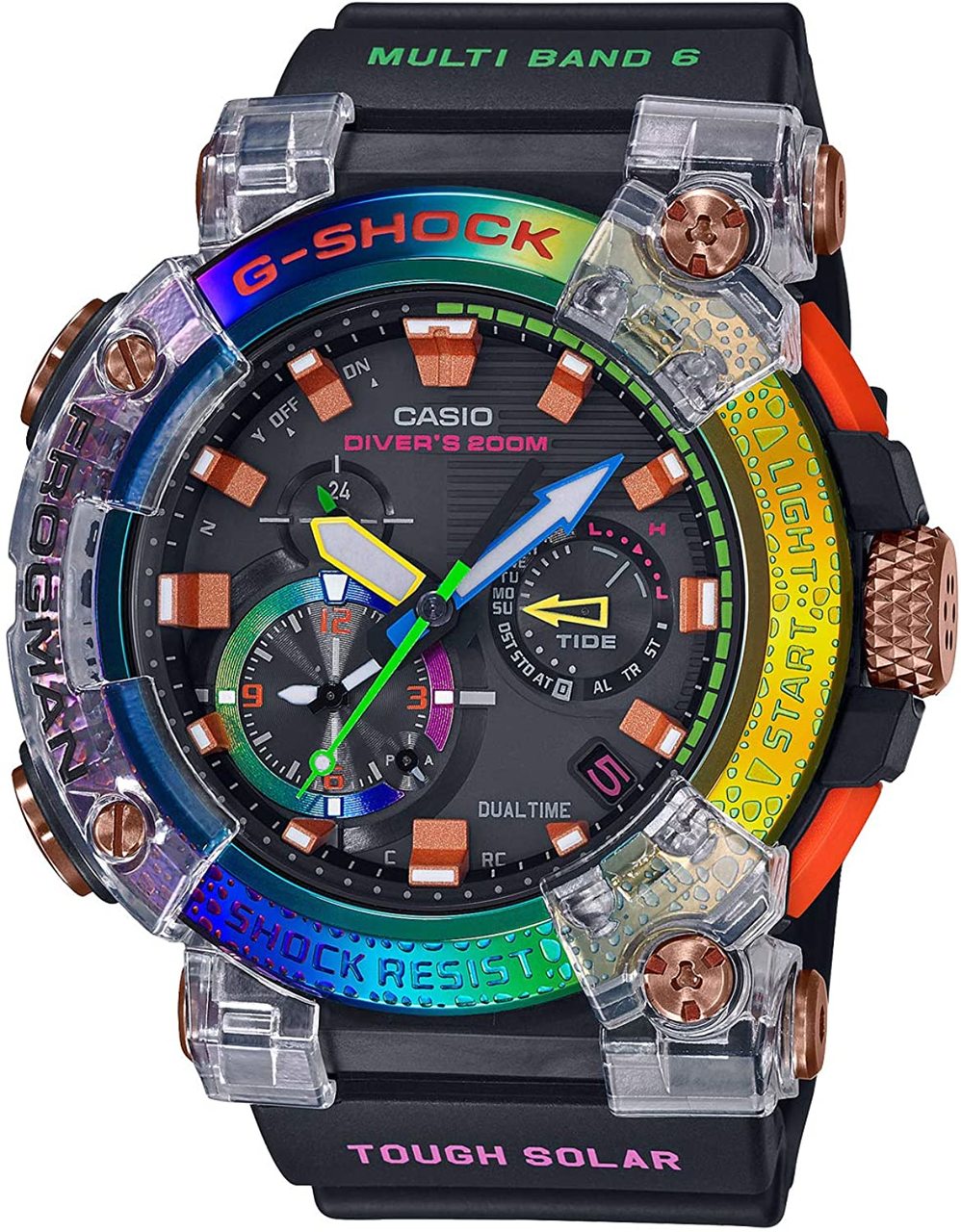 The Borneo rainbow toad was an incredibly reclusive species that was rediscovered after 87 years in 2011. The psychedelic colour scheme of this G-Shock pays tribute to the amphibian's skin with detailing on the bezel even reflecting its warty texture. The watch is the first Frogman with an analogue display and offers a ton of practical features from a tide graph to a Bluetooth mobile link making it functional as well as visually ribbiting .
G-Shock x Dragon Ball Z Limited Edition GA110JDB-1A4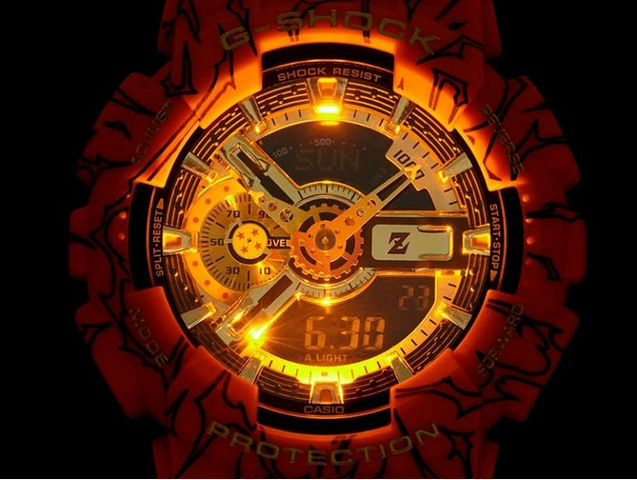 Imagine if you had a watch that was made of burning lava. What it gains in super cool looks, it would probably lose in on-wrist comfort. But this anime-inspired G-Shock gets around all that with what Zach describes here as "one of the coolest backlit aesthetics I have ever seen in a watch". This pyrotechnic effect is a nod to the finishing move of Dragon Ball Z protagonist Son Goku apparently. But even if you don't know what that means either, this is still a refreshingly bonkers watch.
G-Shock x John Mayer x HODINKEE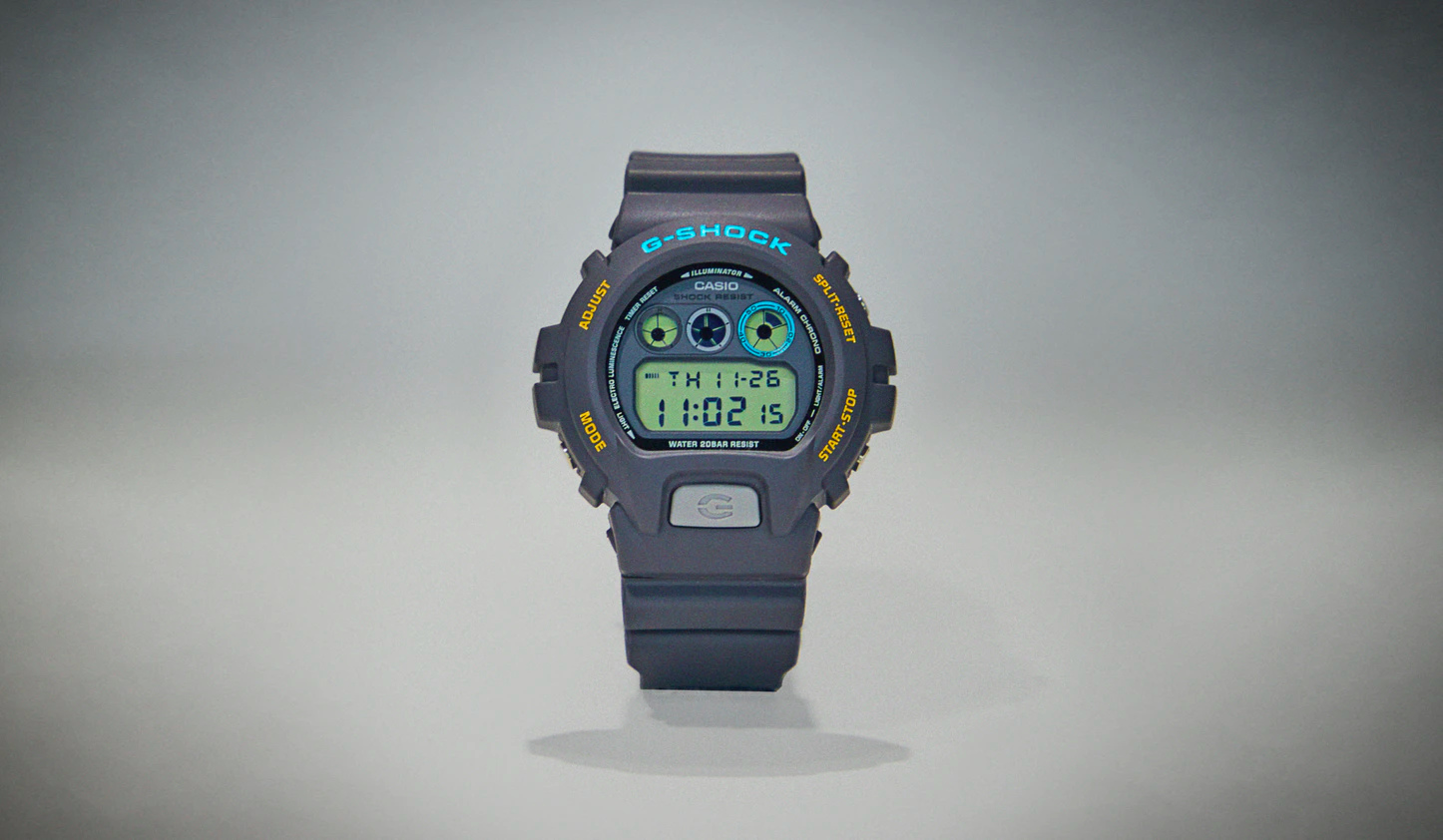 We recently ran an article about how G-Shock is leading the pack on entry level collectables and this is a case in point. The HODINKEE x John Mayer G-Shock watch sold out in less than 15 minutes at $180 USD and can now be found offered on eBay for three times its retail price. The watch is  inspired by the Casiotone SK-5 keyboard that Mayer grew up playing as a kid and combines retro-fashion looks with the functionality of six different functions.
G-Shock DW5600 NASA Limited Edition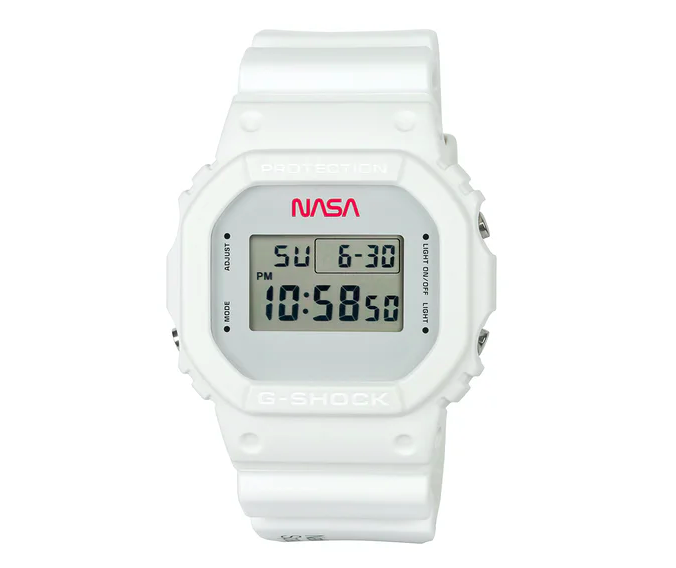 G-Shocks are (probably) tough enough to survive a direct asteroid hit.  But this limited-edition hook-up with NASA backs durability with eye-catching looks, the pure white case and integrated rubber strap smoothing over that customary G-Shock bulk. The lunar travel theme is emphasised by the EL backlight that displays an image of the moon when illuminated, while there's also a caseback engraving of the moon, too. Pops of colour with the NASA logo and US flag on the buckle clasp complete a package fit for any space cowboy.