The 5 best deep dive watches
D.C. Hannay
Rolex upped the ante in the deep sea arms race in late 2022 with their first production titanium watch, the insane Deepsea Challenge Sea-Dweller, boasting a water resistance rating of 11,000 metres. There have been others that breached the bounds of rational thought (like the bonkers Swiss Military CX 20,000, a 6,000 metre beast with a ludicrous 28.5mm case height), and of course the prototypes that were never offered commercially (like the 15,000 metre Omega Seamaster Planet Ocean Ultra Deep Professional, which can theoretically go deeper underwater than any known place on earth), but we'll focus on the ones that actually have a chance of making it onto your wrist. So without further ado, here's a quick look at the thicc bois of dive watches with the greatest depth ratings.
Rolex Deepsea Sea-Dweller – 3,900 metres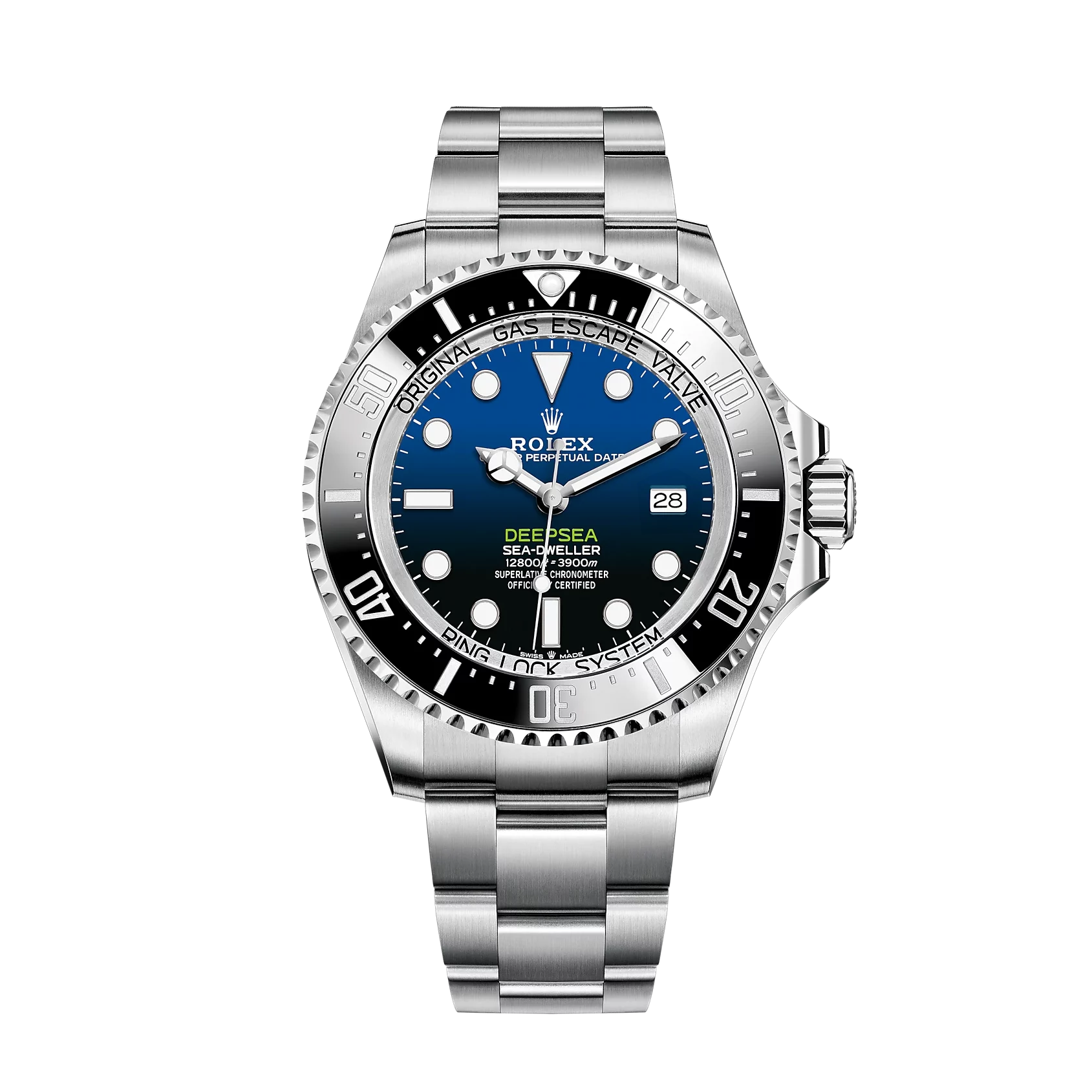 Since its release in 2008, the Rolex Deepsea Sea-Dweller has been the big stick in Rolex's arsenal of Professional watches. The Deepsea looks instantly familiar, with the classic design language of the standard Sea-Dweller, but just a bit…extra. Currently available in two variants, the basic black, and the blue to black dial "James Cameron" (first released in 2014 as a tribute to Cameron's 2012 dive to the bottom of the Mariana Trench), it's the most sought-after of ultra-deep divers. Big but wearable, the Deepsea measures 44mm in diameter, with a case height of 17.7mm, including the massive 5.5mm domed sapphire crystal. Rolex's proprietary Ring Lock System and a helium escape valve work to keep water resistance to a rated 3,900 metres, which, for future reference, would crush a human, but still, it's nice to know. Like all of Rolex's steel watches, the Deepsea is constructed of 904L Oystersteel stainless for better corrosion resistance from seawater, and now features the chronometer rated 3235 movement, accurate to +/-2 seconds per day. Retail for the Deepsea is around $14K USD, and as always, may God be with you in your quest to find a Rolex at anything close to the manufacturer's suggested price.
UTS 4000M – 4,000 metres
German engineering at its finest, the uber-cool UTS 4000M is a true tool watch, rated for 4,000 metres of pressure. And although it sounds funny to call a luxury wristwatch a great value, the 4000M kinda is, considering that every one of these limited-edition timepieces are hand-assembled in Munich by UTS founder Nicolaus Spinner, and retail for around €6,000, less than half of the Deepsea's price tag. The 45mm case is machined from a single block of stainless, and case height is reasonable (at 17.5mm) for such a capable watch. Surprisingly, there's no helium escape valve, instead, the 6mm sapphire crystal is secured with both an adhesive and a large steel ring affixed with hex screws. Movement is the venerable ETA 2824-2 (Top grade), good for +/-4 seconds per day, and the second crown locks the bezel via a ceramic ball bearing mechanism. If you appreciate a low-production, hand built timepiece, the UTS 4000M is a solid choice, literally.
Sinn UX EZM 2B Hydro – 5,000 metres
Speaking of German brands, Sinn has long been known for their clean, Teutonic design language and high degree of functionality, and their entry into the ultra-deep category is no exception. The UX EZM 2B Hydro does things a little differently than some of its peers, however. First off, Sinn has gone with a temperature-stabilised 7 jewell ETA 955.652 quartz movement, which allows the watch to operate in temperatures ranging from -20 to +60 degrees Celsius. Additionally, the entire case interior (including the movement) is oil-filled, which not only increases water-resistance by many degrees, it improves legibility to the point where the dial can be read at almost any angle (quite a striking effect if you've never seen it up close). And like many Sinn models, the watch is constructed of hardened German submarine stainless steel. All this allows the UX EZM 2B Hydro a rating of a staggering 5,000 metres, made all the more remarkable with a case height of just 13.3mm. And at less than US$3,000 retail, it's a downright bargain to boot.
Omega Seamaster Planet Ocean Ultra Deep 6000M – 6,000 metres
If you're an Omega fan, the Seamaster Planet Ocean Ultra Deep 6000M released in 2022 has a lot going for it. A civilian version of the prototype Ultra Deep Professional (rated to 15,000 metres) that traveled to the bottom of the Mariana Trench in 2019 with explorer Victor Vescovo, the new model is rated to a bonkers 6,000 metres. The 45.5mm case diameter and 18.1mm height are mitigated by the relative light weight of the titanium case, keeping to a relatively svelte 123 grams. The movement is Omega's much-vaunted 8912 Co-axial Master Chronometer calibre, which is METAS-certified beyond COSC specs. Recognising a potential weak point in typical watch construction, the Ultra Deep case uses a fixed split 'manta' bar design to prevent failure of the NATO strap.
And if you prefer, there's a new deep Summer Blue colourway (Price: US$13,000), part of a sweeping makeover of the entire Seamaster Lineup.
All eight models in the range feature graduated tones of blue based on the water resistance of each, from the light blue of the Aqua Terra, to the Ultra Deep's hues that echo the foreboding depths of the deepest places on earth. You'll also find a cool Easter egg once the lume is charged.
Rolex Deepsea Challenge Sea-Dweller – 11,000 metres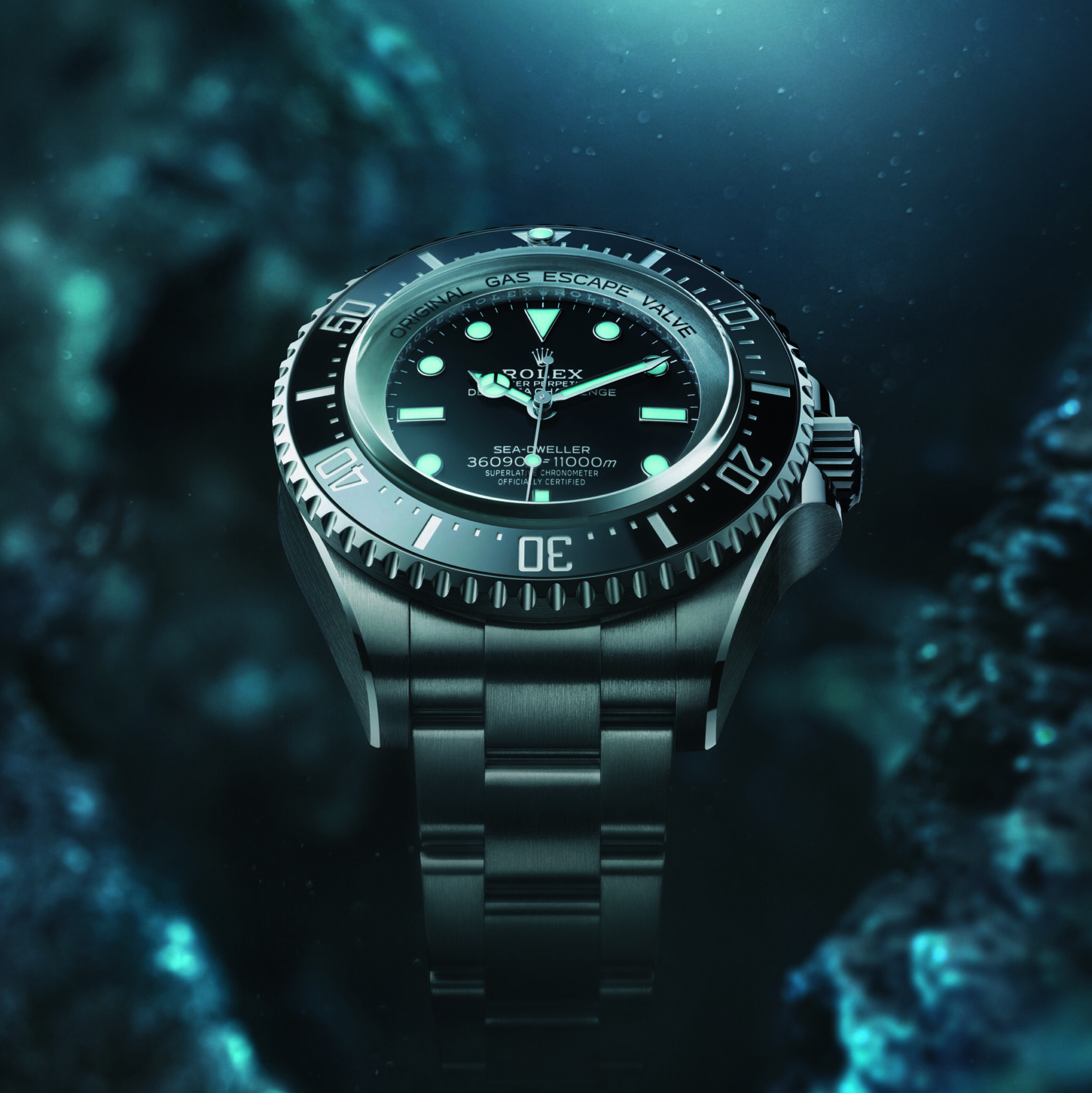 The titanium Rolex Deepsea Challenge Sea-Dweller is a sea change (ahem) for the brand, as it's the very first production Rolex built from titanium, but not the last, as evidenced by the new titanium Yacht-Master. Make no mistake, the Deepsea Challenge's titanium construction is a necessity for a watch of this size to be practical. 50mm in diameter, 61mm lug-to-lug, and a 23mm height is a serious chonk of metal, but absolutely wearable for its intended purpose. Apart from its greater size, the Challenge is easily recognizable as an evolution from the Deepsea. All the classic Rolex Sea-Dweller design cues are there, just amplified. The overall case shape, the no-date black dial, the Cerachrom bezel, it's all instantly familiar. The Rolex manufacture 3230 is chronometer-rated to +/-2 seconds per day, with a 70 hour power reserve, so performance is reassuringly on par with any other Rolex. Retail is set at US$26,000, but scoring one is going to be a huge flex by any metric.