Studio Underd0g unveils Strawberries & Cream Chronograph inspired by Wimbledon snack
Zach Blass
The Swiss industry can feel a bit stuffy at times, a seriousness derived from a sense of luxury, heritage and timekeeping tradition. But we are increasingly seeing independents and micro-brands inject more playfulness into horology – from H. Moser & Cie, MB&F, Louis Erard x Alain Silberstein, SecondeSeconde, Bamford and more. Another name you would have to add to such a list is Studio Underd0g, helmed by UK-based designer Richard Benc who has a keen eye for design and a strong sense of humour. His latest release, the Studio Underd0g Strawberries & Cream is yet another example of this fact.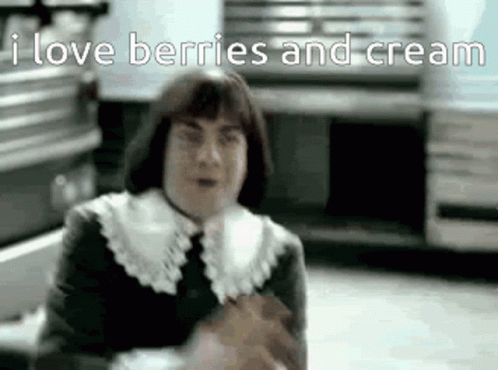 Studio Underd0g is known for their colourful and playful chronographs, one of which, for example, incorporated the actual skin of an eggplant into its dial. When I first read the name of Benc's new chronograph, Strawberries & Cream, it triggered the image of "little lad" – from the now viral Starburst commercials – dancing and singing "berries and cream". Fitting, considering the humorous nature of Benc and Studio Underd0g. But the Strawberries & Cream chronograph actually has a more sophisticated muse.
The watch space has become more and more community driven, and this is especially the case with smaller brands like Studio Underd0g. Born in the comments section of an Instagram post, what started as a joke between Benc and watch and tennis journalist Miguel Seabra paved the way for this flavourful new colourway. The strawberries and cream combo, Benc explains, was inspired by "Miguel's vision of a perfect day spent soaking up the British summertime sunshine while watching a thrilling game of tennis and enjoying a healthy portion of strawberries and cream!"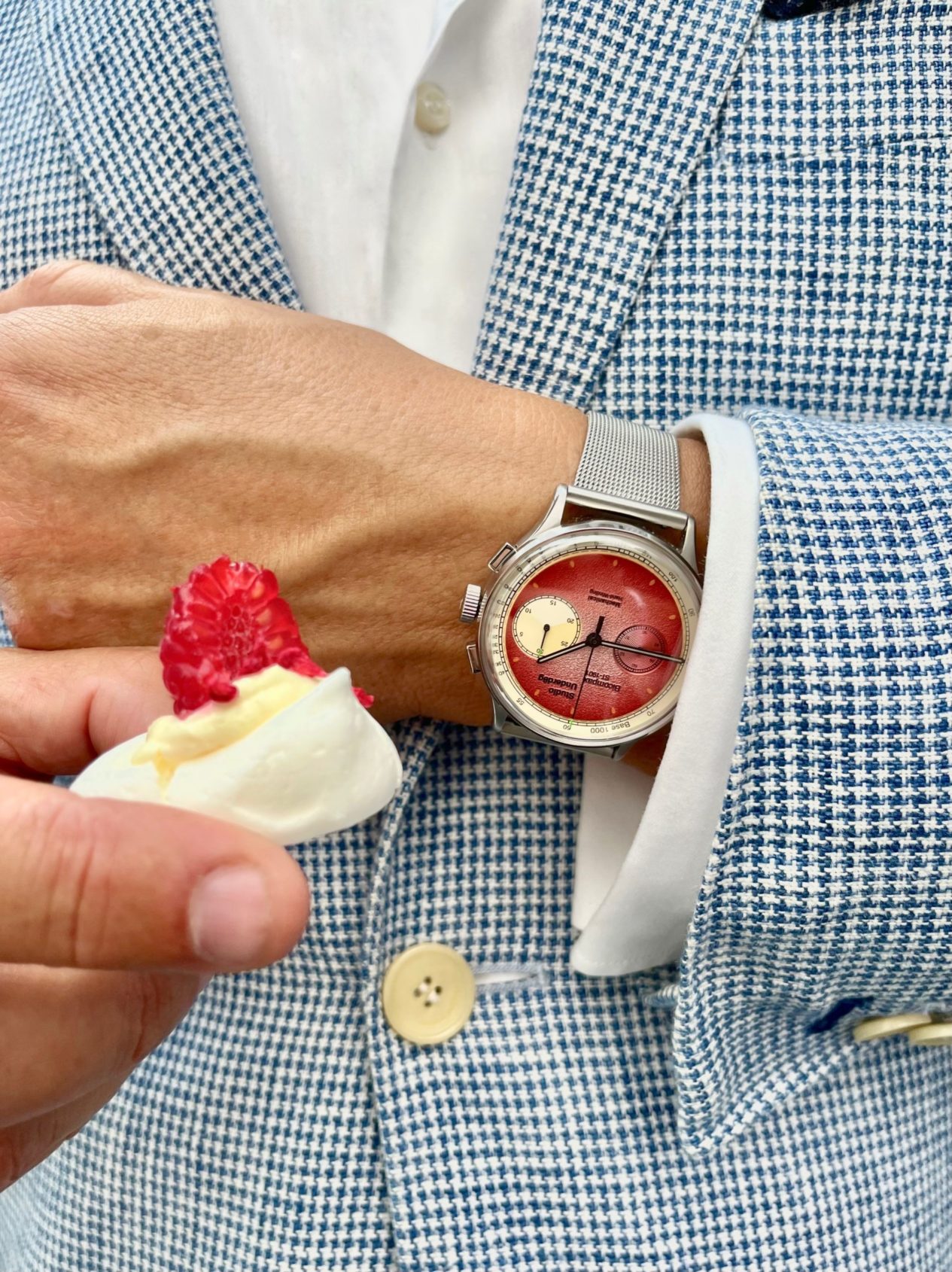 Miguel Seabra adds: "The advent of the Strawberries & Cream timepiece can be traced to the Aubergine limited edition for charity (testicular cancer research), whose colours reminded me of the purple/green Wimbledon color combination and I told Rich I would like him to lend me one (it sold out immediately) so I could take wristshots of it at Wimbledon just for fun. And then he joked about Strawberries & Cream — and I immediately thought that idea could be so much more than a joke and completely in line with the delicacy editions Studio Underd0g had done (Watermel0n, Mint Ch0c Chip). My first reflex was to tell him — in the most serious way! — to go for it! Especially because I love when both my areas of expertise (tennis and watches) intersect! From then on, we started a tennis-like ball exchange until the final details were set up."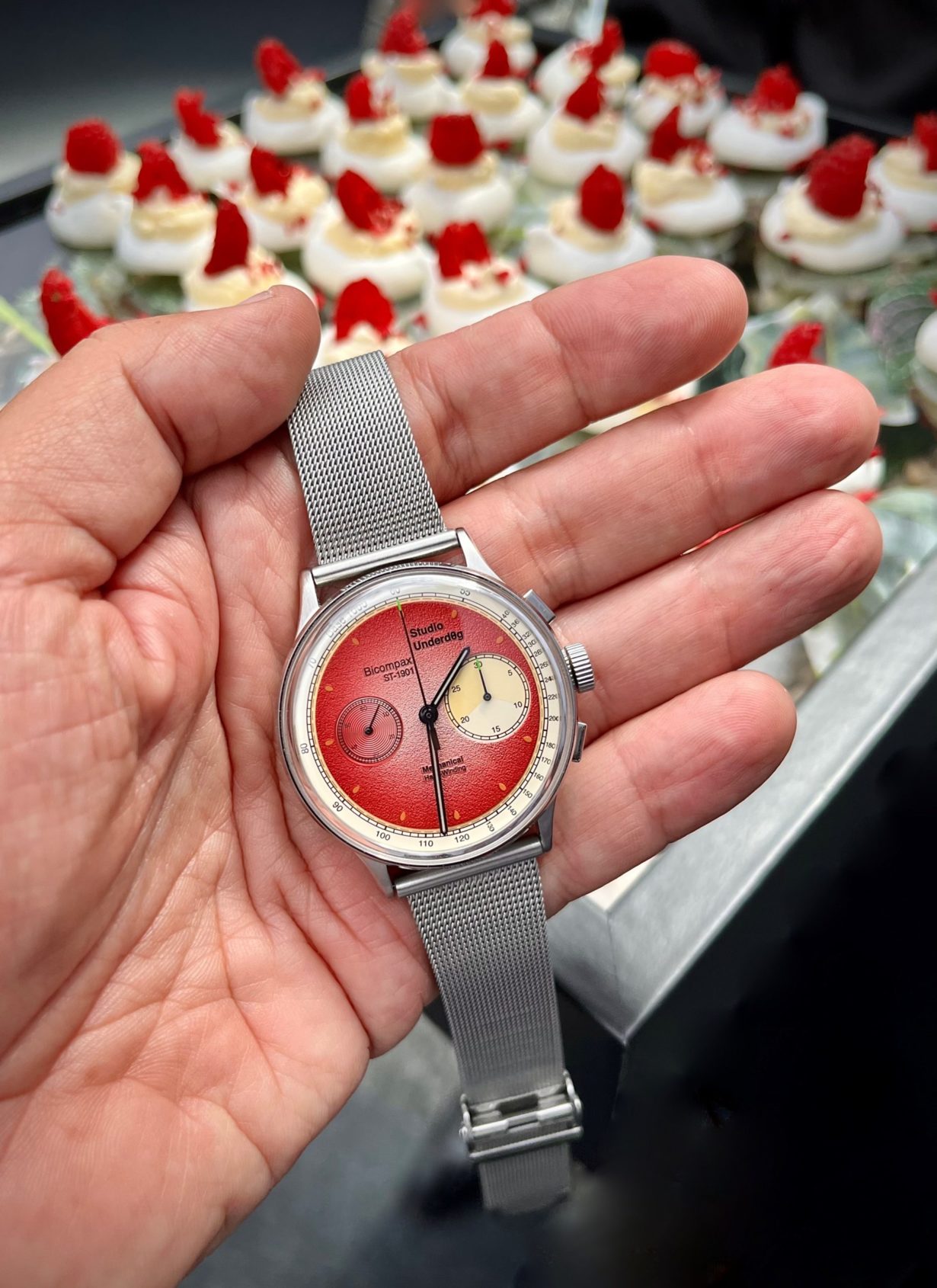 Strawberries and cream is a Wimbledon tradition, part of the fabric of the spectator experience since the first Wimbledon tournament in 1877. In fact, the strawberries and cream combination was introduced by Thomas Wolsey during Henry VIII reign in the 16th century when it was served to spectators of real tennis (tennis' sporting predecessor).
While the spark was a joke exchanged in the comments section of an instagram post, and while still very playful in execution, it is actually a very meaningful expression – tying into Benc's British heritage and Miguel's dual passion for tennis and watches.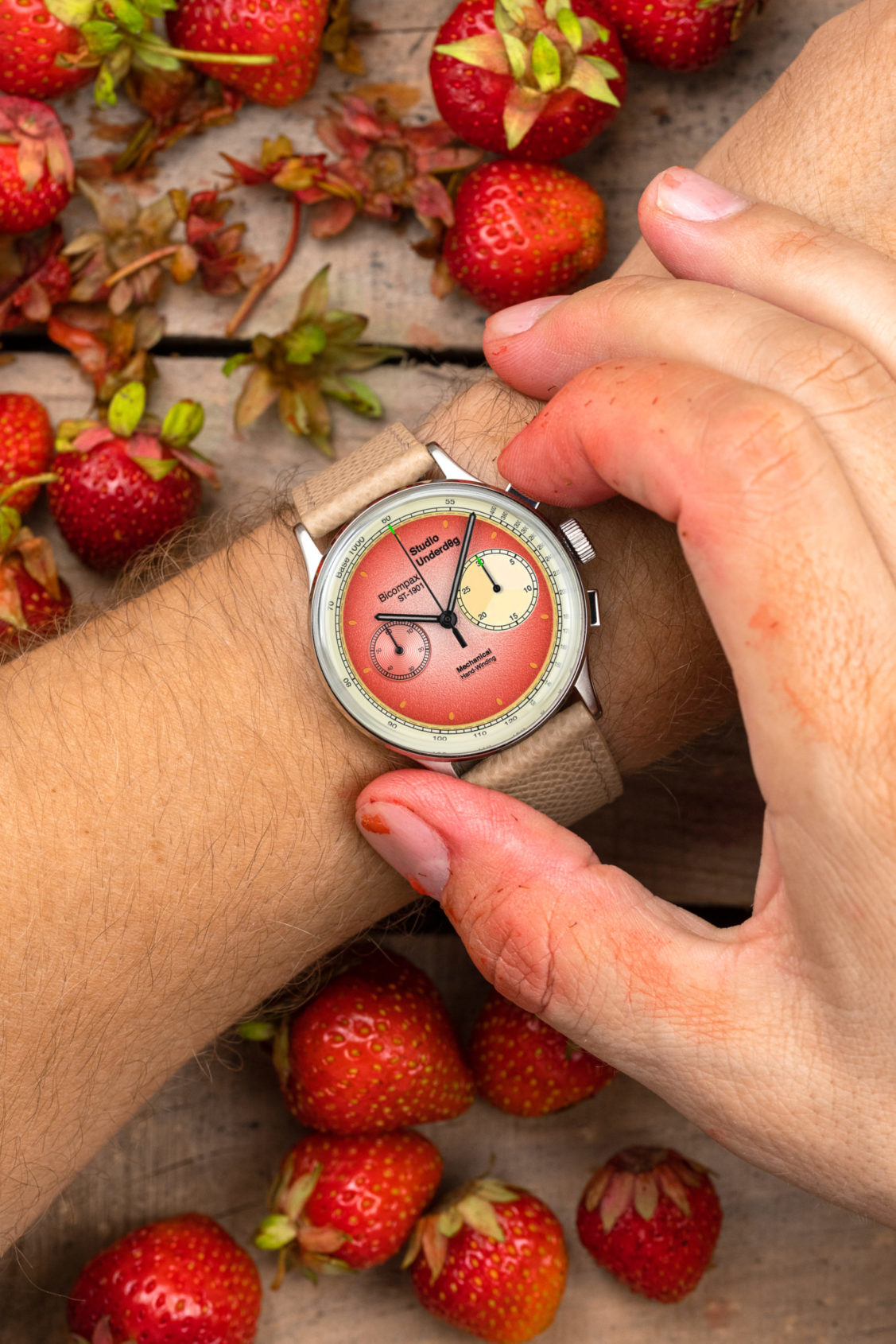 The 50 metre water-resistant stainless-steel case is very friendly with its dimensions, clocking in at 38.5mm in diameter, 13.6mm in thickness, and a super compact 44.5mm lug-to-lug across the wrist. With such unisex dimensions, everybody can get it in on the strawberries and cream party and, with the vintage-inspired proportions, the watch has an elegant stature fitting for a day at Wimbledon.
The dial conveys Richard's meticulous yet playful eye for design, as well as insights from Miguel, combining hues of strawberry red and cream with accents of orange and green. The strawberry red central medallion has a grained fibrous texture, like a macro of a strawberry, while the larger 30-minute elapsed minutes register at 3 o'clock and outer minutes/tachymeter track are rendered in matte cream. The 12 applied orange hour indices are inspired by the seeds of a strawberry, and the green tips of the central chronograph hand and register hand are inspired by the green leaves that rest atop a strawberry. At 9′ you have a smaller concentrically textured running seconds register, which throughout Studio Underd0g chronographs is one of two primary displays of asymmetry. The other is the manner in which Benc places the branding text to the right of 12′ and, just below that, and to the left of 12′, the movement text. This is reflective of the brand's signature expression of quirkiness – which is playful yet organised.
In a move that supports Miguel's strapaholicism and Benc's commitment to value, the Studio Underd0g Strawberries & Cream will be sold with two bundled straps – each 20mm in width that tapers down to 16mm. The first is a Epsom Calfskin strap manufactured by The Strap Tailor, a textured taupe on taupe upper that compliments the strawberries and cream hue of the dial. The second is a steel milanese mesh bracelet, fitting for warmer days when you would prefer not to sweat into a strap. Both options are equipped with quick-release spring bars, so you can swap between the pair on your own with ease.
Inside the watch, beneath a sapphire exhibition caseback, is the Seagull ST-1901 manually-wound chronograph movement with a swan's neck regulator. The Chinese movement leverages the historic Venus 175 architecture, which Seagull bought the rights and tooling to manufacture. It is a cost-effective column-wheel chronograph movement that pledges 50 hours of power reserve, 45 hours with the chronograph running. While you should not expect COSC performance from the calibre, its industrial finishing and lateral-clutch architecture is definitely nice to look at, especially considering the price point of the watch: $675 USD. For those looking to spice up their collection, and to sport a cheeky yet well-manufactured timepiece to brighten up their day, this Strawberries & Cream chronograph is a very compelling potential addition to your collection. If I don't spot these watches, which can only be ordered through a limited time window, at Wimbledon next year it would be an absolute crying shame.
Studio Underd0g Strawberries & Cream pricing and availability:
This model will be made available for pre-order via www.underd0g.com from August 9-16  with a seven-day pre-order window). Once the pre-order window has closed, the order page will not be re-opened and the watch will not be produced again. Price: £575.00 / € 600.00 / $675.00 (Free worldwide shipping)
| | |
| --- | --- |
| Brand | Studio Underd0g |
| Model | Strawberries & Cream |
| Case Dimensions | 38.5mm x 13.6mm x 44.5mm |
| Case Material | Stainless Steel |
| Water Resistance | 50 Metres |
| Dial | Red and cream. 2-layer with a satin sandblast base dial and coarse dégradé top dial |
| Strap | 20mm tapered to 16mm Epsom Calfskin strap by The Strap Tailor and steel milanese bracelet (both quick release) |
| Movement | Seagull Manual Winding ST-1901 (with Swan Neck Regulator) |
| Availability | Available for pre-order from the 9th-16th of August 2022 |
| Price | £575.00 / € 600.00 / $675.00 (Free worldwide shipping) |