Six watches guaranteed to simply make you smile
Borna Bošnjak
In the ongoing maelstrom of collaborations in the watch world, there is one discernible trend that may or may not concern you. Fun. People are having, and seeking fun, with the synergies between unlikely conspirators. Case in point, Invicta x SpongeBob. While this extremely subtle way of collaborating might be one extreme, it's a sign that people do want a bit of fun. Though, already, I hear you ask – is there anything Invicta would NOT do to sell watches?
From the recent Alain Silberstein x Ressence, which made the concept of Memento Mori all cutesy to a better take on a Bikini Bottom-themed piece, this list is meant to include watches that simply make you smile.
Invicta x SpongeBob Squarepants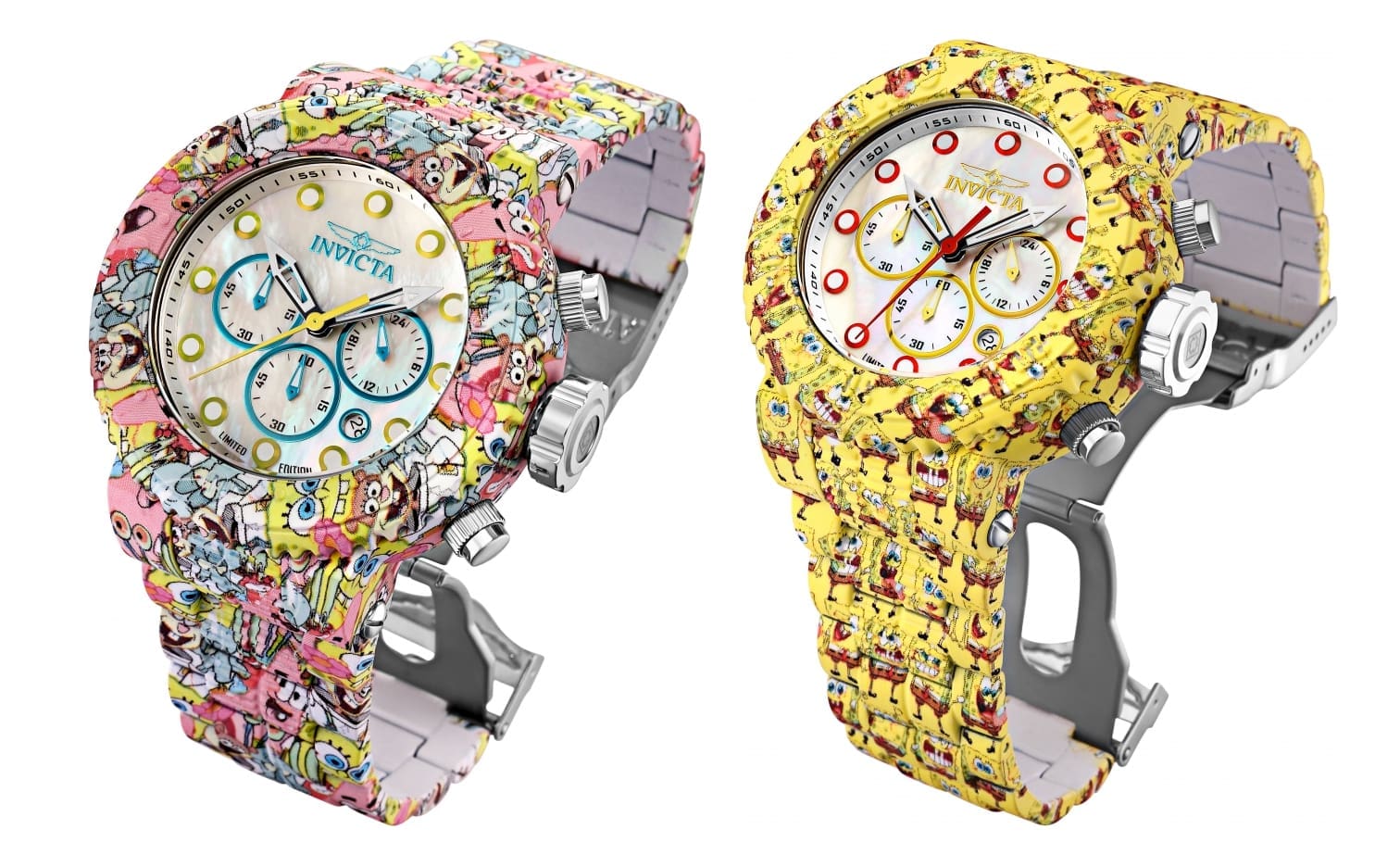 As subtle as a nun in a brothel, this is an addition to the brand's super-limited Invicta Drop line-up. Thankfully, this means that only eight styles will ever be produced, making it eight too many. That said, I've considered more seriously than I'd like to admit showing up at a GTG packing one of these bad boys. With all the wonderful things that appear at those, I'm sure that this would be the highlight of the night.
Unimatic x SpongeBob
For me, this is the right way to do such a kooky collab. Normally masters of minimalism, Unimatic slapped the squeaky-voiced, square Sponge right on top of a regular Modello Uno dial. Mr Bob doesn't appear too impressed with his presence on the dial, seemingly much happier with his mugshots on the engraved caseback. Unimatic is having lots of fun here, albeit for what is likely to be a limited audience.
Bamford x Peanuts Joe Preppy for Hodinkee
Classic cartoon characters are a sure-fire way of making your watch that much more fun. When they're as cute and sharply dressed (albeit pantless) as Snoopy, it's a winning formula. The Joe Preppy uniform is perfectly alligned with the stereotypical watch enthusiast – thick-framed glasses, checked blazer and denim shirt all present.
Studio Underd0g Aubergine
After a brilliant April Fool's Day joke, Studio Underd0g put their money where their aubergine is, and created an actual watch inspired by the vegetable. This time without an actual slice of eggplant on the dial, this cheeky collaboration with Fratello was also a charitable one. All profits went to Cancer Research UK, inspired by the phallic connotations of the eggplant emoji that started the whole thing.
Ressence x Alain Silberstein Type 1
Wonderfully whimsical, with clear Alain Silberstein touches, the Ressence Type 1 that resulted from this collaborative effort looks on the bright side of life, reminding us that it will all come to an end someday. This morbid little reminder breathes some life into Silberstein's clean-cut Bauhaus approach to many of his collaborations, and is a deserving entrant on this list.
Konstantin Chaykin Minions
I'm going to be honest here – I have a special hatred for most things Minions. What started off as a cutesy little thing turned into way too many boomer meme-posting attempts. Nevertheless, there certainly is a charm to Konstantin Chaykin's yellow-faced member of the Wristmons collection. This actually could be the best example of how far a company can take a watch: make it fun – ridiculous, even – but still get away with it because it's executed well.
The takeaway
This list is by no means exhaustive, as there are plenty of funny, edgy and mischievous pieces that remind us that this whole hobby can be a bit too serious sometimes. I look forward to what's to come with great anticipation.