Studio Underd0g have a refreshingly playful approach to watchmaking. As the British microbrand explain on their website. "When the biggest news in the watch-world for 2020 is that a certain brand (that shall not be named) had increased their case size by an unfathomable 1mm it got us thinking… Why… so… serious…? Don't worry, we don't plan on taking them head on just yet, but we are here to inject a bit of silliness into what can be a very un-silly industry."
This is a very welcome perspective and plays out in Studio Underd0g's cheerfully irreverent debut collection that consists of three watches: Desert Sky, Watermel0n and Go0fy Panda. Normally, after all, watches with bicompax and "big eye" features come loaded with vintage preconceptions. We might expect a manual movement, intricately detailed feuille hands, monochrome tones and rather high price points for the serious collectors out there. But Studio Underd0g (yes, that is a zero in their name) aim to do things differently.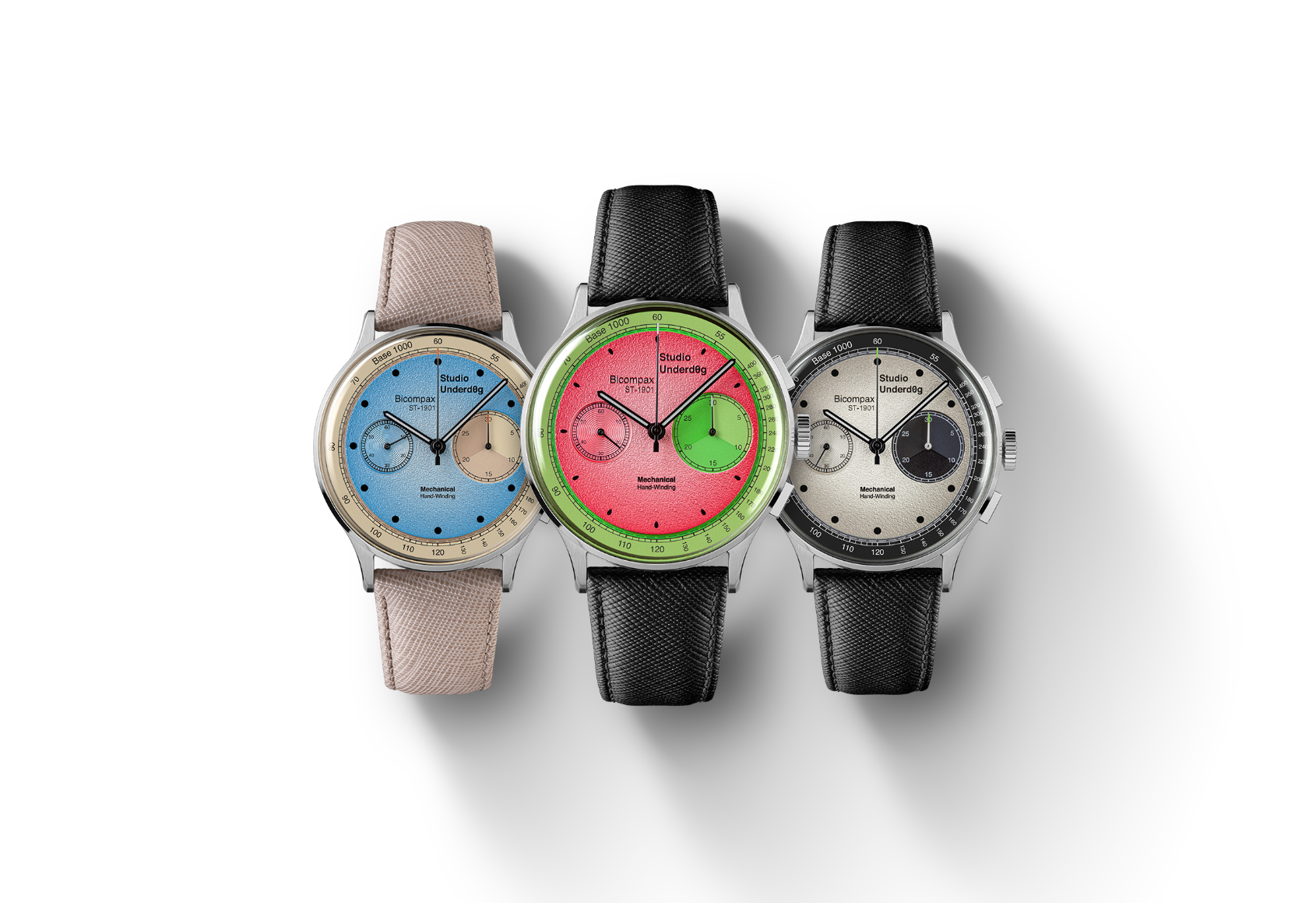 By adding fresh colours and humour suddenly we're into unknown territory. Richard Benc, the founder of Studio Underd0g, seems to have a particular sense of style and an instinctive feel for both dial size and the delicate timeless feel of a manual calibre. Best of all, the man clearly has a sense of humour. The collection includes fresh ocean blues, monochrome formality and an ultra-fresh watermelon-flavoured popsicle. But all come with a 38.5mm case and '40s style pushers on a watch that's driven by a resurrected manual movement from the '50s and perched upon a hand-stitched leather strap. Add strait-laced and very modern black lacquered hands and you're in Juxtaposition City. But damn if it doesn't work like a charm.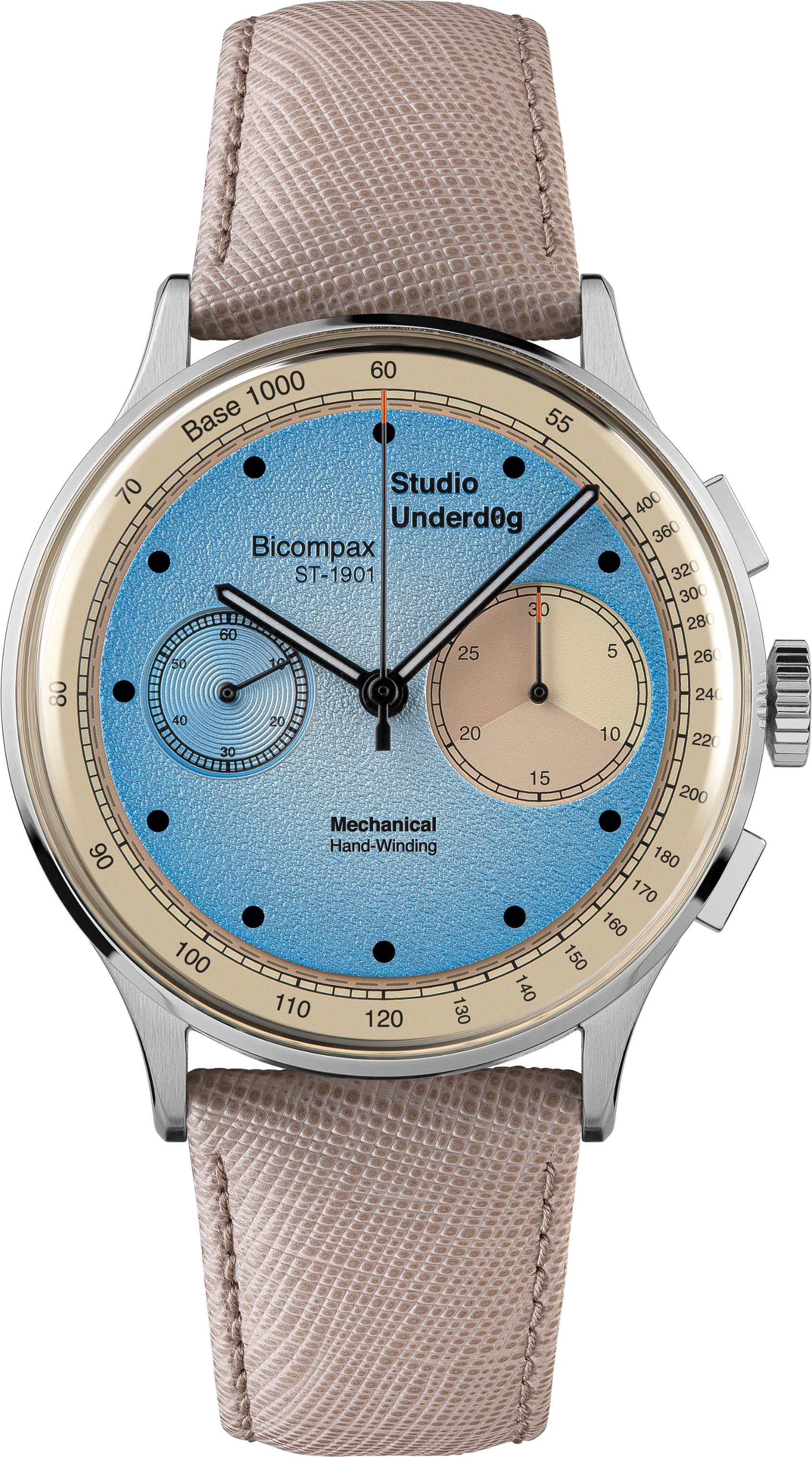 The dials feature vintage tachymeter tracks surrounding a contemporary graphic dial design without a single swoopy '40s logo or traditional serif. Somehow all this gels with the contrasting styles and non-symmetrical text to bring a cheeky undertone and proper sense of fun. But that doesn't undermine the credibility of the timepieces themselves. Flip the watch and you are faced with the purity of an intricate, manual chronograph movement, the well known Seagull ST1901.
Eager to know more, Time+Tide spoke with the brand's founder, Richard Benc to get the lowdown on the inspiration behind these fresh creations.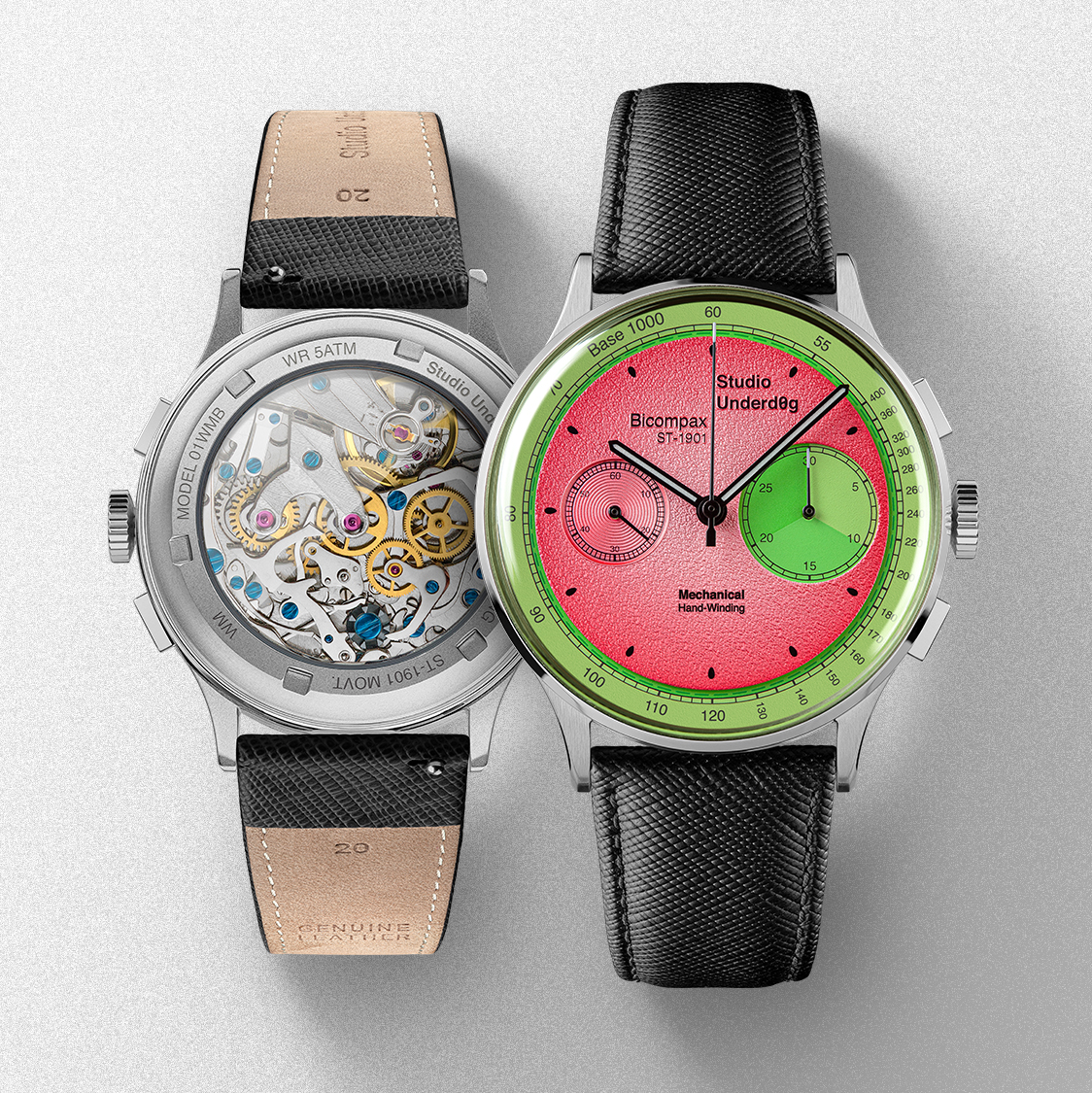 Time+Tide: What spurred you on to create your own brand, Richard?
Richard Benc: I've always had an entrepreneurial mindset and the idea of creating something that I could call my own has been an aspiration of mine for as long as I can remember. That being said, it's often easier said than done to commit to such a project. Ironically, a large part of my motivation came during lockdown at the start of 2020. All of a sudden I found myself with ample free time since the pubs were shut. So I decided to put some ideas for a watch design down on paper during the uneventful evenings – it allowed me to keep my mind ticking over (pun intended). I'm a designer by trade, so it was a fun way to challenge myself.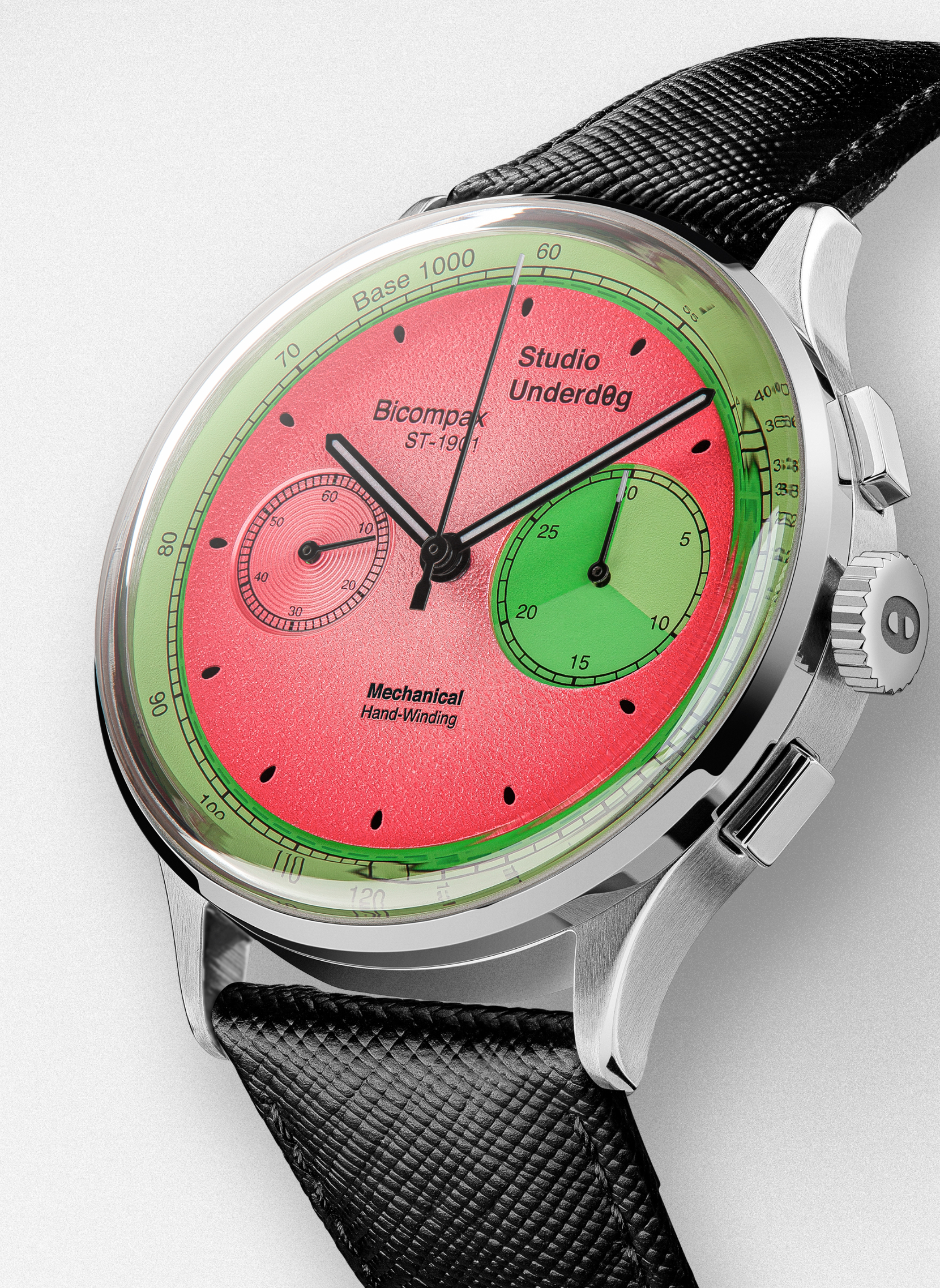 Since I was developing my ideas as a passion-project, I wasn't really focusing on a "commercial concept". I was simply designing a watch for myself that I liked! I presented my concepts to the enthusiast community on Facebook and was surprised to receive so many positive comments. This made me realise that maybe there was an appetite for my playful approach and it motivated me to pursue this idea.
T+T: What about the zero in the name?
RB: Have you ever tried to make a new account where you're required to come up with a unique username? It's hard work trying to come up with something that isn't already taken and you end up with a username like 'Thor571'. Well trying to find a unique brand identity is just as difficult, so I decided to take a playful approach and swapped out the last "o" for a "0". There's a reason 'Passw0rd' is a go-to password for so many of us! Now the "0" is an important part of our brand identity and highlights the fact that we don't take ourselves too seriously.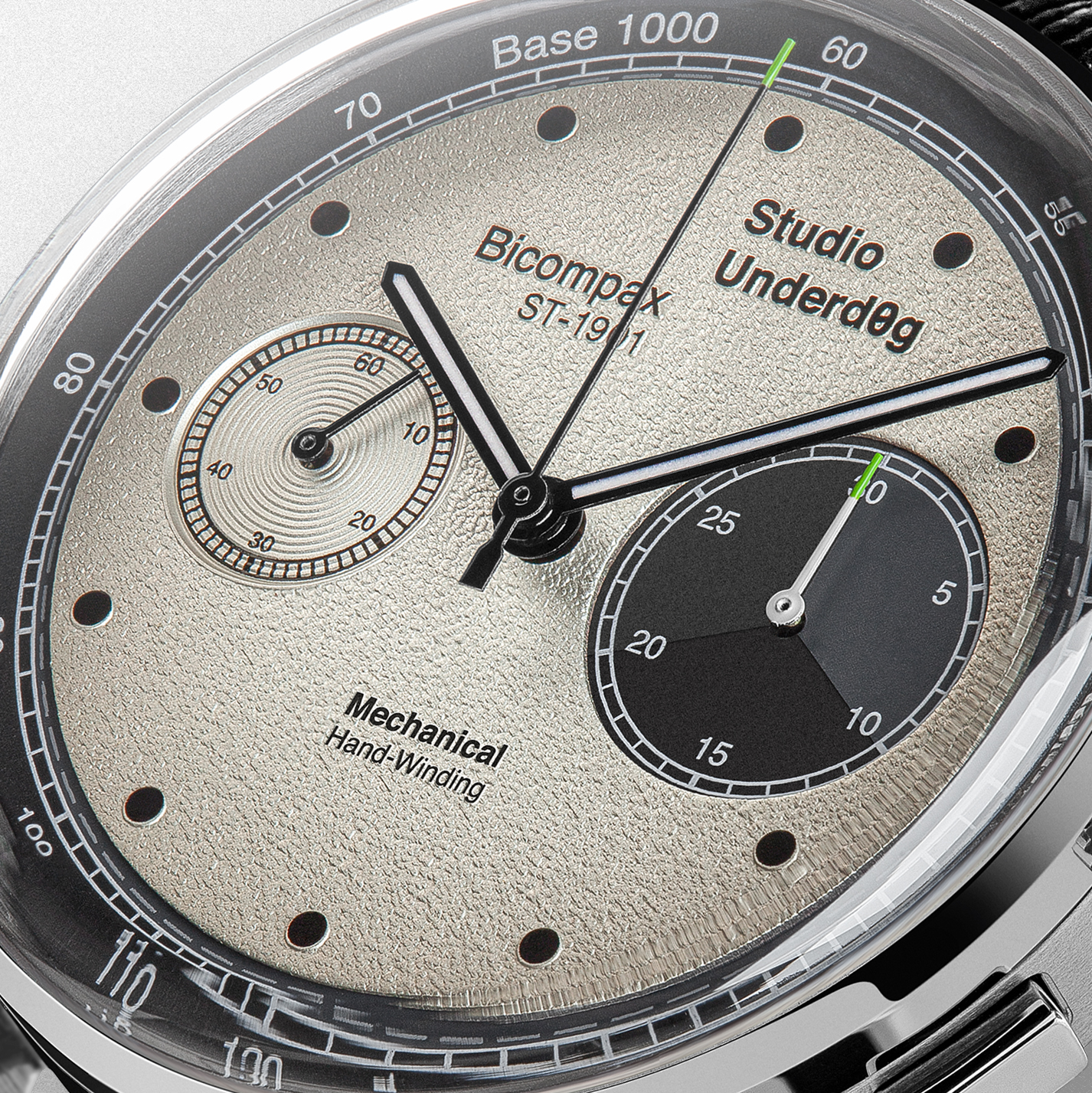 T+T: Can you give us three hot takes on the background for the three models ?
RB: Well the first one, has been inspired by a fruit. I won't insult you by elaborating on which type of fruit that may be…
The next, "Desert Sky" is a homage watch, but not in the conventional sense… It's a homage to a beautiful pair of Nike AM97 sneakers! Sneakers are another passion of mine and, much like watches, it's unfortunately quite an expensive hobby…
Finally, I wanted to design a watch that was slightly more palatable, and who doesn't love a panda? Again, it's hardly traditional by any stretch of the imagination, but I believe it highlights all the details and considerations that have been put into the dial design. One little "quirk" of this model is that the green-coloured details on the chrono hands are inspired by a bamboo shoot (a panda's favourite delicacy)!
In terms of the dial configuration, I wanted to create a playful look, so it was important to me to make the sub-dials different in size. To offset this imbalance I decided to place the text under the 12 o'clock position in quite a unique style of formatting. I believe this helps to restore balance and also (my favourite part) it allows the chronograph seconds hand to pass freely between the text and not having to "cut through" any details. Something quite special in my mind.
T+T: Why did you choose to use a manual Seagull ST19?
RB: The ST-1901 is an incredible movement with an even more incredible history. It started life as a Swiss Venus Cal.175 before the tooling and technical drawings were sold to the Chinese Airforce in the early 1960s. Despite its incredible legacy, the ST-1901 is exceptionally affordable making it an ideal choice. Furthermore, she's a stunner to look at, so what's not to love?
Studio Underd0g chronographs, price and availability:
The Studio Underd0g Chronograph is available on Kickstarter. Price: starting at £325 on a leather strap.
For more details, visit the Studio Underd0g Kickstarter page here
Made in partnership with Studio Underd0g. However, the opinions expressed in this article are our own in accordance with our Editorial Policy.