INTRODUCING: Glashütte Original gets spicy with two new pumpkin-hued Sixties models 
Felix Scholz
Hold onto your hats because Glashütte Original has just dropped another dose of exceptional colour, in the form of the 2019 edition of the Sixties and Sixties Panorama Date. In case you don't recall last year's version, it was a pretty exceptional green (here's a closer look) and a very popular choice. It was also one of the greatest examples of green being a breakthrough trend for 2018.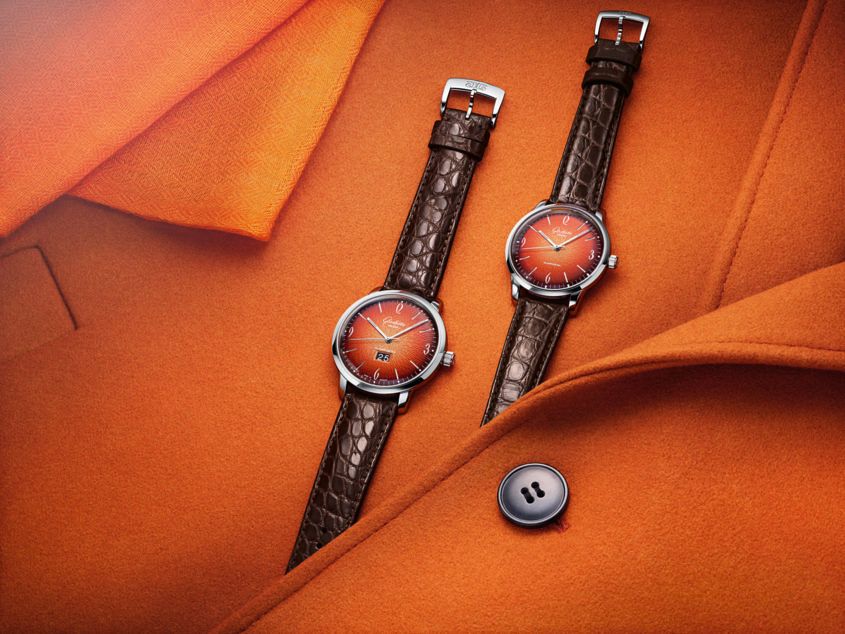 Now, we don't think that this fiery orange will have broad cross-sectional appeal, but if you're a fan of the colour, the chances are good that you will love this pair of limited production pieces. Before we get to those dials, a quick refresh on the basics of these pieces — the time-only Sixties is a svelte 39mm by 9.4mm high, and powered by the Calibre 39-52. The Sixties Panorama Date adds a few millimetres, clocking in at 42mm by 12.4mm, but that extra size comes with a big panorama date.
Back to that dial, though. It's a point of pride for Glashütte that they own their own dial facility in Pforzheim, and this facility still has original dial dies from the 1960s, which add a nice touch of heritage, as well as a spectacularly funky embossed pattern. To this base, the dégredé finish is applied. Vibrant yellow in the centre, exploding like a fireball out to the deepest red/black at the outer perimeter.
Glashütte Original Sixties and Sixties Panorama Date Annual Edition Australian pricing
Glashütte Original Sixties, $9650; Sixties Panorama Date, $11,900