11 classic '80s watches that will give '80s kids shocking flashbacks
Andrew McUtchen
Editor's note: We published this story at the height of Stranger Things mania, but it's just as fun to check in on anytime for '80s kids like me. Well, fun? Depends how well you deal with the flashbacks…
The '80s were Nerd City, peppered with popped polo shirts and pie-crust collars, Slime, The Breakfast Club, pommes noisettes, Pop Rocks candy and brine shrimp pets masquerading as Sea-Monkey kits. Against this neon, fad-filled haze emerges the '80s saving graces – the best pop music in history and watches that either embraced new technology or new money. Here's 11 (see what we did there) watches we'd be happy to see in season two.
Swatch Watch – 1983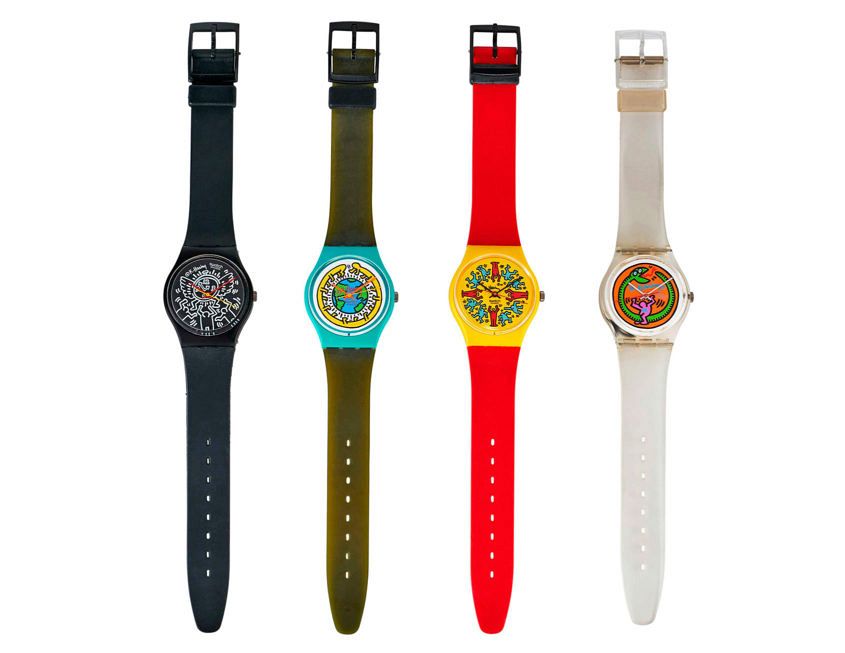 The simple plastic quartz Swatch flipped the way we looked at watches on its head, bringing a sense of play to the fore, and decreeing them style consumables. It was a democratic move away from Swiss watches predicated on careful craftsmanship to be cherished for a lifetime. Swatch meant there was a colour and design for every personality.
Casio G-Shock (DW-5000C) – 1983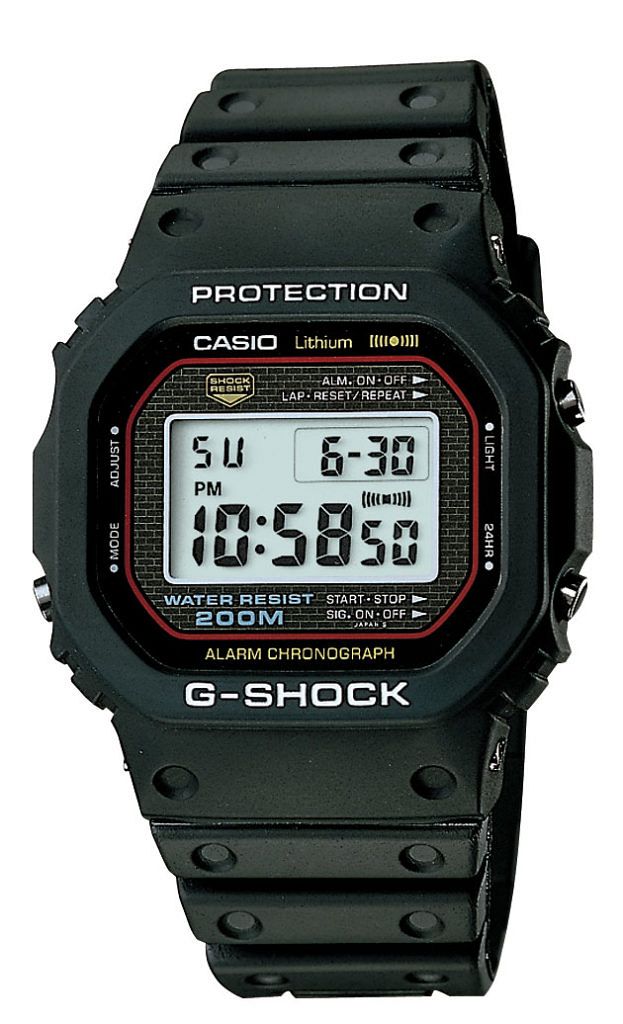 The durability of the game-changing Casio G-Shock managed to avoid a prohibitive price bracket while earning cult cool status. Its engineer, Kikuo Ibe, wanted a watch that could withstand a 10-metre drop, along with 10 atmospheres of water pressure, and boast a 10-year battery. Thirty-four years on and it's still going strong.
Pulsar calculator watch (Ref. Y739-5019) – 1980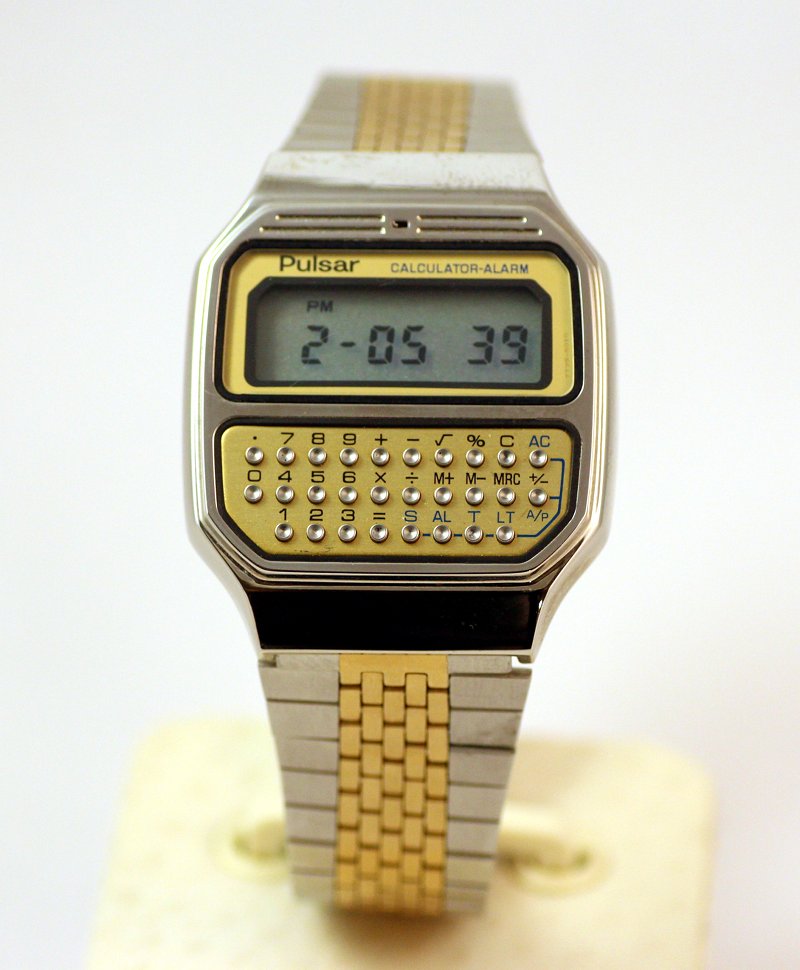 The steel Casio Databank CD-40, the first Casio Databank unveiled in 1983, tends to steal a lot of thunder on blogs dedicated to calculator watch-spotting (yes, it's a genre) and Casio did end up dominating the calculator watch wave, but Pulsar, with the likes of Hewlett-Packard hot on its tail, is credited with producing the first calculator watch in 1975, in solid gold no less. This later two-tone model from 1980 proudly carries on the slick aesthetic, and is the watch I'd most likely wear from this list if I could time travel.
Nelsonic Pac-Man game watch – 1982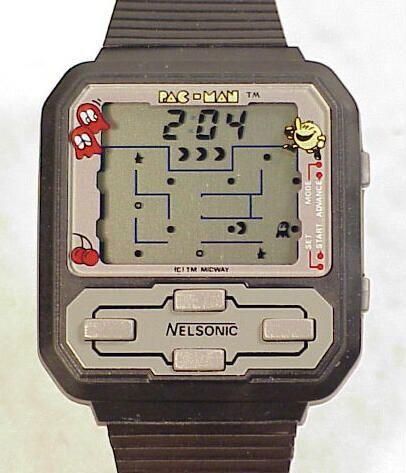 With the Timezone arcade fun it promised on the school bus ride, a Nelsonic was the Christmas stocking filler of the day. Nelsonic, with its background in toy-themed watches, dominated the game watch market, scoring rights for Pac-Man and, in 1989, Super Mario Bros. Blinky, Pinky, Inky and Clyde have never been superseded in popularity: at the game's peak, in 1982, there were estimated to be 30 million players across the US and it is the highest-grossest video game of all time. This watch sold more than 500,000 units.
LCD radio watch – 1982-1985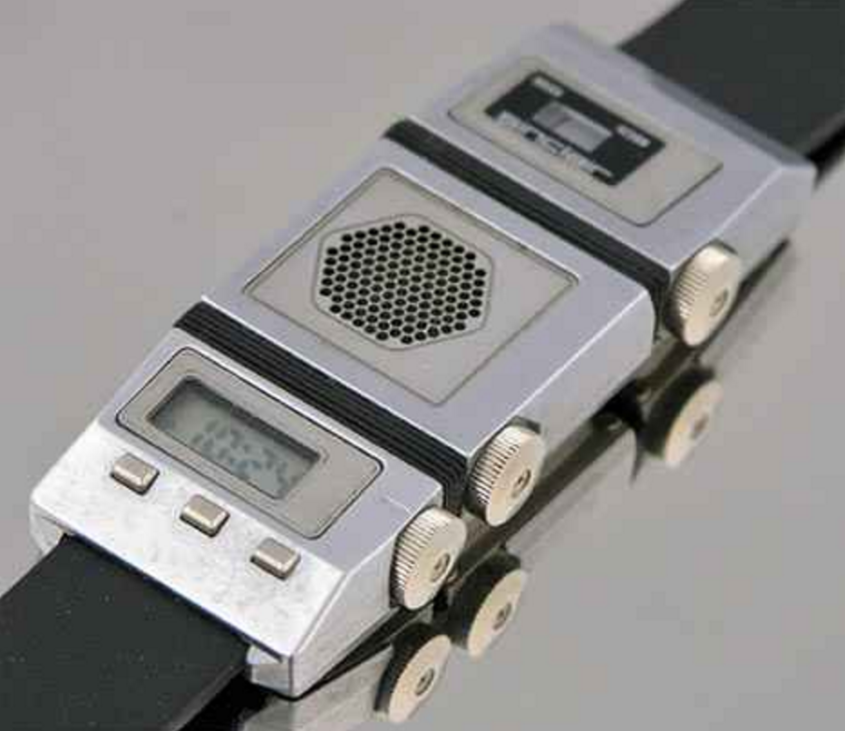 Names like Sinclair, Comlink, Nelsonic, Gala, Advance, Quasatron and the ever-enthusiastic Casio all dove on the radio watch. And from Madonna's wrist in Desperately Seeking Susan or Knight Rider's Michael Knight's, it was quite the gizmo. Though some were clunkier than others, like this epic Sinclair FM radio watch.
Seiko M516-4009 Voice Note watch – 1983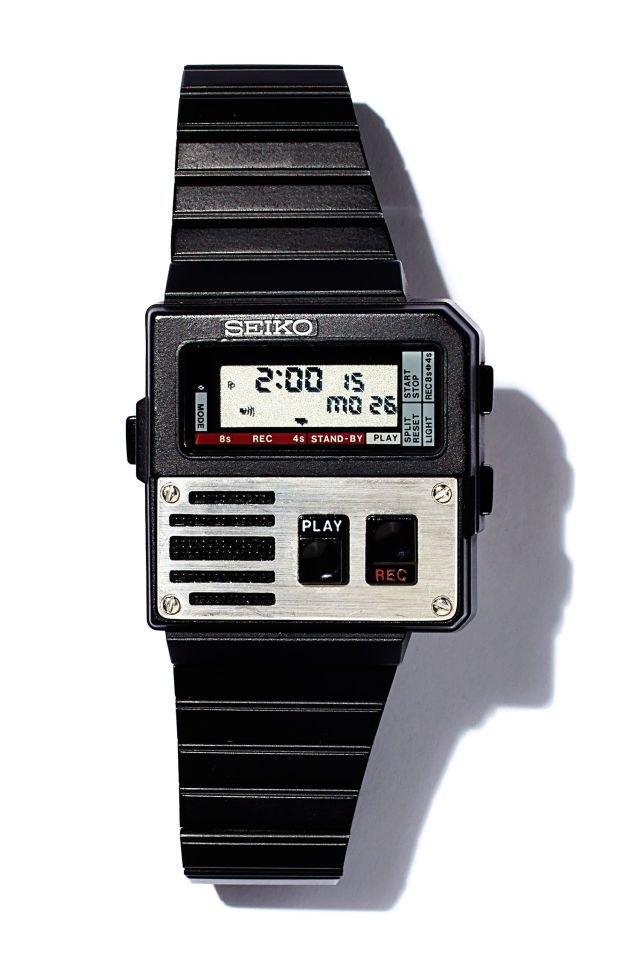 This real Seiko device was put to paranormal surveillance use in Ghostbusters. It seems ridiculous now but it was early days in voice notation so the choice was between an 8-second message and a 4-second message. It also came with a stopwatch, alarm illumination, day/date display and an hour chime. The future is now.
Seiko Speedtimer chronograph 7A28-7000 – 1983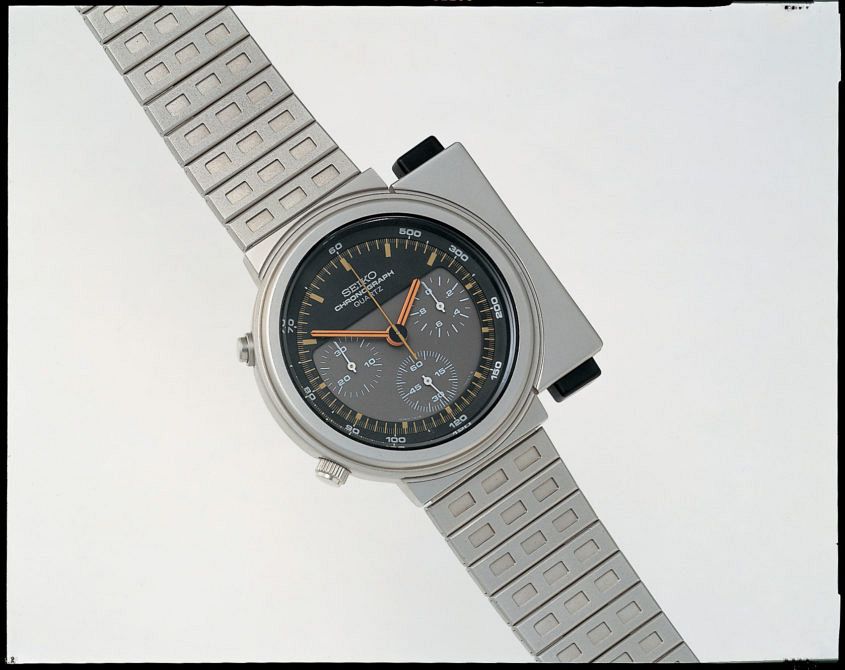 In 1983, Seiko debuted the 7A28 as the world's first analog quartz chronograph. The 7A28, and a member of its family, soon secured its sci-fi laurels on Ripley's wrist in Aliens, being more commonly referred to by the kick-ass protagonist's moniker. Italian car designer Giorgetto Giugiaro, the mind behind the DeLorean DMC-12, is responsible for the coolest watch on this flashback tour.
Ebel Sport Classic Chronograph El Primero – 1982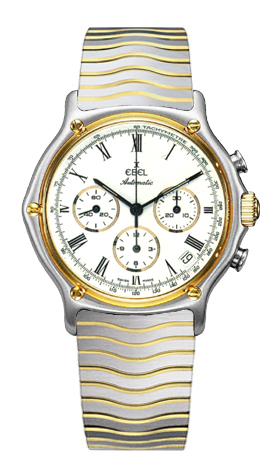 In the 1970s, Ebel adeptly rode out the quartz crisis by putting resources into their own quartz movements and in the early '80s set them to use, reviving one of the most legendary chronograph calibres, repackaged in the bonafide star that is the Ebel Sport Classic Chronograph. The original 1977 Sport Classic line gave Ebel the triumphant trio — the monocoque case, 5-screw bezel and an integrated wave bracelet with a South Beach appeal that predated Miami Vice. Here, though, we've opted for the mighty El Primero-powered 1982 version.
Cartier Santos Galbée – 1987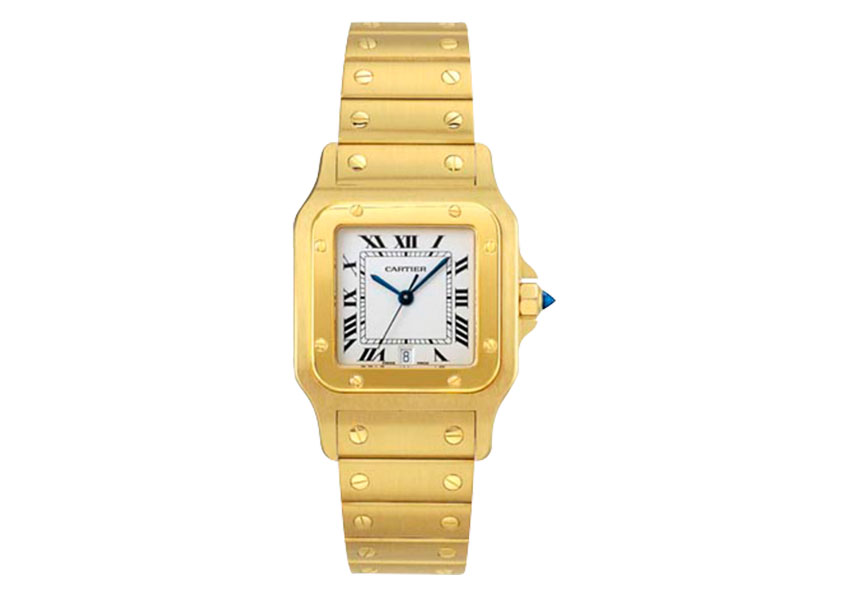 Hollywood's and '80s corporate corridors venerated self-aggrandisement. You (and your net worth) mattered most and gold was not just for lining a Geneva safety deposit box. Gordon Gekko was the greed pin-up du jour, expressing slippery élan with his 18k Cartier Santos de Galbée, an '80s development on the '70s Santos redesign of the very first watch Cartier ever produced for men in 1911. Gekko's stockbroker junior understudy, Bud Fox, starts on Wall Street in a Lorus but quickly takes in Gekko's gleaming watch and by the film's credits has upped his game by claiming a Panthère de Cartier in homage to his Machiavellian mentor …
Omega Constellation Manhattan – 1982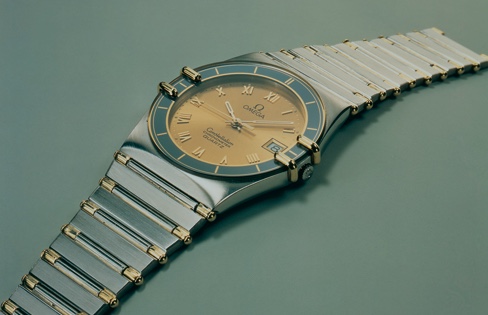 2017 marks the 35th anniversary of this Omega icon. With its integrated bracelet, Roman numerals, four claws that grip the bezel and a crystal incorporating hour markers. For all its masculine gravitas, this sleek impression was devised by Carol Didisheim, a 26-year-old jewellery and watch designer in her first job.
Digits finger watches – 1987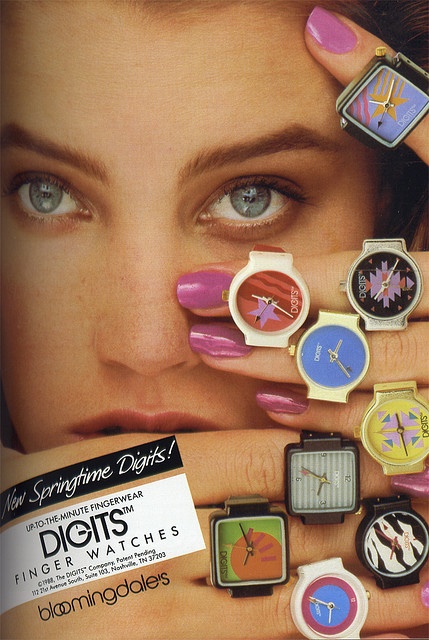 Just edging out 1987's interchangeable Gucci bezel bangle watch for women for a place in this story is the novelty that is the Digits ring watch. A New York innovation that was zany and obscure enough to create and corner its own niche market. It's less of a surprise to discover this caper was dreamt up by a company focused in costume jewellery. Amazingly, it's still in operation three decades on.