HANDS-ON: The Glashütte Original Vintage Sixties –  the ultimate green dial of 2018?
Justin Mastine-Frost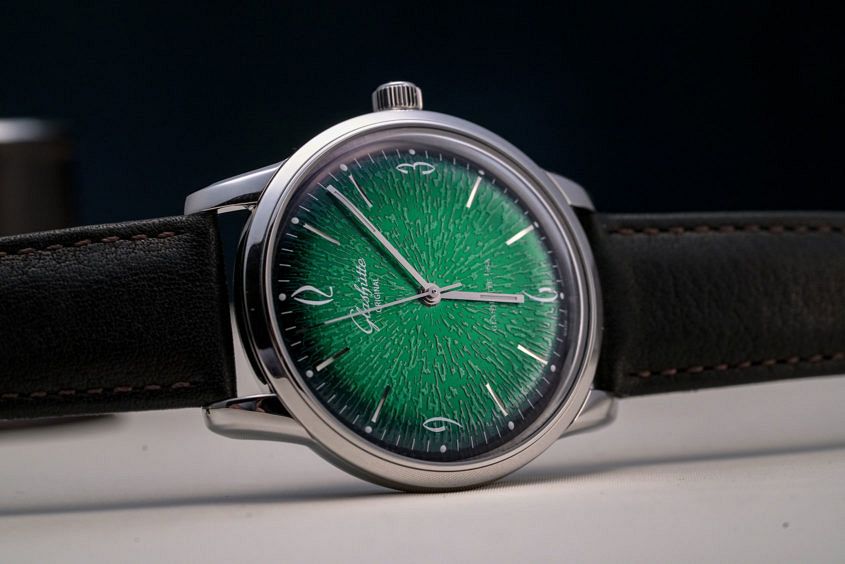 Now a third year into the Sixties series of watches — one that started with a limited production of five colourways of the watch seen here in 2016, and a similar set of colours in a square chronograph for 2017 — Glashütte Original have opted to cut choice out of the equation for Baselworld 2018. A beautifully textured green dial, stamped using vintage dies from the brand's archives, will be available from boutiques and retailers for a one-year period (rather than being limited to a specific volume of watches). We've been seeing green making the rounds of luxury watch brands for a good couple of years now, but with the combination of colour choice, unique texture, and the generally funky '60s-era vibe to this piece, I can't help but lock it in as my favourite green dial to date. Now I know a lot of you will want to have my head for not picking the new green-dialled H. Moser Pioneer, but rest assured, it's a mighty tight race between the two.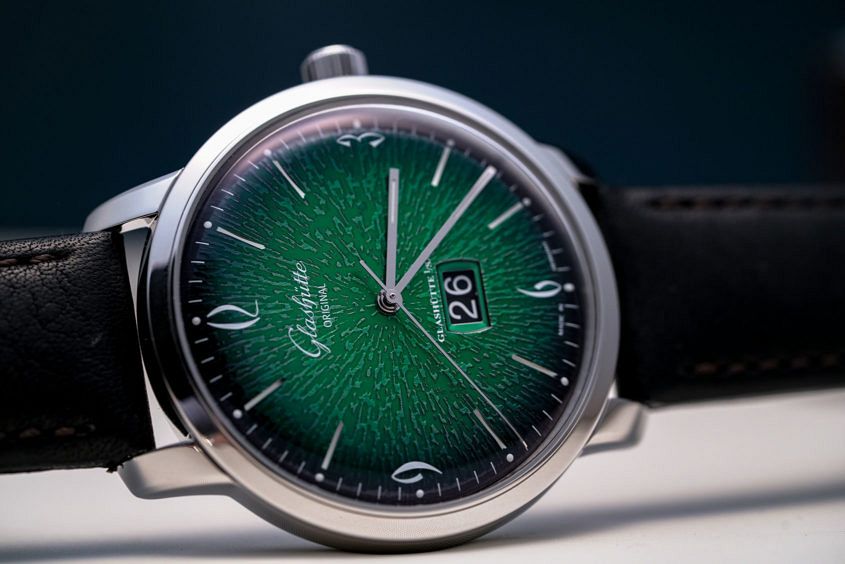 Vital statistics
Depending on the variant, as the new Sixties model is available as either a no-date or Panorama Date configuration, buyers have the option of either a svelte 39mm case or a slightly more contemporary 42. This way, neither those with larger wrists, nor those who cannot stand dress watches that crack the 40mm threshold, are left out in the cold. Both models are powered by in-house manufacture calibers from Glashütte Original, and (of course) the new dials are produced in-house at the brand's dial-making facility in Pforzheim. GO have been using the same dial manufacturer dating back to the Spezimatic days for some pieces, and in 2006 the Swatch Group (GO's parent company) acquired the dial manufacture and has been building on its successes ever since. If you look at it closely, you'll notice the hour indices other than 3, 6, 9, and 12 are actually cut into the dial rather than being printed or applied.
On the wrist
Personally, I have to side with the 39mm no-date version on the wrist, as I find the case proportions just sing "perfect dress watch". This version measures 9.4mm thick, though given the arc of its domed crystal and curvature of its case it tends to feel a touch more compact on the wrist. A supple black calfskin strap completes the package on both models.
Who's it for?
On one hand, the vintage-obsessed, the Mad Men watchers, and generally those with an appreciation for all things funky will have no problem getting down with Glashütte on this one. Further to this, any self-respecting watch lover who appreciates a high level of craftsmanship and attention to detail will be equally impressed.
Any surprises?
The fact that the piece isn't limited to a set production volume is a bit of a surprise, as well as the fact that only a single colour was released for 2018. Thankfully, it's a good one, and entirely "on-trend".
Glashütte Original Vintage Sixties Australian pricing
Glashütte Original Vintage Sixties Automatic, $9650, Sixties Panorama Date, $11,900.
Specifications
Model
Vintage Sixties Automatic, Vintage Sixties Panorama Date
Reference No
1-39-52-03-02-04 (Automatic), 2-39-47-04-02-04 (Panorama Date)
Case Size
39mm (automatic), 42mm (Panorama Date)
Case Height
9.4mm (Automatic), 12.4mm (Panorama Date)
Movement
Calibre 39-52 (Automatic), Calibre 39-47 (Panorama Date)