MICRO MONDAYS: Blok Watches make a tough watch specially designed for kids
Fergus Nash
This may be the first time that I'm recommending a watch that you will never wear yourself, but the target demographic for Blok Watches don't tend to do their own shopping. To put it simply, Blok make watches for children. There may not be any shortage of small quartz watches out there to fill stockings, but if you want your kid to have something of lasting quality, utility and fun, then your options dry up pretty quickly. Blok Watches spent years developing the Blok 33, entirely to solve this common problem.
The case
This might go without saying, but children are generally smaller than adults. A smaller wrist requires a smaller watch, but how far do you go in shrinking dimensions before you lose legibility? Blok Watches have nailed it with their chosen proportions, styling the case as a compact dive watch that aids robustness. The diameter is 33mm, with a lug-to-lug length of 39mm that should fit snuggly on wrists around 5 inches in circumference and above. If you wear a lot of vintage watches, you may even enjoy wearing one of these as an adult.
The bezel is quite an important part of the Blok 33, as it's the most interactive part of a watch and many kids will be fiddling with it as long as they've got it on. Time is broken up into four blocks of 5, 10, 15, and 30 minute intervals, so when mum calls out "We're leaving in 5 minutes!" they will hypothetically be able to count it down accurately. It's not just a fun gadget for them, but also helps teach valuable time management and estimation skills.
Children are fairly unpredictable and prone to excited bursts of uncontrolled energy, so Block Watches have put as many contingencies in place as possible for knocks, scrapes, and drops. The crown is places on the left-hand side of the case so it can't get hit as often when worn on the left wrist, and the quartz movement means it shouldn't need much adjusting anyway. The crown also screws down, securing 100m of water resistance for safe submerging on pool days and random splashes. The crystal is a 2mm thick slab of flat sapphire that will resist extreme scratching, but you will probably need to expect some scratches on the case.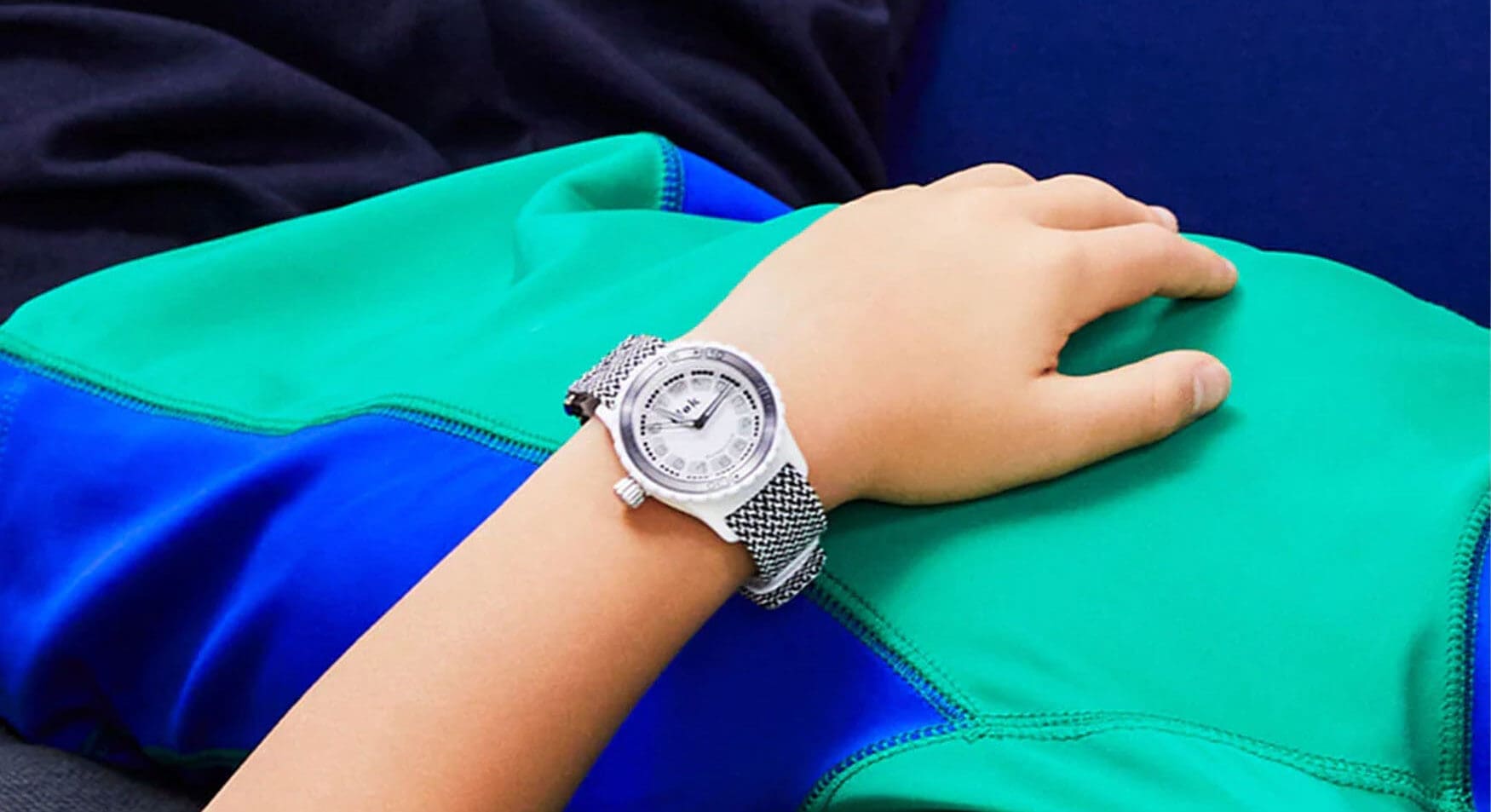 The case of the Blok 33 is made out of a biopolymer plastic from refined castor plants, quite similar to the organic component of Swatch's BioCeramic. The lightweight material is finished with a high-polish which looks great, but will probably pick up scratches fairly easily. The main benefit of the material aside from its renewable properties is the variety of colour available, so you should be able to find something which your child will like. Your options include fuchsia, navy, aqua, black, white, and yellow.
The dial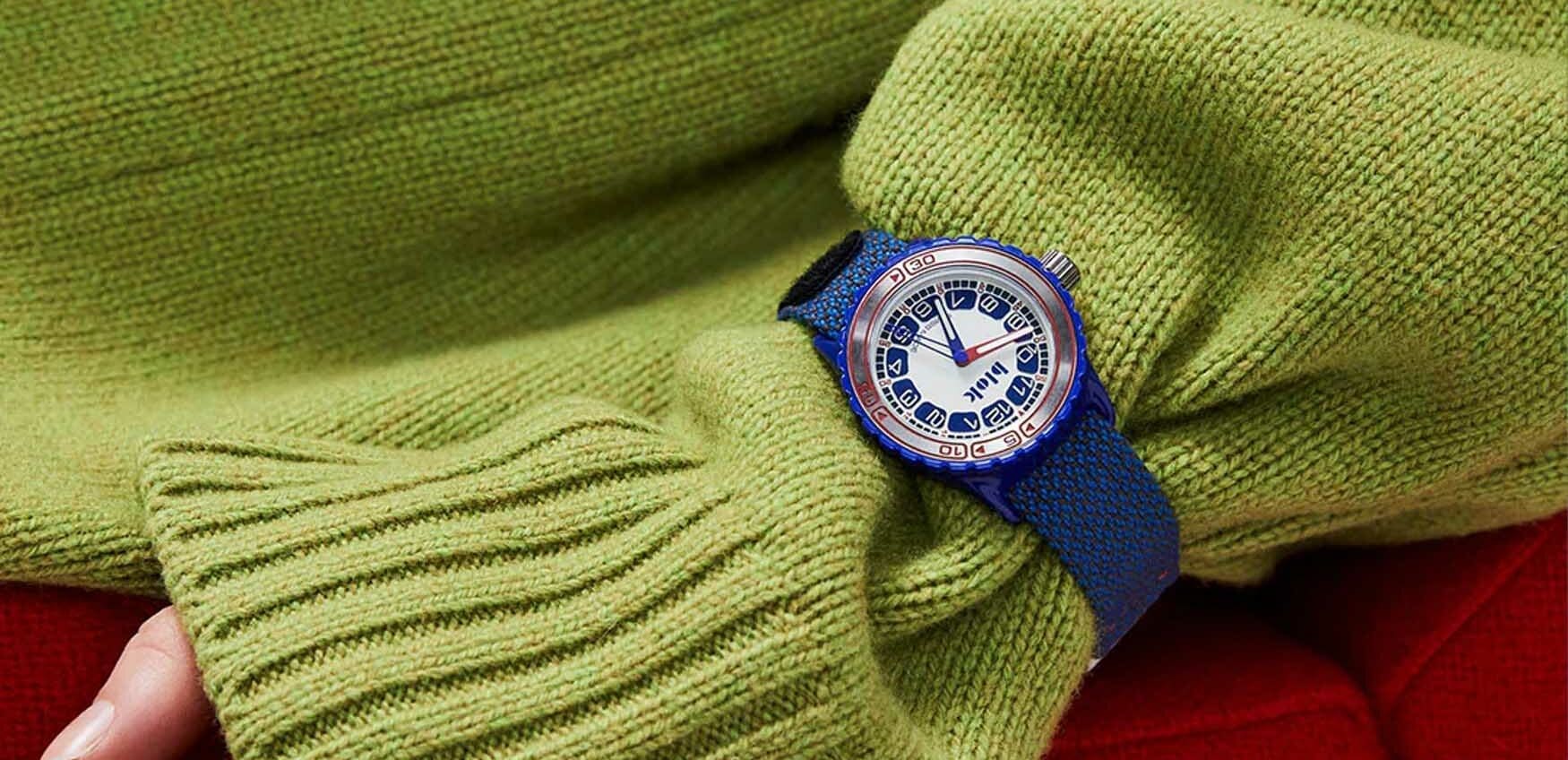 With so much thought put into the case of the watch, Block Watches have ensured that all of the dials in every colour combination are supremely easy to read at a glance. Arabic numerals are highlighted with segments that show the entire space that hour fills, rather than having to go through the mental gymnastics of seeing which number the hour hand most recently went past. After that, a colour-contrasting minute hand stretches a little further into the minutes track, similarly filled with convenient blocks and Arabic numerals at five-minute intervals. The seconds hand is skeletonised for differentiation, with the wide tip filling up the blocks for full clarity.
The movement
As you may have guessed from the large Swiss-made label on the dial, Swiss pedigree was an important factor for establishing the credibility of Blok Watches amongst its few competitors. Powering the Blok 33 is an ETA quartz movement that fulfils everything you would need from a time-only watch. Reliable and serviceable, the battery life should last up to 10 years and is easily replaced when needed.
The strap
I distinctly remember hating wearing watches when I was a kid because the strap was either too tight or too loose, and both of those feelings were unbearable. Blok Watches have gone for a single-pass, or "run-thru" design that will ensure a perfect fit every time thanks to a Velcro closure. Each of the colour variants are paired with their own strap made from Danish recycled fabric and Japanese vegan leather, but you can mix-and-match by ordering straps separately for US$26. The lug width is 17mm, should you want to experiment with aftermarket single-pass straps too.
The Blok Watches Blok 33 pricing and availability:
Each of the Blok 33 variants are available now from Blok's website. Price: US$179
| | |
| --- | --- |
| Brand | Blok Watches |
| Model | Blok 33 |
| Case Dimensions | 33mm x 39mm |
| Case Material | Biopolymer plastic |
| Water Resistance | 100m |
| Crystal(s) | Sapphire |
| Dial | Pink/red, white/blue, aqua/teal, black/beige, white/grey, yellow/black |
| Lug Width | 17mm |
| Strap | Recycled fabric and vegan leather single-pass |
| Movement | ETA Quartz |
| Power Reserve | 10 years |
| Availability | Available now |
| Price | US$179 |