The Seiko x Neighborhood dive watch is awesome. Here are 5 watches that (maybe) inspired it including Tudor, Rolex and more
Thor Svaboe
Sexy red details combined with vintage inspiration is a marriage made in horological heaven with all Big Box brands wanting in on the game. The market is chock-a-block with slim, tough divers that emulate the discrete tools of the fifties and sixties, and we can't seem to get enough of them. Me? Guilty as charged. I love their feeling of purity and the nostalgic sense of a simpler mid-20th century life that seems so far from 2021. Admittedly, I still haven't got the scuba gear to throw in the back of the car, but it's more about that notion of freedom and summer vibes. The new Seiko SBDY077 Tuna x Neighboorhood inspires us to revisit the red thread that runs through so many vintage-inspired diver's watches.
Seiko SBDY077 Tuna x Neighborhood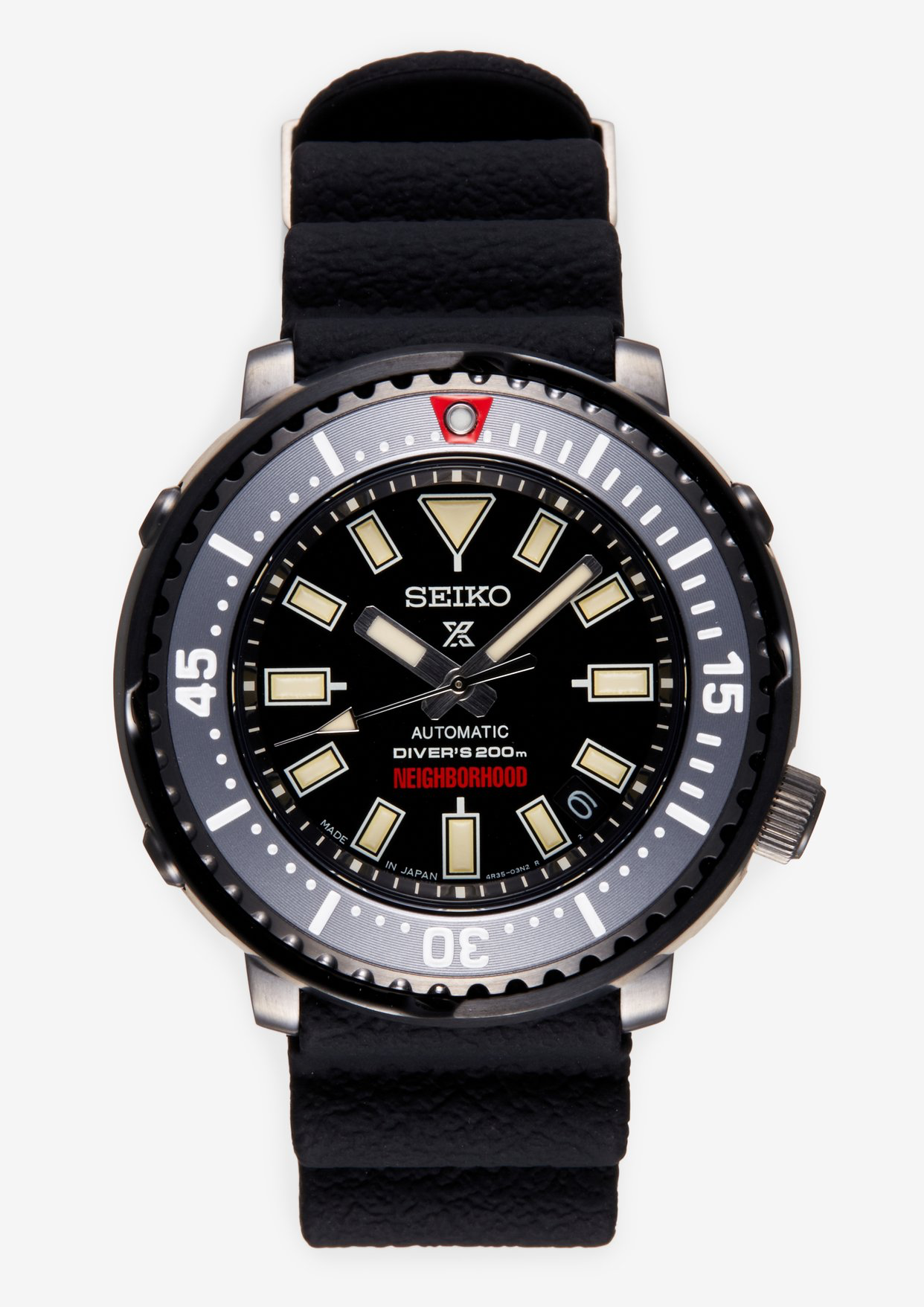 We love the evergreen Tuna with its distinctive cylindrical shape and, even after a massive Seiko Prospex launch year in 2020, this still excites as a cool, vintage take on the Tool's Tool. Here we have a razor-sharp collaboration with the Japanese streetwear brand Neighborhood, a grey bezel, pop of red on the iconic 12 o'clock triangle, and fresh red text on the dial.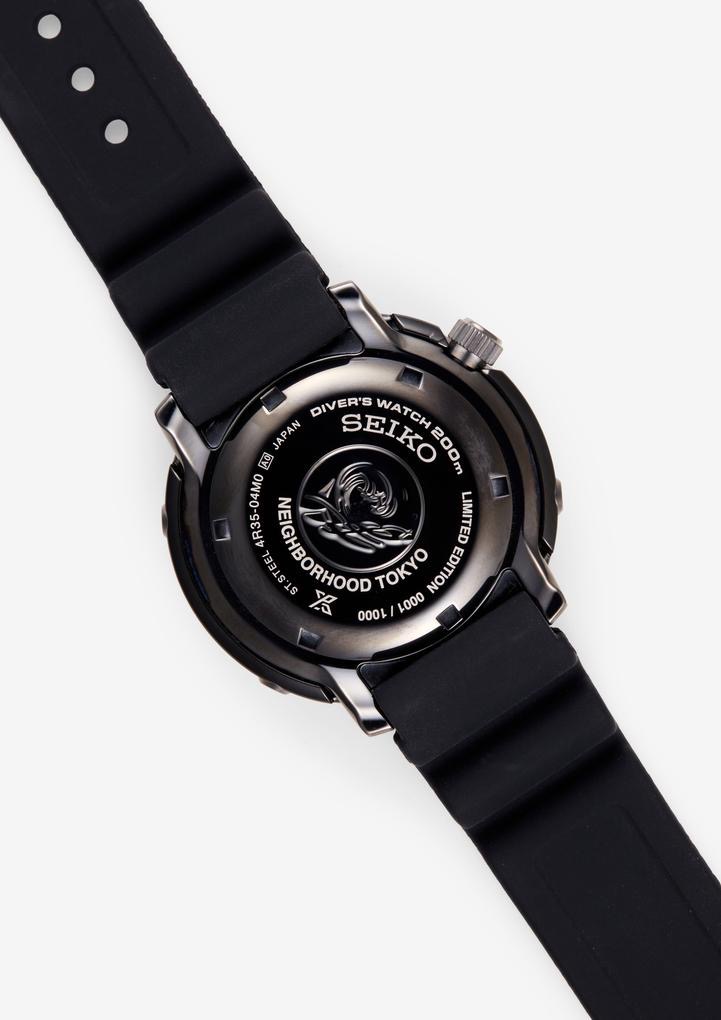 It's street-tough and still ready for a dive with the long rubber strap having that classic concertina design to slide over the wetsuit. Ironically the Tuna is anything but a slim skindiver, but that's exactly why this combination works so well, and is oh so tempting.. Yes, I did check the Yen conversion rate yesterday, and this is about $855 AUD. Price: 69,000 Yen
Tudor Black Bay Dark
But this is all black?! Let's be honest, the beautiful Black Bay 58 with its goldilocks 39mm size is probably the best example of the red triangle inspiration, an amalgamation of MIL-spec Submariner and a classic vintage Tudor. But we all know what the 58 looks like, so here's the broody darkness of the Black Bay Dark to sex things up. In all its menacing blackness, this is a damn cool  41mm Rolex family case, and what a way to emphasise that red triangle. Don't get me wrong, I love the original look of pure brushed steel, but this makes those two red details Pop (yes, with a capital "P"). The case finish is as exquisite as expected, the DLC is among the hardiest on the market, so this is a damn tough tool and a nice way to stand out from the 58 crowd.  Price: $6,320 AUD
Rolex Sea-Dweller ref. 126600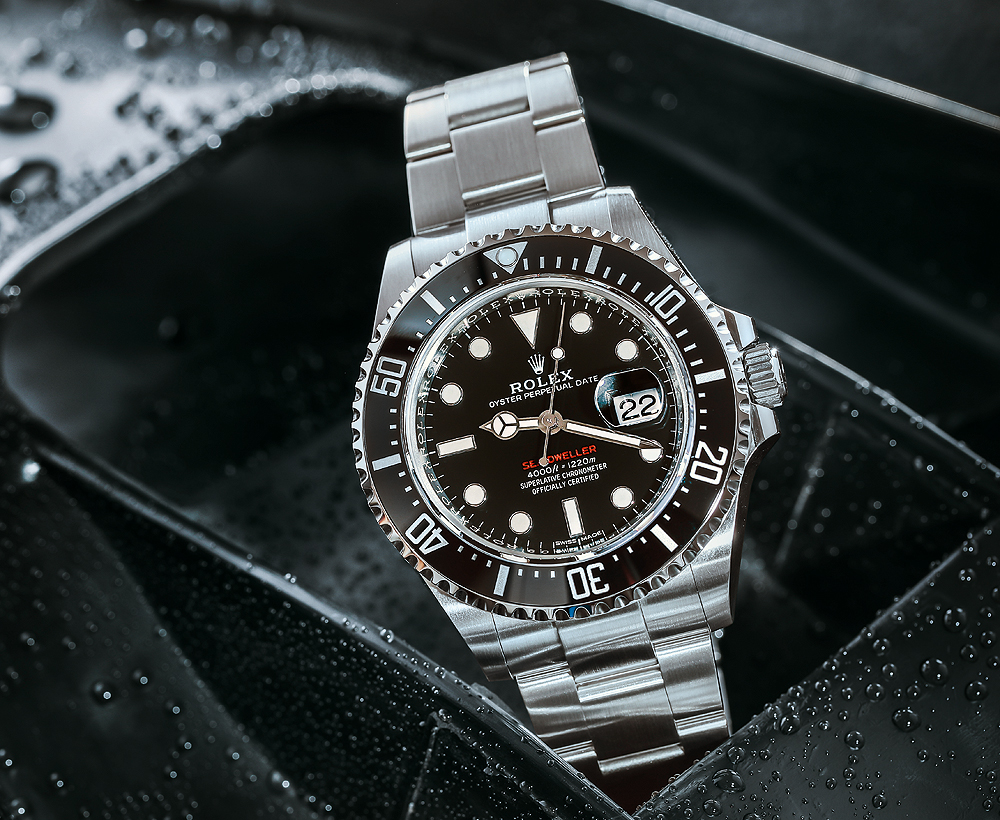 As the tougher big brother of the Submariner, the Sea-Dweller doesn't need excuses for its bold 43mm size and awe-inspiring 4000 feet of depth rating. This is a seriously tough tool watch, so yes I do feel the need to tut-tut when I see it popping out from a tuxedo jacket. Just no. The large case and unapologetic monochrome design is the result of an evolution from the first talks between Rolex and COMEX, the divers' association in the 50s to increase depth ratings of… No, not status symbols, but diver's tool watches. The triangle at 12 is silver, but the bright flash of red capitalised SEA-DWELLER leaves you in no doubt that this is the business. What's more, the watch's extreme functionality should inspire you to more daring feats than simply popping down to the take-away for pizza. Here's a 2018 version available at Bob's Watches for $ 14,695 USD
The mythical Double Red Submariner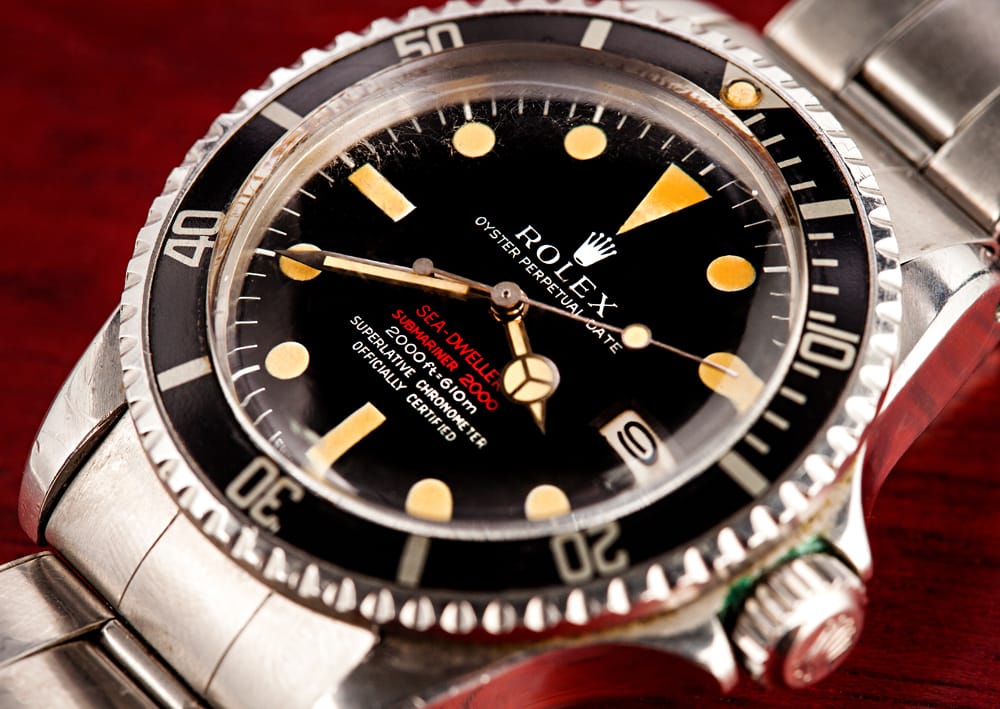 The Double Red SeaDweller (DRSD) was produced for approximately 10 years from 1967 to 1977 with a serial number range of 1.7 to 5.1 million. There were four different dial variations made in the regular production model with three different case back configurations. With values what they are today, you'll easily spend $100,000 AUD for a good example, but this is the real McCoy. I won't talk to much about this icon less I get the temptation of re-mortgaging our house. Because it is that perfect. A svelte case with those tell-tale signs of proper use as a life-saving diver's tool makes for perfect wristwear, Just don't, don't put this in a safe if you get one. This watch needs purpose and adventure, not vacuum-sealed treatment.
Massena LAB x Unimatic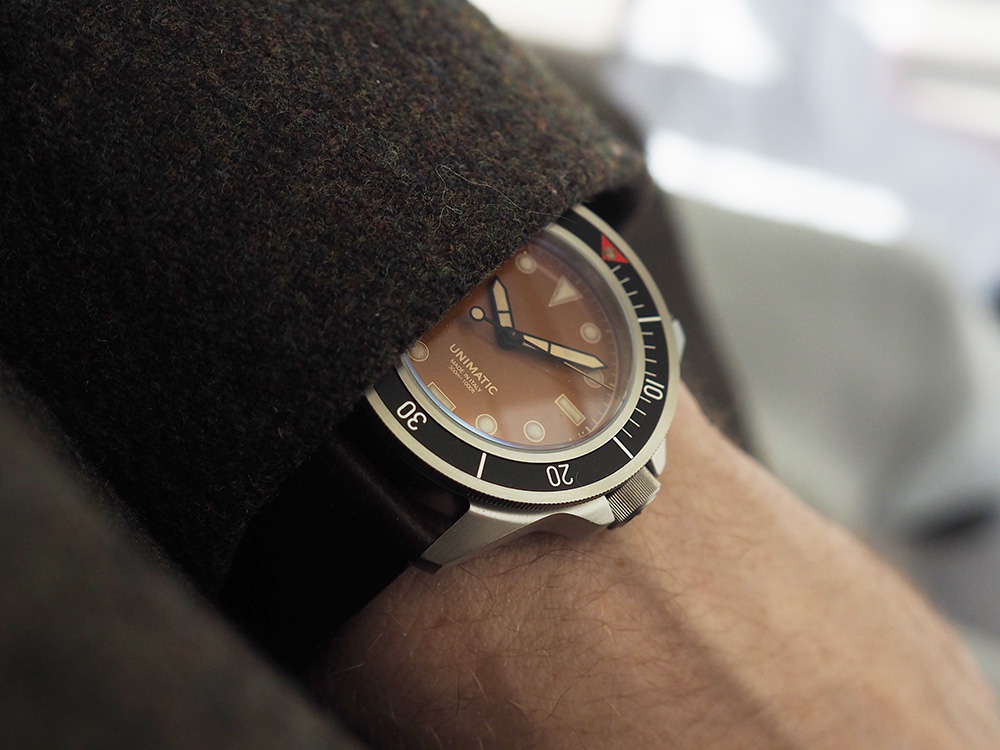 Unimatic does collaborations exceptionally well, whether they're fashion-skewed like the Unimatic x Mihara Yasuhiro we covered here, or their first toe-dip into vintage waters with this lovely version of the Modello Uno. The brown dial of this perfect mix of minimalist Italian aesthetics and the elusive "tropic" dial was the result of a collaboration with William Massena's secret LAB. In their white lab coats, they managed to pinpoint the delicious vibe of a tropical dial (a black dial faded after years of exposure to the sun) by a galvanic process rendering every one of the 100 dials a different shade of brown. To finish it off, the indices are hand painted and matched to a classic diver's bezel and sword hands. The chunky 200 metre diver's case hides the solid Seiko NH35, and comes on a burgundy Horween leather strap. These tropical delights were priced at a very decent $900 USD, but now go for significantly more on the secondary market while still offering big value for the dial craftsmanship.
Seiko Mods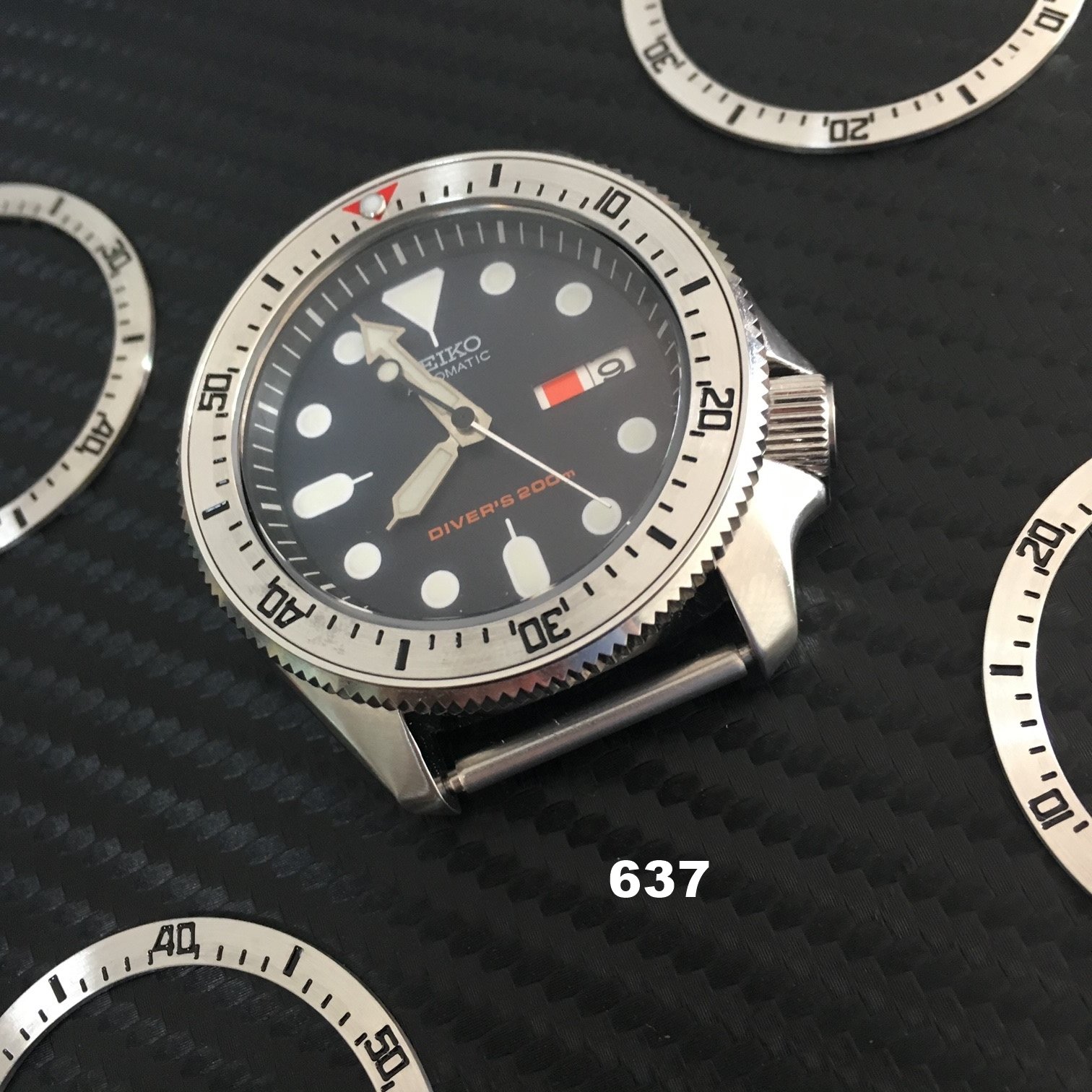 The Seiko Prospex line is the entry ticket to mechanical dive watches for many, discontinued but widely available and big value. Should your budget not stretch to a big brand, why not try a cheeky modded Seiko SKX, Turtle or Sumo? There are plenty of fun bezel inserts that'll give you that vintage vibe for a very small outlay, and you'll have something personal, irreverent and just pure fun.