The 5 most expensive Hublot watches (including the one Beyoncé bought Jay-Z…)
Fergus Nash
Some luxury brands shy away from their elite clientele, trying to remain humble despite earth-shaking price tags. Hublot aren't exactly subtle about their style though, pushing technological boundaries of ceramic and sapphire cases while adorning the wrists of some of the world's biggest athletes, celebrities, and even political leaders. Today we're going to take a look at some of their grandest displays of unashamed opulence, with the top 5 most expensive Hublot watches I could find.
5. The Hublot One Million $ Big Bang – $1,000,000 USD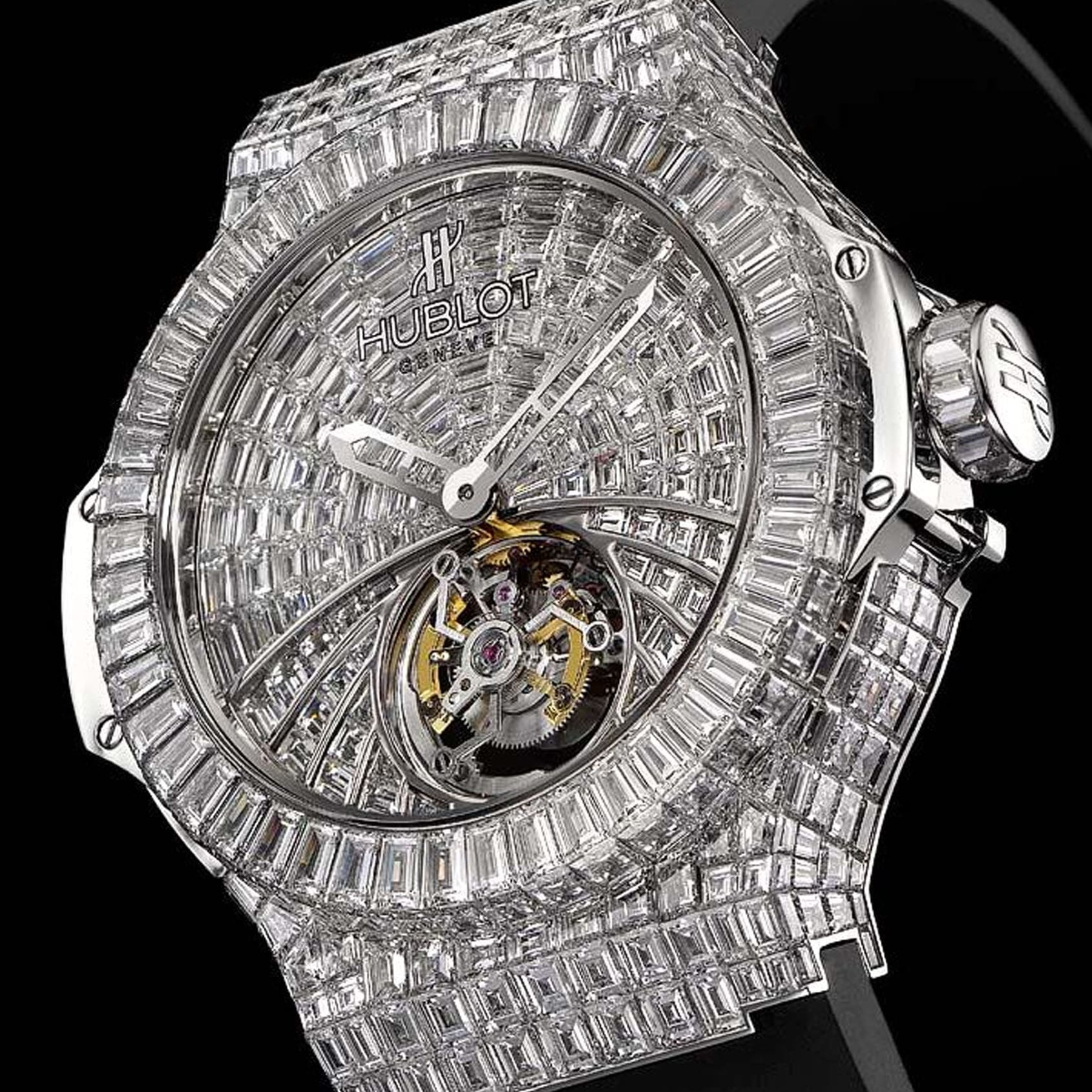 Hublot's first watch to break the magical million-dollar number was released in 2007 and even won the GPHG award for "Best Jewellery Watch", sporting a total of 493 baguette-cut diamonds across the whole watch. Jean-Claude Biver revealed in an interview that this watch was sold over the phone without even showing it to the buyer, proving the power of Hublot as a luxury brand and the price point being irresistible to someone with that much cash to burn. The HUB Solo T movement flaunted a tourbillon at 6 o'clock, alongside manual winding and a 120-hour power reserve.
4. The Hublot Black Caviar Bang – $1,000,000 USD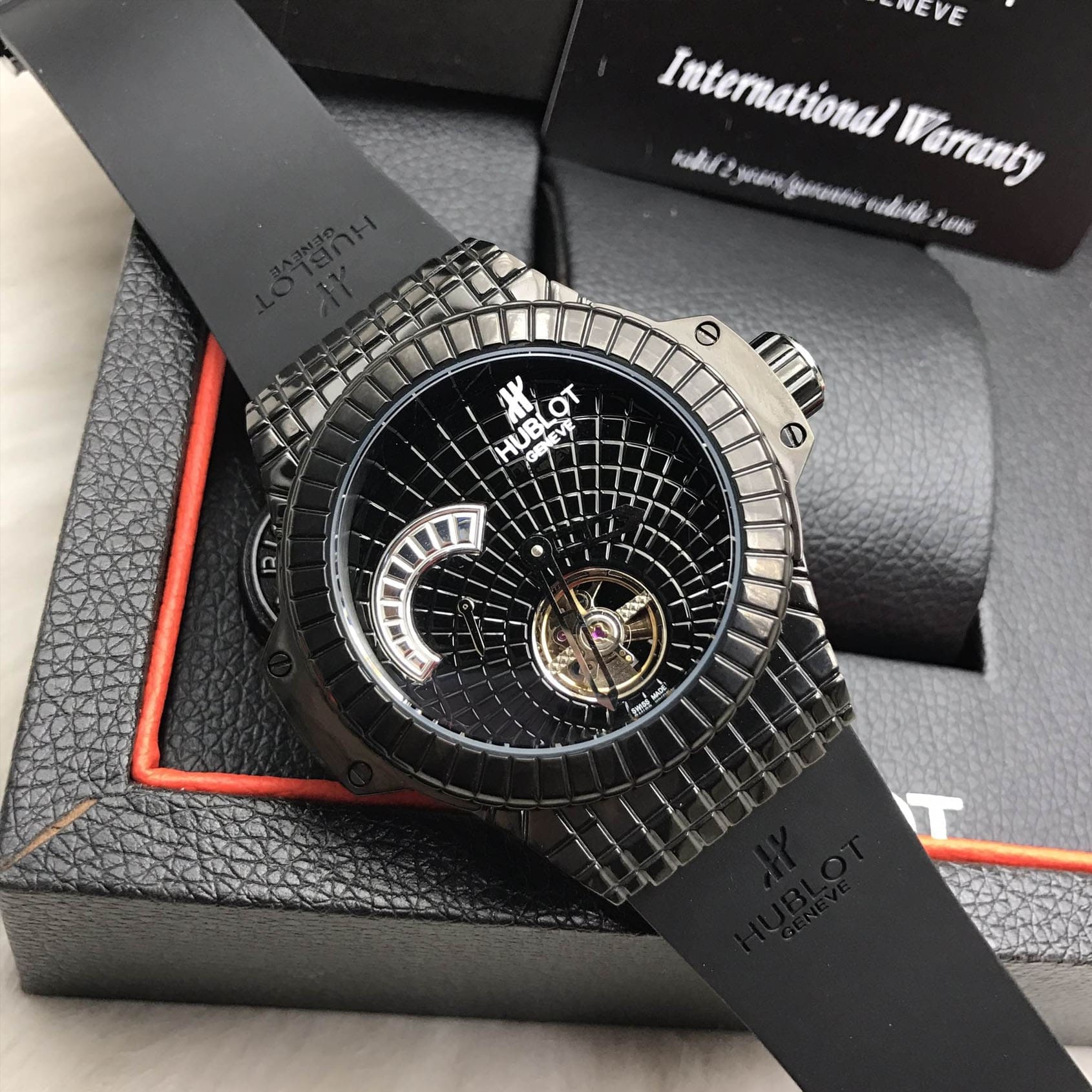 Hublot have got quite a few million-dollar watches to their name now, and they always sell well because of the bragging rights to say you've got a million-dollar watch. There's almost a sense of diminishing returns, because the average person is going to be just as blown away by a $1 million watch as a $2 million one etc. This one is the Hublot Black Caviar Bang, sporting a moody white gold case set with 531 black diamonds on the case, bezel, and clasp on the rubber strap. The dial also features some plain diamonds for contrast on the power reserve above the tourbillon, staying as classy as ever.
3. The Hublot Big Bang UNICO Haute Joaillerie Collection – $1,000,000 USD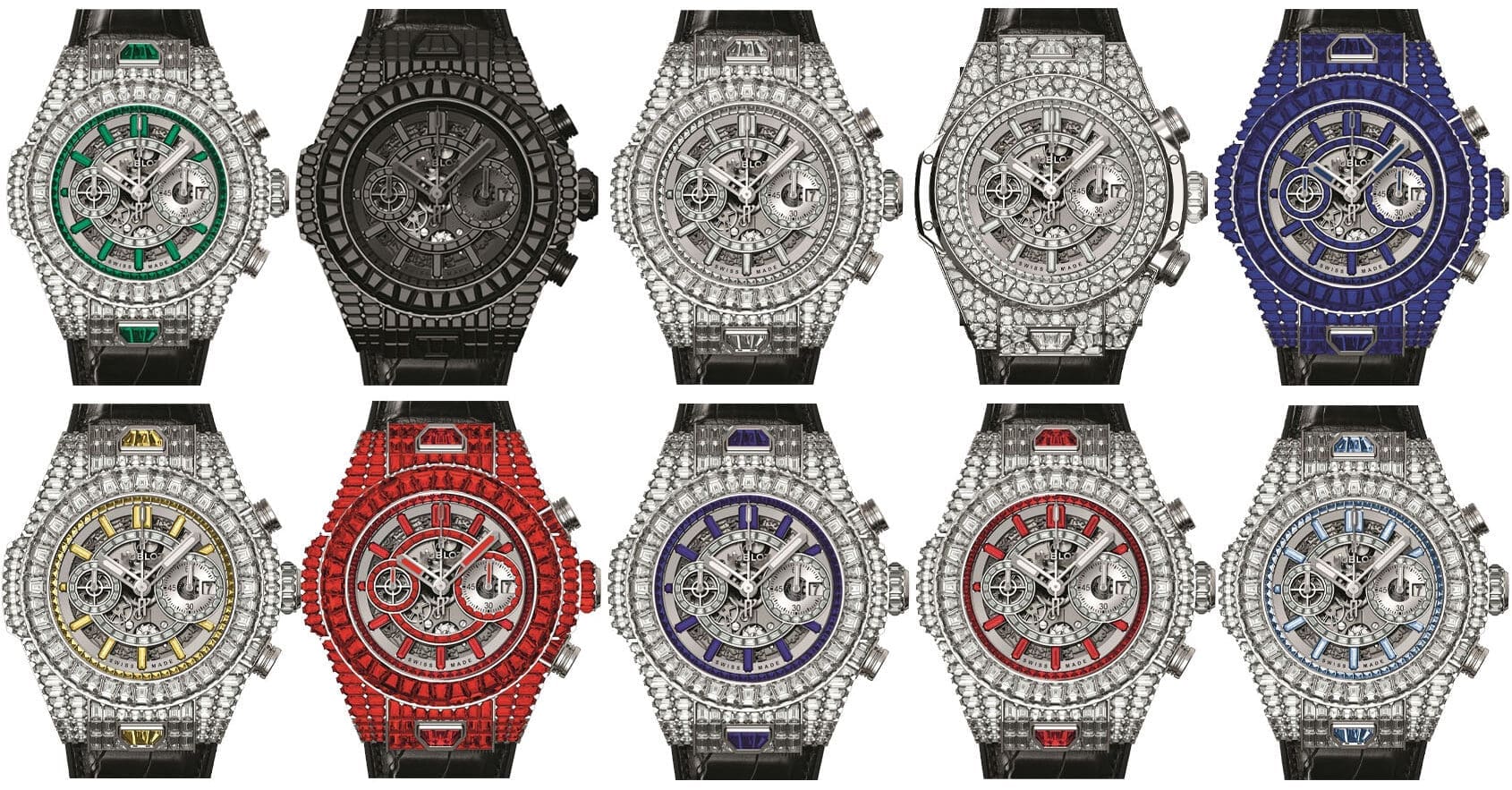 What's more impressive than a million-dollar watch? How about 10 of them? Proving that their extreme-luxury pieces weren't just one-trick ponies, Hublot went all out in 2015 with this collection of diamond-embedded Big Bang UNICO models for the Big Bang's 10th anniversary, each taking on their own specific look and personality across a spectrum of precious stones. My favourites include the all-red model covered in rubies, the white diamond version with jagged, almost cobblestone-cut jewels, and the two-tone version with regal, yellow highlights. Each of these watches would have set you back a million USD at retail, but can you imagine what the full set could be worth together?
2. The Hublot Big Bang Tourbillon – $3,000,000 USD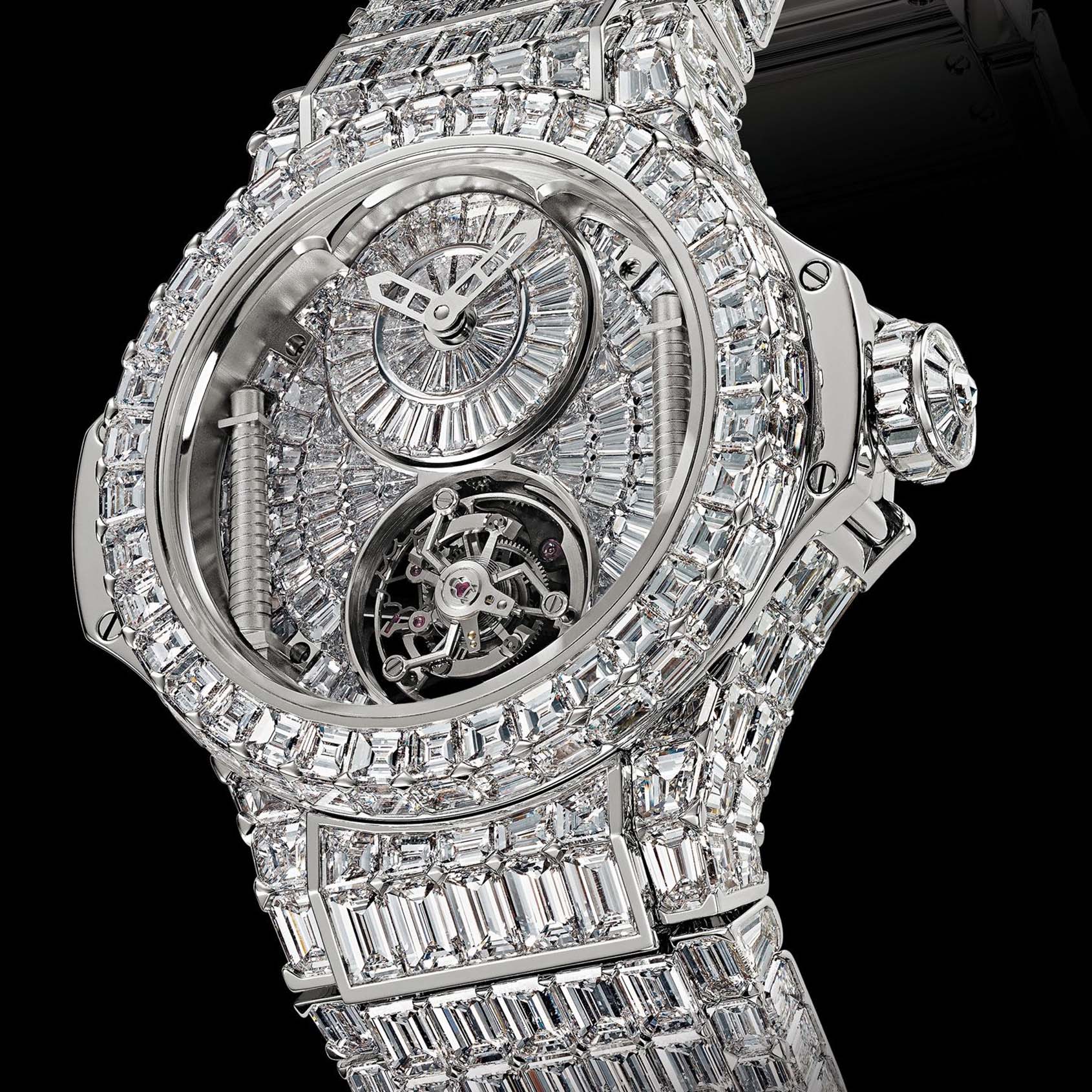 Launched in 2011, this Big Bang Tourbillon warranted a hefty price tag of approximately $3 million, or €2 million. The dial is beautifully complex even if you ignore the diamonds, which is difficult to do considering there are 638 of them totalling at 142 carats. The baguette cuts match the blockiness of the Hublot Big Bang case shape, and the large tourbillon is mirrored with a small time display above it at 12 o'clock. The columns on either side staunchly guard the gaudy dial, representing the Place Vendome where Hublot's flagship Parisian boutique resides.
1. The Hublot $5 Million Watch – $5,000,000 USD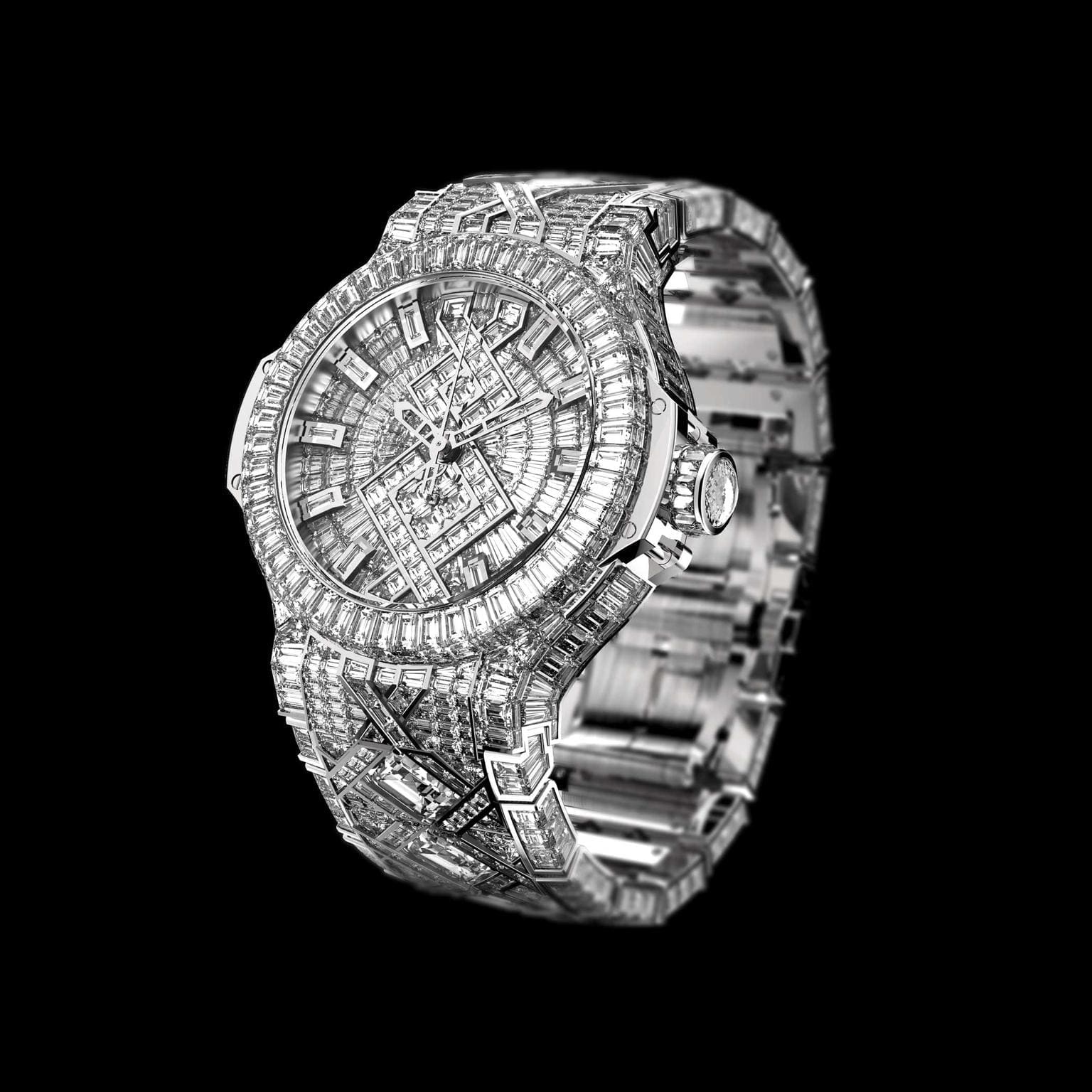 Why bother giving your watch a model name when the price tag says everything you need to know? The most expensive Hublot ever made was debuted at 2012's Baselworld and wound up being Jay-Z's 43rd birthday present from Beyoncé.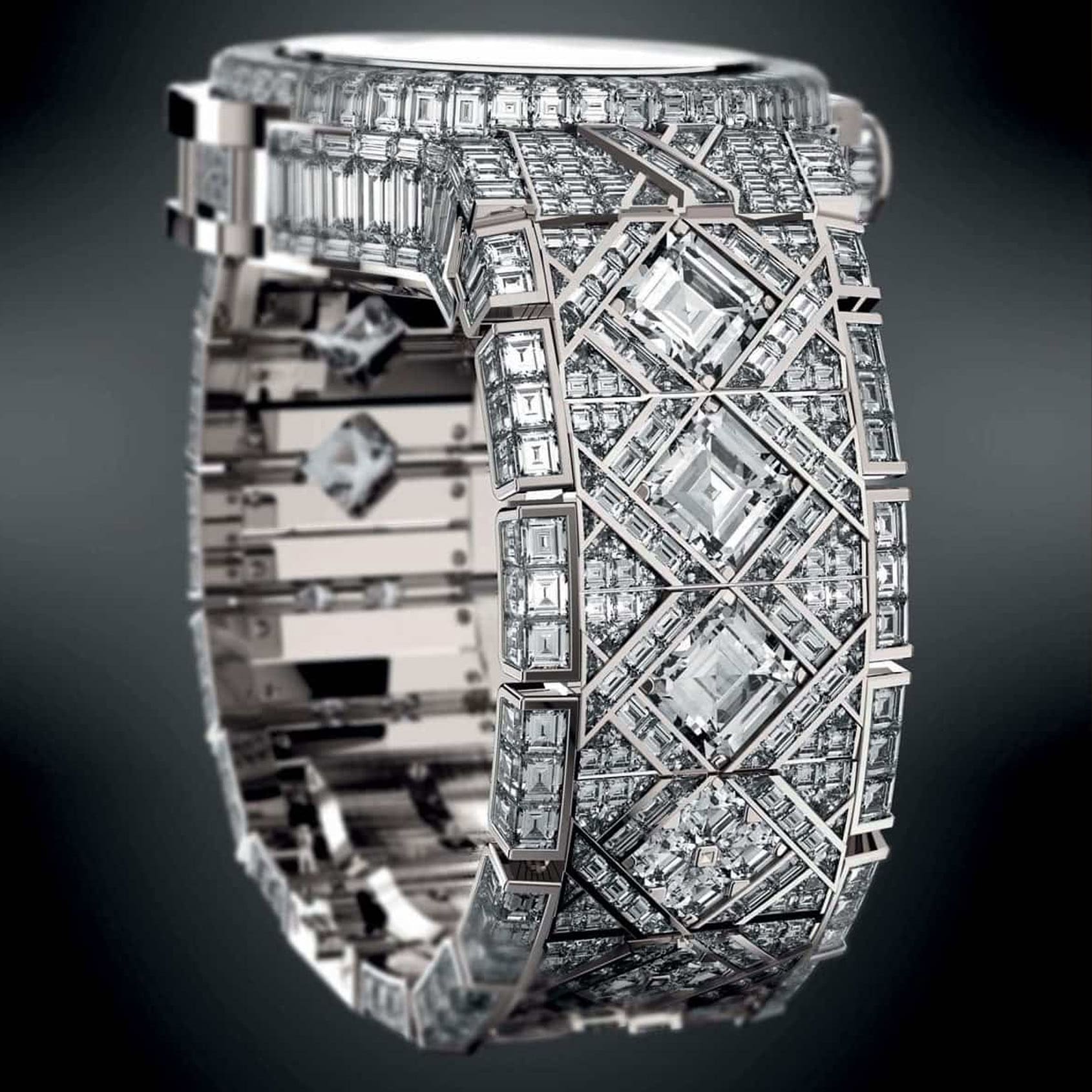 This marvellous blast of extravagance is covered in 1,282 diamonds in differing sizes to form something of a sunburst dial, and a criss-cross pattern that flows around the whole dial and diamond-set bracelet. The case is white gold, as you would expect, and the construction of this unique piece alone supposedly took 14 months.