One (very satisfied) owner's review of the Kurono Grand Akane
Zach Blass
What haven't I already said about my  love for Kurono Tokyo watches. At this stage in my collecting journey, the watches I own already tick a lot of functional boxes, so the main driver of my current purchase decisions is dial aesthetic. If I were to buy yet another diver with a black dial, it creates an arbitrary moment of judgment each morning when I reach into my watch box to pick my wristwear for the day. A good watch collection should have sufficient variety to keep things spicy. It gets a bit stale when you choose to wear another watch purely because it's not the one you wore yesterday. Cue the creations of Kurono Tokyo, with distinct Japanese Art-Deco aesthetics you cannot find anywhere else. Their collections, so far, have largely leveraged the same winning formula in varying colour schemes, but where the Kurono Grand Akane stands apart from their previous novelties is that it is their first "artisanal tier" release, with a highly intriguing Urushi lacquer dial inspired by Japanese sunsets.
The mirror-polished, stainless-steel case of the Kurono Grand Akane is a familiar format seen in the brands previous time-only references: a classic and slender 37mm case that can slide right under a shirt cuff with ease.
Like my Kurono Mori, the case flatters my wrist and will please any collector who appreciates classic frameworks. The mirror polish is done very well, its reflective case exuding elegance on the wrist.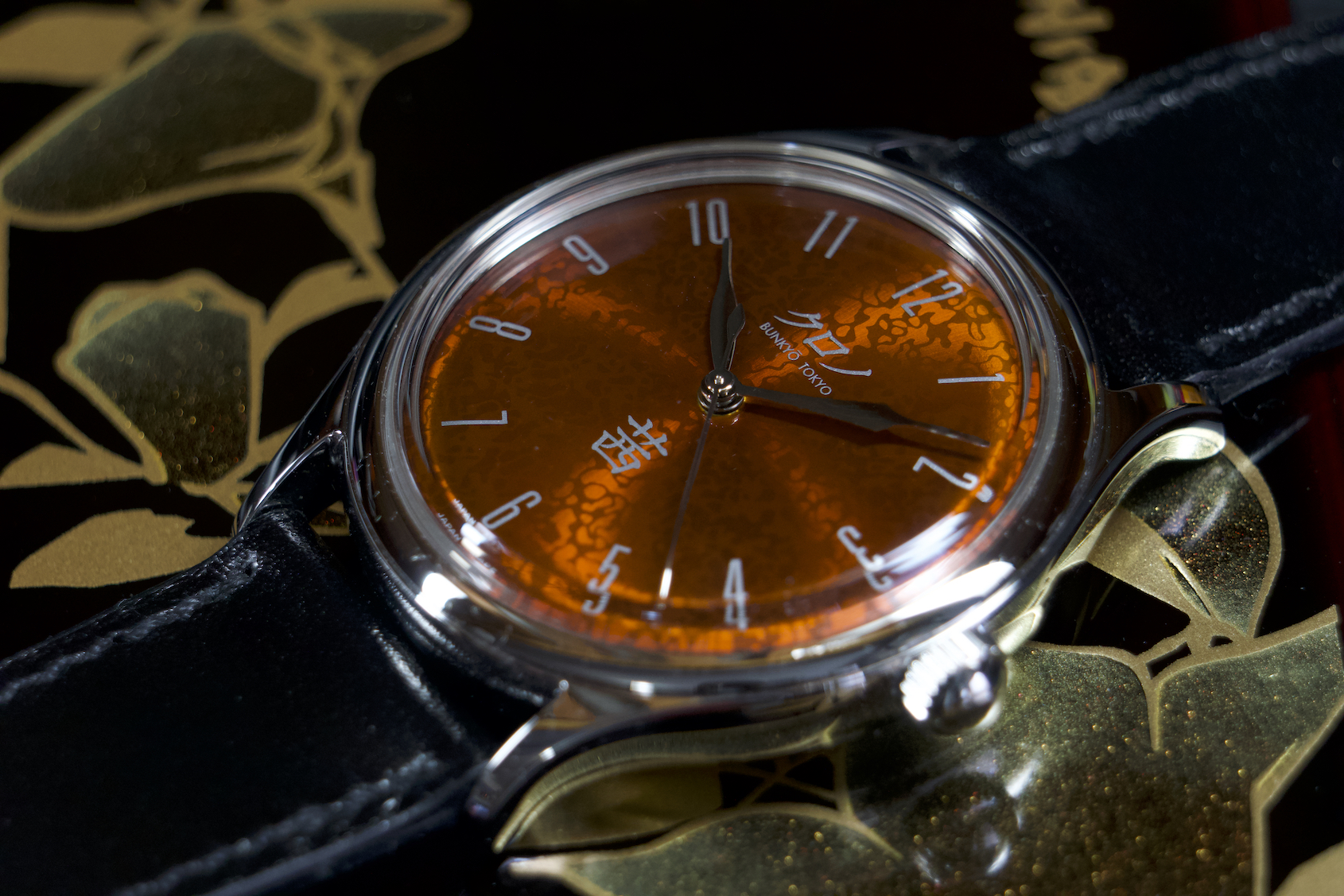 The star of the show, as is usually the case with Kurono Tokyo watches, is the dial. The Kurono Akane dial is created through a highly laborious process that must pass the stringent quality control of founder Hajime Asaoka. As a result, every finished product lives up to his sky-high standards and the scenic nature it takes inspiration from. When this watch arrived in my hand, I felt the colour to be very reddish orange in nature with a radiating sunburst effect seen on previous models. The colour, to an extent, mimics the tone of the red-hot wood against a fire – which is actually a part of the dial fabrication process. Where it differs immediately to the eye, aside from its unique shade, is its distinct pattern that breaks up the sunburst effect and darkens areas of the dial.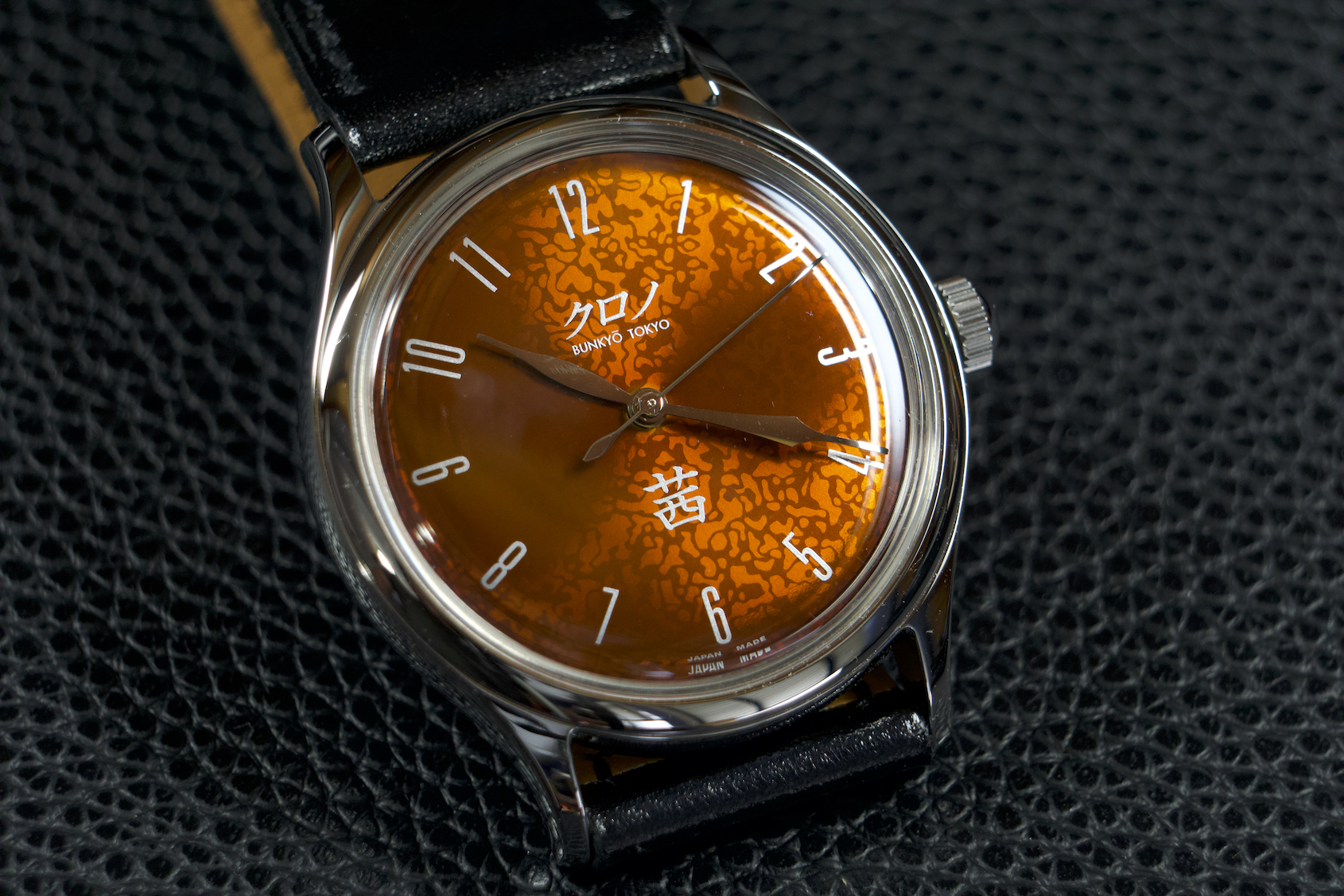 The Hamon pattern, as it is known, in my mind creates the effect of clouds covering the peachy orange sky – introducing darker reddish brown elements into its aesthetic. Their explanation of Hamon, which translates to "blade pattern", reveals it takes inspiration from mountainous terrain and is evidence of high craftsmanship. The traditional process dates back to the 8th century AD, where swordsmith Amakuni Yasutsuna worked to create hardened blades that would not break during battle. It is abundantly clear from its inspiration and manufacture that the Kurono Grand Akane is truly a Japanese creation that honours various aspects of the region's culture.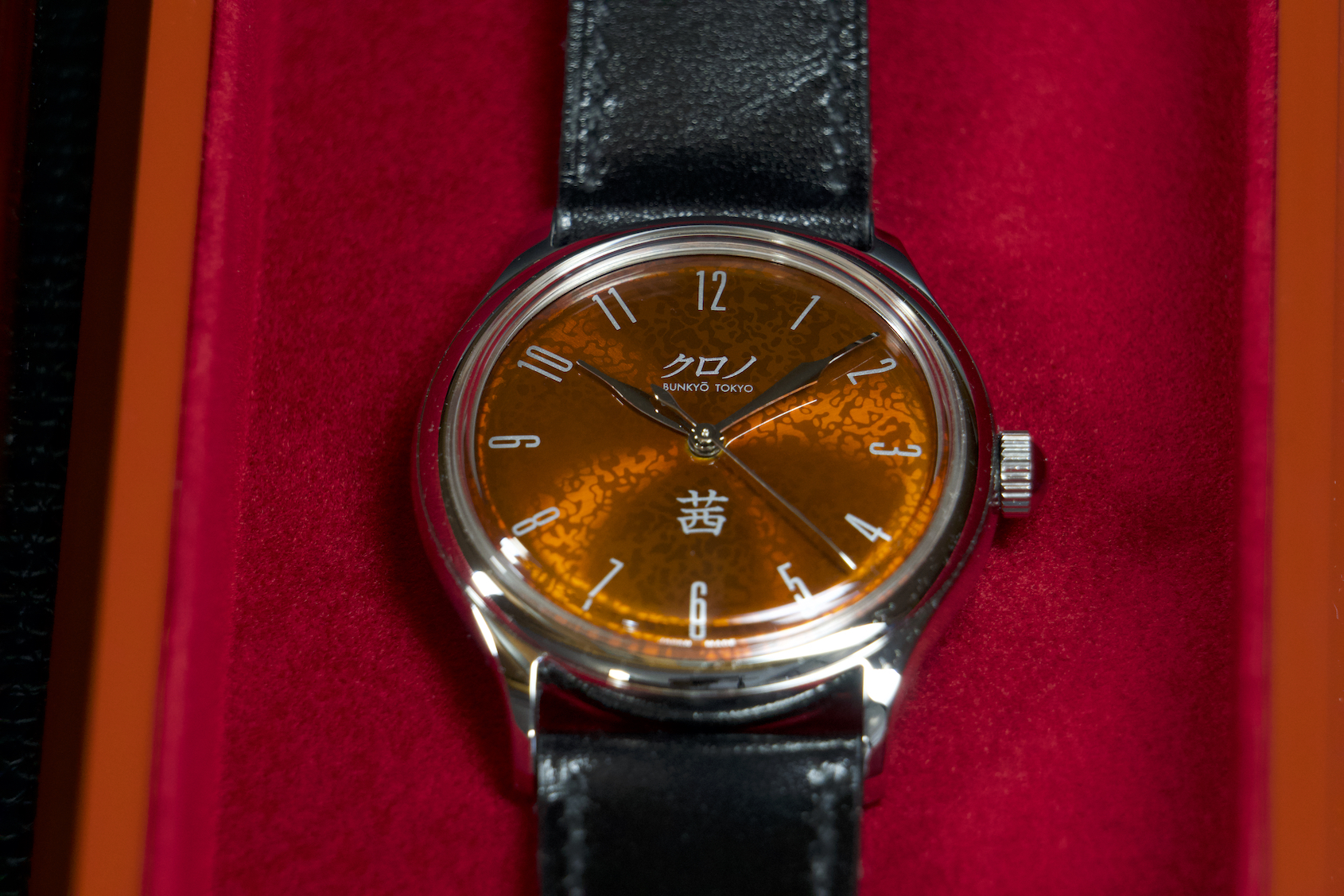 According to Kurono: "The base dial is metallic and finished in a lighter red that is similar to the redder Japanese sunset ('daruma') that typically occurs during late-autumn to early-spring. A darker, non-metallic Hamon pattern reveals the base colour by using the traditional Japanese 'Niiro 煮色' chemical treatment method." By boiling away the initial metallic layer the pattern remains dark under light, creating the contrasting hues.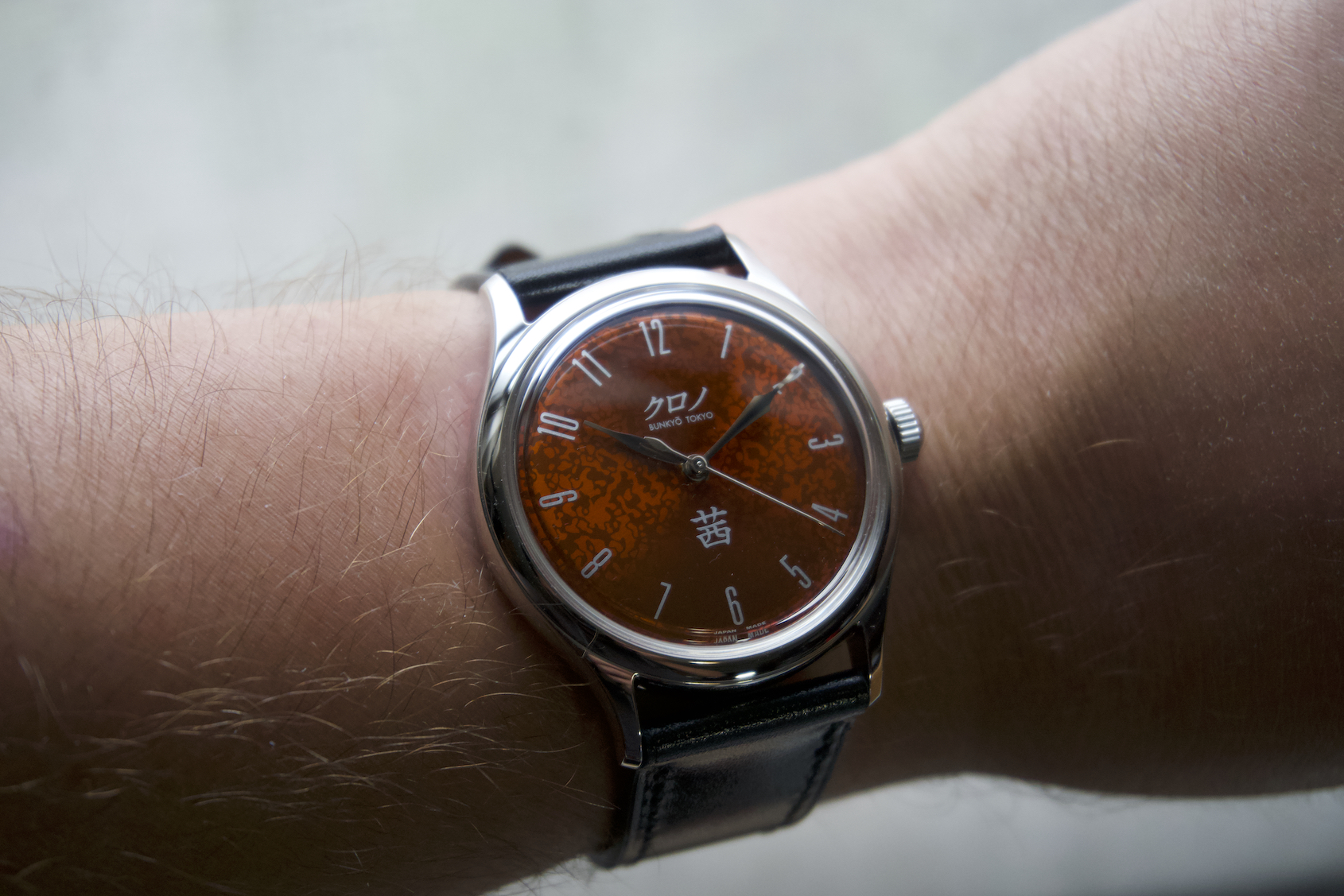 The result is a highly dynamic dial with incredible light-play on the wrist. It maintains the distinct central hand forms of previous releases, very well mirror-polished with bent tips for added elegance and legibility. Surrounding the dial are hour numerals with no printed minutes track, so when setting the time, upon powering it up with a wind, my OCD leads me to wait until a fifth minute where I can ensure I line the minutes hand up just right to a given numeral. For some this may be frustrating, but with its gorgeous dial you want as little as possible interrupting its aesthetic – arguably I would have forgone the numerals and Akane symbol (signalling its artisan tier) entirely for a super-clean aesthetic. This is not a sporty chronometer, it is an elegant, dressier watch that is an absolute conversation starter regardless of how horlogically informed your audience is.
What I am most excited to see, as an owner of the Kurono Grand Akane, is how the dial ages overtime. As I mentioned earlier, the dial incorporates Urushi lacquer – which is absolutely unheard of at this price point. Suki-Urushi (or clear lacquer) is applied to the dial in order to seal in the Hamon pattern, and depending on its interaction with UV light it will either lighten over time, and make it more translucent, or become warmer or colder in shade. This creates a unique relationship between each dial and owner, and it will be interesting to compare watches between owners in the years to come. Having only had it now for around a month, I have not noticed any patina or aging yet. In its current condition it is already unlike anything else in my collection, and every time I have worn it so far I have received comments on how cool the colour is.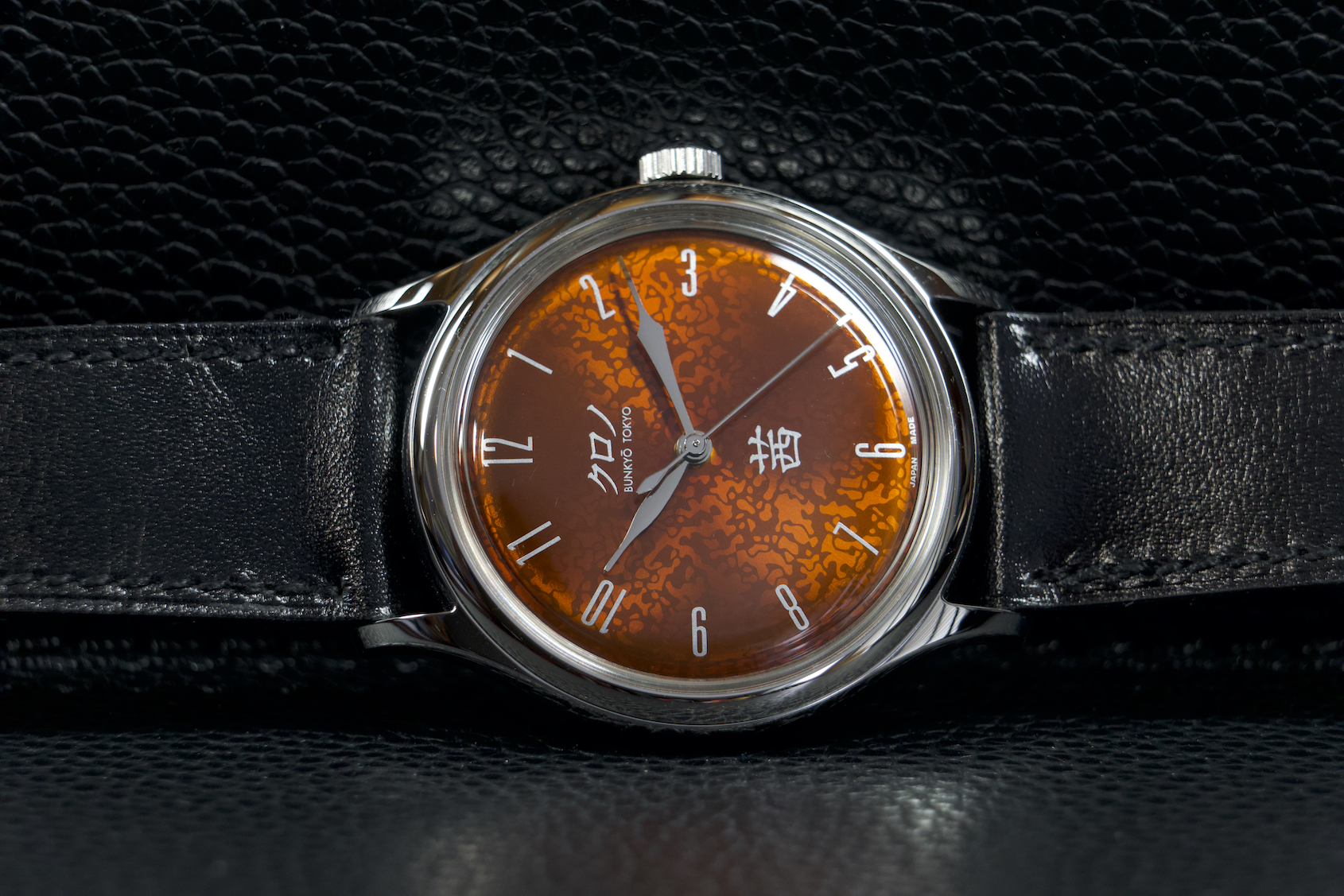 The supplied strap is very nice, a soft and supple, pebbled black calf-leather strap with reddish-brown accents on its side to tie into the colour of the Hamon pattern on the dial. Had I not had a spare Hermes strap I wanted to try with the watch I would have left it on the watch, but the fashionista in me prefers the single tone of the jet-black strap. I try to match accessories in my wardrobe, so were I to wear black shoes and a black suit the pop of colour from the sides of the factory strap may not fit the look as well. The Hermes strap is also more polished patent leather, whereas the supplied strap is a bit more casual with its matte pebbled texture. The good news is it's easy for me to swap between the two as desired.
Inside is a premium grade Miyota 90S5 movement that performs in line with my Kurono Mori, gaining 15 seconds per day on average. Considering there aren't 60 hashes around the dial it is, again, very clear this is not meant to be a chronometer. It is, however, a robust movement with 40 hours of power reserve that ensures reliable performance and lower maintenance costs down the line.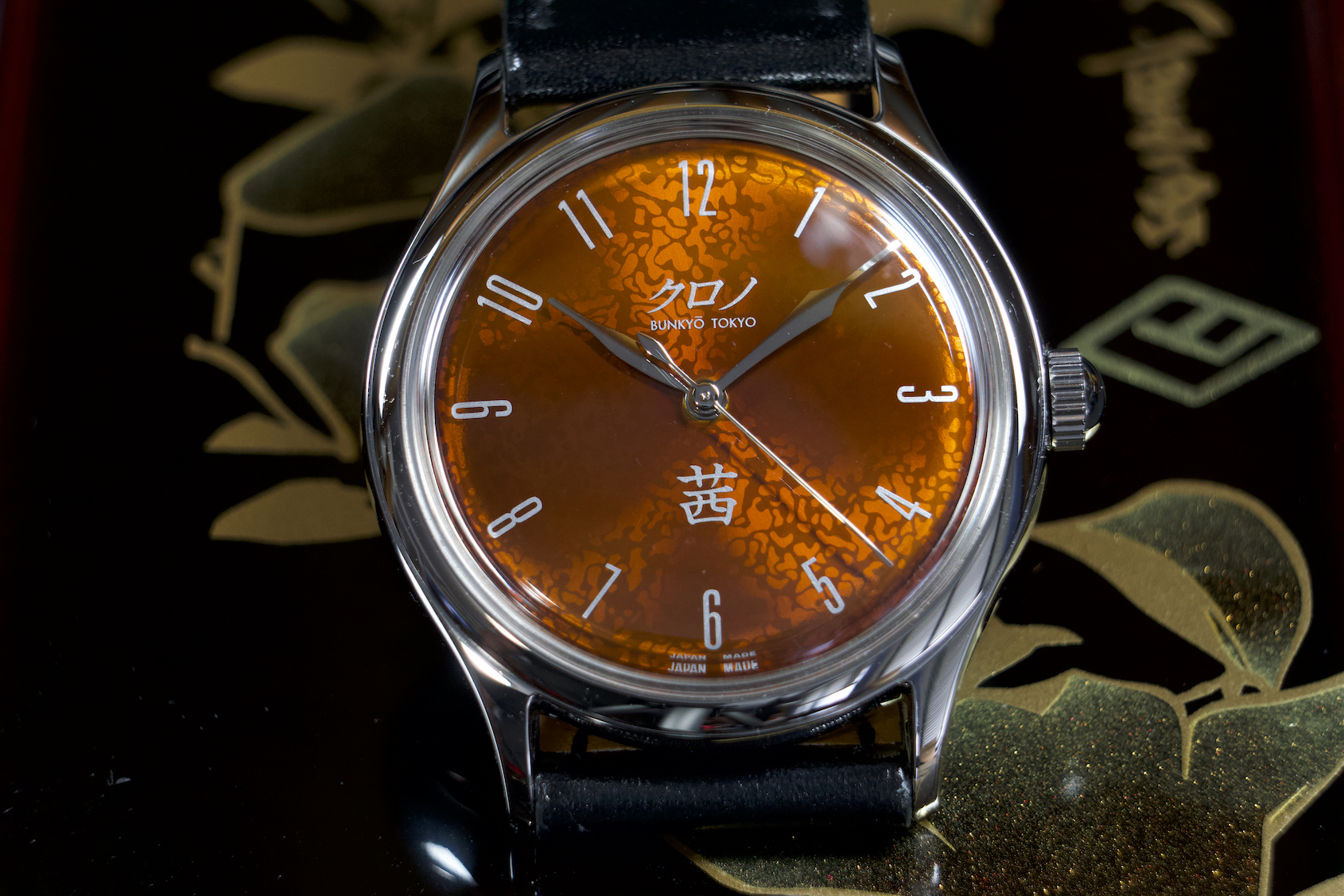 Some of you may be wondering whether or not a watch that utilises many of the same components as its predecessors is worth effectively twice the price. As an owner, my answer is emphatically yes. It may have the same 30 metre water-resistant, stainless-steel case, the same hands, and the same movement, but where the artisanal tier and its corresponding price truly comes into play is its outstanding dial. As a limited release of 200 pieces, produced in such a labour intensive and meticulous manner, I can say with full confidence there will never be another watch that looks like this. As a collector it is always fun to own something unique and distinct from the herd, and where this watch succeeds is through its winning case, movement, and hands formula paired with a highly artisanal dial that will never, ever, get stale.
Kurono Grand Akane pricing and availability: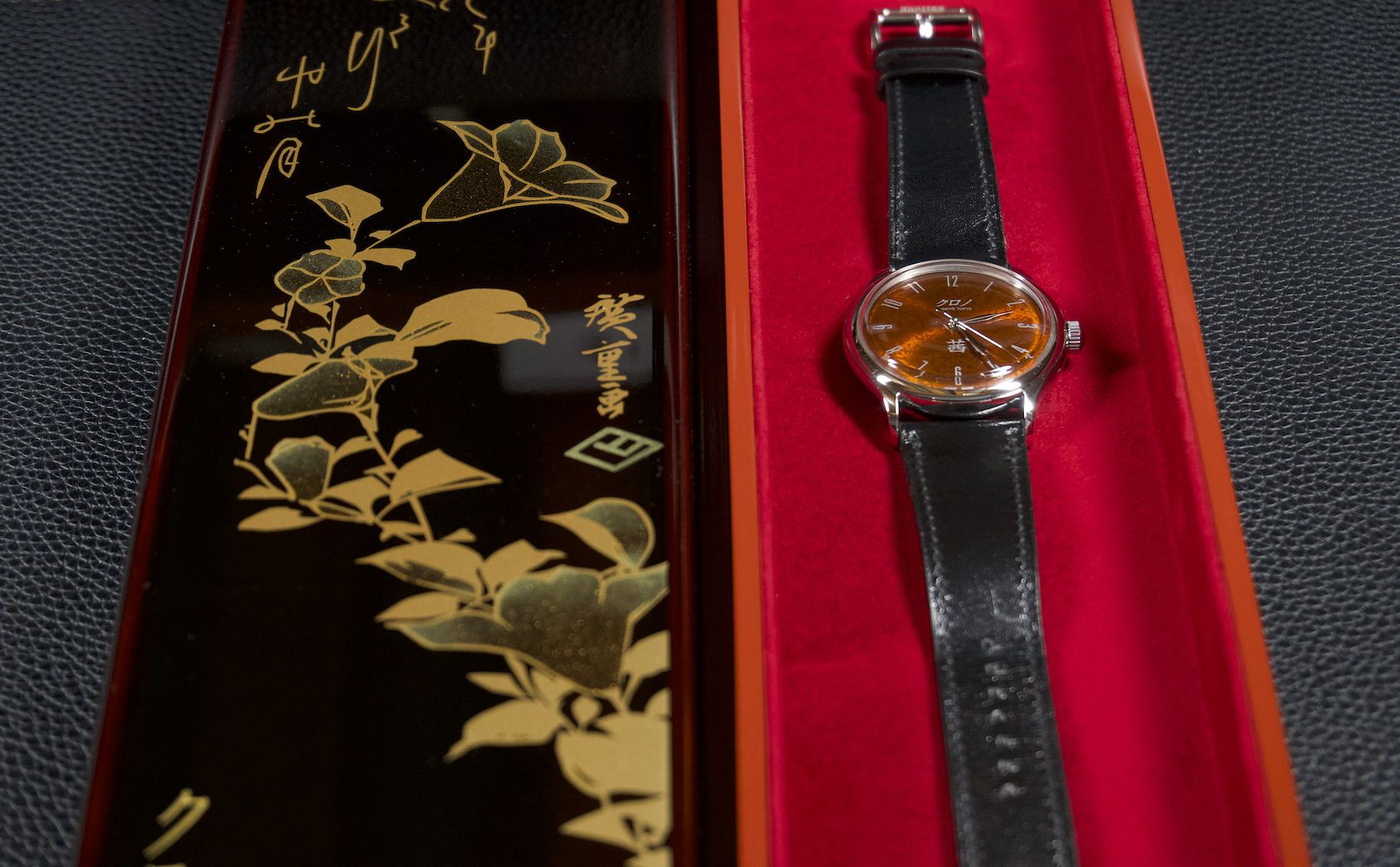 The Kurono Grand Akane is now sold out, the limited edition of 200 pieces. already allocated to buyers. Price: ~ $3,320 USD (before customs fees). (Please note the Kurono x Hiroshige 'Tamenuri Maki-e' box was purchased separately)