10 of the best watches for an 18th birthday
Tom Austin
Most 18 year olds will probably wonder why you need a watch when you have the latest iPhone, and that's a fair point – if you're purely looking for the time, that is. 18 is that coming-of-age milestone where most of us regarded ourselves as grown-ups, and grown-ups begin to learn a thing or two about sentimentality, which is why marking an 18th birthday with a watch is a fantastic proposition. Now, if you were anything like what I was at 18, there's a strong chance you're not likely to fork out thousands for a high-level timepiece for your teenage angel to smash up while falling over after having a few too many. Not that I did anything like that, not at all. We've compiled a list of 10 of the best 18th birthday gift watches to suit all budgets and levels of carefulness that we presume your teenagers have.
Seiko 5 Sports SRPD79 SKX Street Style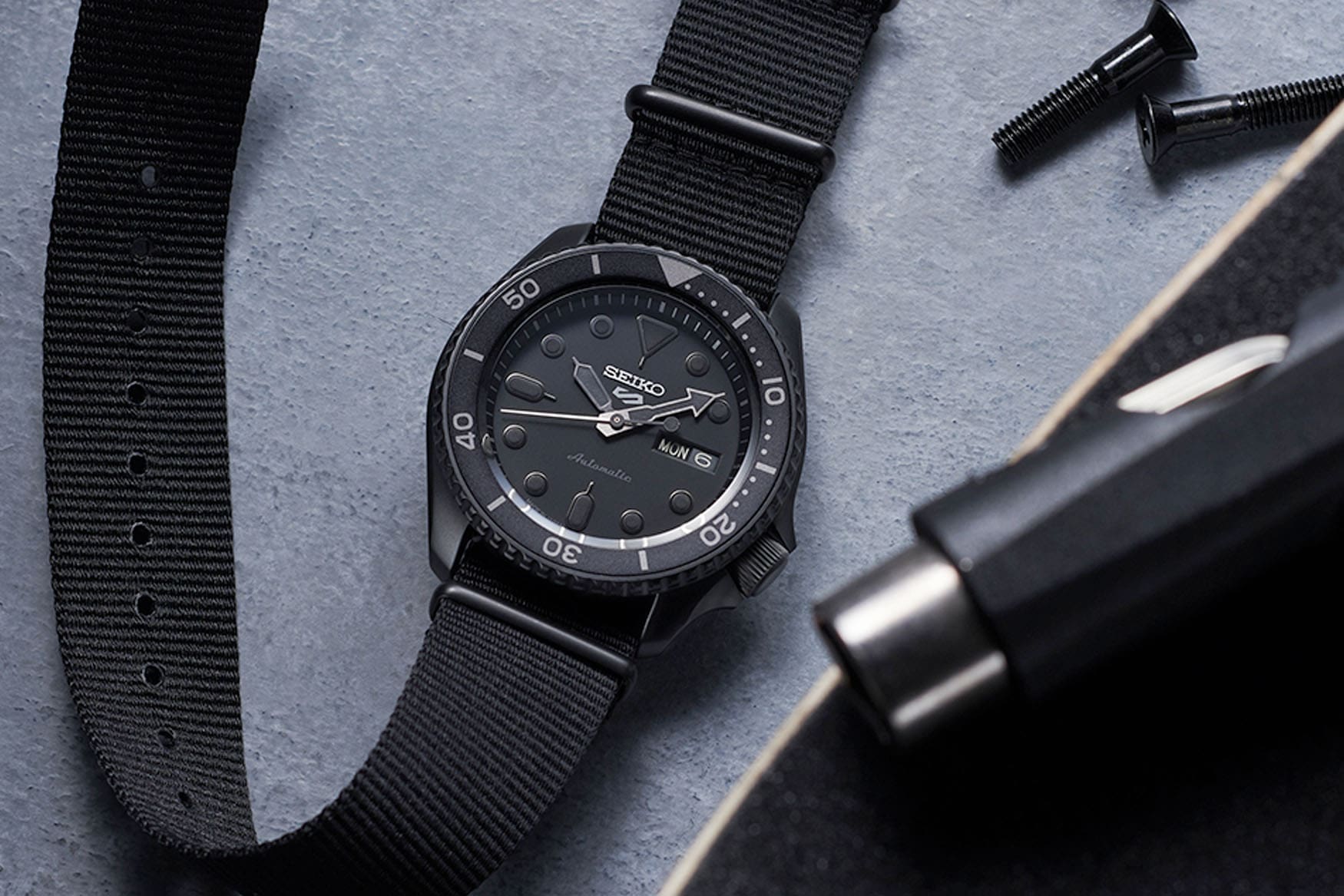 Channel your inner urban ninja with the Seiko 5 SRPD79 Street Style, a no nonsense functional automatic timepiece, which is street smart, aggressive-looking and functional, but also a damn fantastic watch that will last a lifetime. Sized at 42.5mm, it's a tough looking thing, with all the functionality one would need, water resistance of 100m, a waterproof nylon NATO strap, rotating bezel and a stunning amount of lume to keep the dial and hands legible in the dark. Being all black, it's perfect for urban exploration too, as it certainly fits with the streetwear aesthetic. It's more than just a simple dive watch though, these pieces are well known for being some of the toughest, longest-lasting automatic watches on the market at their price point. Lastly, they're highly customisable too, so if your teenager loves to personalise their look, the endless modifications are almost an entire hobby on their own. For a US$360 retail price, you can hardly go wrong.
Studio Underd0g chronographs
Born out of founder Richard Benc's boredom during the 2020 lockdowns, Studio Underd0g has gone on to become one of the most recognised and well-respected microbrands in the industry. With an unobtrusive 38.5mm stainless steel case, big-eye chronograph dial fixed to a mechanical Seagull ST-1901 movement, a domed sapphire crystal and finished off with an exhibition caseback, it packs a punch in a small, yet affordable package priced at A$1,050. Following a couple of sell out releases and limited edition drops, the core collection is made up of four watches, the Watermel0n, Desert Sky, Go0fy Panda and the Mint Ch0c Chip, each named after its colourful design inspiration. They've become fun little design icons which have captured the imagination of enthusiasts, and there's sure to be one in the collection for everyone. Also gaining traction amongst some much bigger brands, Studio Underd0g were nominated for the Grand Prix de l'Horlogerie de Genève (GPHG) award in the "Challenge" Category this year. One thing to watch out for, they're a little hard to to get hold of right now, unless you visit the Time+Tide Shop and Melbourne Studio, of course. 
Baltic Bicompax 003
Sticking with microbrands, the Baltic Bicompax 003 is an excellent choice. Taking design inspiration from watches of a bygone era, Baltic produce fantastic traditional-looking timepieces, which capture that timelessness of a vintage collector's item without all the hassle, or indeed the price tag. For a young professional, it's a great job interview piece which shows confidence and sophistication, without going overboard. It balanced subtlety and attention to detail with a 36.5mm stainless steel case, domed hesalite crystal and a classic looking chronograph sector dial. I would also highly recommend going for the open caseback, to show off the Seagull ST-1901 mechanical movement. Available in a range of colour options such as black, silver, salmon or blue gilt, there's plenty of options, along with an array of strap bracelet choices too, with prices starting from A$1,025 in the T+T Shop.
Hamilton Khaki Field Mechanical
The ideal watch for the budding collector, the Hamilton Khaki Field Mechanical has become an essential piece in starter collections. It's the kind of watch I'd want on my wrist if I was heading off to the wilderness to find myself on my gap year. It's a military inspired watch from American-turned-Swiss brand Hamilton, and well-known for its ruggedness and ability as a useful tool watch. At 38mm wide and 11.5mm thick the case is perfectly sized so as to not get in the way and manufactured in stainless steel. Sitting inside is the H-50 calibre, an ETA-based movement, which is reliable and boasts a whopping 80-hour power reserve. With a starting price of A$950, you can see why it's become as popular as it has.
Tissot PRX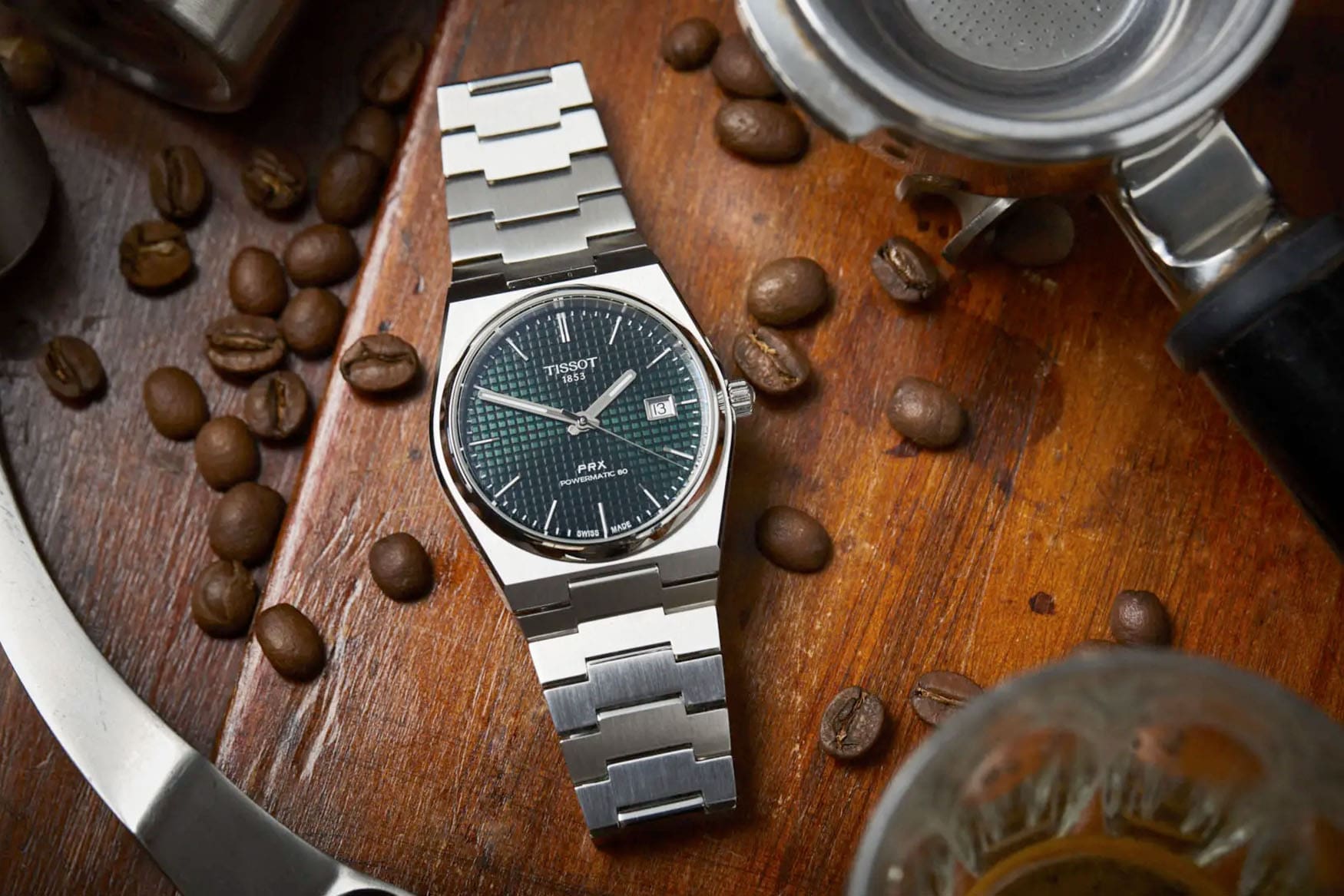 I wouldn't consider myself to be a fashionable person, and being 36 years old, I'm not qualified to comment on the fashion choices of 18 year olds either. However, I do know a fashionable watch when I see one, and the Tissot PRX is an absolute killer when it comes to modern watch design. Based on the original PRX from the late '70s, the current iteration brings it bang up to date with the on-trend integrated bracelet case design and waffle dial. Paired with an automatic, ETA-based Powermatic 80 movement, it'll be simple and inexpensive to service, with the safety of a weekend-proof power reserve. The watch comes in 40mm or 35mm sizes, a multitude of dial colours and finishes, including quick-change rubber and leather straps. There's even a full gold-toned version too to satisfy even the most bling-obsessed teenager. Above all though, it's a solid automatic timepiece with heritage and is one of the biggest hit releases of the past couple of years. Prices start at A$565 from the T+T Shop.
Tissot Sideral S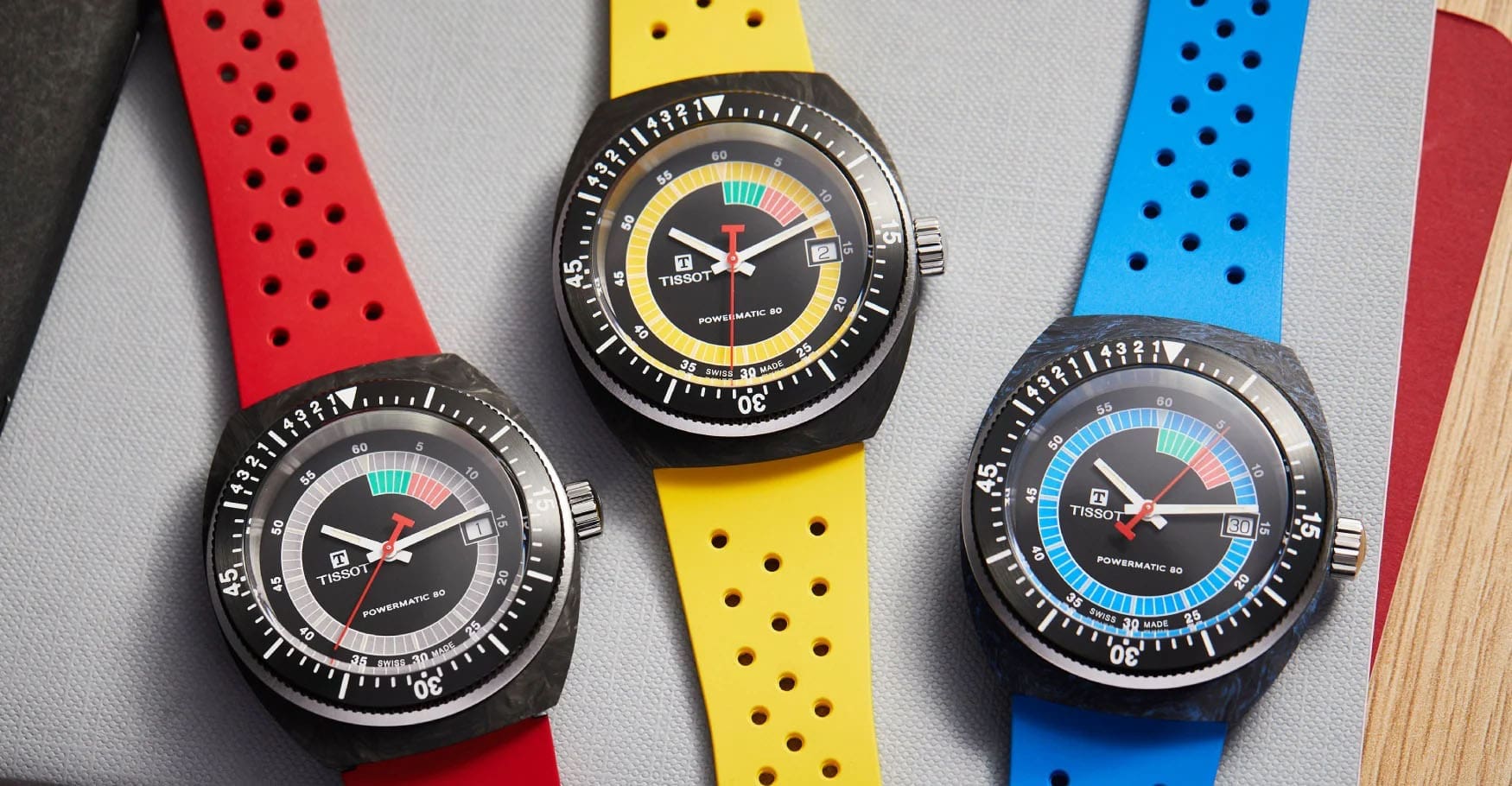 We're staying with Tissot for now, and their newly released Sideral S. Another throwback to Tissot's catalogue of the 1970s, the Sideral S is a homage to a watch specifically made as a regatta timer. I'll assume that your 18 year old doesn't own a yacht, but bear with me. First of all, the case is crafted from forged carbon fibre, with a stainless steel inner core. The original watch was the first ever monobloc watch made from fibreglass and Bakelite back in 1971, and the current version replicates it closely, but bringing it up to date with more modern material technology. At 41mm, it's well-sized and extremely functional as a diver too, with a 300-metre water resistance and brilliantly legible lumed dial and rotating bezel. The quick release straps are available in a range of colours, and the the blue model even has blue fibres interwoven into the carbon structure. Powered by the same Powermatic 80 automatic movement as the PRX, it's reliable timekeeper and a trusty, lightweight sport watch. Find it in the T+T Shop for A$1,635.
Doxa SUB 200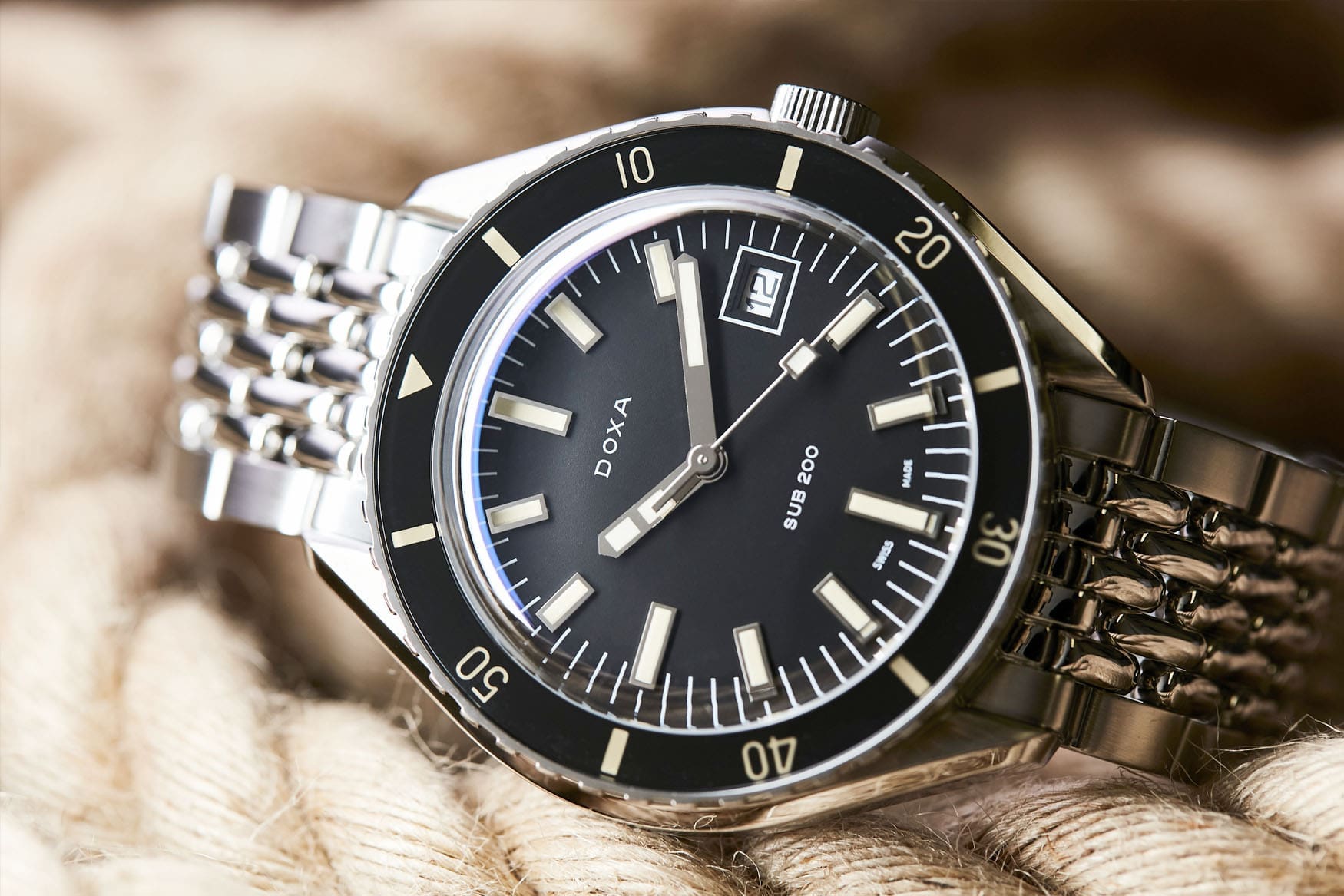 Doxa are one of the most prolific dive watch brands in the industry, with a history that covers more than a century in watchmaking. The SUB 200 is a serious tool watch aimed at divers with a need for something rugged, hard-wearing and long- lasting. The case is machined from 316L stainless steel for the best corrosion resistance and durability and comes in at 42mm, but wears on the wrist a little smaller than it may seem. It's completed with a domed sapphire crystal, and is rated to 200 metres of water resistance. On top of that, it looks stunning with its neo-vintage design, which Doxa have got spot on, mixing their brand DNA into a modern sports watch. The watch is also available in some wild colours, including orange, yellow and even a Tiffany-like blue, with prices starting at A$1,550.
Christopher Ward The Twelve 36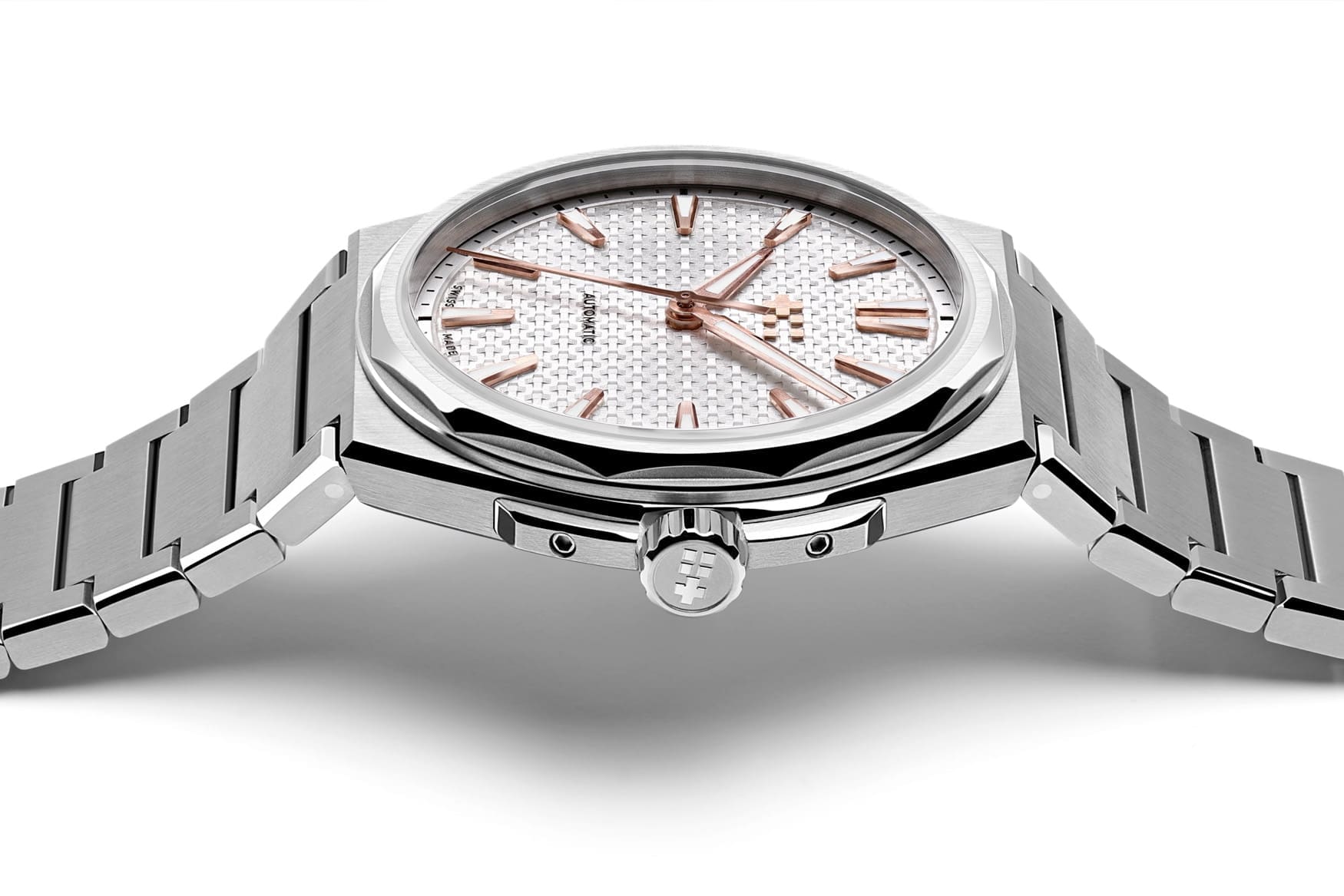 Back to the high-fashion, on-trend watches with the Christopher Ward's latest offering, The Twelve 36. Christopher Ward are on a roll at the moment, and with the ongoing resurgence of the integrated bracelet, they have returned with a stainless steel watch that is ready to shake things up yet again – something CW tend to be quite good at. The price vs performance ratio is almost unmatched here. With a thin, extremely well-finished integrated bracelet and dodecagonal bezel, featuring polished chamfers all over give the watch a wonderful feel on the wrist. The nice touches don't end there though, as the dial is finished in a unique textured pattern, and available in a choice of white, blue, glacier blue, and what CW calls "frosted lichen" – mint green to you and I. Powering the watch is the trusty Sellita SW200-1 automatic movement, a Swiss calibre known for its entry-level price and sturdy performance. For A$1,395 and up, it's a really aggressive value proposition.
Tudor Ranger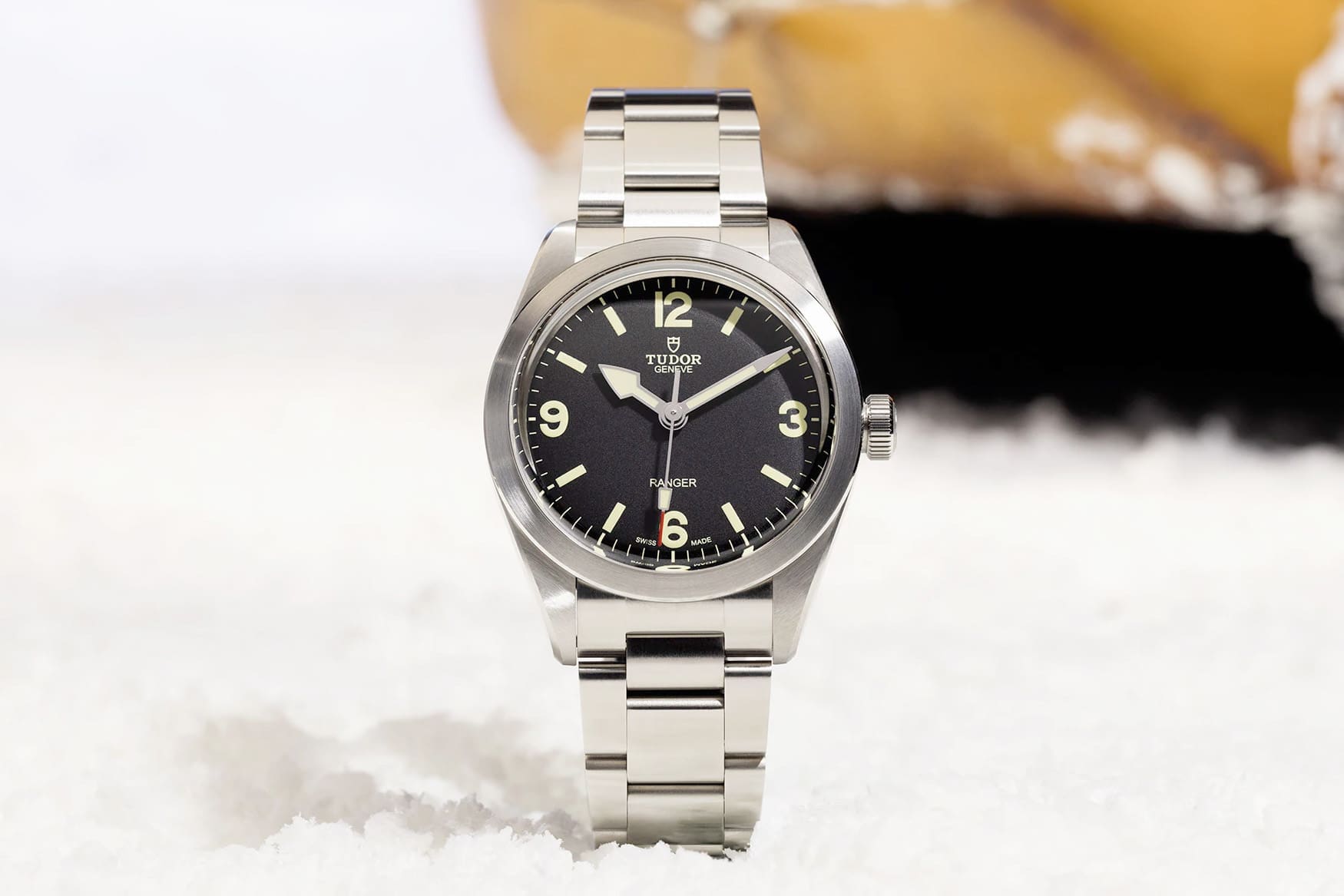 Into the more high-end brands now, firstly with Tudor's 2023 release, the Ranger. Rolex is the parent company to Tudor, and historically known for reproducing more affordable versions of their watches via the Tudor brand. So, like the original Submariners from Tudor, the Oyster Prince Ranger was the more affordable version of Rolex's Explorer, made famous by Sir Edmund Hillary on his expedition to the summit of Mt. Everest. The Tudor version has its own history too, playing an important part of the British North Greenland Expedition in the 1950s. As for the watch itself, it's everything you might expect from a watch designed specifically for exploration. With a 39mm stainless steel case, a fully brushed finish and matte black dial – it's simplistic and no-nonsense, and can back up its claims too with a COSC-certified movement and Tudor's exceptional levels of quality. It's something perfect for those who enjoy travelling and spending time in some extreme environments, testing themselves. Considering the A$4,140 starting price, you either need to command a significant disposable income, or really, really love your kid.
TAG Heuer Aquaracer Professional 300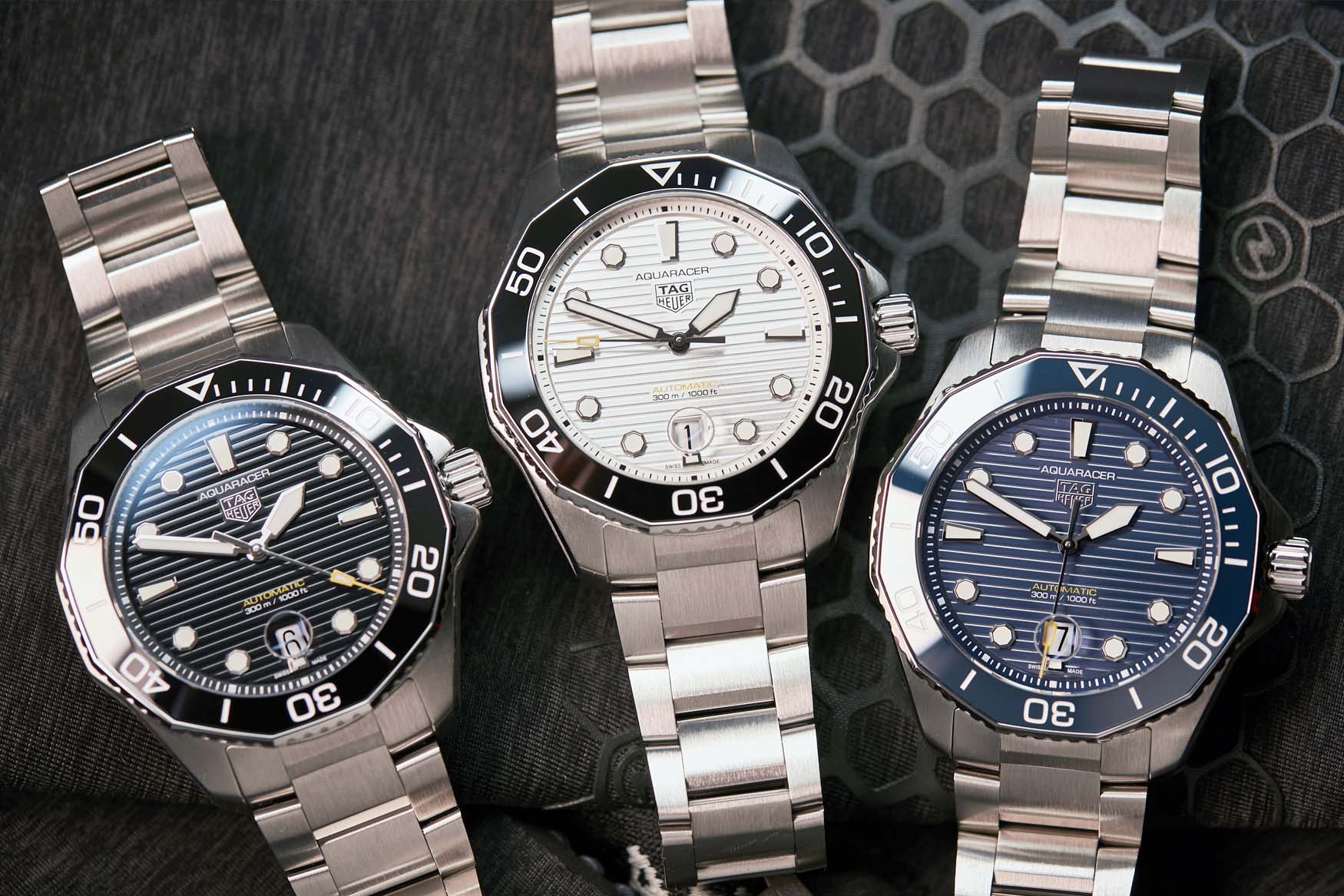 Whenever I get asked by young people about what first luxury watch to buy, I almost always default to TAG Heuer. In fact, my own personal first luxury sports watch was a TAG Heuer Aquaracer 300 – a watch I wish I'd never sold. There's something accessible about the brand, where you get a "real" Swiss luxury timepiece, with all the history and quality, but without the astronomical price tag – the latest Tag Heuer Aquaracer Professional 300 is no different. It's a highly capable dive watch with a 300-metre water resistance and great to go along with the recognisable TAG Heuer design language. At 43mm, it'll suit the larger-wristed 18 year olds, and is available in few subtle dial colours such as black, grey and blue. Paired with either a rubber strap or stainless steel bracelet, it starts at A$4,750, and is a luxury start to a serious watch collection.