The three watches Zach wore most in 2022 – Rolex, Grand Seiko, Zenith
Zach Blass
This past year was quite a journey for my collection, with new additions and trades – as I am known for every now and again. While I have been bad about it the last few months, with consecutive new watch addition honeymoon periods, typically I try to avoid wearing the same watch two days in a row to spice up my wristwear and ensure all, or most, of my watches get enough wrist time to justify their ownership. Different seasons situations call for a different watch, skewing for sportier pieces during warmer months and vacations, and dressier pieces for cooler seasons and moments I am suiting up for. Ultimately, what I find interesting about the below list is that none of the three watches I am about to speak to were on my previous list – proving that calling a watch your "go-to" or "forever watch" while in lust after purchase can be premature. At the very least it displays, at least for me, the go-to roster can be cyclical. So, without further ado, here are the three watches I wore most in 2022 and why.
Rolex Datejust 36 ref. 126234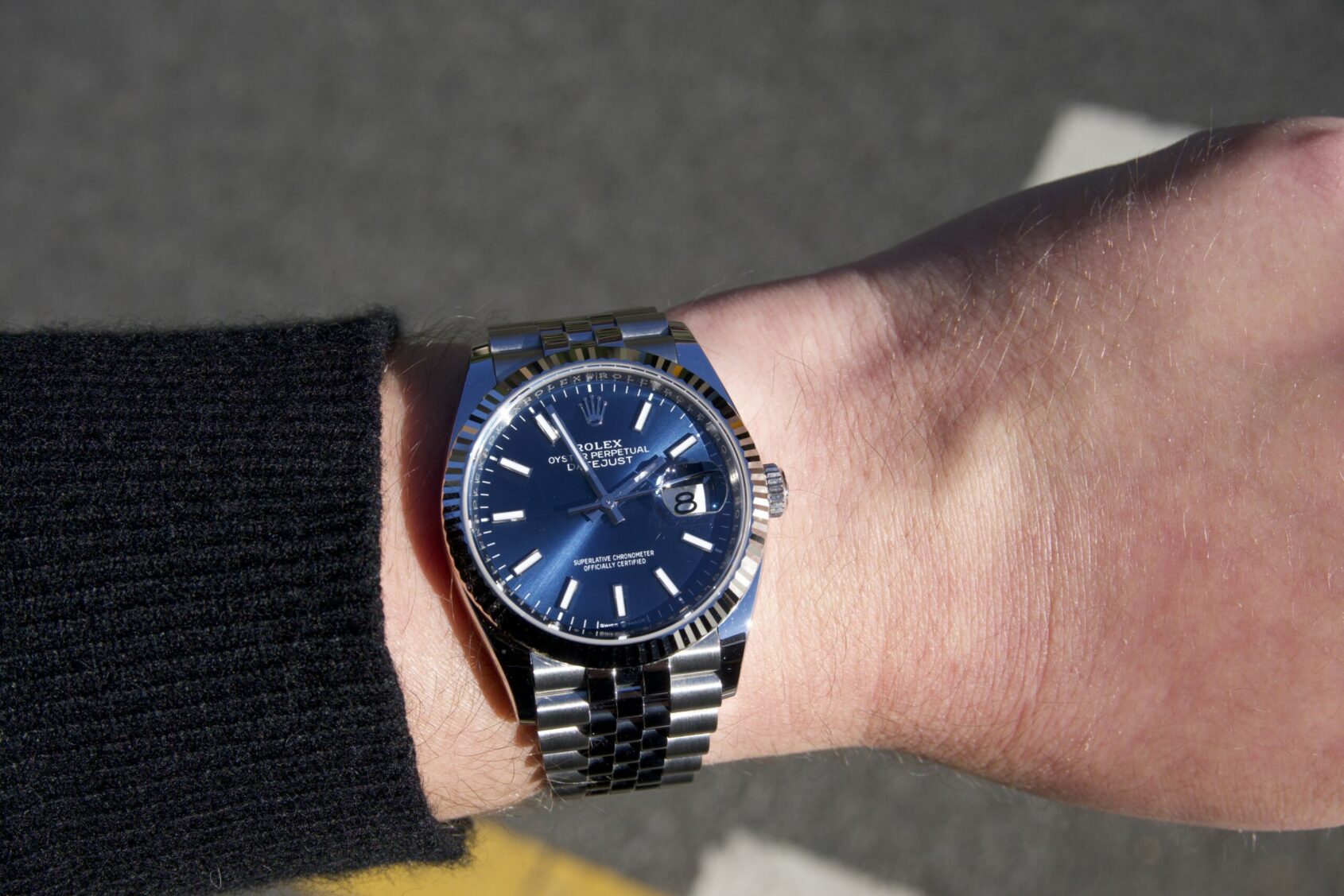 Normally it would be hard for me to claim that one of my watches was definitely worn the most above the rest. In previous years I could say a watch was definitely in the top three for most worn, but not necessarily that one was number one, another number two, and a third number three. My Rolex Datejust 36 ref. 126234, however, is the undisputed wrist-time champion for me in 2022. The Datejust as a model holds a dear place in my heart, as it is the watch model my grandfather wore all throughout my childhood. My grandfather is the person who passed the watch-bug onto me, and the Datejust, with its cyclops lens, was the first mechanical watch to capture my interest. It is such a versatile watch, albeit in the fluted/jubilee form a touch more dressy than sporty. But while I absolutely adore the aesthetic, I think the fit and feel, along with its top-notch functionality, is why I wore it the most this year. In my current collection I have watches ranging from 28mm to 44mm, but my Datejust has taught me that 36mm is my sweet spot and that moving forward I should avoid compromising for larger sizes unless absolutely necessary. While industrial, the case and bracelet finishing is very striking and the fluted/jubilee combo elicits incredible light play – a near discoball on the wrist. Rolex dial manufacturing, while not typically a point of discussion in attraction to Rolex, cannot be underestimated. The sunburst "bright blue" dial is a perfect hue. I have never felt my Datejust would not work with anything I wear in a given week, it is equally at home with t-shirt and jeans as it is with a shirt and tie. The only moments, however, I feel obligated to leave it in my watch box are when I am concerned it will draw too much attention.
Zenith Defy Classic Skeleton "Night Surfer" Time+Tide Edition
This brings me to my Zenith Defy Classic Skeleton "Night Surfer" Time+Tide Edition. When I travelled to London to attend the opening of the OAK Exhibition, with London's unfortunate watch-theft reputation as of late, there was zero chance the Datejust was going to join me for the journey. Now, this is not to say my Night Surfer is not very near and dear to me. The watch means a ton to me as it celebrates, and serves as a marker for, my time with Time+Tide and I cannot imagine, aside from emergency circumstances, I would ever part with it. When I am looking to trade faces, the Night Surfer is never on the chopping block. The reason I chose to wear it to London was that I felt the brand, and the particular aesthetic of the watch, is super stealth and very "if you know, you know". But, aside from becoming my go-to travel watch, it gets a ton of wear time here in New York City because it is both super handsome and super comfortable. The sentimentality of the piece, its compact 45mm lug-to-lug that suits my wrist, and its primarily stealth vibe with a popping blue skeleton dial has me constantly reaching for it. I do not want to jinx it, but having owned it for over a year now I also love the fact that, even though I have played tennis while wearing it, there is not a single scratch on the microblasted titanium case and bracelet. Rugged and handsome are two key qualities for daily wear, and the Night Surfer is definitely both.
Grand Seiko SBGA413 'Shunbun'
Aside from the fact the watch matches my red-lensed Tony Stark glasses you often find me wearing, the accuracy of Spring Drive and the aesthetic of their nature-inspired dials and Zaratsu-finished cases will always be a part of my weekly horological diet. While I don't necessarily prefer one over the other, the likely reason the Grand Seiko SBGA413 'Shunbun has ousted the SBGA211 "Snowflake" from the most-worn list is due to the fact it was acquired more recently. After heavily wearing the Snowflake for years, I may simply just be giving the SBGA413 its due. But, to give credit where it is due, a key element that keeps me slapping the SBGA413 onto my wrist is its distinct cherry blossom pink dial. There really is not another dial like it on the market, and this heightened level of distinction naturally provides me the varietal spice I strive to have in my wear-roster. The Grand Seiko brand, while huge with watch enthusiasts, does not elicit the heat watches like Rolex would. I have always said that some of the best candidates for a one-watch collection are Grand Seiko's, their accuracy, their versatility, and incredible finishing ticking all the boxes while also being a watch you are less likely to be tailed and targeted for wearing. The SBGA413 is a watch I know will never fail me, and that I feel comfortable wearing anywhere anytime. So, I guess it is no surprise it was one of my most worn this year.