A MONTH ON THE WRIST: Why I've already forged a special connection with my new Rolex Datejust 36 ref. 126234
Zach Blass
If I had to pinpoint the early origins of my journey to becoming a watch lover, I would attribute it to inheriting the passion for watches from my grandfather. Throughout decades of his career he sold watches for a living, anything from Victorionox door-to-door to Rolex and Omega in various authorised dealers. While he loved various brands and their timepieces, ultimately, as I remember it, his pragmatism led him to be a one-watch kind of man. So, what was his one watch? A Rolex Datejust 36 in yellow rolesor with an everyday versatile white dial. In those days, visiting him as a young child, I certainly had no idea what made the watches tick, what a Superlative Chronometer was, or the difference between Oyster and Jubilee bracelets. All I knew was that it was a Rolex, and that I was especially intrigued by the cyclops magnification on the crystal – again, at the time, having no idea that was what it was called.
Due to his sense of fiscal responsibility, whenever I would pick his Rolex up from his nightstand to look at it he would immediately remind me that the watch was not a toy and that it was an expensive luxury – not a necessity. Therefore I shouldn't concern myself with it at that age. In fairness, he wasn't wrong and it wasn't like I was asking him how it worked or the history of the brand. Unfortunately, I hadn't fallen down the horological rabbit hole at the time. But what I did know then was that one day I wanted to have one for my wrist and be just like my grandfather. A month ago I was finally able to make that happen, securing a Rolex Datejust 36 ref. 126234 from my local Bucherer boutique.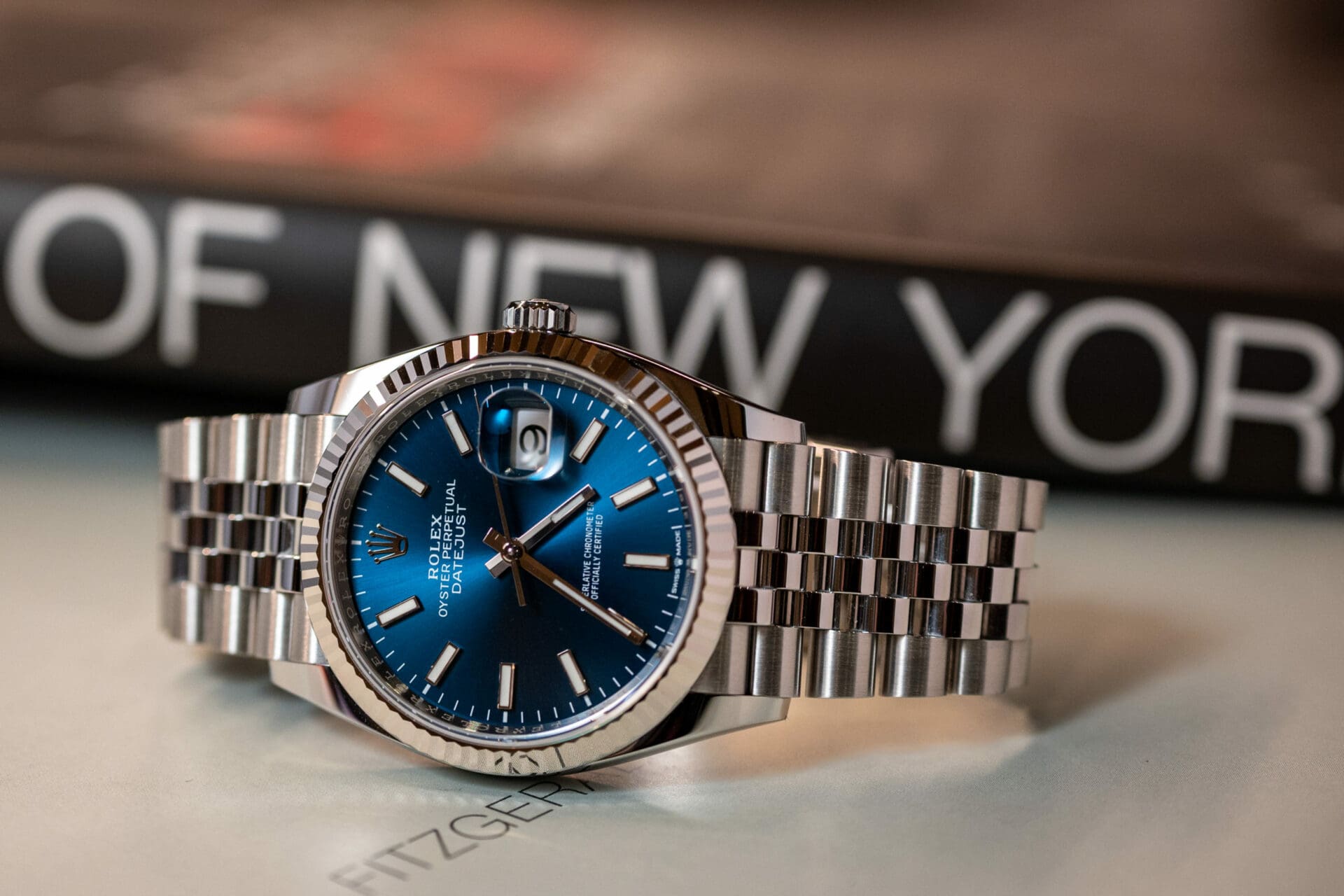 As I became more educated about watches, my respect for the Datejust only grew. Whenever I think of the phrase "robust elegance" the Datejust is always top of mind. It is a rather sophisticated and formal timepiece, but through its Oyster Perpetual framework it is equally robust as well. I really appreciate the fact that it would fit right in at a boardroom in any era, while also having 100 metres of water-resistance to ensure you could also enjoy while on vacation away from work.
In the modern era of the collection, you have a 36mm case, 12mm thick, and 43.3mm lug-to-lug, made from corrosion-resistant 904L stainless steel. Inside you have the most efficient automatic caliber ever found in the Datejust. The in-house caliber 3235 offers 70 hours of power reserve, increased resistance against shock and magnetism, and of course it's pledged with stellar accuracy at +/- 2 seconds per day. All of this considered, I finally decided to take the plunge. After selling a few pieces in my collection, I went to my AD to make an inquiry. Fortunately instead of being laughed at, which has happened in the past while inquiring about a GMT Master II Pepsi, I was able to put a 50% deposit down and received an ETA of 8-12 weeks for the watch to arrive. When three months past I began to worry whether or not it would actually come, but at the four-month mark I finally got the call.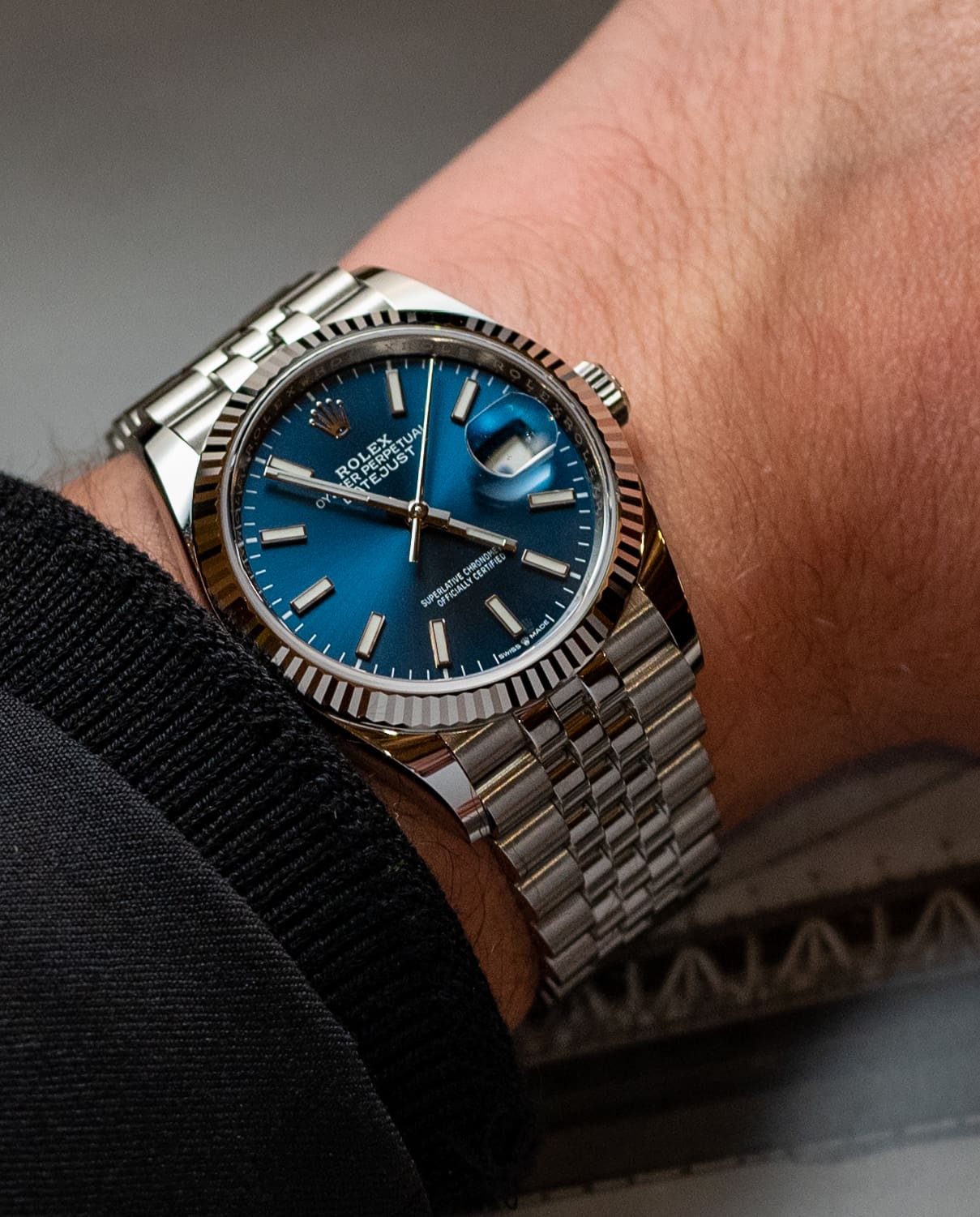 Once I put it on the wrist, I felt … so much gratification and satisfaction. On the one hand, I had actually managed to acquire my first Rolex watch at retail – no special treatment, nor leveraged purchase history. Much more meaningful to me was the fact I finally owned a Datejust like my grandfather. It made me feel that much more like the gentlemen he has always strived to raise. Once it was sized to my liking, I was very happy with the fit. Vintage Rolex poses a problem for me with too many permanent links, and my only prolonged modern Rolex wear experience stems from my Rolex Submariner ref. 114060 which can be supremely fine tuned thanks to its Glidelock clasp. So I was glad, after holding my breath, to breathe a sigh of relief when it turned out to fit like the proverbial glove. While a more classic diameter at 36mm, it still has an impressive weight on the wrist – the precious metal-like heft that Rolex provides in their steel watches.
Looks-wise … the modern Datejust offers the same elegant sensibilities as its vintage counterparts. With a fully polished case and a mixed finished bracelet there is an understanding that the model is not simply a sports watch, rather a very robust dressy watch. This is especially the case considering I opted for the white-gold fluted bezel and steel Jubilee bracelet. I am very impressed with the rich brushing and the polished surfaces compliment the aesthetic well, creating a ton of light-play. Its 12mm thickness looks even more slender while worn, the watch sits nicely low on the wrist. The 43.3mm lug-to-lug span is perfect for my smaller wrist, somewhere between 6-6.5 inches in circumference (likely closer to 6). While more modern and robust then ever, its dimensions make it wear like a watch from decades ago – catering to the increasingly popular classic dimensions.
View this post on Instagram
What stood out to me … just how much light play there is. Not to use Grand Seiko terminology, but light and shadow visuals are abundant with the Datejust. The case remains dark in most light settings, as well as the intermediary links of the Jubilee bracelet and polished centre of the clasp. The brushed surfaces remain rather bright, creating defined lines and contrasting tones. The fluted bezel is the most unexpected delight. When I did my first wrist roll, the glistening shimmer genuinely made me think of the movie Independence Day. Weird, I know, but I immediately thought of the scene when the Air Force attempts to use light flashes to communicate with the extraterrestrials in the UFO before them. Watch the reel above, you'll understand why the bezel light play intrigues me so much. Another standout aspect I must touch upon is the dynamic sunburst finished "Bright Blue" dial. Bright Blue is a bit ironic because at any given moment it can convey a variety of shades of blue. Under direct light it is certainly a vibrant shade of blue, but it can also appear almost black at varying angles and darker settings. Rolex dial fabrication is probably one of the most underrated elements of their timepieces.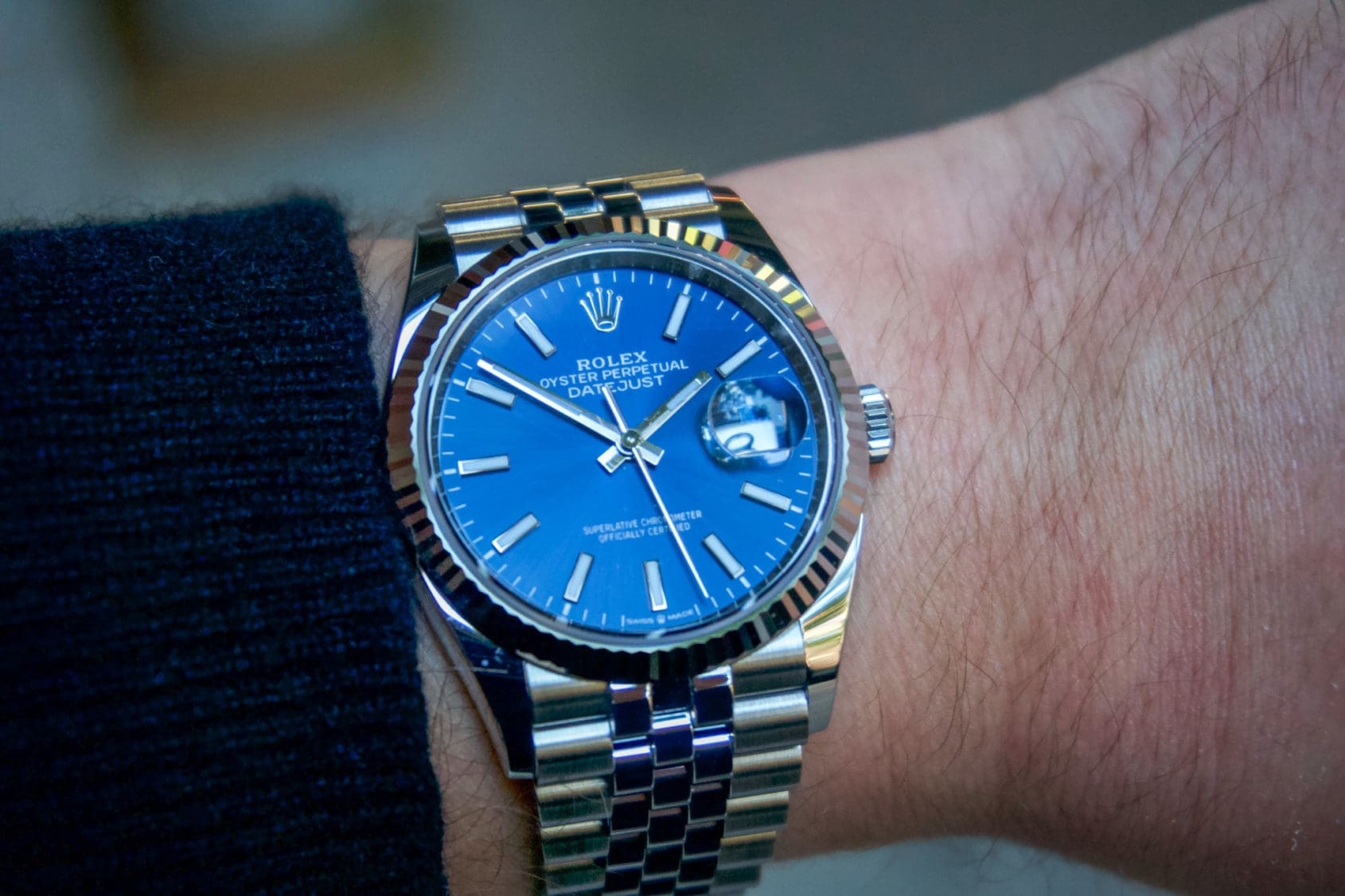 I'd wear this with … anything. Really, it is that versatile. Definitely a beach or boardroom aesthetic. Whether in a bathing suit, t-shirt and jeans, or a suit and tie, it is equally right at home. Honestly my concern is not what I would wear it with, rather where I wear it. The light play of the bezel and bracelet can draw a bit of attention, and so if I am being honest I do not think I would travel with it unless I was heading into familiar territory.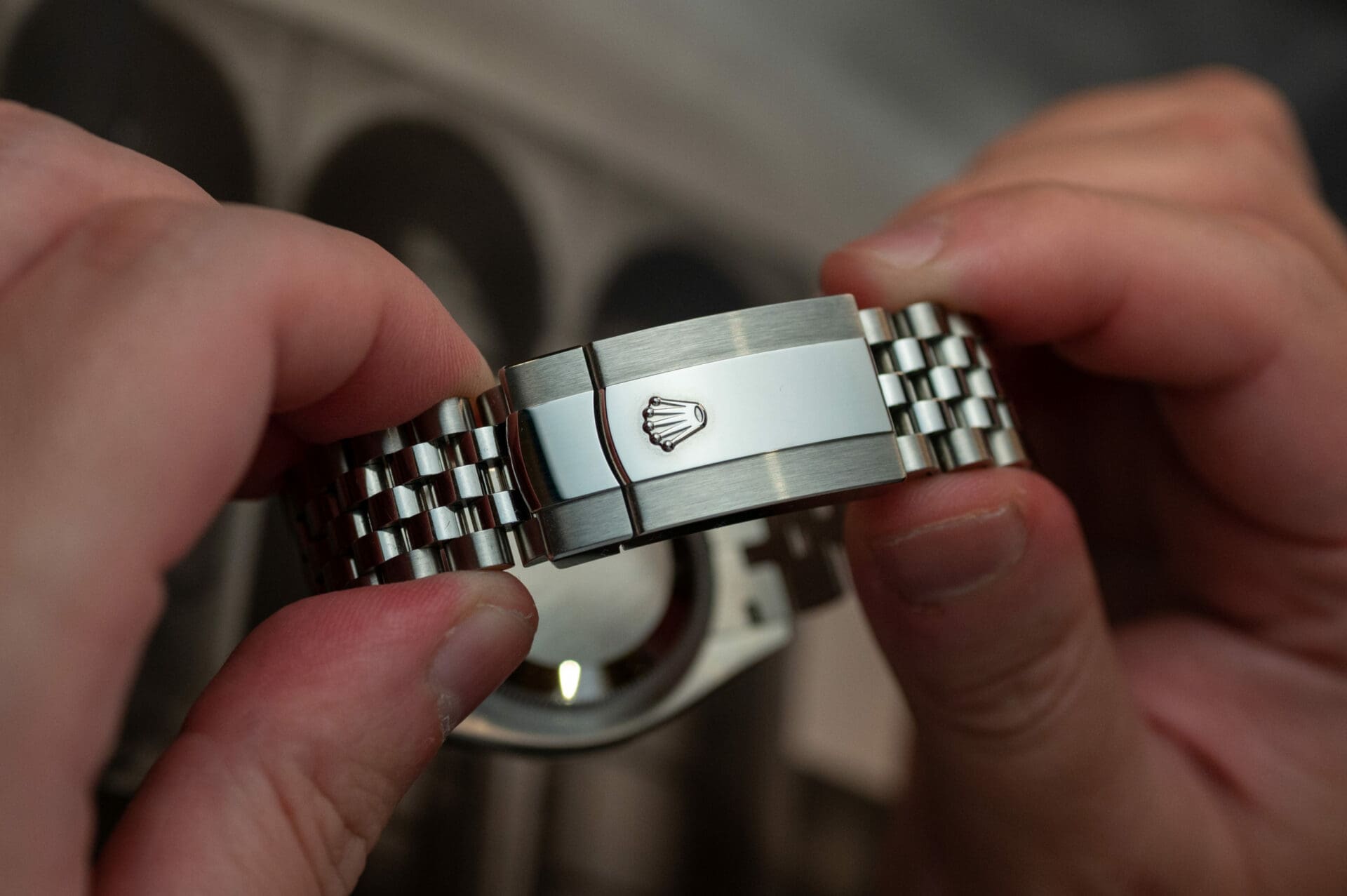 If I could change anything … Easylink. It does not really do anything for me. It is very unlikely I will one day need to effectively add a link on the fly. If I could offer one suggestion to Rolex, it would be to adopt a similar technology to Tudor's "T-Fit" in their clasps. On the fly micro-adjustment is much more useful than being able to extend the bracelet in a fixed single link increment. That being said, if it meant thickening up the clasp then it would be best left as is. The watch as it stands slides really well in and out of a shirt cuff.
One month on … I can say the honeymoon has been long. My Rolex Datejust 36 ref. 126234 has been getting the lion's share of wear time over the last month, and the fact I can't seem to leave it off my wrist too long has made me realise something important. I am glad I got it now, versus earlier in my collecting journey, because I may have been too content with it to the point I would not have explored other brands I own as well. In terms of its accuracy over the last month, it certainly lives up to the Superlative Chronometer standard. The first week I was amazed when I checked in the Watchville app on my phone, which I had synched it to when setting it initially, and found it had not gained or lost a second. It was dead on. After more wear, I would say that the watch runs within a second a day – losing or gaining 0.5-1 seconds per day depending on orientation or how much power reserve is left in the watch.
Rolex Datejust 36 ref. 126234 pricing and availability:
The Rolex Datejust 36 ref. 126234 is available for inquiries at Rolex boutiques and authorized dealers worldwide. Price: $8,550 USD (in a fluted bezel and Jubilee bracelet configuration).