The IWC Ingenieur Automatic 40 is the the latest Genta watch to become a celeb favourite
Zach Blass
Trivial to some, cool to see for many, people around the world are constantly tuning in to see what celebrities are wearing. For watch fans, the magnifying glass is being held up to the wrists of celebrities. I think we all have experienced friends and family giving us the side-eye as we constantly pause a television show or movie to try and identify a watch, and I am always pinching in on my phone, zooming in to see what watches celebs are wearing during awards shows, red carpet premieres and galas, or in candid moments. We have seen celebs favour two Gerald Genta-designed watches: the Audemars Piguet Royal Oak and the Patek Philippe Nautilus, but a third Genta design is now rising in popularity amongst celebs. It's none other than IWC's new Ingenieur.
It is hard to pinpoint what it is about Genta designs that seems to really resonate with watch wearers. They just have an "it" factor, with Genta's keen eye for design undoubtedly among the most influential in watchmaking. For collectors, the new IWC Ingenieur Automatic 40 was a long-awaited collection refresh, as many were waiting for the collection to circle back closer to its original 1976 form. With steel and titanium versions, handsome dial colours, wrist-friendly dimensions, a 100-metre depth rating, and a five-day automatic calibre, the offering has never been stronger in the modern era. The only nit-picking from some was the pricing strategy, but with limited availability, and few listed on the secondary market, it is clear that those who are getting their hands on one are enjoying it, and keeping the watch. If anything, IWC is aptly getting at retail what could have been its secondary price. Regardless of where you stand, I think we can all agree it is cool to see the Ingenieur getting some love.
The Rock: IWC Ingenieur Automatic 40 IW328901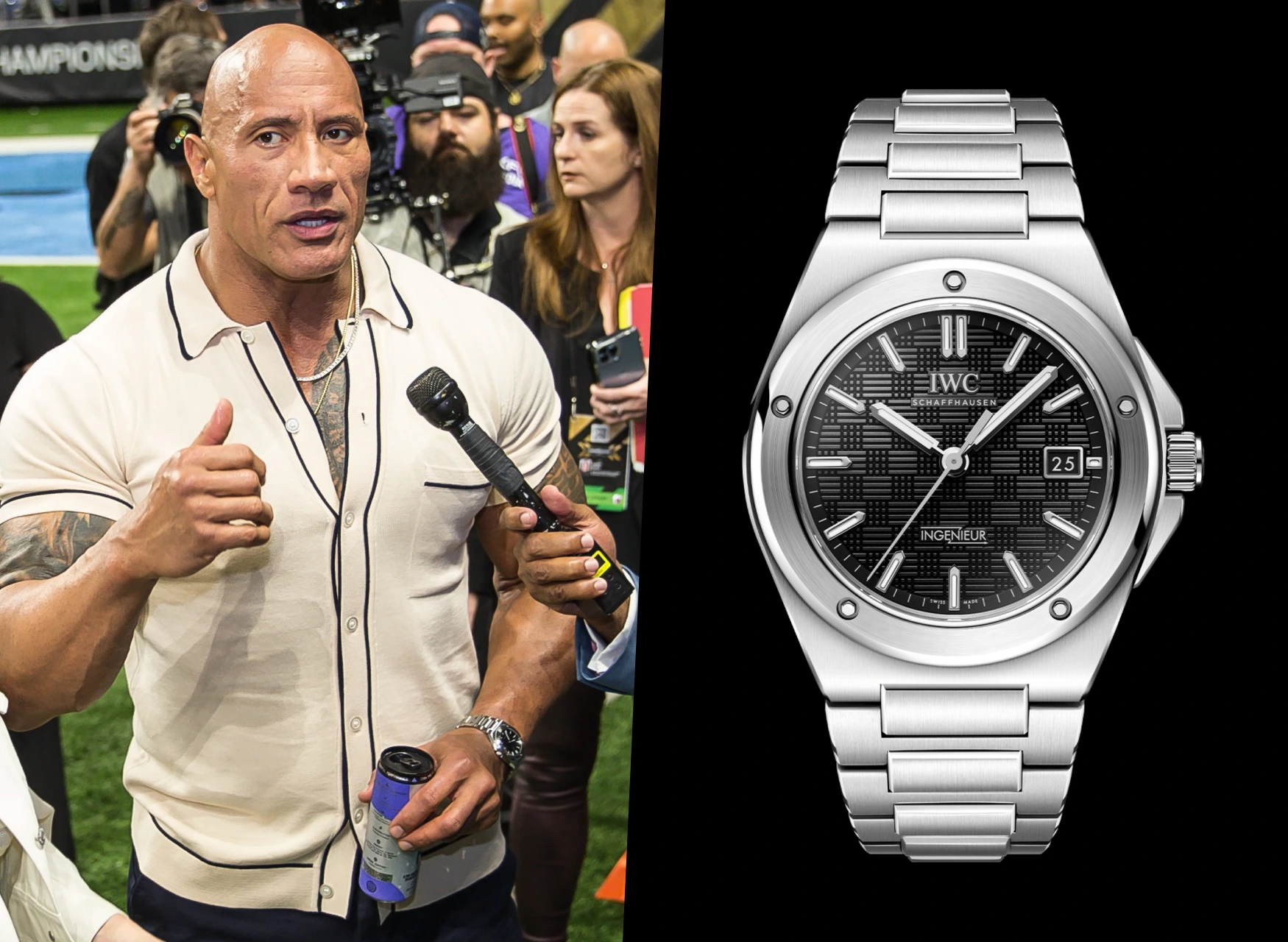 Making the IWC Ingenieur Automatic 40 look like a Datejust 36 on his giant wrist, Dwayne "The Rock" Johnson was recently seen sporting a stainless steel model with a black grid dial. The Rock has long been a fan of the brand, spotted wearing many of their watches, so it comes as no surprise that he would want to wear arguably IWC's hottest watch right now.
Pete Davidson: IWC Ingenieur Automatic 40 IW328903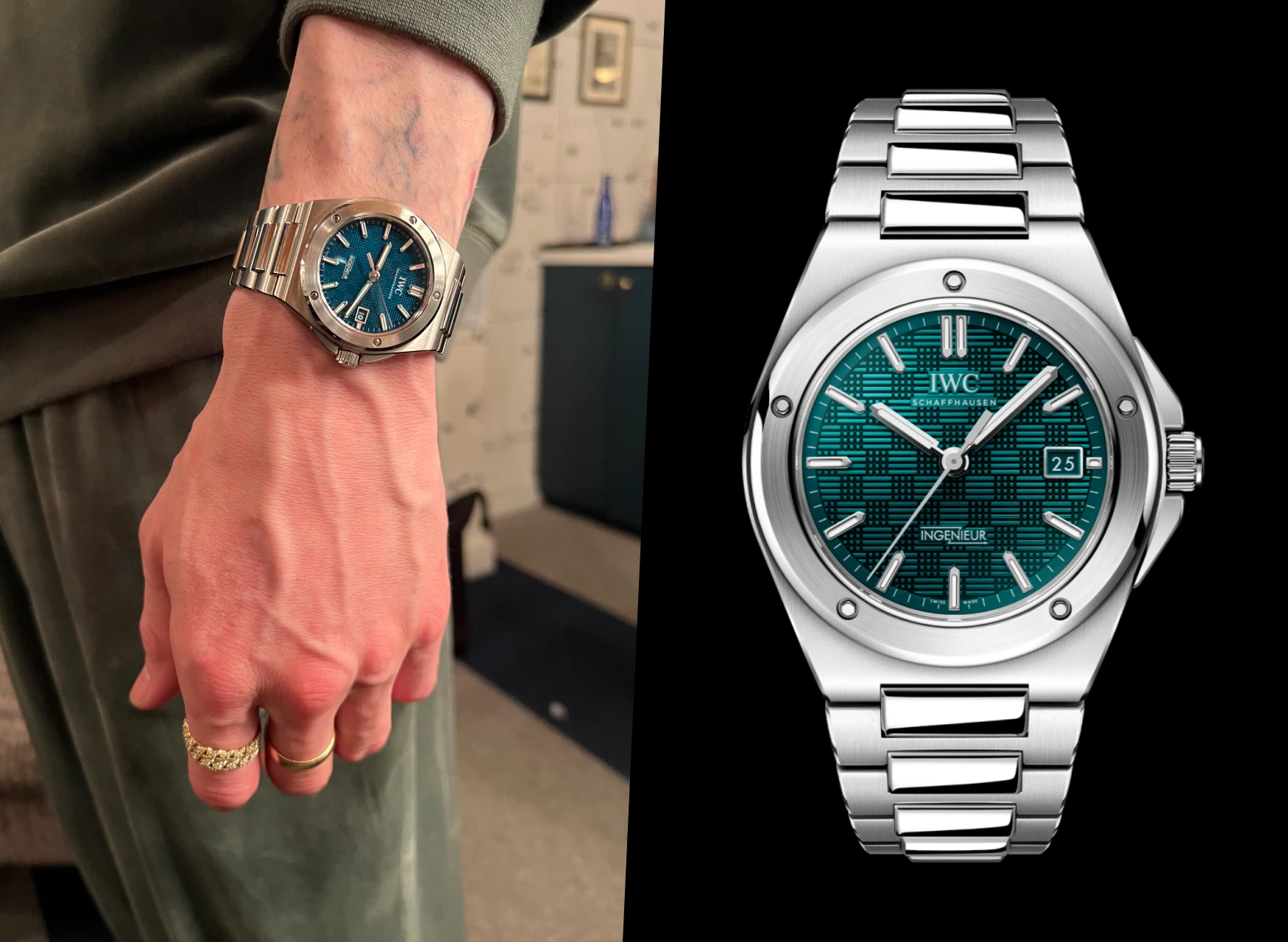 While getting ready for the 2023 Met Gala, former SNL cast member, comedian, and actor Pete Davidson would share on his Instagram the behind-the-scenes of him suiting up. In the shared stories posts, he can be seen wearing the bold aqua dial, stainless-steel configuration that perfectly matched his green jacket and pants.
Jimmy Fallon: IWC Ingenieur Automatic 40 IW328902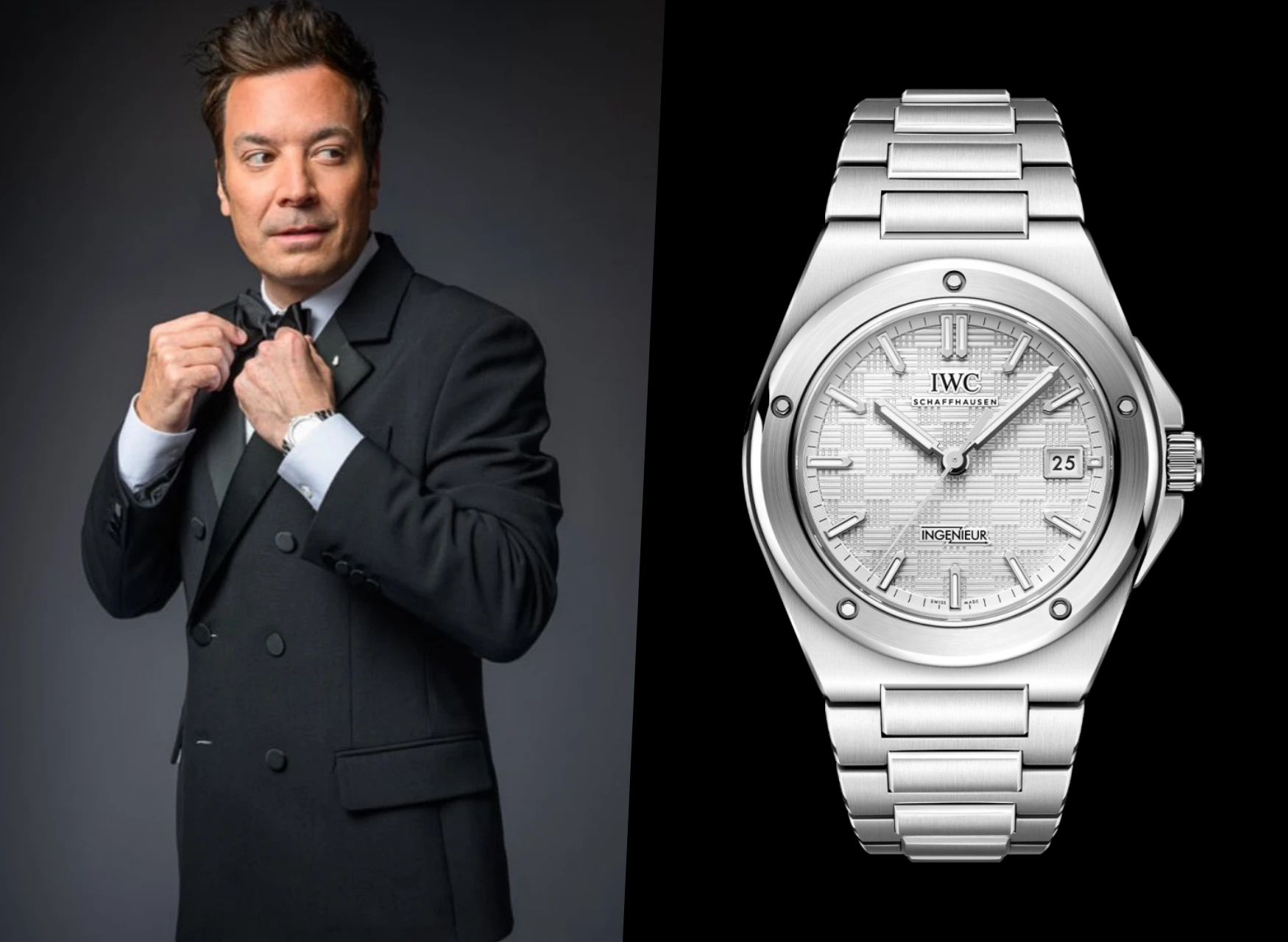 NBC Tonight Show host Jimmy Fallon also brought IWC to the 2023 Met Gala, pairing his tuxedo with a silver dial stainless steel Ingenieur.
Justin Theroux: IWC Ingenieur Automatic 40 IW328901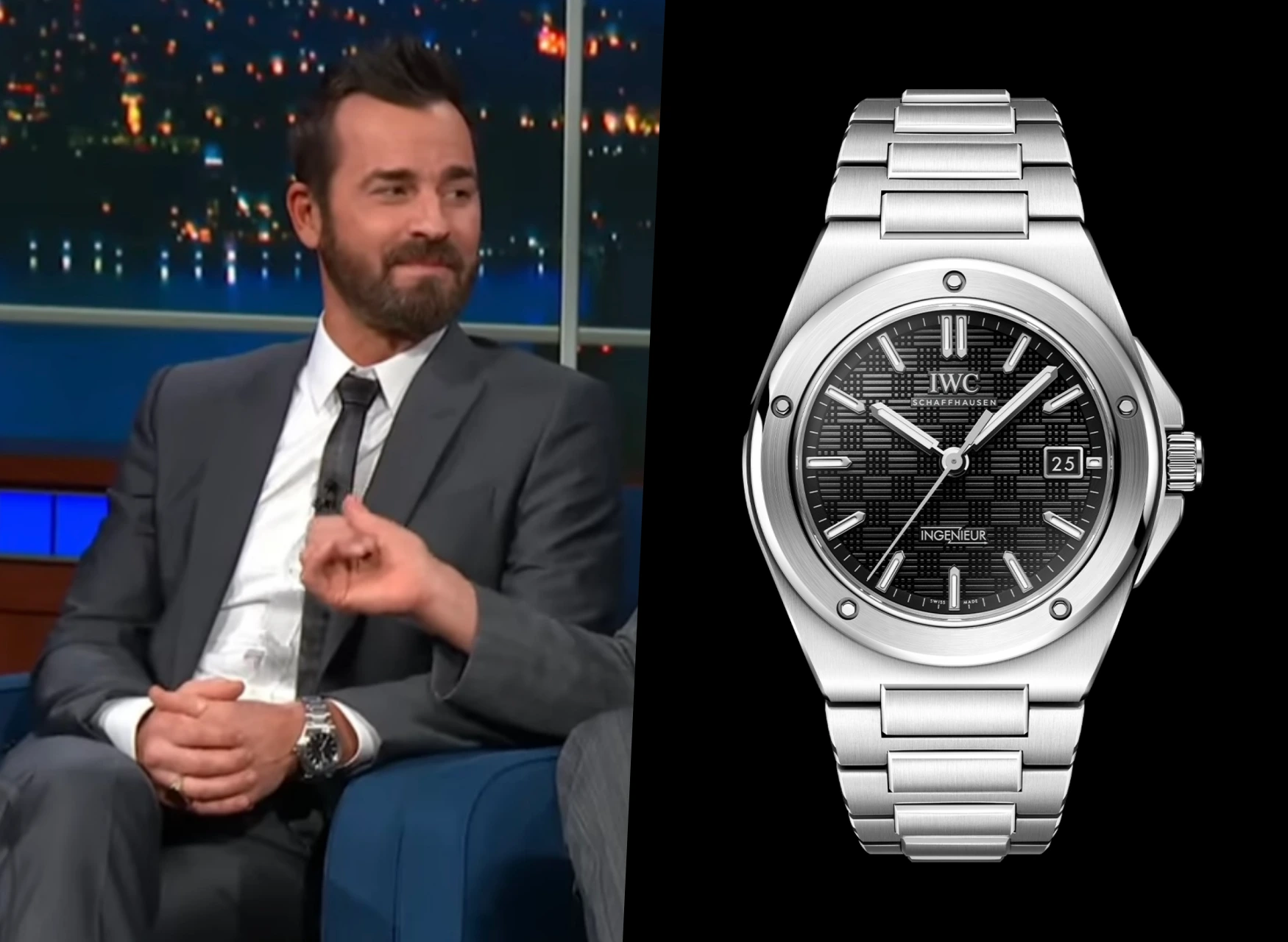 While promoting his latest HBO show White House Plumbers on The Late Show with Stephen Colbert, actor Justin Theroux, joined by co-star Woody Harrelson, can be seen wearing the IWC Ingenieur Automatic 40 IW328901 in stainless steel with a black dial.
Jimmy Butler: IWC Ingenieur Automatic 40 IW328902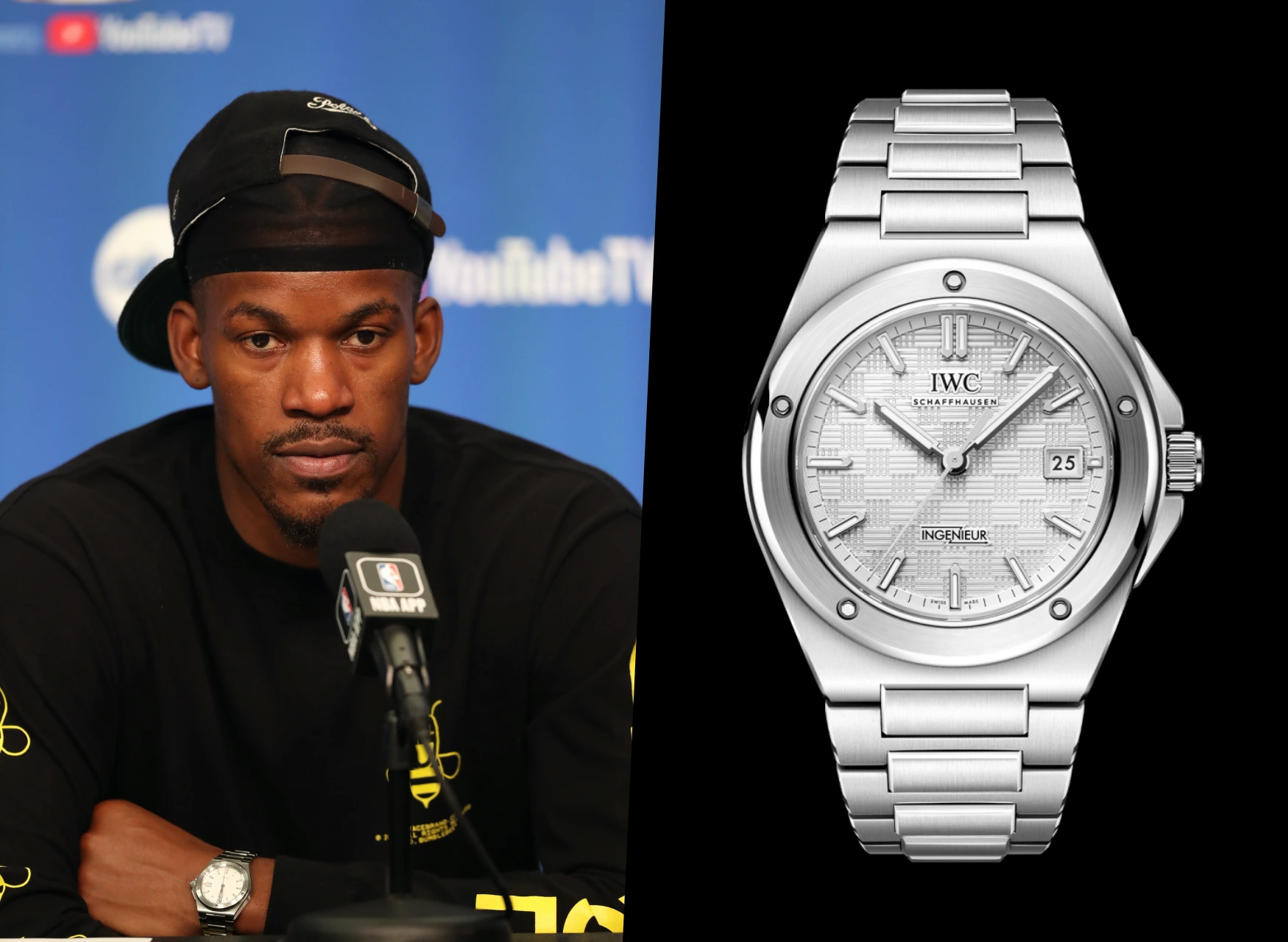 During a post-game press conference, NBA superstar Jimmy Butler, arms crossed, had his Ingenieur Automatic 40 IW328902 in full view. Butler is a known watch lover, spotted wearing various brands, including TAG Heuer and Rolex.
Nicholas Braun: IWC Ingenieur Automatic 40 IW328901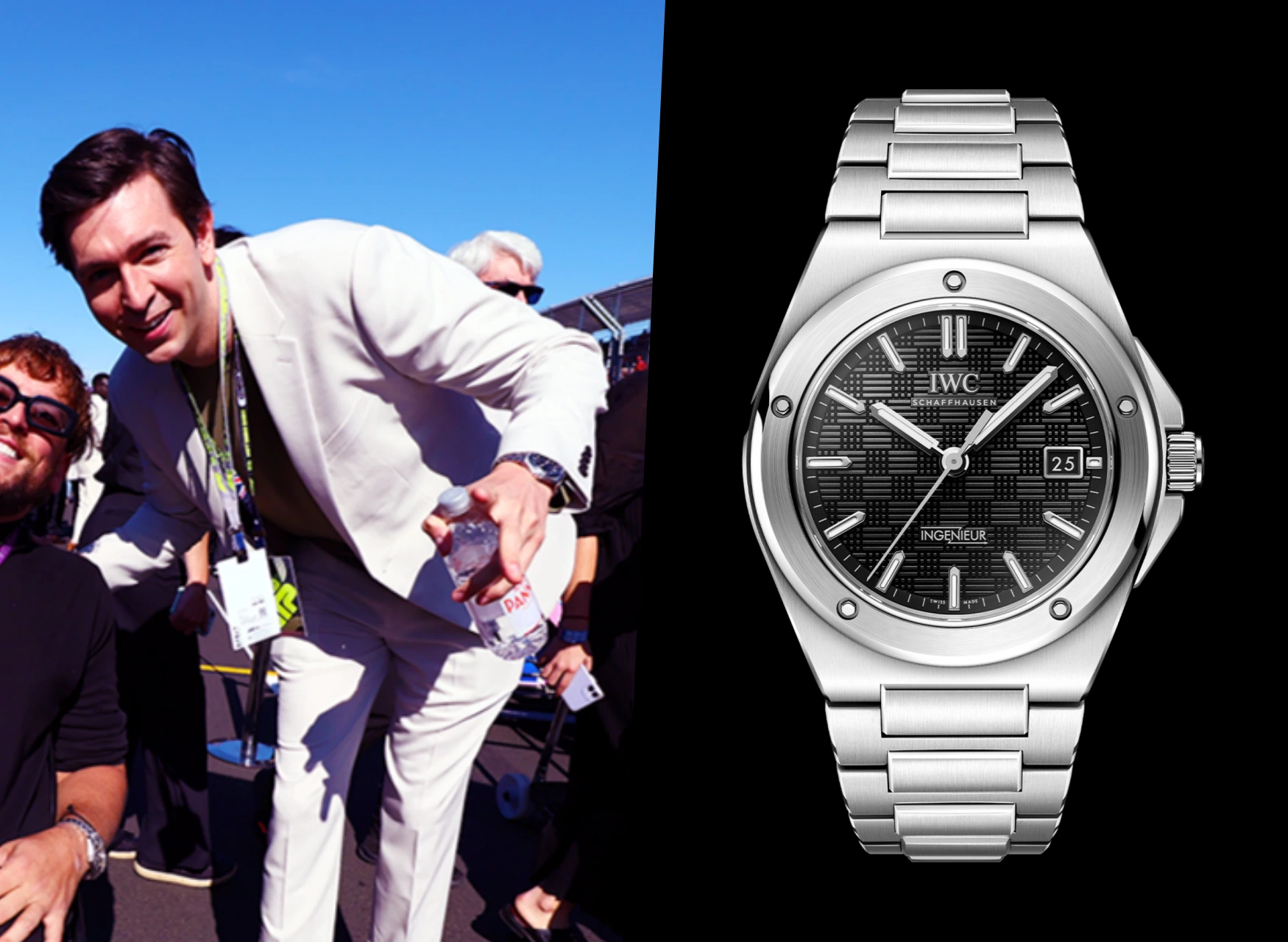 Fans of HBO's Succession certainly know actor Nicholas Braun, whose naive character cousin Greg was a show-favourite. In the concluding season, it was clear cousin Greg was really stepping up his watch game, and it appears his character's penchant for timepieces has given Braun the watch-bug in real life. While visiting Australia for the season 4 premiere and the Australian Formula 1 Grand Prix, Braun wore an Ingenieur Automatic 40 for both big events.
Taika Waititi: IWC Ingenieur Automatic 40 IW328901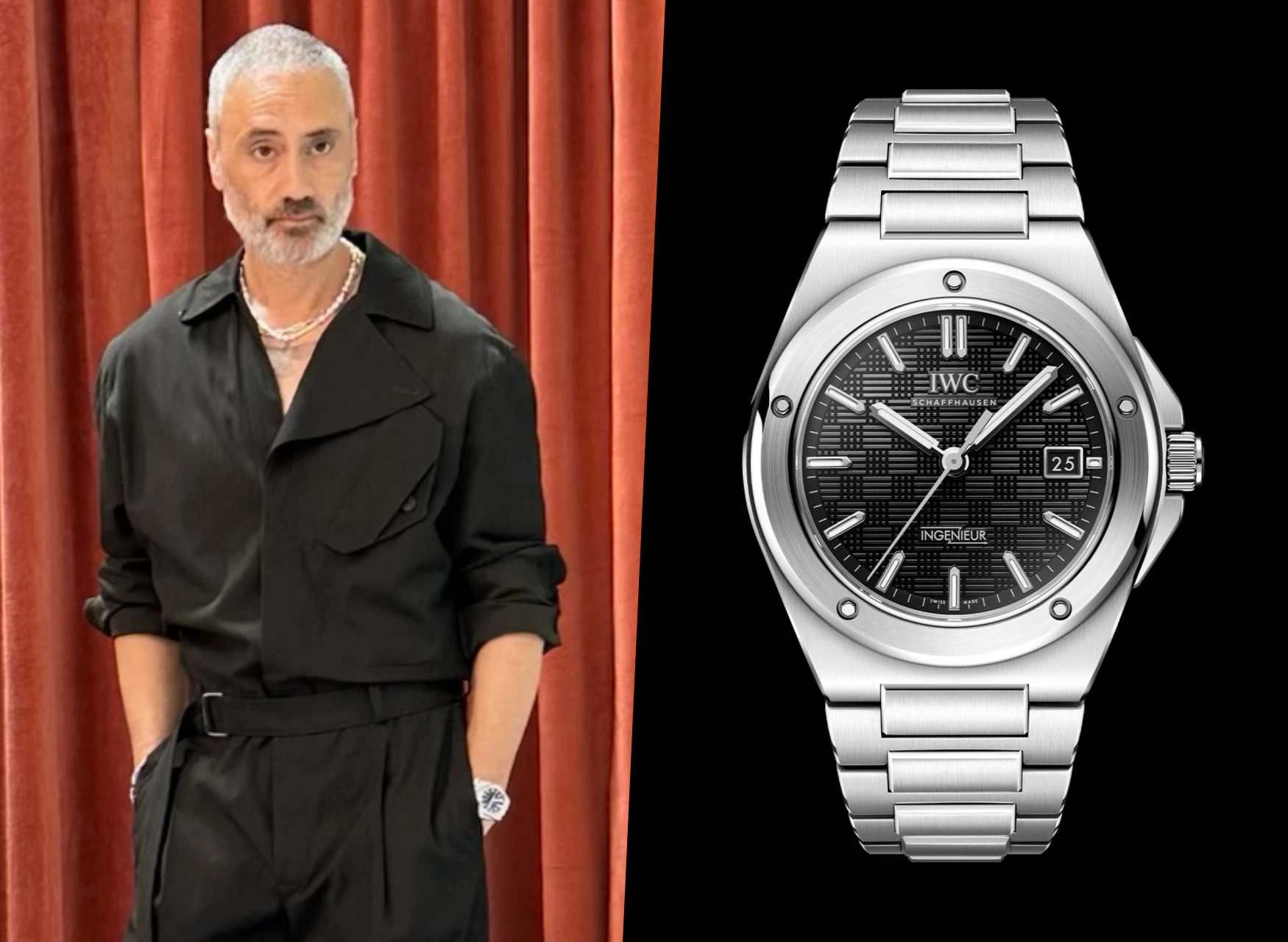 Taika Waititi is irrefutably down-the-rabbit-hole of watch enthusiasm and collecting, notably once attending a RedBar meetup in Australia. He has been seen with various pieces from Cartier, Doxa, Seiko, Omega, Panerai, Rolex, TAG Heuer, and more. After a meeting with The Hollywood Reporter, it is clear we can now add IWC to the long list, as he was photographed with an IWC Ingenieur Automatic 40 IW328901.
Jeffrey Dean Morgan: IWC Ingenieur Automatic 40 IW328901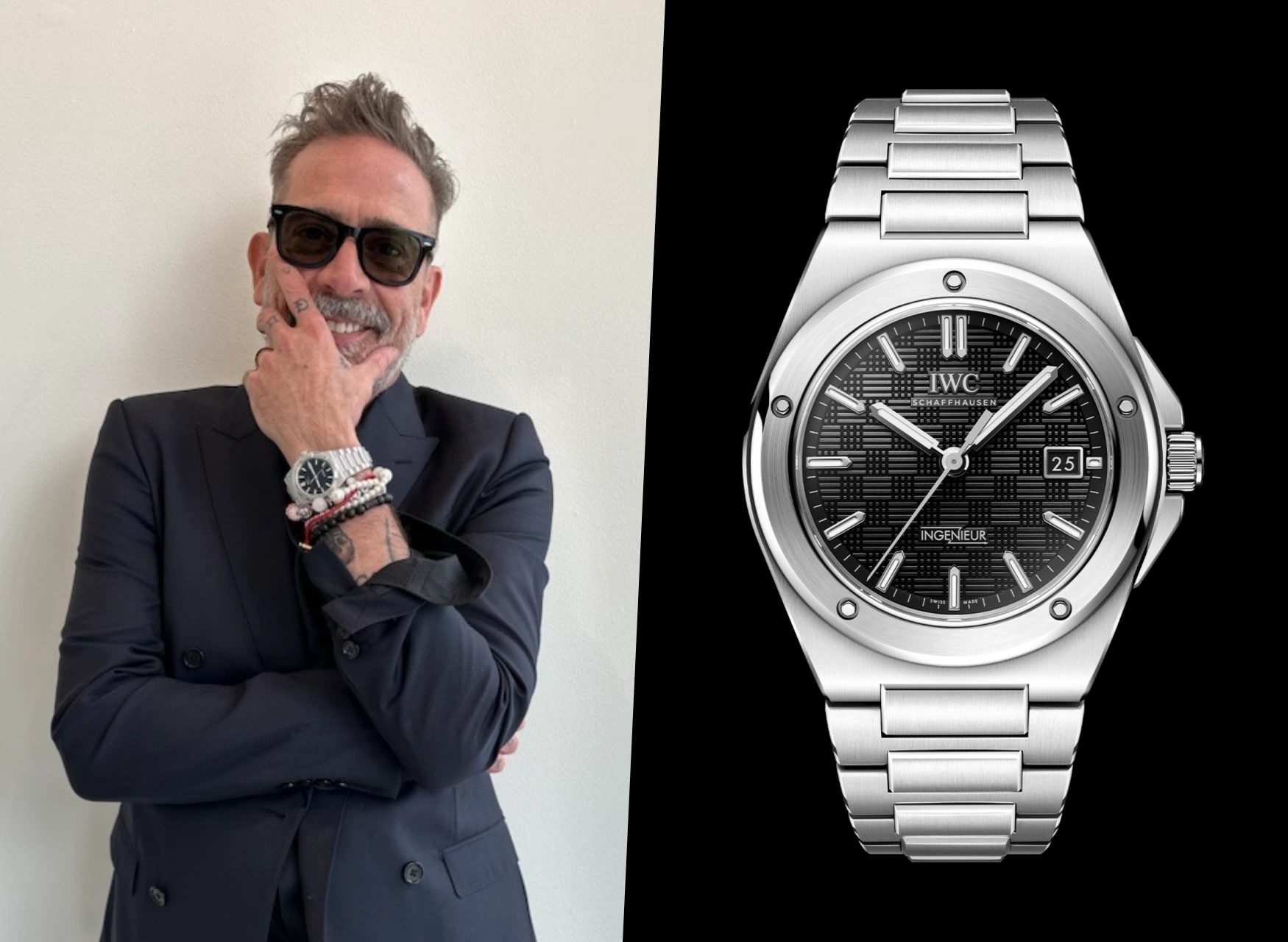 The black dial IWC Ingenieur Automatic 40 IW328901 seems to be the favourite so far amongst celebs, with The Walking Dead and Watchmen actor Jeffrey Dean Morgan seen wearing the watch as well.
PJ Tucker: IWC Ingenieur Automatic 40 IW328901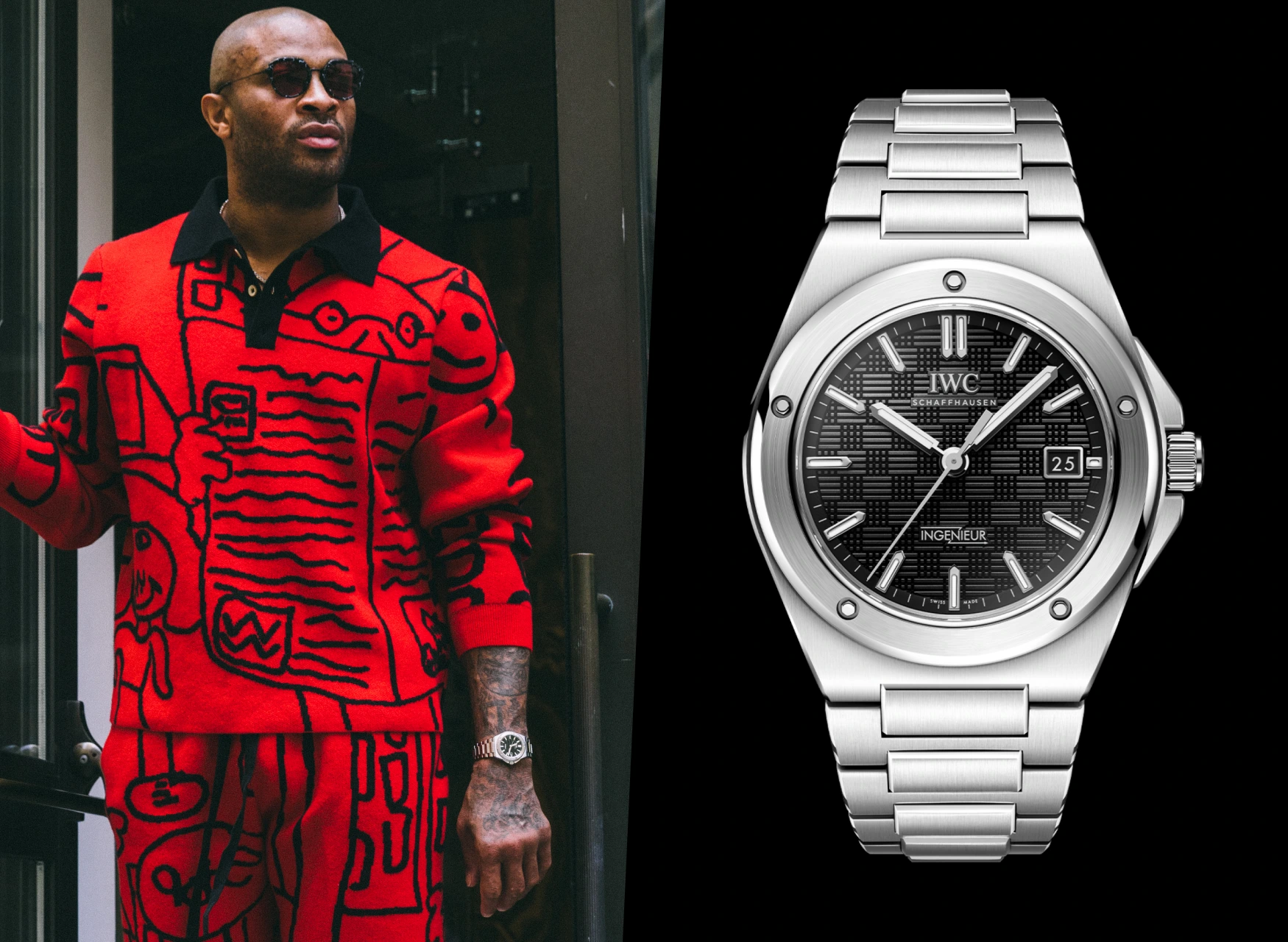 NBA athlete PJ tucker cements the black model as the favourite, the sixth celeb out of the nine on this list seen wearing the IW328901.
When the IWC Ingenieur Automatic 40 was first released, I probably would have said the aqua dial, stainless-steel model was my personal pick, but now I am leaning towards the titanium Ingenieur. I really dig the stealth aesthetic, light weight, and robustness of the configuration and the fact that it brings an older sense of the Ingenieur's design fully into the modern era, especially due to the lightweight material.
IWC Ingenieur Automatic 40 pricing and availability:
The IWC Ingenieur is available now for enquiries. Price: A$17,300 (stainless steel), A$21,700 (titanium)
Brand
IWC
Model
Ingenieur Automatic 40
Reference Number
IW328901
IW328902
IW328903
IW328904
Case Dimensions
40mm (D) x 10.8mm (T) x 45.7mm (LTL)
Case Material
Stainless steel, titanium
Water Resistance
100 metres, screw-down crown
Crystal(s)
Sapphire
Dial
White, black or aqua (steel models)
Grey (titanium model)
Lug Width
Integrated
Strap
Steel or titanium bracelet with butterfly clasp
Movement
IWC 32111, ValFleurier 32110 base, automatic
Power Reserve
120 hours
Functions
Hours, minutes, seconds, date
Availability
Available now for enquiries
Price
A$17,300 (steel) A$21,700 (titanium)