Taika Waititi is a certified watch geek, which makes him even cooler
Borna Bošnjak
I think most will agree that Taika Waititi is just a cool dude. Effortlessly delivering deadpan one-liners, he's probably best know for his contribution to the latest Thor films, directing them and starring as Korg. Should you fail to look past the Marvel curtain, you'll miss masterpieces like What We Do in the Shadows and Hunt for the Wilderpeople, topped only by the Oscar-winning Jojo Rabbit. It is only by accident that I recently stumbled across two images, which showed the New Zealander sporting an (oops, spoilers) Doxa SUB 1200T and an original Seiko Willard. As I dug deeper, I realised that he's not only amassed an enviable collection, but that some of the pieces are hallmarks of a true enthusiast – possibly even a WIS, if I dare say so myself. You be the judge, as we explore the watch collection of Taika Waititi.
Cartier Pasha de Cartier
The first on the list is also one of the latest spots – with Taika Waititi choosing a yellow gold Pasha de Cartier for a Thor: Love and Thunder premiere. The brand has dominated red carpets as of late, though the Pasha is certainly somewhat of a left-field choice. Waititi's Pasha of choice is 41mm in diameter, powered by an automatic movement and denoted by the reference WGPA0007. Price: A$25,100
Cartier Santos de Cartier
The Santos is certainly more in line with expectations, as it's had plenty of appearances on the red carpet. This one, spotted at a different Thor: Love and Thunder premiere, looks like the Large model, measuring in at 39.8mm in diameter and only 9.08mm in thickness. The reference WSSA0018 houses an automatic movement and comes ready with Cartier's QuickSwitch system, allowing users to change between the bracelet and included strap easily. Price: A$10,700
Doxa SUB 1200T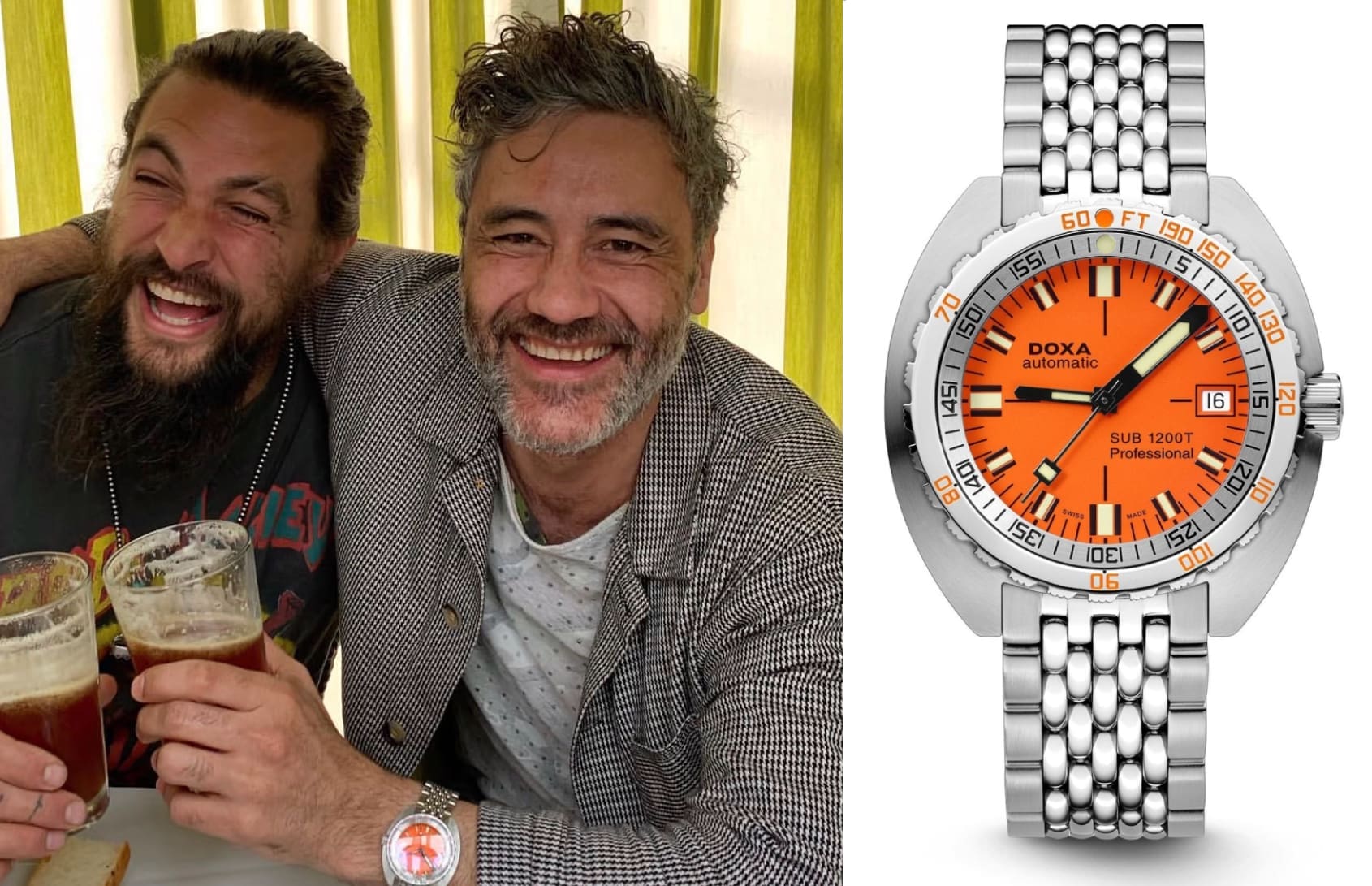 This spot was the one that pulled me deeper into the (Jojo) rabbit hole of this collection. Sharing a cold one with fellow film star Jason Momoa, Waititi shows off a flash of orange. With a cushion case and beads-of-rice bracelet, it could only be a Doxa with a Professional dial. Others in the office long debated between the SUB 1200T and SUB 300T, the decision finally falling with the now-discontinued model due to the shape of its end-links. Nevertheless, seeing a Doxa on a famous wrist is always exciting, as it generally points to a true enthusiast. Though the 1200T is discontinued, its spiritual successor, the SUB 300T is available, courtesy of the T+T Shop.
King Seiko 5256-8000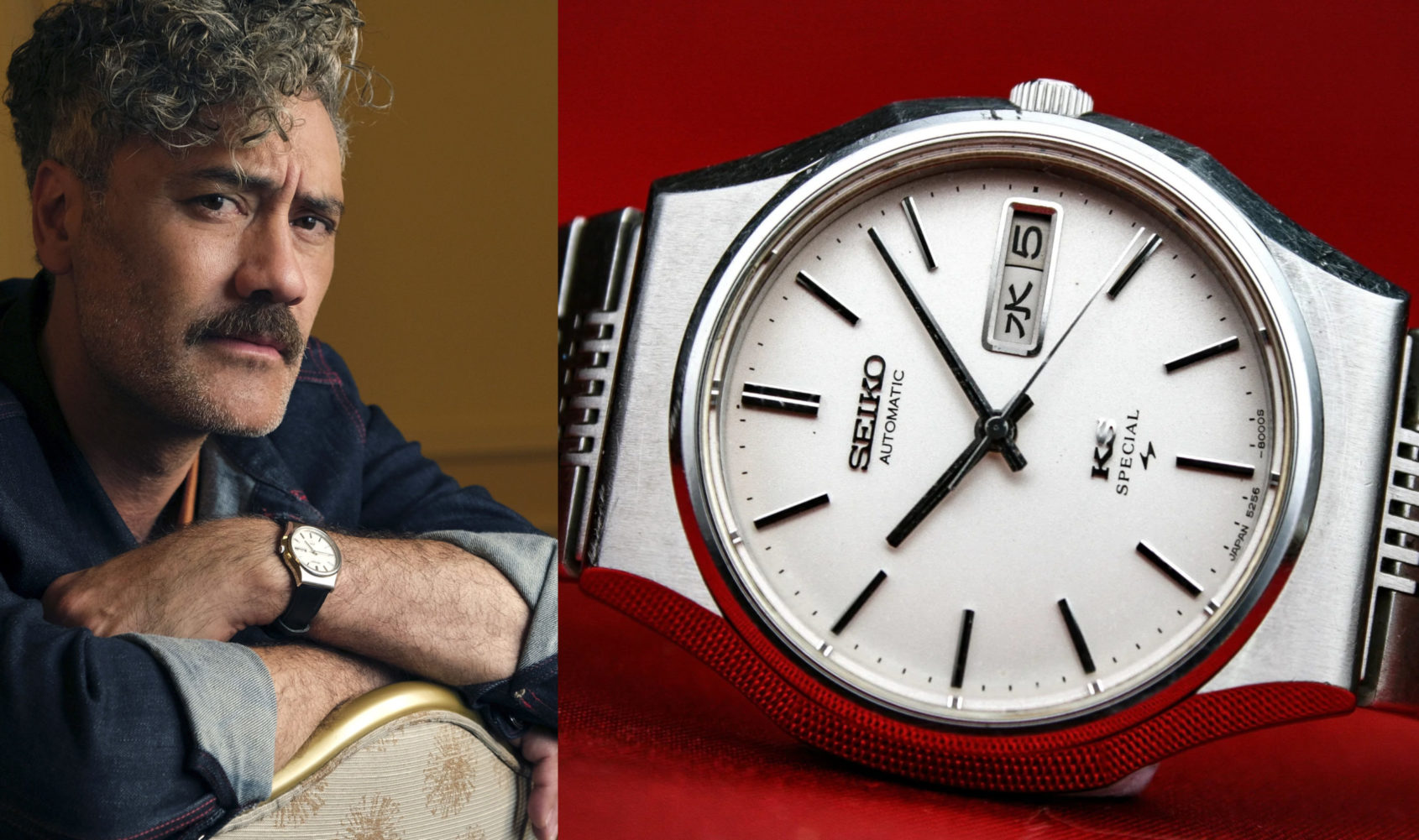 Possibly my highlight of Waititi's collection is this King Seiko Special, the very last generation of King Seiko watches before their eventual revival in 2021. The "Special" text on the dial refers to the watchmaker's beliefs that they would no longer be producing mechanical watches, making the 5256-8000 the last one. Waititi usually wears it on a black leather strap, and can be seen sporting it in multiple shots. Well done, sir.
Omega Speedmaster 3861 Sedna Gold
If the King Seiko was the enthusiast watch, this Sedna Gold Speedy is the f**k you watch. Pairing it with a pink suit, equally as powerful of a statement, this chunk-o-gold houses the Calibre 3861 that came along with the Speedmaster Professional update, visible through a sapphire caseback. Price: A$57,925
Panerai Luminor Due
Waititi seems to be fond of larger watches, as he manages to pull of the Doxa and Pasha effortlessly. It only makes sense for his collection to include a Panerai, in that case. The one he chose, however, may not be what any of us expected. The Luminor Due PAM00728 is far from an enthusiast's choice, owing to its controversial specifications. As Panerai's take on a dress watch however, I could maybe see why he'd opt for one, but I certainly wouldn't suggest the pairing in Fits and Ticks. Price: A$12,700
Rolex Daytona ref. 116508
If one owns a golden Speedy, one must also own a golden Daytona. I'm fairly sure that's ancient wisdom, and one which Waititi heeds. Opting for a yellow gold Rolex Daytona ref. 116508 with matching sub-dials and just the right amount of red highlights, it's another classic, yet not boring choice. Price: A$52,950
Rolex Submariner ref. 14060
The five-digit sub has been an increasingly common topic of conversation in my watch circles, especially once the updated 41mm Subs are mentioned. The ref. 14060 that Waititi chooses is many people's first association when they think of a "watch", and for good reason. It's nearly perfectly proportioned, with only two lines of text and all the provenance that one could wish for.
Seiko ref. 6105 'Captain Willard'
Another amazing Seiko, this time the iconic (and I use that word sparingly) Captain Willard. We've seen numerous re-releases and special editions, but there's only one original. The cushion case, 4 o'clock crown and familiar dial layout are all there, but it seems that Waititi opted for a NATO strap, rather than the more commonly seen Tropic.
TAG Heuer Carrera
In a pineapple-printed ensemble, with a smug look and a three-handed Carrera on-wrist, Waititi goes uber casual for San Diego's Comic Con. The Calibre 5-powered watch features a day and date complication in its 41mm case, while it seems the stainless-steel bracelet has been swapped out for a brown leather number. Though Waititi's model is now discontinued, an updated Carrera can be found here, priced at A$4,300.
But wait, there's more…
There are some watches, however, that I could not figure out, no matter how hard I tried. This vintage-looking gold piece that seems to have baffled me the most.
So I leave these to you, dear reader. If you've got an idea as to what these could be, I'd be intrigued to find out. Feel free to email me at [email protected] with your suggestions!