MICRO MONDAYS: The Varon Chiri Blazer is a dressy everyday watch for a remarkable price
Fergus Nash
It's no secret that microbrands can often provide incredible watches for the money, but that doesn't mean that they can get away with putting no effort in. Slapping together a list of specifications at a low price point might seem like the key to Kickstarter success, but it takes a lot of planning, intuition, and pride in order to capture the hearts of watch enthusiasts. Varon Chiri are a new Korean microbrand who have all of this in spades, and the fruits of their labour are clearly evident in the Varon Chiri Blazer.
Although Korea has plenty of great manufacturing capabilities, good enough for plenty of fan-favourite Seiko watches, the outdated notion that affordability equals low quality has stuck in the minds of some people. Varon Chiri are one of the first brands to remedy this, basing their identity around their Korean origins and proudly bearing the Korean Made stamp. Anyone who handles a Varon Chiri Blazer will understand why they would be proud, as the quality easily rivals watches in higher price brackets. It's also an original design, with plenty of sophisticated choices and a cool spectrum of colours.
The case
The Varon Chiri Blazer's main space is that of a dressy everyday watch, and the case does a perfect job of fitting into that niche. The lugs extend from within the case's diameter, leaving a rather elegant silhouette that's emphasised by a generously polished bezel. The unguarded crown also prevents it from feeling too sporty, as do the petite points on the lug tips. The dimensions are well suited for those with smaller wrists or just people who appreciate a mid-sized watch, with a 38.5mm diameter that doesn't compromise on presence and a lug-to-lug length of 45mm. The total thickness is 9.7mm, which is wonderfully slender considering it uses an automatic movement and has 100m of water resistance.
The dial
The dial of the Varon Chiri Blazer can best be described as sharp, with a slight sense of Grand Seiko about it thanks to the lavish dauphine hands. There's a lot of detail that's been included around the dial's perimeter without losing any clarity, thanks to a legible minute track between the applied hour markers and a more precise, separate chapter ring. The Varon Chiri logo is inspired by the "Sainchamsageom" — a sword that was used for rituals and demon slaying during the Joseon Dynastry and was only made once in each Year of the Tiger, every 12 years. As 2022 is another Year of the Tiger, the Varon Chiri Blazer's goal is also intended to repel negative energy for its wearer.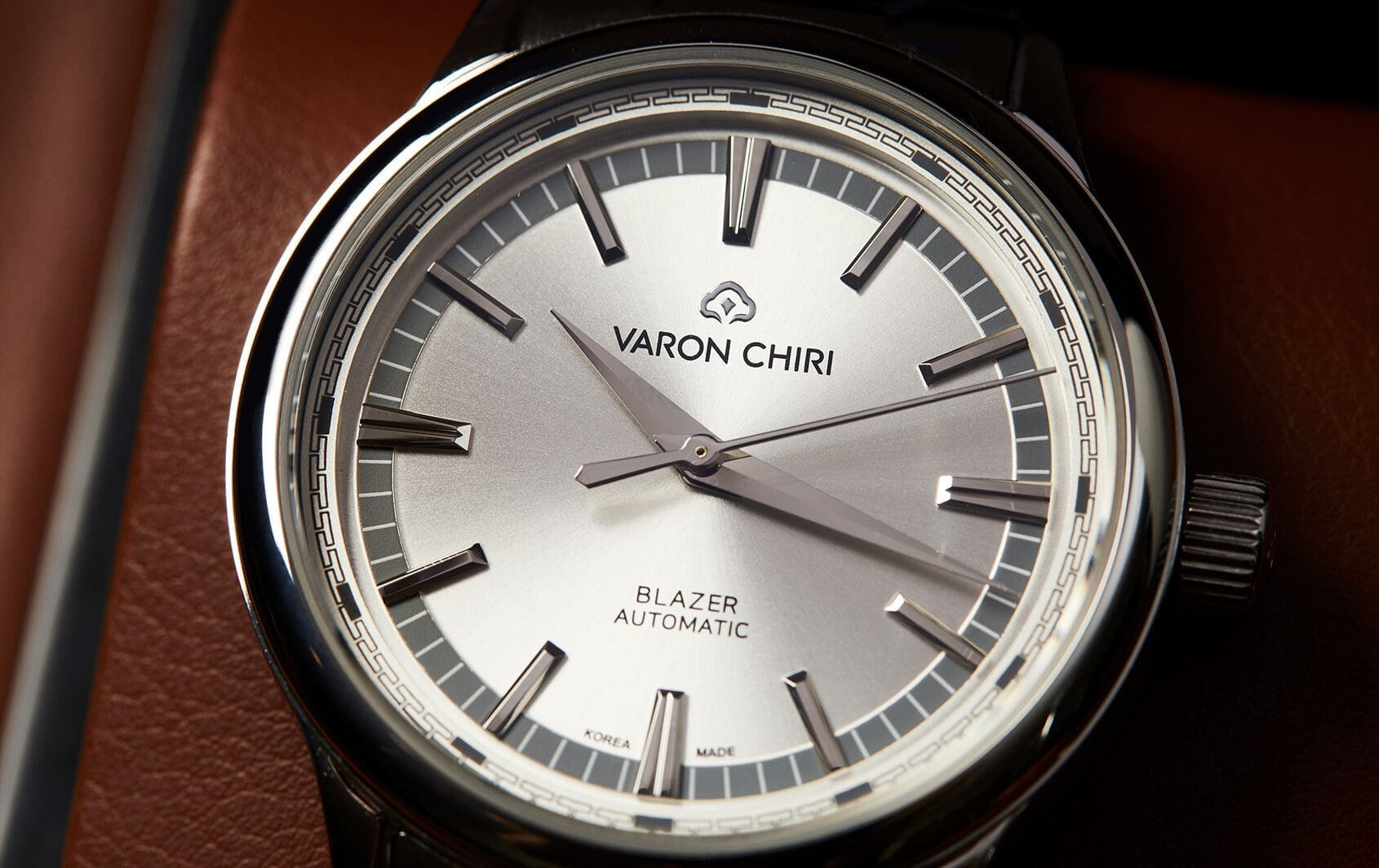 Although it must be incredibly tempting for microbrands to cover their bases by releasing all of the fun, summery colours that are popular right now, the Varon Chiri Blazer sticks to its refined style with a palette of five cooler tones. Each of the colours are resplendent in the lavish sunburst finish, even including the black and silver dials that play it the safest. Adding a bit more liveliness is the navy blue dial, which then becomes even more playful with the light turquoise reference. Finally, the deep, emerald green variant is also elevated with gold hands and indices for a more extravagant look. There's also a Korea Edition which features a traditional pattern in place of the standard chapter ring.
The movement
The Miyota 9039 is the Japanese brand's premium option for a time-only watch, offering solid but unsurprising specifications with good accuracy and great pricing. With a beat rate of 28,800 vibrations per hour and a power reserve of 42 hours, Miyota quote an accuracy range of +30/-10 seconds per day, although most of them seem to perform much better than that. The Varon Chiri Blazer doesn't have a display caseback, instead opting for a dodecagonal solid one with a light logo etching, catering to sensitive wrists.
The bracelet
The Varon Chiri Blazer's bracelet is one of its greatest selling points, with solid steel links that feel slender yet robust. The clasp is also outstanding, with a solid foldover design that's easy to get your nail beneath and doesn't have any unwanted movement. The links are arranged in a typical three-link fashion, although with angled edges that add visual sharpness to the physical comfort. It also has quick-release spring bars should you wish to change things around easily.
The Varon Chiri Blazer pricing and availability:
The Kickstarter link for the Varon Chiri Blazer can be found here, with a significant price reduction that would be well worth the quality you get. It also comes in a wooden presentation box that could easily make it seem worth three times as much. Price: $420 USD (RRP: $590 USD)
| | |
| --- | --- |
| Brand | Varon Chiri |
| Model | Blazer |
| Case Dimensions | 38.5mm x 9.7mm x 45mm |
| Case Material | Stainless steel |
| Water Resistance | 100m |
| Crystal(s) | Sapphire with anti-reflective coating |
| Dial | Black, silver, blue, turquoise, green |
| Lug Width | 20mm |
| Strap | Steel bracelet |
| Movement | Miyota 9039 |
| Power Reserve | 42 hours |
| Availability | Kickstarter launches on November 29th, 2022 |
| Price | $420 USD (Preorder) / $590 USD (RRP) |