From CR7 to C24: Cristiano Ronaldo invests in Chrono24 watch marketplace platform
Zach Blass
Usually when we write a story involving an athlete or celebrity, it involves watch spotting. But last week the worlds of popular culture and horology intersected in a more significant and meaningful way. We have previously documented how football superstar Cristiano Ronaldo is a fully fledged watch collector, but now he takes on the role of investor as well. Watch marketplace platform Chrono24 recently revealed the MAJOR news that Cristiano Ronaldo has invested in C24. So, you could say Ronaldo has transformed from CR7 to C24.
Chrono24 CEO, Tim Stracke explains: "No one brings passion for luxury watches to the world stage quite like Cristiano. He has already solidified his place as one of the greatest athletes in history, and as an investor shows astute knowledge of world-class luxury and technology. That coupled with his authentic, proven passion for watch collecting makes him the perfect teammate as our company moves further into global expansion and our next chapter."
Ronaldo appears to be equally excited about the partnership, revealing in a written statement: "As a long-term watch collector and regular user of Chrono24, it's a pleasure for me to become a shareholder in the company now. Chrono24 unites millions of watch lovers from all around the world to share in their passion, together – that global unification is something I know well and am thrilled to be a part of."
For those less familiar with Chrono24, the company was founded in 2003 and was born as a digital marketplace exclusively for buying and selling watches – very ahead of its time. Anticipating where we are now, Chrono24 had the foresight to recognise that transactions for watches would extend beyond brick and mortar retail along with the exponential growth of the pre-owned market for watches. Sure, platforms like eBay existed and transactions were possible online. But Chrono24 distinguished itself as a dedicated platform tailor-made for watch transactions.
Along with buyer protections such as their authenticity guarantee, escrow service, and 14 days global money back guarantee, Chrono24 hosts a robust database of watch valuations over time. Recognising the number of listings and transactions on their site, Chrono24 developed the means for this treasure-trove of data to be available to its users as well. Whether a watch you already own, or a watch you are looking to purchase, Chrono24 is able to provide the trajectory of its value within their marketplace – offering an estimation of a given timepiece's value. You are also able to add your watches to your account, and track the value of your own collection over time.
With an extensive watch collection, some of which was acquired through the Chrono24 platform, it is evident that Ronaldo can be much more than an attached name. Ronaldo is an absolute watch addict, and, considering it was reported by Forbes' in a recent Highest Paid Athletes of 2023 report that Ronaldo pulled in $136 million last year alone from his contracts with Manchester United and Saudi Arabia's Al Nassr (as well as endorsements), he has certainly had the finances over the years to explore a vast array of the horological world for his collection. For example, he has certainly shown an affinity for gem-set watches such as the Franck Muller Invisible Setting Imperial Tourbillon worth a whopping A$2M.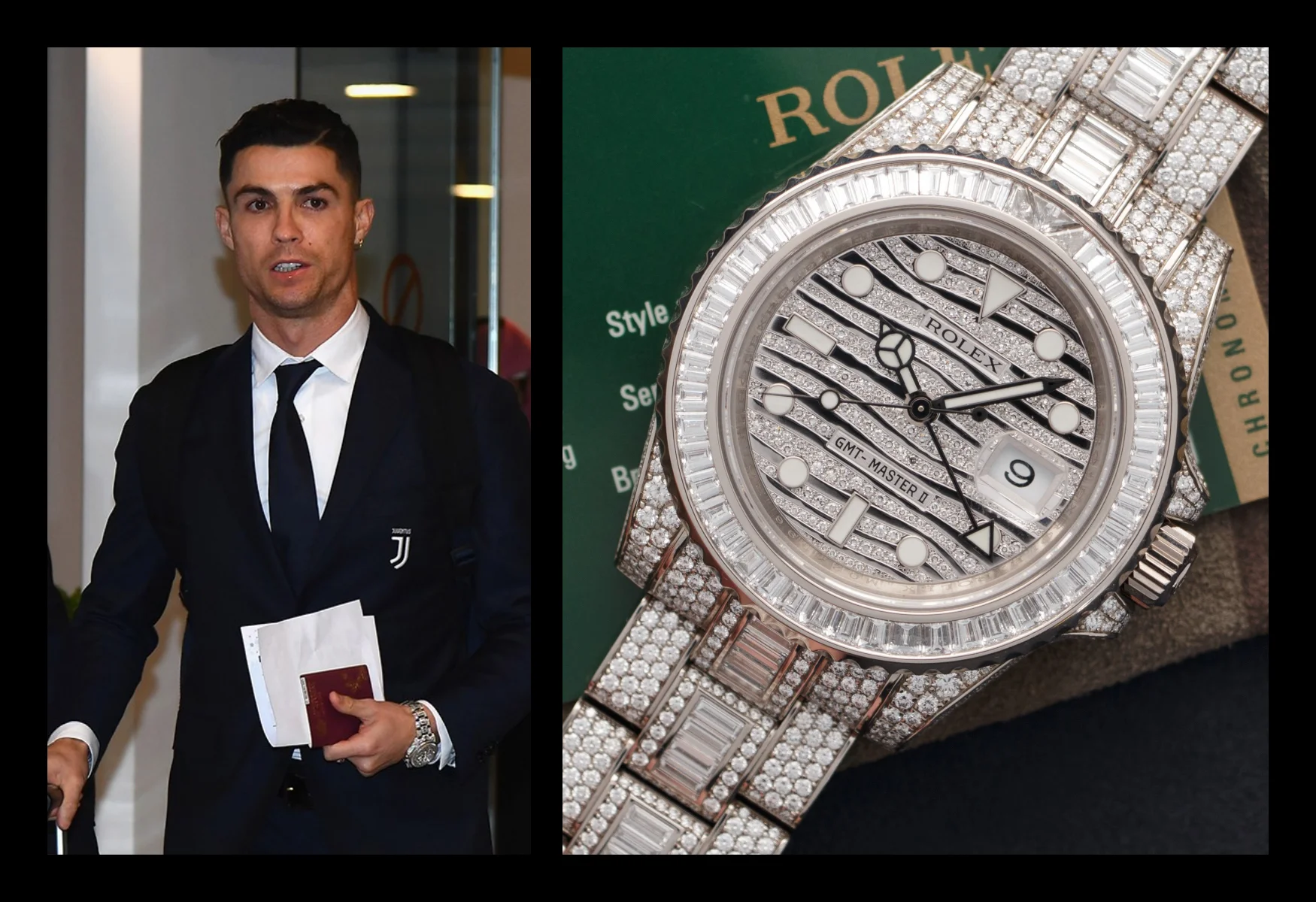 In 2020, he notably was spotted with a very rare and exclusive factory-made Rolex GMT Master II "Ice" – the most expensive Rolex ever made valued at nearly US$500K. His tastes, however, are not limited to über expensive gem-set pieces. He has also been known to wear more standard editions of the Rolex Daytona, Sky-Dweller and Yacht-Master II, along with various references from TAG Heuer, Cartier, Richard Mille, Hublot, Patek Philippe, Cvstos, and more. In fact, Chrono24 have kindly curated a page of listings where you can find various Ronaldo watches (the same models he wears) available for sale on Chrono24 here.
While it is very clear that Ronaldo enjoys purchasing new watches, it also clear that he enjoys sharing his passion for watches as well. Shortly after Ronaldo himself was seen wearing the factory-iced Rolex GMT Master II, he kindly allowed his son Ronaldo Jr. to wear his prized watch on the red carpet – which I imagine was a bit of a confidence booster for Ronaldo Jr. in what was surely a potentially intimidating setting for the young boy.
It was also reported that after Real Madrid's 10th Champions League win, Ronaldo bought each of his teammates a personalised Bulgari Diagono watch – which, in 2014, were each worth approximately £6,500.
This is clearly wonderful news for all involved. Ronaldo finds himself involved in a platform he genuinely has used on a personal level, Chrono24 receives both a financial investment and public endorsement only a superstar like Ronaldo can offer, and watch-lovers get to be tuned into how this partnership develops and grows in the coming years.