From Daniel Craig to Ronaldo Jr, six watches we never expected to spot on these wrists…
Zach Blass
Who doesn't love a good watch spot? You know you're in the presence of a true watch geek if they feel the need to pause the film every time a timepiece makes a cameo. But at times, these discoveries can feel a bit predictable. Musicians are constantly found wearing AP Royal Oaks or Nautilus references, while Rolex always makes regular appearances. But every now and then, we spot a familiar brand end up on a rather surprising wrist – or in a surprising moment. Here are six of the most unexpected watch spots we have ever seen.
Philippe Dufour's Rolex GMT-Master II "Pepsi"
With all the Rolex hate we see today, many of those who rage against the Crown proclaim the brand does not produce true horological marvels. Denouncers misguidedly cry "overrated" and "mass produced", yet Rolex gets a heavyweight nod of approval each time watchmaking legend Philippe Dufour is spotted wearing his Rolex GMT-Master II "Pepsi" 126710BLRO.
The watch seems to be the casual daily wearer for Dufour, AKA the king of watch decoration and finishing. Considering he designs all aspects of his watches, down to even the smallest components, respect is clearly due for Rolex's creations if Dufour himself deigns them worthy to slap on his wrist.
Daniel Craig's Rolex Milgauss (I know … not an Omega!)
Did you ever think you would read Daniel Craig and Rolex in the same sentence? The James Bond actor is frequently spotted wearing Omega timepieces as an ambassador of the brand both on and off the screen. Once upon a time Rolex watches were worn by actors in the role of 007, but since Pierce Brosnan took the helm back in the '90s, Omega has enjoyed an exclusive partnership with the franchise, supplying a new watch for the actor each film and even producing limited editions in the character's honour.
So we were a bit taken aback when Daniel Craig was spotted wearing a Rolex Milgauss on a red carpet. An excellent choice of watch, and it's cool to know Craig explores watches from a variety of brands, but I can't imagine the suits at Omega were too thrilled to see their biggest rival take up real estate on his wrist.
Roger Smith's Daily Wearer: a co-axial modified Rolex Explorer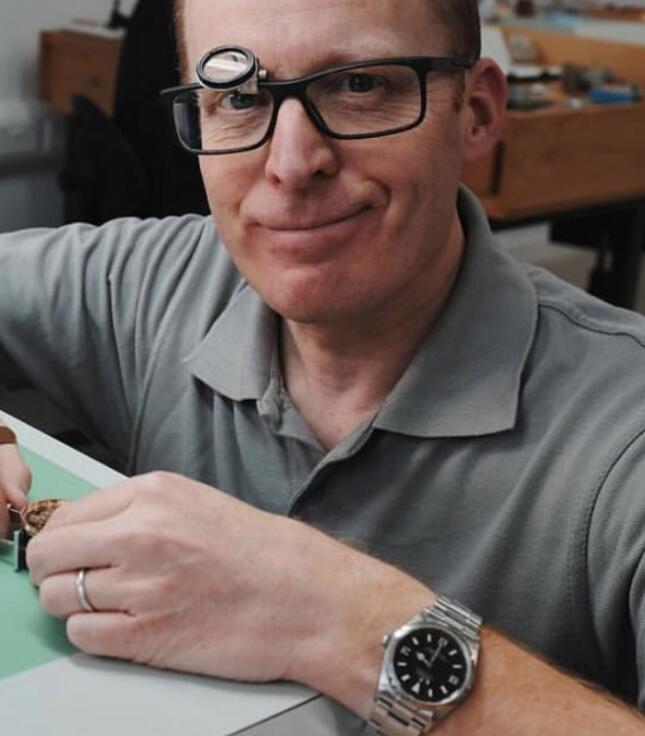 Here's another watchmaking icon who sports a Rolex as a daily wearer, George Daniels' former apprentice Roger Smith is known to wear a Rolex Explorer gifted to him by his wife for his 40th birthday. Smith has always had a fondness for the brand, even purchasing an Oyster Perpetual at the young age of 17 (a very impressive first luxury watch). He would later have to sell said watch to acquire funds for his watchmaking journey, but his wife would go on to salvage the situation decades later and fill the Rolex void left from parting with his OP.
To make things even more interesting, Smith himself has modified the watch to make it a piece unique of sorts. Being a student, and now master of the co-axial escapement, it is only fitting that he merged the revolutionary escapement technology into his own timepiece. This means that, while a Rolex creation, it still utilises Roger Smith design. If this watch were to ever go to auction, I could see it fetching a serious hammer price.
Cristiano Ronaldo Jr. wearing his father's Rolex GMT-Master II Ice (ref. 116769TBR)
View this post on Instagram
Cristiano Ronaldo's son, Cristiano Ronaldo Jr, was spotted wearing a Rolex GMT-Master II Ice ref. 116769TBR at an event with his father. I have no doubt my parents love me, but assuming my mother or father owned a Rolex of this nature, I highly doubt they would ever let me wear this watch at the tender age of 10. I'm not criticising, I am just super jealous. Ronaldo Jr. easily wins the #wristgame championship for the 10-year-old division (or any division for that matter) hands down. Any child wearing a Rolex will garner attention, but the most expensive Rolex watch ever made? Checkmate.
Jason Bateman wearing his personal Rolex Daytona ref. 6263 in Juno (2007)
Daytonamania is still raging with the bubble burst nowhere near in sight. The watch has always been a fan favourite, but the craze is at its full peak with watches achieving record prices over the last few years. Paul Newman's Daytonas sold for $18,000,000 USD and $5,000,000 respectively, but once upon a time these watches were far more attainable than they are today – a $1500 watch in the '80s and a $10,000 watch in the '90s when re-discovered. So while by no means obscure, it's fair to say Jason Bateman was ahead of the curve acquiring a Rolex Daytona 6263 before prices reached the astronomical levels they have attained today.
Bateman explains in an interview with British GQ in 2011, "This is a 1979 Daytona, it's not a Newman. I need to dance a little bit faster to afford one of those! I traded a Rolex Sea-Dweller, a Franck Muller and I wrote a cheque [to get it]. I wish I had a collection of vintage Rolexes. Orlando Bloom and John Mayer both have incredible collections, but they're very wealthy."
It's always neat to see sick watches make cameos in film, but it is so much cooler when the watch actually belongs to the actor wearing it. Considering the move was made more than 10 years before Paul Newman's Daytona broke records at Phillips, it's fair to assume Bateman knows his watches. Great taste, Jason!
Aldis Hodge championing an independent brand wearing a Kurono Bunkyō Tokyo in The Invisible Man
Aldis Hodge is not only a talented actor, but a huge supporter of horology. He is even trained in watchmaking and watch design and aims to produce timepieces under his own name one day. More often than not, watch brands pay for their pieces to find their way onto the wrists of actors in a given production – but Hodge wanted to showcase a lesser-known brand that he felt suited the character he was about to play.
That is why during the filming of The Invisible Man (2020) he elected to wear a Kurono Bunkyō Tokyo watch (eggshell variant). The brand was created by Hajime Asaoka to present his designs at a much more affordable price point than his bespoke pieces under his own name that are priced upwards of $10,000. The art-deco designs of the watch are incredibly striking and attractive, and it is nice to see one of the more famous members of #watchfam promote a lesser-known manufacturer on the silver screen.