The most hypnotising snail dials you can buy now
Fergus Nash
Although the 2020s is a young decade so far, we've already been treated to a wealth of dial enrichment from textures, colours, and even shapes from plenty of big-name brands who traditionally don't take risks. While that demonstrates a growing trend towards watch enthusiasts enjoying more characterful watches, that doesn't mean that it's anything new. Starting out as a convenient way of performing calculations in the 1930s, the charm of the snail dial has always merged function with aesthetics in a delightful way. Whether it's represented in a spiral or a series of concentric circles, the complex printing embodies an elegant chaos that can also save lives. If all this has piqued your interest, here are 5 of the most hypnotising snail dials you can currently buy across four price points.
The Dan Henry 1939 – US$270
If you're not familiar with Dan Henry, it began with a collector who wanted to offer the taste of incredible vintage pieces to consumers for a much lower cost and with more reliability. The Dan Henry 1939 takes after a variety of military chronograph examples from World War II which saw the birth of the snail dial, and distils the essence of those watches into an affordable package. The Miyota 6S21 movement is a meca-quartz arrangement, giving you the impression of a mechanical chronograph with a sweeping seconds hand. The brown dial version has a gorgeous sector arrangement with a white pulsometer ring for measuring heart rate, a yellow telemeter which measures distance based on sound, and a red speedometer measuring speed based on distance. The silver dial option has the spiral tachymetre, and both watches have solid casebacks etched with more conversions tables.
The Tissot Telemeter 1938 – AU$3,175
Based on a model that saw military use and introduced Tissot to the world of professional sports, one underrated gem of Tissot's catalogue was a deliciously black and golden watch called the Chrono Janeiro. That limited edition from the late '90s gained enough popularity in recent years to warrant an updated version in full production, and so the Tissot Telemeter 1938 was released last year in 2022. Available in the classic black and gold or a silver and white version, this Valjoux 7733-powered watch offers a great mix of vintage style and contemporary presence with a 42mm case and automatic winding. The spiral on the snail dial interacts nicely with the chronograph subdials, and the retro Tissot logo adds a wonderful flair. If you're looking for this kind of watch with a luxury standard, then it's hard to go past a top offering from Tissot. You can see more or even purchase this watch from the Time+Tide Shop.
The RGM Model 455-CE – US$7,950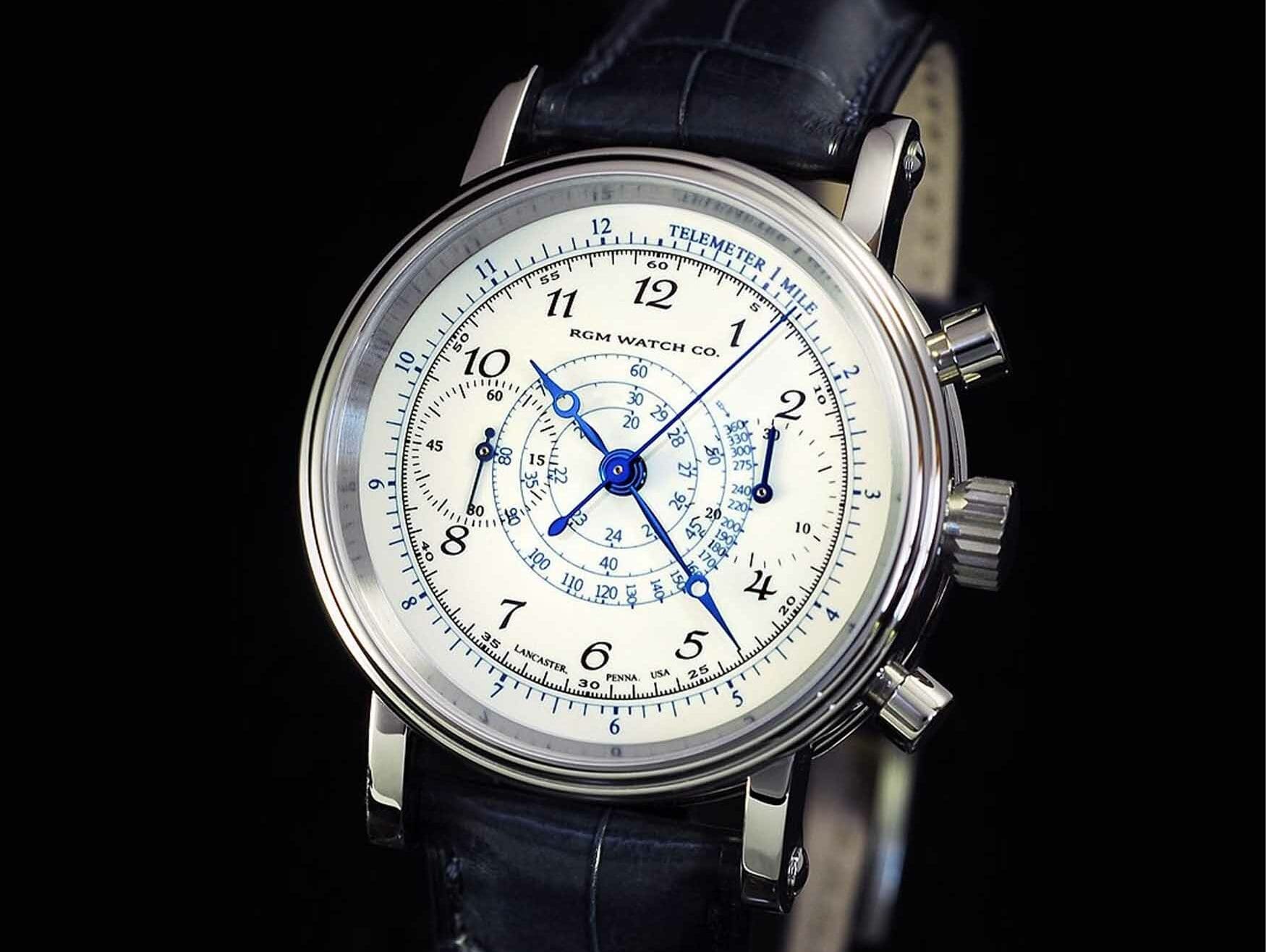 As far as watchmakers go, RGM is a relatively young company that was founded in 1992 by Roland G. Murphy. Since then, they have earned global respect as masters of the craft. Blending traditional techniques with modern manufacture and assembled in the USA, you can enjoy a bespoke watch for a fraction of the cost of some mass-produced Swiss watches. The RGM Model 455-CE utilises a Swiss Valjoux 7753, but it's the genuine Grand Feu enamel dial that steals the show here. The gorgeous creaminess is contrasted by heat-blued steel hands and a blue spiral tachymetre, all in a 38mm x 47mm case that retains vintage sensibilities. It is probably the most authentic looking snail dial on this list, although they do also make the model 455 in other configurations as shown on their website.
The Omega Speedmaster Two Counters Chronoscope – AU$14,150
If any company knows how to make a luxury chronograph with vintage flavours, it's Omega. The Speedmaster may have been introduced a couple of decades after World War II, but blending its sporty case with a dial from their military chronographs of the '40s goes to show how timeless the snail dial can be. Concentric circles are quite the running theme for the Two Counters Chronoscope, as beyond the printed rulers we can also see guilloché circles behind the Arabic numerals and on the chronograph subdials. It shares a similar layout of gauges as the Dan Henry 1939, with a telemeter on the outside, a pulsometer in the middle, and two rings of a tachymetre in the centre. The manually wound Calibre 9908 can be seen from the sapphire display caseback with its grand sweeping decoration, and anti-magnetic properties apparent from the shielding and silicon balance wheel.