Is the new Omega Speedmaster Chronoscope Collection a successful marriage of vintage and modern design?
Ricardo Sime
Classics are classics for a reason: they present a timeless appeal that many collectors enjoy. This appeal can come from the overall design of the watch or from a specific element. A great example of the latter is the incorporation of multiple timing scales on the dials of many a vintage chronograph. It's a feature that reminds us of how the functions of these mechanical marvels were immensely important to their owners. Whether it was the physician using it to calculate his patient's heart rate or soldiers measuring their artillery range on the battlefield. It is these bits of vintage nostalgia that Omega is trying to capture with its latest release, the Speedmaster Chronoscope collection. But does this marriage of vintage and modern aesthetics work?
Omega Speedmaster Chronoscope
Finding a home in the angular lugged case normally reserved for the Speedmaster Professional, I wouldn't fault you if you did a quick double take of the image above. This particular design in the collection is quite reminiscent of the Silver Snoopy. However, on closer inspection, the differences are immediately noticeable. First comes the case size, a slightly larger 43mm when compared to the 42mm of the Moonwatch Professionals. Thickness here is only 12.8mm, while the lug-to-lug is a crowd-pleasing 48mm. From the case, your eyes gravitate to the thick, anodized aluminum tachymetre bezel, with its thicker, more legible font. At this point, you realize, though bearing it's name, this is a completely new beast to the Speedmaster collection.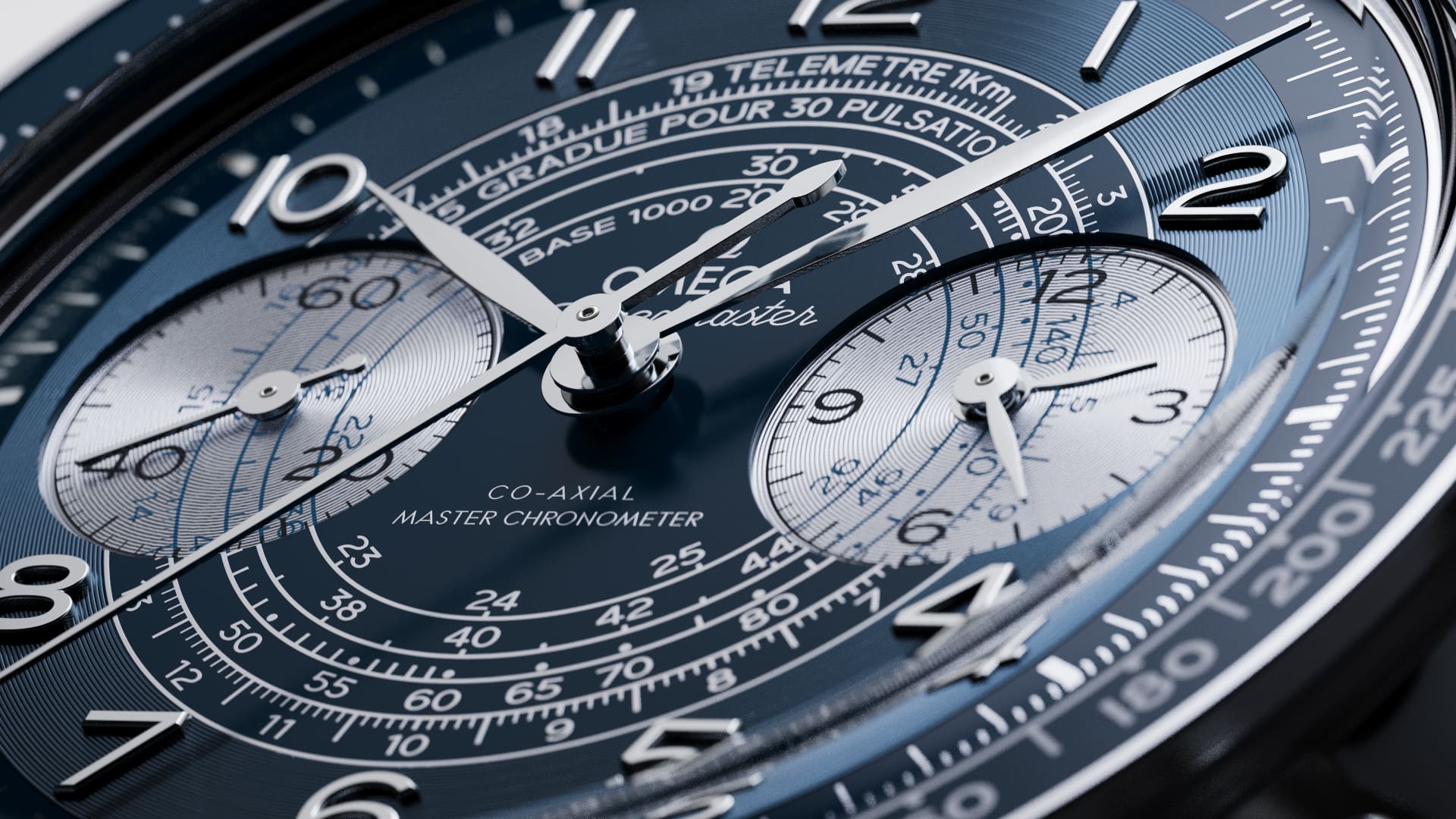 The true differentiator however lies with the dial. It's here that Omega let's loose the dogs of vintage design by incorporating classic "snail" scales. Like the concentric circles of a snail's shell, the Pulsometer and Telemeter scales extend out from the dial's centre. Furthermore, gone are the utilitarian stick hands we've seen on many Speedmasters. They are instead replaced by leaf hands, at the perfect length, I might add. Where the applied stick markers would have been, we now have applied Arabic (and thankfully un-cut) numerals. Together, these design elements really bring home the vintage aesthetic.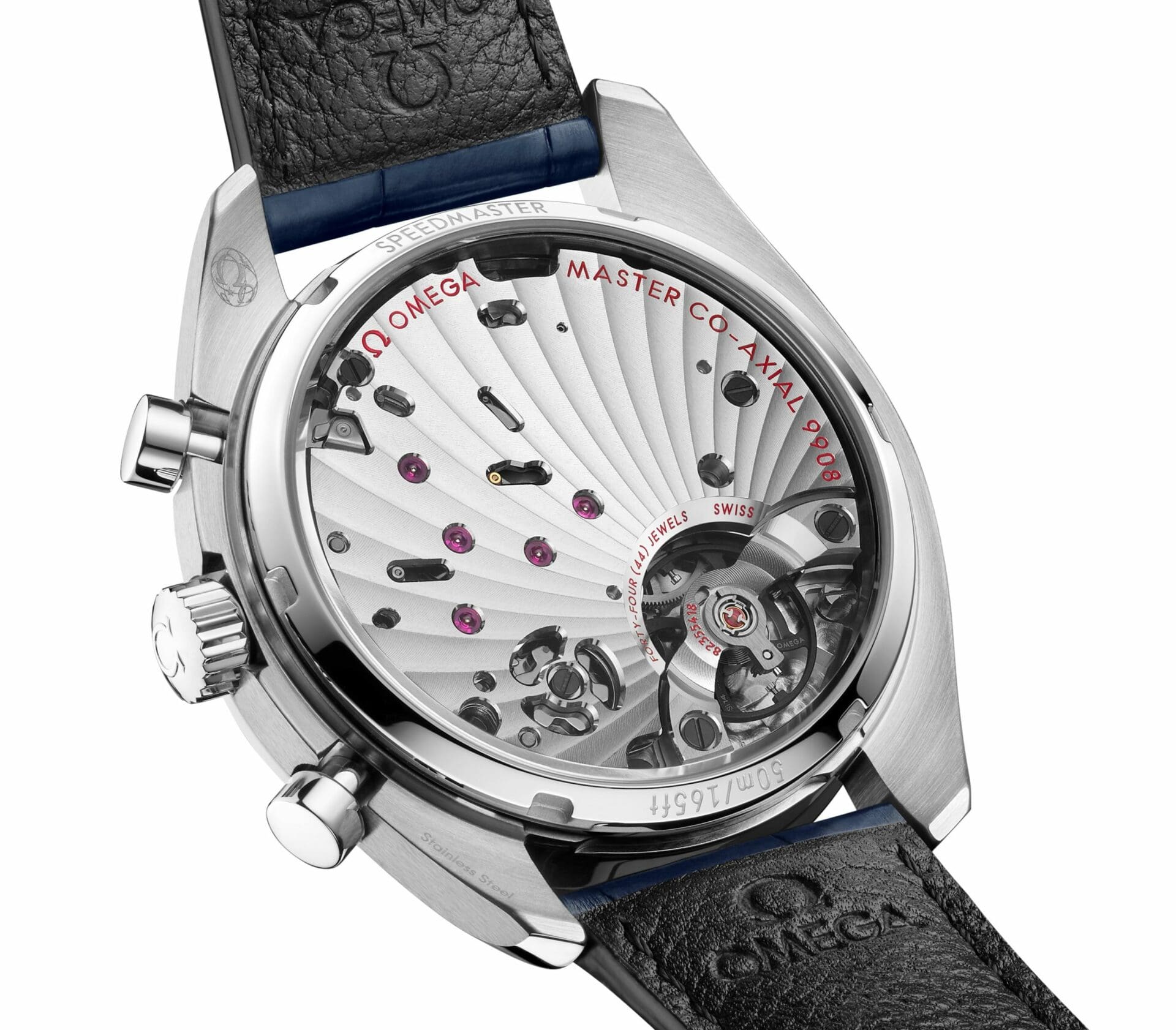 As you make your way to the rear of the watch, you're welcomed by the beautiful new Omega Calibre 9908. The movement features a large 3/4 plate, beautifully decorated with an arabesque patterned Côtes de Genève. It's a Co-Axial Master Chronometer, manual wound movement beating at 28,800 bph and contains 44 jewels, which aid tremendously in the reduction of friction during use. Furthermore, it has 60 hours of power reserve on a full wound. But the icing on the cake? The watch as a whole is METAS certified.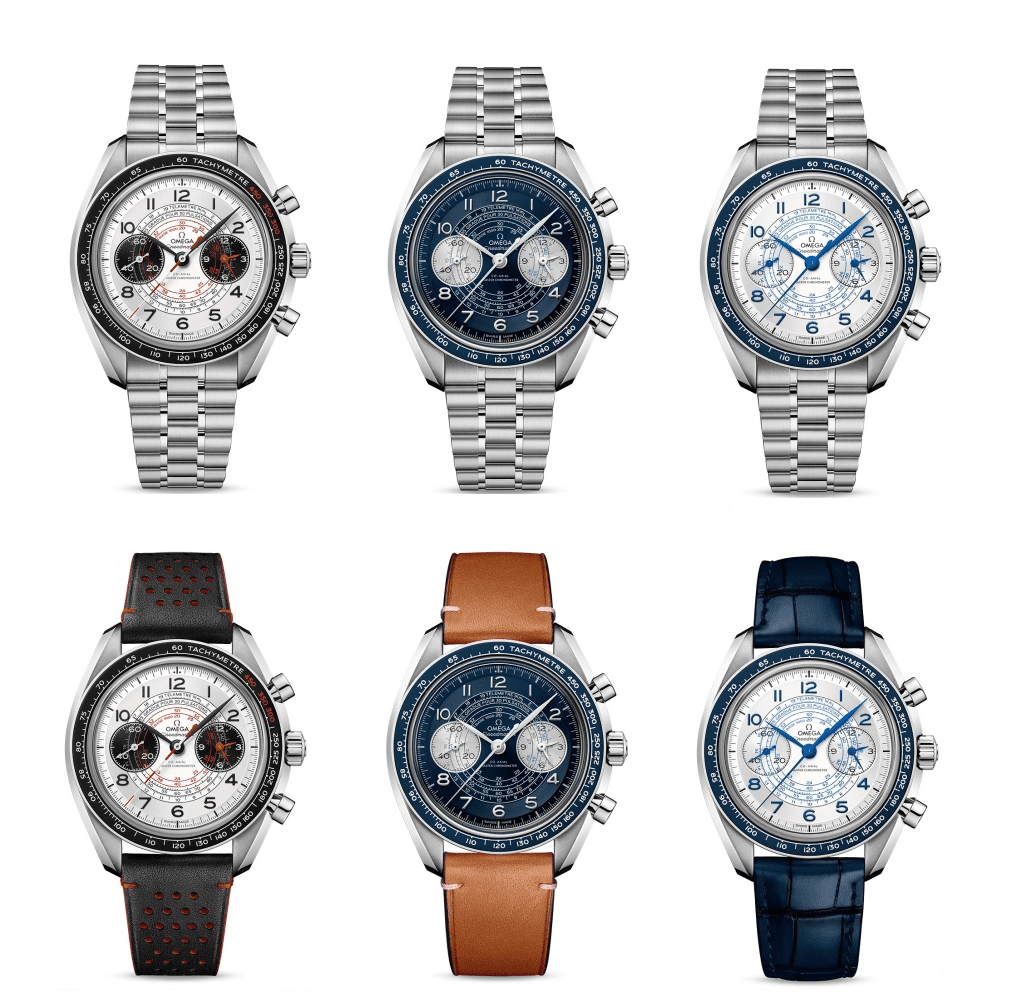 Seeing as I have mentioned this is a collection, you have a choice of six watches to choose from in stainless steel. There is a sportier panda dial version with red accents and black hands. A blue dialled version with rhodium-plated hands. And the aforementioned silver dial version with blued hands. All three can come on Omega's steel bracelet which offers a taper of 21mm at the case to 16mm at the clasp. That clasp also contains a "comfort release system", allowing two positions of "on the fly" micro adjustment. And if that doesn't work for you, Omega offers a choice of the three leather straps pictured above.
If you want something a bit more bold, Omega also makes a version of the watch in their Bronze Gold alloy (the alloy is comprised of a mixture of 50% of copper, 37.5% of gold, silver, gallium and palladium), On this version, the tachymetre bezel is in ceramic and the case, hands and numerals are all bronze gold. There is no bracelet for this version. Instead it is coupled with a brown leather strap with a bronze gold buckle. To me, among the whole collection, this watch has the most vintage appeal.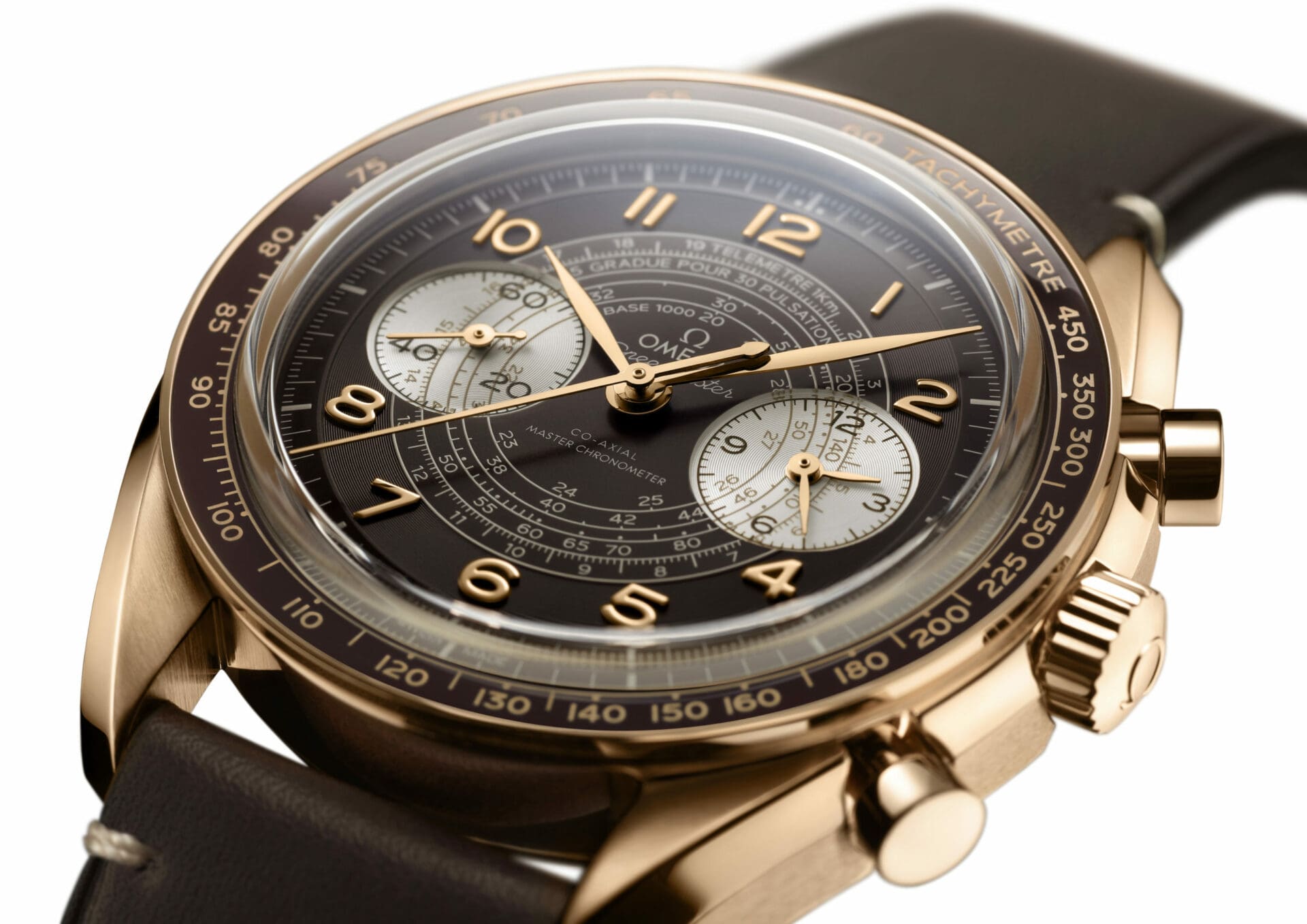 Overall, while writing about this new addition to the Speedmaster line, I kept on asking myself the same question. Did this new collection of watches succeed in presenting a modern take on a vintage design? I found myself intrigued by vintage cues such as the leaf hands and Arabic numerals yet also taken aback by the minute track and the large 43mm size. On numerous occasions, I wondered if this design would have been better suited within the Deville collection. Yet it wasn't until I saw the collection as a whole that I began to understand what Omega was trying to accomplish.
When this vintage design was first introduced, no one spoke of it in terms of it being a dressy aesthetic. Watches bearing this design were simply instruments. With the Speedmaster Chronoscope Collection, Omega now presents us multiple options with this same "dressy" aesthetic. Want dressy, the Bronze Gold or Silver dial is a good choice. Something more casual? The blue dial. Taking a trip to the track? The version with red accents is totally boss. Though I may still disagree with the size, there is something for everyone here as to the design, and I can definitely appreciate that.
Omega Speedmaster Chronoscope Collection pricing and availability:
The stainless steel versions of the Speedmaster Chronoscope will be $8450 USD on strap and $8650 USD on bracelet. These are immediately available. The  Bronze-Gold version on leather strap will be $14,100 USD, with availability beginning in November 2021.